2019 Genesis G70 first drive: Bold car, brave choices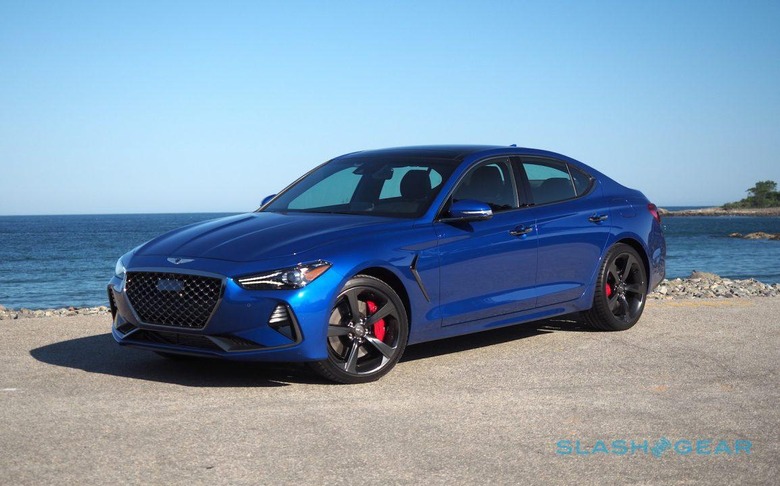 The 2019 Genesis G70 has a couple of problems, but underwhelming on the road – or indeed on the track – isn't one of them. Making a play for the fiercely competitive midsize luxury sedan segment, it has some strong credentials in its favor: not least a proven platform, punchy engines, and all the complementary luxe we've come to expect from pretenders to the 3 Series throne. Now, all it needs to do is confound expectations about a badge that's still a relative mystery among potential drivers.
It's a handsome car, clearly related to the larger G80 and G90, but smaller, tauter, and sharper. Genesis calls its aesthetic "Fluid Silhouette," with global head of design Luc Donckerwolke insisting that maintaining a distinction was core to the team's approach. "We don't want to create Russian dolls," the former Lamborghini designer explained. "Each model will have its own character, because we believe that each customer will."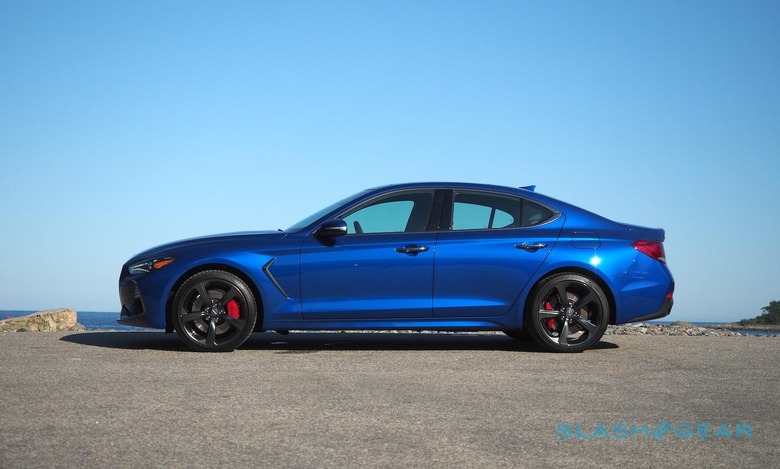 In this particular case that means shorter front overhangs, a lengthy wheelbase, and then longer rear overhangs. The cabin has been pushed back, with the side glass – a shape Genesis refers to as "Pharaoh's Eye" – atop strong parabolic side lines that help to emphasize the roofline. The sizable grille is flanked by whisker-like daylight running lamps which will be a feature of all new Genesis cars moving forward.
The automaker boasts that the new G70 is the lowest car in its segment, and you see that best from the rear. There, tapered sides draw attention to the wide track, too. It's not just visual trickery, either, with Genesis saying the center of gravity is much lower than that of its rivals.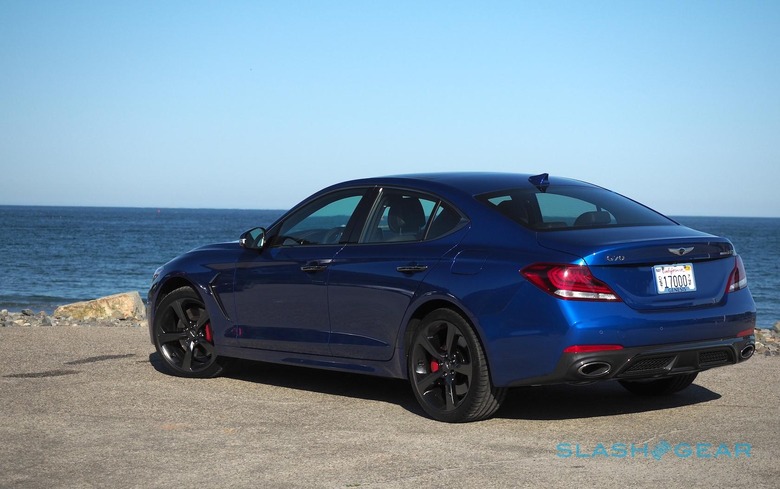 That same thoughtfulness continues inside, where the cabin has a level of detailing that belies the G70's price tag. Quilted leather, real stitching, legit metal trim, and seats that are pleasingly supportive. Rear seat room is a little tight – Genesis will point you in the direction of its bigger models if you want to do chauffeur duty – but the front is nicely proportioned and the minimum spec is high. The automaker has done wonders with the sound insulation, too, with road noise hardly making it through into the cabin.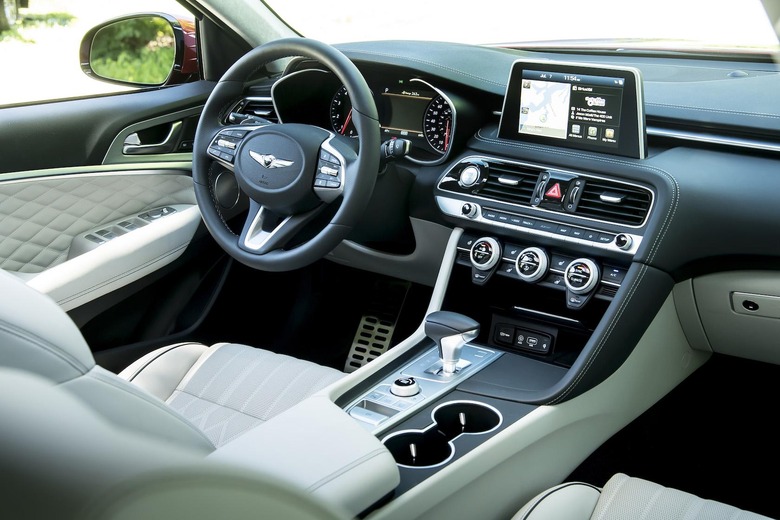 I confess, I expected the G70 to be... a little soft. The reality is that it's absolutely not. Indeed, even in Comfort mode the steering has a weight to it that's more akin to what you'd find in the Sport setting on other cars, while the engine note – augmented, Genesis concedes, for the ears of those inside – gets a more boisterous character that only increases as you switch into the G70's Sport mode.
It's an aggressive strategy, given neither the G80 or G90 could exactly be considered performance-oriented, and since what reputation Genesis currently has is focused more on luxury than racing. Indeed, while I liked the G70's slightly more raucous attitude, I could see it turning some drivers off in the process.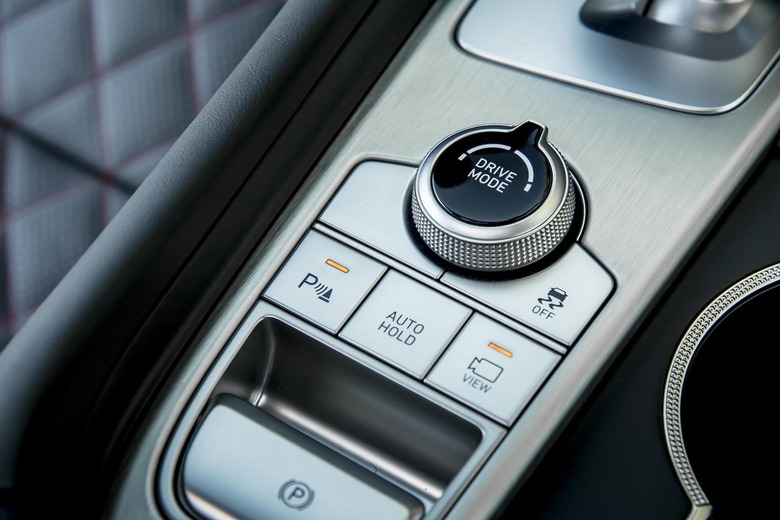 That'd be a shame, as they'd be missing out on an impressively dynamic sedan. The 2.0-liter turbocharged four-cylinder isn't underpowered, with 252 horsepower in automatic form and 255 horsepower with the six-speed manual, but I suspect many will prefer the smoother, more fulsome charms of the 3.3-liter V6. That skips the manual transmission – which has a short throw and is actually rather good, even if I doubt Genesis will sell many of them – in favor of the 8-speed automatic as standard.
You get a healthy 365 horsepower at 6,000 rpm, and 376 lb-ft of torque from just 1,300 rpm. Turbo lag is impressively absent. Both rear-wheel drive and all-wheel drive options are on the table, with the latter – and the 2.0T RWD manual – getting a limited slip differential, too. Altogether it's the fastest car ever offered by the Hyundai Group, capable of 0-60 mph in 4.5 seconds.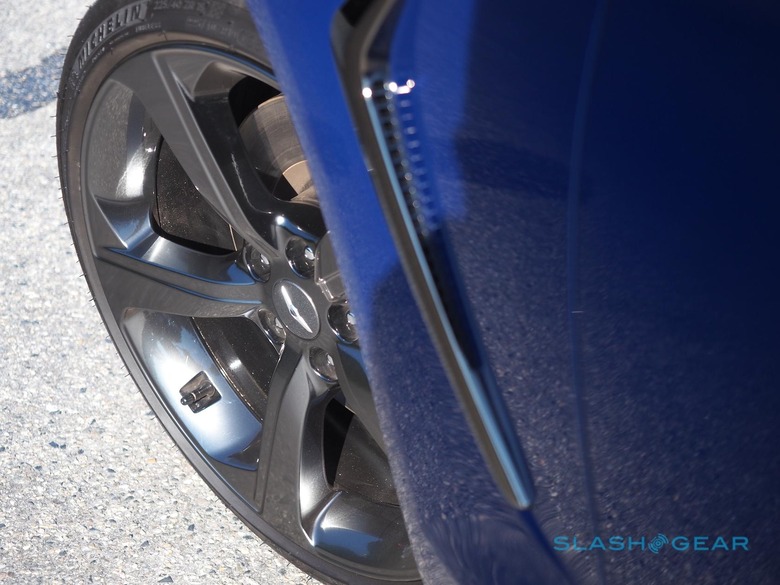 Strong enough numbers, but Genesis opted to point me in the direction of a race track in order to see whether the reality lived up to what's on paper. Now, honestly, I doubt any G70 owner will ever take their sports sedan to the track. Frankly, I'm skeptical any will even take advantage of the fact that you can fully turn off the electronic stability control if you so desire – pushing 90-percent of the power to the rear wheels of the AWD car in the process – or really make use of the 3.3T AWD's Drift Mode, never mind try the Launch Control system more than once, even on public roads.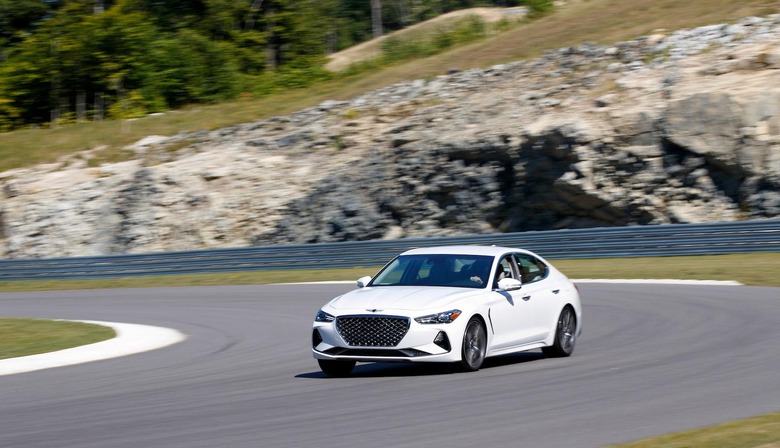 Still, track driving can be an illuminating example of how a car might hold up when things get tricky in everyday life: on slippery surfaces when grip suddenly changes, perhaps, or when you push a corner on an entertaining mountain road and find your backend getting over-eager. It can also be a harsh magnifier of inherent flaws in a car with anything close to sporting pretensions. The track Genesis had selected, Club Motorsports in Tamworth, New Hampshire, throws in some serious elevation changes, too – 250 feet or so in the course of its 2.5 miles – which can pull the rug from under a mediocre gearbox.
After a handful of laps in the G70 3.3T RWD, in Sport mode with the ESC damped down but the electronic safeguards not switched off completely, I was more than a little impressed. At first, left to its own devices the transmission proved the weakest part of the chain for me: it was slower to downshift than I wanted, and then too quick to upshift. Snapping the paddle shifters myself proved far more successful.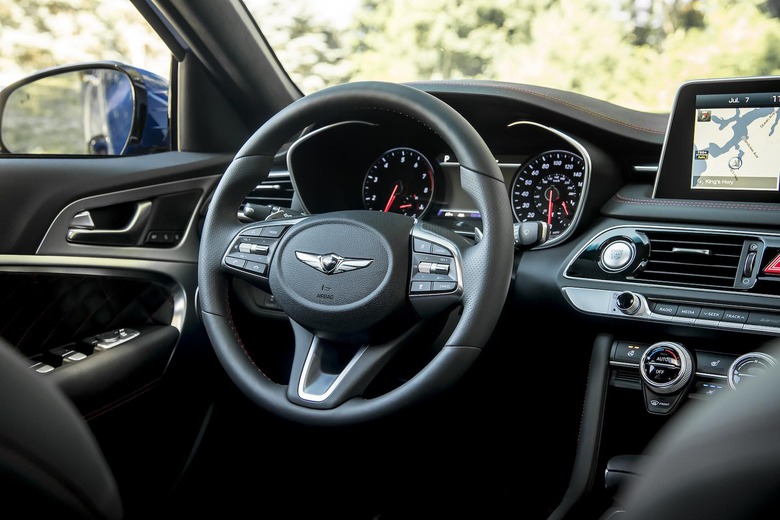 It's clearly not a lightweight car, given the luxury trimmings, but it's a predictable one. Kia's Stinger GT has thoroughly demonstrated just how well poised the so-called C2 platform is, and the G70 picks up that torch and runs with it. There's no snap-out breaking point to surprise you, and the rear end can be controlled easily, even by a track-driving amateur like myself.
That's not to say it's perfect, mind. That full-throated soundtrack you enjoy inside is oddly absent from outside: stood trackside, I heard plenty of whoosh as G70's swept past on a long straight, but little in the way of growl and gurgle. Keen drivers, meanwhile, will probably still find more to their preference in a BMW 3 Series, though they'll have to be willing to dig significantly deeper into their wallets for the privilege.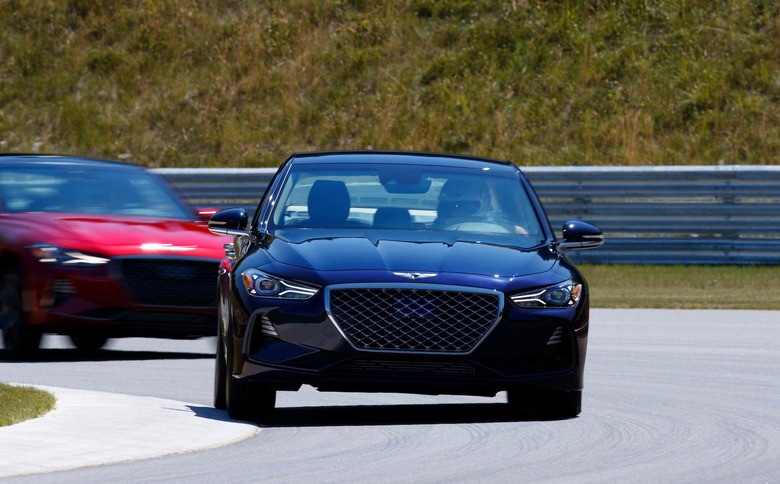 The most frustrating part of the 2019 G70, though, is Genesis' oddly inconsistent attitude to technology. On the one hand, you have Apple CarPlay and Android Auto as standard, cloud-based voice recognition via an embedded 4G LTE radio, and Alexa integration for your Echo smart speaker at home. There's the option of a wireless Qi charger for your phone, a color head-up display, and a 15-speaker Lexicon audio system with 660 watts and Clari-Fi audio processing to coax more from compressed media.
All well and good, but that embrace of gadgetry only serves to highlight some of the other, less welcome decisions. The 8-inch touchscreen perched atop the dashboard feels small, uses the same graphics as a Hyundai half the G70's price, and there's no full-digital instrumentation option, only a smaller color display sandwiched between analog gages. You can't use the LTE connection as a WiFi hotspot, something Genesis told me was a conscious decision (and a baffling one, at that). There are buttons and switches and dials everywhere – some more than a little familiar for those stepping in from a Stinger GT – leaving the cabin feeling more cluttered than it needs to be.
If it sounds like I'm being harsh, it's because these minor disappointments leave the 2019 G70 feeling like a missed opportunity in some ways. "We are pretty fortunate, because we don't have a legacy behind us," Manfred Fitzgerald, global head of the brand said of Genesis," it's up to us to paint this picture." I only wish that final artwork had been inspired more by the glorious interior of the Essentia concept, and less by what we've already seen in other, more established brands.
That's not to say the new G70 should be overlooked. It's stylish, entertaining to drive, offers a manual transmission when many in the segment have abandoned the stick, and can even be reasonably frugal. The official numbers of 22 mpg city and 30 mpg highway for the 2.0T RWD, or 21/28 respectively for the AWD. In the 3.3T, you're looking at 18/26 for the RWD, or 18/25 for the AWD.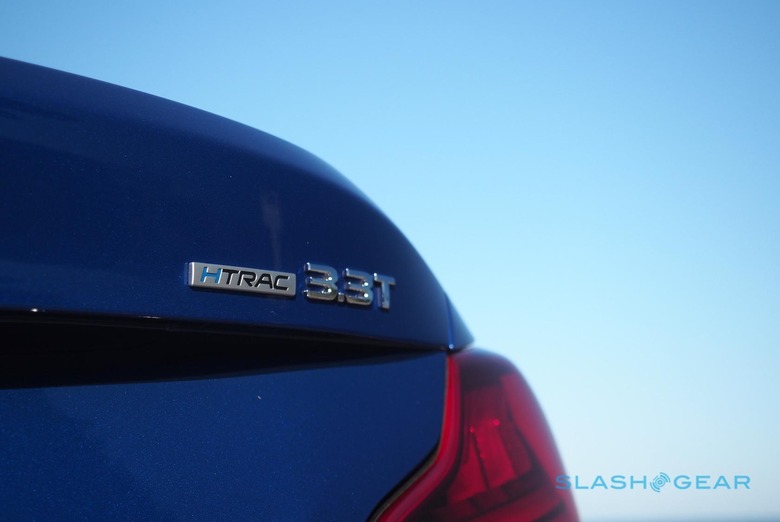 Not bad at all when you consider the price. Genesis hasn't announced the full numbers yet, but the entry-level 2019 G70 2.0T will kick off at $34,900. Expect to pay around $50k for a maxed-out G70 3.3T AWD. If you're cross-shopping with the Germans it's enough to make you weep.
Still, the lingering question is just how many will be making those comparisons. Genesis execs are refreshingly open about the uphill battle the G70 – and the brand in general – faces; not quite blasé, but certainly not cowed, either. They're counting on the fact that you don't just buy a car these days, you buy into a lifestyle, and that many will find plenty to like about the three years of servicing, roadside assistance, connected services, and valet collection and return that it includes in the sticker price.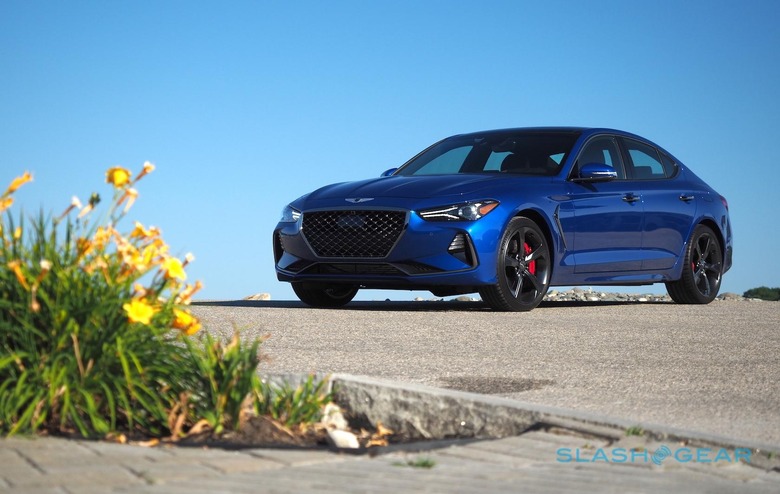 This "Genesis Experience" is a more than solid grounding, and it'll make even more sense when the automaker has its own US dealer network up and running in its entirety, rather than sharing floor-space with Hyundai. Next year already has SUV reveals on the schedule, along with what design chief Donckerwolke teases will be "a few surprises." Here's hoping a production spin-off of the well-received Essentia is among them.
For now, though, the 2019 Genesis G70 makes a whole lot of sense. More aggressive than is usual from brands trying to break into the midsize luxury segment, its combination of handsome styling and what is shaping up to be compelling pricing deserves to win the automaker both attention and customers. Badge snobs are missing out.