2019 Audi e-tron range revealed for US: What you need to know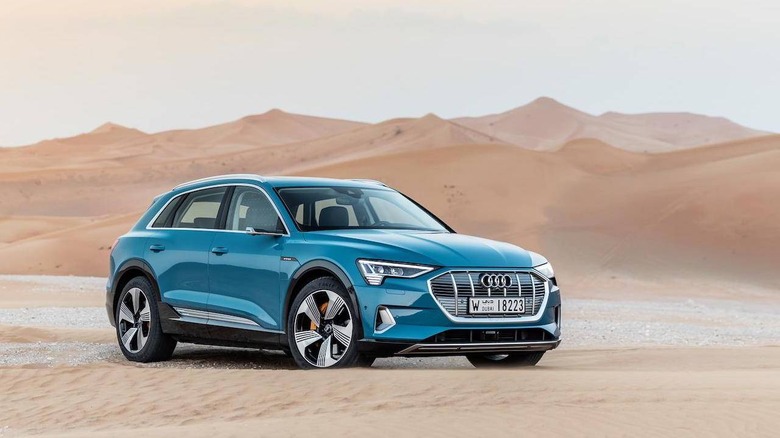 Audi has confirmed estimated range and availability for the 2019 Audi e-tron, its fully-electric SUV, and it's likely to lead to arguments among EV fans. Announced last year, the 2019 e-tron is arguably the automaker's most serious play in the electric space to-date, certainly in the US, taking on not only Tesla but Jaguar and others in the process.
Slotting into the midsize SUV segment, the e-tron is roughly equivalent in size to the Audi Q8. Inside it seats five, or up to 57 cubic feet of cargo space with the rear seats folded down.
It arrived to no small degree of fanfare by Audi last September, but – conspicuously – no US range estimates. The automaker had European numbers, with the electric SUV expected to do around 249 miles on the WLTP cycle – since upgraded to 259 miles – but opted not to discuss EPA estimates at the time. "It hasn't been homologated for the US," Anthony Foulk, Product Manager at Audi AG, told us at the reveal, "so we're not quoting an EPA range until closer to launch."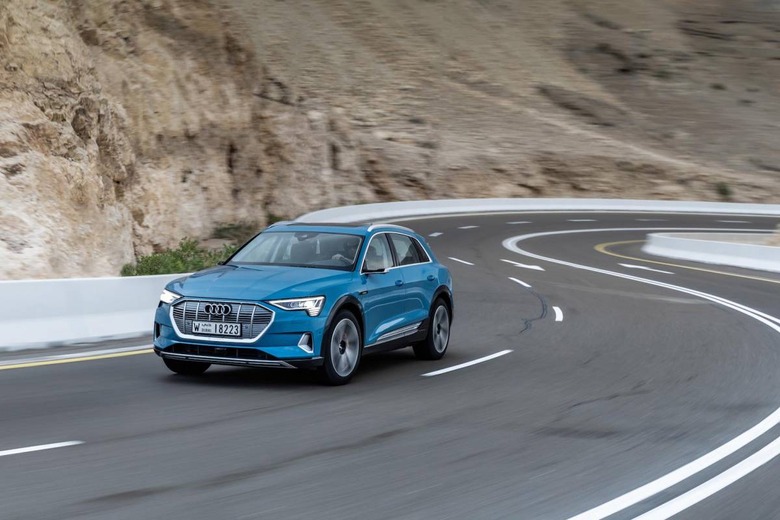 Now, though, it's crunch time. Deliveries of the 2019 e-tron begin in May to those first in line in the US, and while the final EPA number hasn't been confirmed, Audi is giving out its EPA estimates which should end up close to the final figures. On a full charge, the automaker says, the expectation is 204 miles.
Audi e-tron versus the luxury EV SUV crowd
It's likely to be a controversial figure. The e-tron has a 95 kWh battery, slightly larger than the 90 kWh battery in the Tesla Model X 90D. However the Tesla is rated for up to 257 miles. The Jaguar I-PACE, meanwhile, also has a 90 kWh battery, but is rated for up to 234 miles on the EPA test cycle.
Complicating matters is the fact that no EV uses the entirety of its battery pack capacity. Instead, automakers cap maximum use at a lower level, in the case of the e-tron that being 88-percent, or 83.6 kWh. "This engineering approach ensures battery longevity, repeatable performance and peak charging power for longer amounts of time during the charge cycle," the automaker says.
Where, exactly, each battery is capped in this manner is down to individual automakers. Jaguar, for example, opts for 84.7 kWh of usable capacity. Tesla is believed to cap its 90 kWh battery at around 82 kWh of usable power.
It's not just battery size, it's charging too
Beyond that, Audi's argument is that you can't only look at range as a single metric: to get the full perspective on an EV, you also have to consider factors like charging speed. There, the e-tron certainly has an edge. It supports up to 150 kW on compatible chargers, such as those being installed by VW Group-backed Electrify America.
With such a charger, ten minutes plugged in could get the e-tron around 54 miles of range. 30 minutes of 150 kW charging, meanwhile, would be enough for 163 miles, or almost 80-percent of the e-tron's maximum. All e-tron buyers will get 1,000 kWh of Electrify America charging bundled in the first four years of ownership; that works out to around 2,000 miles of range.
Meanwhile, Audi points out, premium vehicle owners drive, typically, just 30 miles each day. 98-percent of all single-trip journeys in the US come in at under 50 miles, it continues. More than 80-percent of charging takes place at home, too. Audi has partnered with Amazon Home Services on more straightforward Level 2 charger installation.
Is the 2019 e-tron's range enough?
Audi is positioning its luxury electric SUV as an ecosystem, not as a single car. Though Electrify America's charger network is still a work-in-progress, the promise is "nearly 2,000 chargers across 500 fast-charging sites throughout 42 states and within 17 metropolitan areas" by the end of this year. They won't top out at 150 kW, either, instead offering up to 350 kW to compatible vehicles.
Tesla, of course, has similar high-powered plans for its Supercharger network. It's upgrading its new chargers with 250 kW support, though cars like the Model X don't actually have the hardware to take advantage of it yet.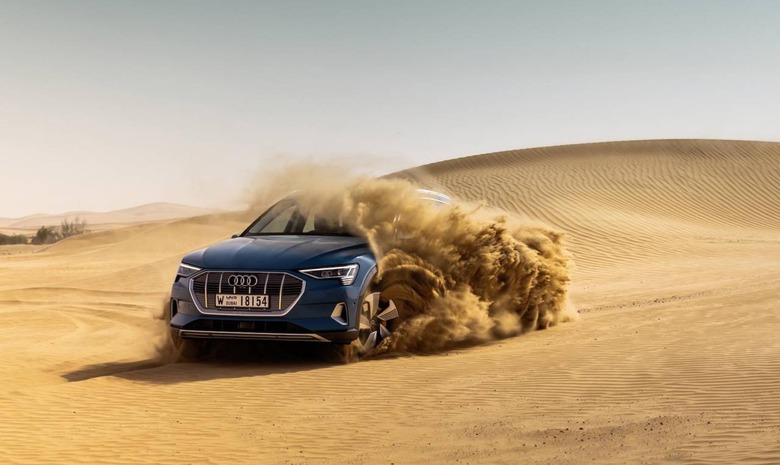 Exactly what number is required to assuage the most common range anxiety is a question without a specific answer. Audi's strategy reflects how it sees EV use: extra range is only really useful if it's sufficient to allow a trip to be completed without stopping for a charge. As soon as you need to break your journey up and plug in, you're then at the mercy of charging speed instead.
MORE 2019 Audi e-tron First Drive
Meanwhile consistency and reliability are another significant factor which plays into that. Drivers have to be able to trust the remaining range estimate their vehicle gives them: if they can't, then they're likely to feel the anxiety to charge up in advance of when, technically, they really need to. Some EVs undoubtedly do better at that estimate accuracy than others.
To figure that out, though, we'll need to see how the 2019 e-tron operates in the real world for a while. The first buyers will have the chance to experience that from May, when the $74,800 SUV – still eligible for the $7,500 federal tax credit, among other incentives – arrives in dealerships and on driveways.