2019 Audi A8L First Drive: Luxury As A Place Of sanctuary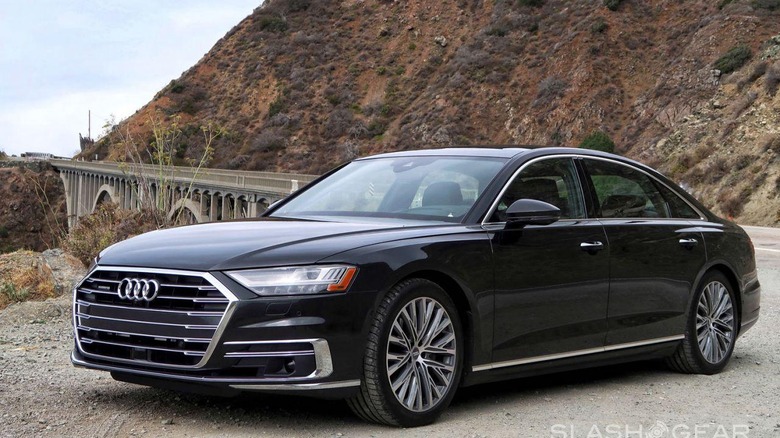 When's the last time you got into any vehicle, as driver or passenger, and felt like you'd just entered a sanctuary of sorts? Sitting cross-legged with a meditation guru, I contemplated that very question as he attempted to lead me in a mindfulness session. Moments later, transcended into Audi's new flagship luxury vessel, the 2019 A8 L, my mind was anything but still. Settled in for a drive through California's magnificent Big Sur, I anticipated what the Pacific Coast Highway and the new A8 would reveal.
A platform focused on focus
Meditation and the new Audi A8? Audi is positioning the next generation A8 as a luxurious mobile retreat. Where industry-leading technology takes a backseat to an experience focused on occupant peace-of-mind.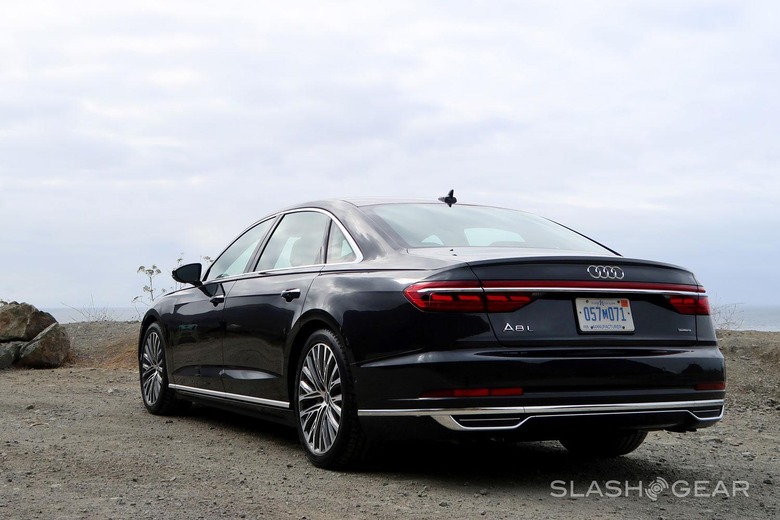 Remember the days when luxury was an opulent, ungainly land boat sporting a dashboard of chromed buttons and highly polished Cocobolo paneling? According to Audi, ostentatious, conspicuous vulgarity is out — understated, 'mindful luxury' is in. And, their new flagship is positioned as the study in this new definition.
Dr. Kyra Bobinet, MD MPH, author and expert in behavior and neuroscience design, partnered with Audi for the A8 launch event I attended, where she explained the data guiding Audi's experience design.
"This first wave of smart technologies have been proven to disrupt and overwhelm our minds' abilities to engage in quality problem solving. To resolve this, this next generation of designers are moving away from garish luxury and feature-rich technology. The cutting edge of design is all about wellbeing design — using simplification and restraint that allows the brain to reset and focus."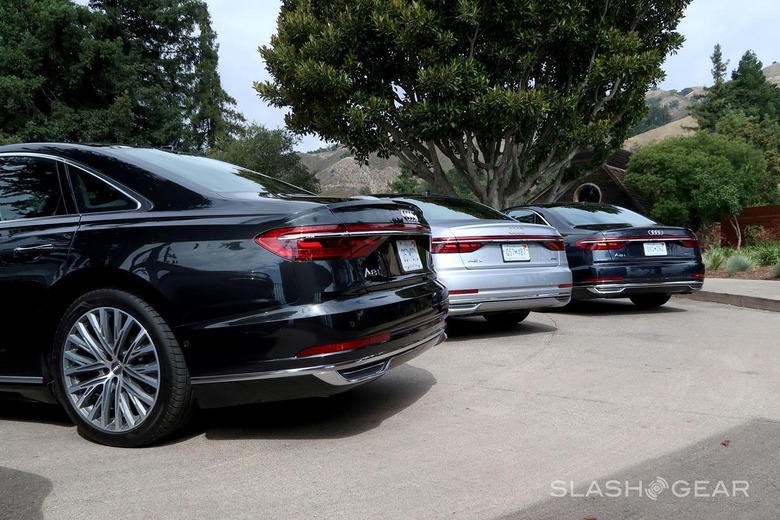 It appears Audi has taken this to heart with the 2019 A8. Aiming to deliver a new form of luxury in a well-being platform that automates or strips away the unnecessary, the idea is to let you think and enjoy the experience at hand, be it a focus on driving, or decompressing in the back seat.
It may sound hokey, but bear with me. I think Audi have proven this idea out.
Exterior design: From Prologue concept to A8 reality
Seeing the 2019 Audi A8 L in the flesh is striking. Especially as you consider that much of the language and intent of the vehicle's design is directly derived from Audi's 2014 Prologue Concept. If any manufacturer has been proficient on translating concept cars into reality, Audi is certainly proving that that they don't make false promises.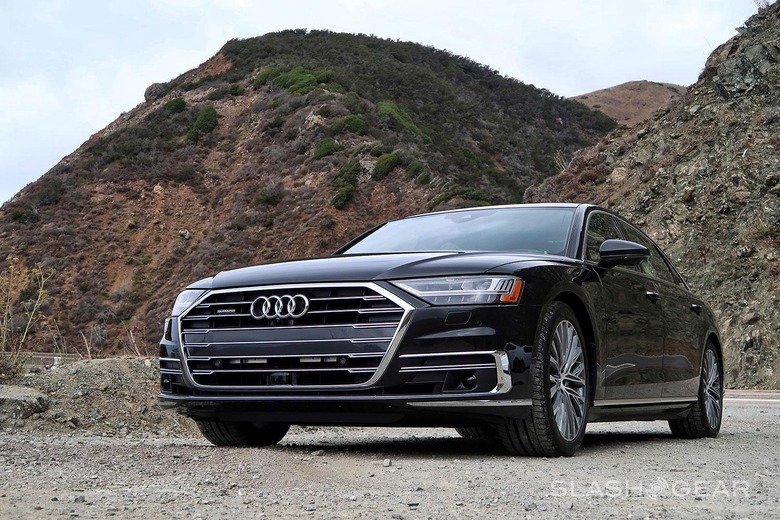 It is clearly visible how the clean simplicity of Prologue has been resolved into the A8's form: the ever-widening Singleframe grill, the strong horizontal wrap-around lines, and lighting styling have all survived, albeit with a discernible sharpening-up of certain parts of the body, which actually makes the front and rear-end look better than the original concept. Such is the success of the design's translation that the A8 truly appears as a 4-door execution of the Prologue.
When comparing Audi's offering in this class, they have delivered the subtler of treatments for large luxury saloons on offer from Germany and Japan. Aside from the grille and a splash of silver on the sides, the A8 doesn't use many shiny visual devices to communicate its rank, so it's easy on the eyes, yet it still has a sense of presence on the road. In Europe you can downplay the appearance of the A8 even more with the ever-popular Black Optics Package, but US buyers will not be so fortunate, at least not on initial release. 
Speaking of road presence, the US market receives the long wheelbase as standard, hence the L designation on the A8 we drove. This configuration adds 5" to its length — but when viewing the A8 from its side profile, it appears long, but not awkwardly so.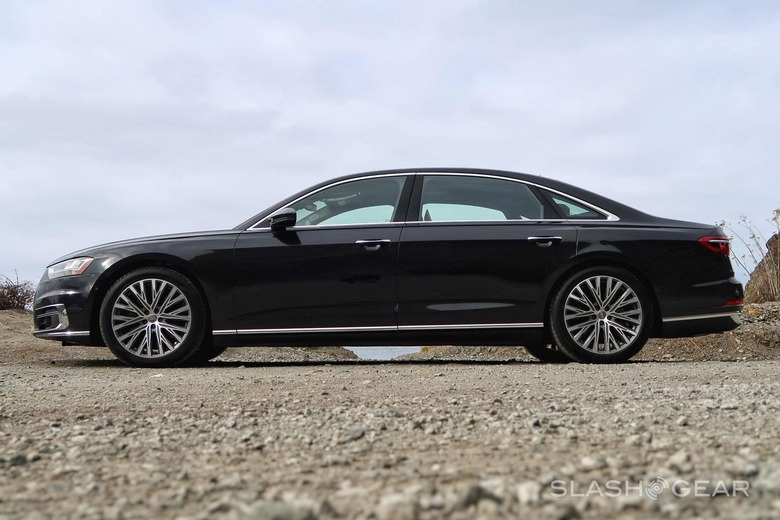 One somewhat bothersome feature, if you turn your eyes to the rear of the A8, is what at first glance appears to be twin tail pipes. There are actually just dimensional graphic elements that echo the geometries of the tail lights. Instead the exhausts are hidden beneath the body. Bringing this up with the Audi design team, they say the intent behind this is to create uniformity across the line. One can assume real — and visible — tail pipes will reside on other versions of the A8.
Overall, the A8 successfully delivers a forward-leaning direction for the brand, and when looking at competing automakers, provides an ownable visual design language that is clean and deliberately understated. While many may criticize Audi for an almost somber aesthetic, my personal opinion is such that Audi proudly provides a welcome oasis from manufacturers chasing regional trends that are being thrust upon global audiences. The A8 exterior is a stalwart example of Audi's determination in delivering on their philosophy of restrained tastefulness.
Interior experience: Intelligent technology for the brain and the drive
Do not for a single second expect that Audi's approach of keeping tech out of the way means stripping away all the digital whiz-bangery for an analog-only experience (sorry analog purists, keep lobbying). Instead they've taken two approaches: simplify the experience or get tech out of the way so you can focus on what you're doing — driving or being driven.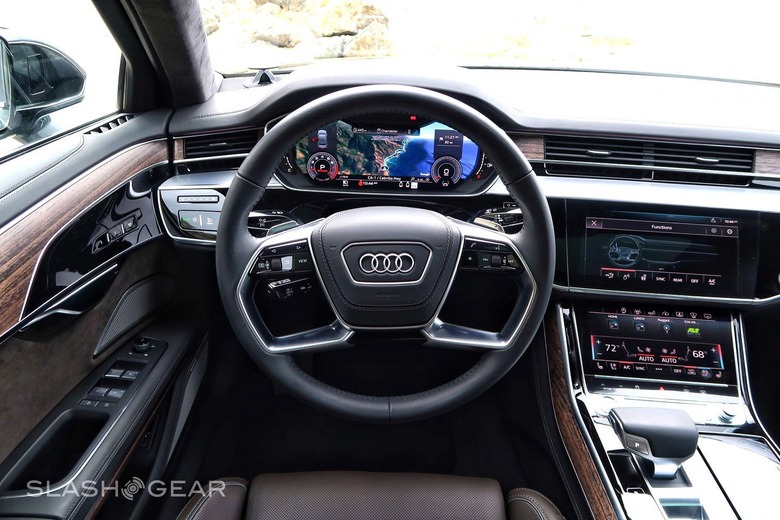 95% of human behaviors are automated. The Audi team endeavored to strip away as much clutter and static from the experience and emulate this human behavior principle in the design of the A8. What this looks like belies the complexity and technological achievements necessary to deliver something that is more advanced than anything else currently on the market. No mean feat when you consider the offerings from the likes of Mercedes, BMW and even Lexus. How Audi package and deliver this is where the magic happens.
Let's start with the interior design. Audi designers want those who enter the A8 to feel welcomed with open arms, and once the door closes, surrounded in a comfortable embrace. On placing one's posterior in the A8's noticeably comfortable leather seats, your attention shifts to the cleanliness of the lines and comfortable balance of materials. It's the antithesis of many upper-echelon luxury cars that sometimes that on the appearance of a 'mood-board smorgasbord.' Instead you are presented with a well-appointed, minimalistic collection of matching textures and tones, that wouldn't be out of place in a modern downtown apartment's interior. To my eye, the most pleasing interior combination was the Sarder Brown leather with the natural Ash timber inlays, an elegant grey-brown color reminiscent of dark coffee.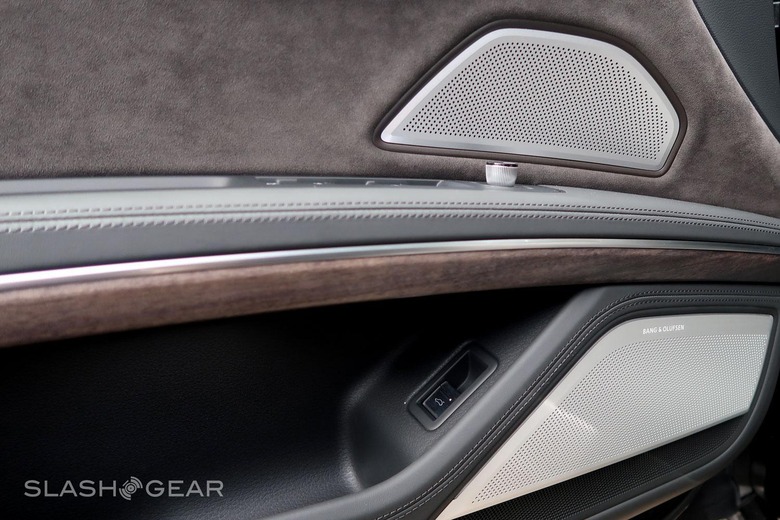 However, If you are really insistent on more expected interior combos, such as walnut panelling with warm leather tones, they're offered, but aren't as sharp as the more modern tonal options. The 'classic' tones almost feel like the interior designers acquiescence to past sales date rather than completeness of Audi's vision. Do yourself a favor, go Sarder Brown.
There are distinct horizontal layers within the cabin that wraps around from the front console to the doors. It's not just easy on the eyes, each band denotes function. Where possible, functionality has been consolidated into touch screens or multifunction buttons, often hidden from view, including the air vents that are covered when not in use. What appears as a wide, flowing piano-black panel, upon start-up, reveals two large touch screens. All the things in this black layer are made for interaction: vehicular function, environment and personal setting controls.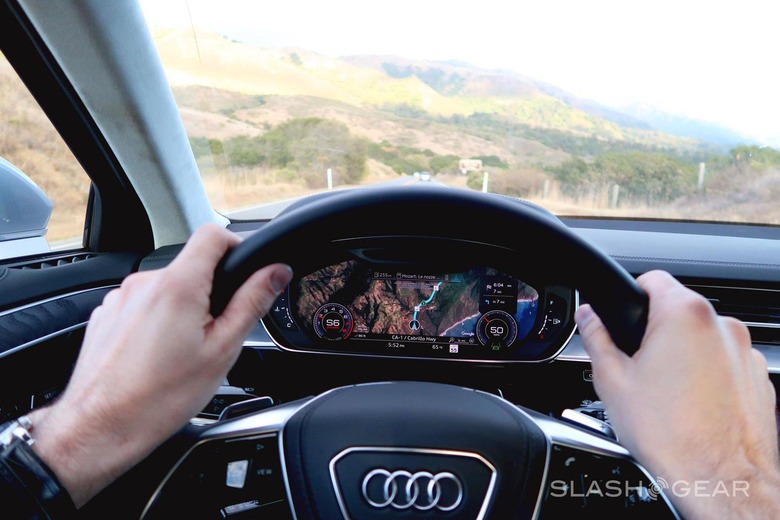 The topmost screen delivers media, navigational and vehicle setting, and the display below it contains all environment controls, seat settings and other comfort options. A nice progression from the previous A8, with most functions inside the A8 placed within reach and in a logical flow. Screens, buttons and panels are all tightly fitted in the cockpit, and the finish feels truly bespoke.
The A8 flaunts the second generation of Virtual Cockpit Plus. With higher resolution, faster processing and a smoother scrolling display, the digital experience now extends to the rest of the cabin with the media center and environmental controls integrated into one system.
While there has been much gnashing of teeth about the removal of physical buttons and replacing them with screens, after having driven the A8 for a day, you quickly become accustomed to the layout of the screens and methods of interaction. For the most part, I got into a rhythm of how to interact with the touch screen, save several moments while driving, trying to find seat functions that had been available as physical buttons in the previous generation A8. The latest generation of MMI — Audi's infotainment, navigation and communication system — works much the same way as any other touch screen does, including the ability for users to customize the displays by moving icons around on the screen as you would on any modern smart device. Engaging with it feels incredibly familiar, just like using your smart phone.
Acknowledging that while physical controllers allow a user to reach and initiate a function from muscle memory, albeit a single use function, digital screen versions of controllers require a different kind interaction to allow users to stay focused on the road. Audi found that users quickly grew accustomed to operating the display through their peripheral vision using function color association — each function has a color assigned to it that is consistent through all Audi vehicles.
This color is activated on finger-hover over an icon, that then gives a nice discernible click felt in the finger when pushed, provided by the built-in haptic engine behind each screen. After using this system, you quickly miss it when you drive a vehicle without it in 'dumb touch screens' — but with only a day behind the wheel of the new A8, the jury is still out on whether Audi's implementation is great, or merely just good.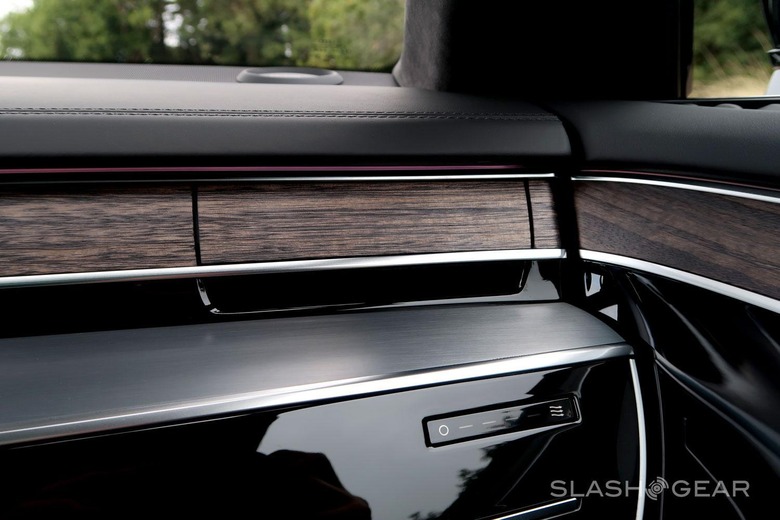 Audi's interior designers are so confident, or perhaps deeply enamored by the aesthetic simplicity that screens offer, that they would have sucked in every single button and switch into this system were it not for pesky regulations that required they keep a certain number of functions as 'real' buttons. While the display surfaces are a designer's dream in simplifying the interior, in part they were an inevitable requirements, due to the ever-growing number of features and controls being added to each new generation of vehicle.
With the new displays, more than 30 buttons have disappeared. Even the air vent controls have little capacitive touch surfaces with audible clicks — they work well, but is it too much of a good thing?. How long the black polished surfaces remain completely fingerprint free is up to you and a polishing cloth, which was perhaps only one of my few reservations with this approach.
However, using a single digit to push buttons is so 2018 — natural writing recognition and voice commands are the way of the future. Hence the A8 features natural handwriting recognition, where you can write entire destinations onto the touch screen, a leap forward from the start-stop individual character input of previous systems. Alternatively, you can talk to your A8 using its onboard voice recognition to help you in a multitude of ways, from easy tasks like changing temperature settings to finding a coffee shop, you'll even get fed the top three Yelp reviews to ensure you pick the right spot.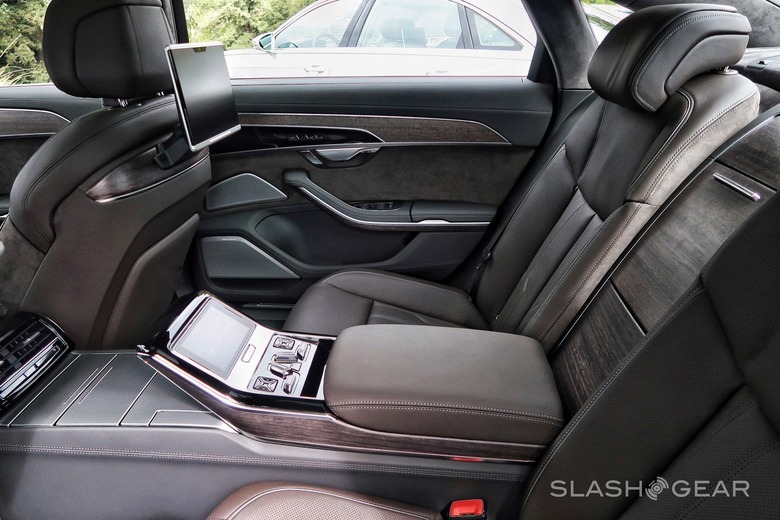 Starting from the moment you step out of your home, Audi wants to be your complete end-to-end travel concierge. For example, locating a coffee house is but the first step — once you've identified the ideal purveyor of ground beans, to ensure you get that caffeine hit as soon as possible, Audi has a slew of systems to get you there faster. Your A8 is fed real-time traffic light information, telling you the speed you need to take to make each light (within the limit of the law of-course), or if it's about to change.
There are seven cities in the US that already have connected smart lights — including, Vegas, Palo Alto, Washington DC— based on municipality, with more coming online. Then as you approach your coffeeshop, your A8 will help you find parking via parking search assistance, and perfectly park via Park Assist if your driver has the day off. It doesn't stop there either. Using the myAudi app, there is continued direction if you need to walk to your destination if it's within a mall, ensuring a continuity of experience from vehicle to final caffeination destination.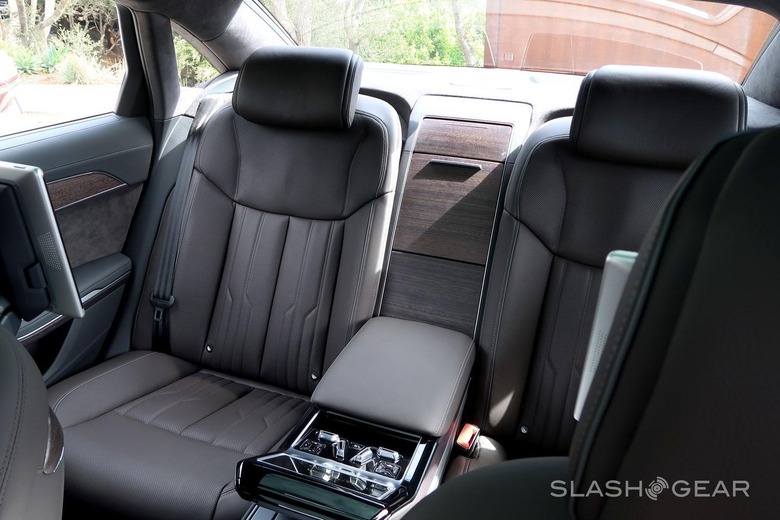 Getting there, in the back of the Audi A8 provides its own focused experience. First, the space in the back is capacious. There's no way you'll be bruising your knees on the back of the front seats, in fact there's enough room to comfortably stretch out. It's without reserve, a first-class space. The rear seats have multidirectional adjustments, and the in-seat massagers have been updated with additional massage nodes for both the front and rear seats. I already consider Audi to deliver best-in-class seat massagers, and the updated systems in the A8 continue this tradition. To further enhance your comfort, an air-quality package for ionization and aromatization is available, as are heated center and door armrests to further enhance comfort.
Passengers in the back can use either a removable remote in the folding handset, or the fixed center console that replaces the middle rear seat in the 4-seat package, to control the environment in the rear. Controlling all the expected features, such as temperature, seats and infotainment system, with the addition of a neat new directional lighting feature. Namely, a Matrix LED in the ceiling that allows you to select exactly where the light will fall and how widely it is cast, great for ensuring your personal wellness book is perfectly lit as your feet are pampered in the heated massaging footrest. Both are optional features, but it's BYO wellness book.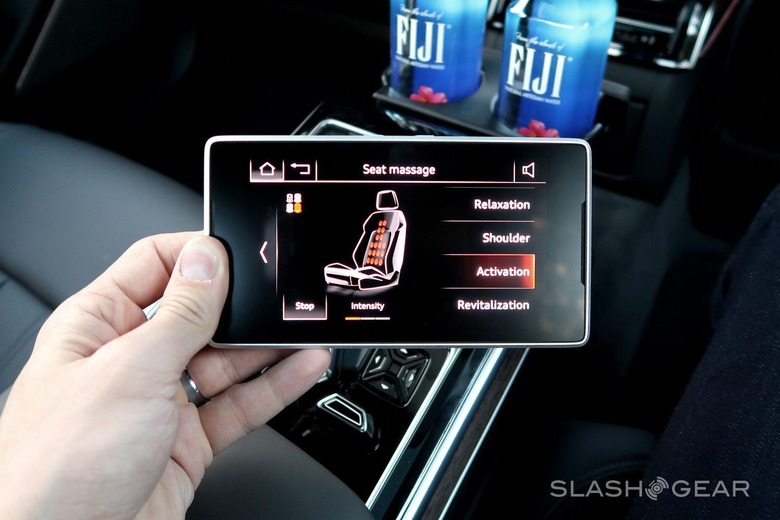 To further provide you with a space away from it all, blinds for the rear, side windows are available, as is dual-pane acoustic glass. Naturally.
However, if the space in the back is going to be more about productivity as you shuttle between board meetings, then you'll likely appreciate the folding productivity tables and utilize the large and brightly lit displays behind the front seats.
The designers and engineers behind the A8 are understanding more than ever the myriad of ways we want to use our cars, and the A8 provides a vision into how they are fulfilling our needs, while ensuring we do it in a safe, efficient, helpful and peaceful manner. Time will prove out whether Audi's level of visible technology is the right balance, especially having sucked all the physical buttons into screens, but out of the gate, it's not horrible.
Mid-size feel, full-bodied features
Driving the A8 is as smooth as you'd expect of a luxury saloon, but when you're behind the wheel, what is unexpected is that it feels much smaller and easier to drive than a long wheelbase vehicle should. Featuring Dynamic All-wheel Steering, you soon forget you're driving the longest offering in Audi's line-up. This feature gives the A8 a smaller turning ratio than the A4. Not only usable at low speeds within cramped parking lots, it provides smoother directional changes at speeds over 35 miles an hour.
Audi had laid out a course to demonstrate this tech, complete with tight turns for low-speed maneuvering and high-speed directional changes. I drove the course first with the system turned off and then again with Dynamic All-wheel Steering switched on. The difference was more than mildly noticeable. This also translated into carving the curves around the Pacific Coast Highway, delivering a more engaging drive than I thought possible with such a large car.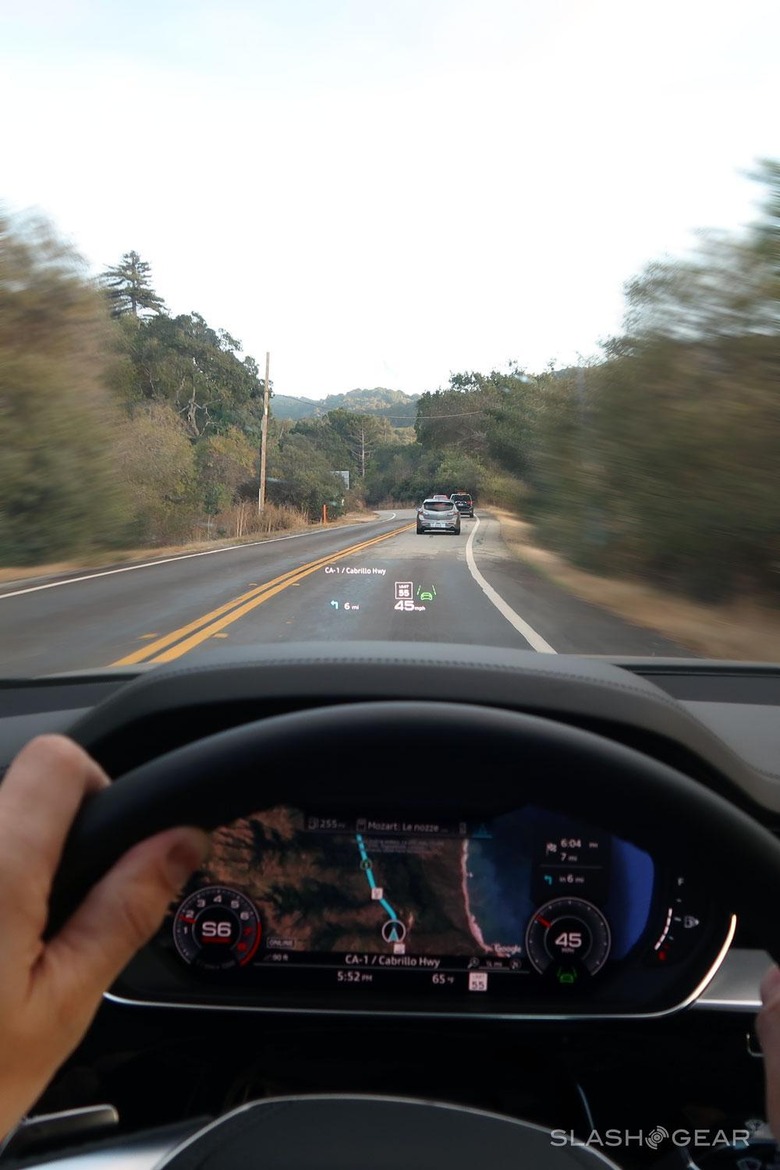 The version I drove is the first of three officially announced drivetrain options — the A8 L powered by a TFSI V6, producing 335 horsepower and 369 pound-feet of torque..
This V6 is certainly focused on balance, the turbocharged engine provided a smooth pull for a comfortable drive along the Pacific Coast Highway. When pushed, it delivered strong — albeit a little delayed — acceleration to allow for confident passing of that traffic-blocking bane of coastal thoroughfares, the nomadic RV. Even when in Sport Dynamic manual mode at full throttle, only a slightly more urgent hum emanated from the front end, enough to let you know the V6 was doing your bidding, but not enough to upset the mood inside the cabin.
The dynamic is what one might expect of the power to weight ratio of a 4,751 pound vehicle, so if rapidly running through the cogs for a swift sprint to speed is your need, the V6 will do a sufficient job, but you may wish to wait for the 4.0-liter 8-cylinder A8 version that has been slated for the summer of 2019. A plug-in hybrid eTron version of the V6 is also promised for delivery in 2019, and a 6.0-liter W12 has been hinted at being in the works.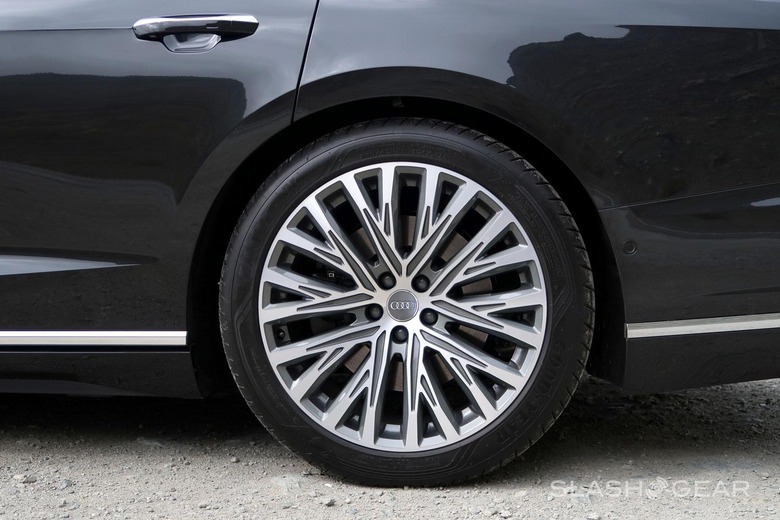 With this generation, Audi have introduced a 48-volt mild-hybrid drivetrain system that recuperates power to feed back into the upgraded electrical system, powering the infotainment system and other onboard equipment, as well as assisting the TFSI engine. Audi says this system helps provide a smoother and more responsive drive, especially when shutting down the engine while stopped or coasting. When driving the A8, it worked so well that often I didn't even notice this operation going on.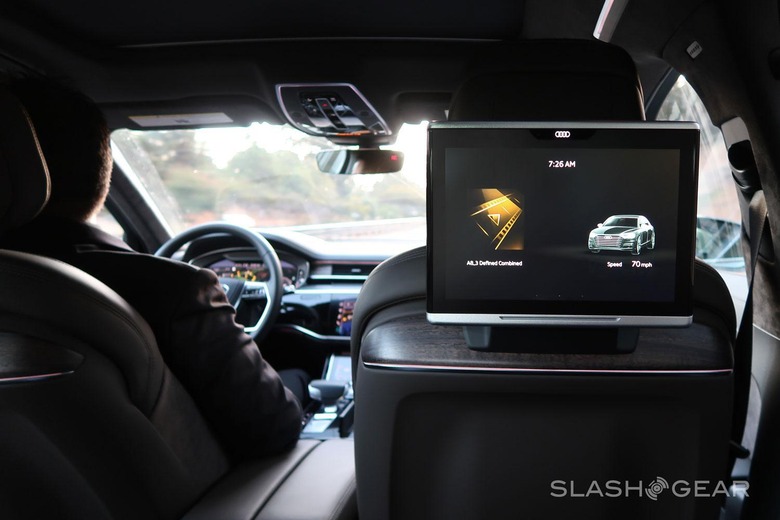 Adding further ride comfort is the latest iteration of Audi's air suspension. While quite adequate on its own, it can be further enhanced with a package that includes Predictive Active Suspension technology. It wasn't installed on the models I drove, but I was able to experience in on a closed-circuit demo. Predictive Active Suspension dynamically lifts and lowers each individual wheel up to 3.3 inches (80 mm), based on data fed from a forward-facing camera.
This smooths most bumps and potholes you'd experience on a regular road. In the demonstration, it provided an almost surreal sensation of floating, especially as you brace yourself for the anticipated shock you'd normally expect from a 3" high metal platform that Audi used to simulate a bump, and then... nothing. Often the only indication you would have that something was happening was a very subtle thud transmitted through the wheels as they encountered the obstacle. You can see how the wheels smoothly individually raise and lower in slow motion in the video below.
Besides offering occupants a smoother ride, the added benefits of Predictive Active Suspension is mitigated brake dive when coming to a stop, body roll reduction through corners, and more importantly, the system can raise the side of the car to mitigate injury to occupants in the case of an anticipated side impact. We experienced a simulated collision and the A8 quickly elevated the side that was about to be impacted in anticipation of a t-bone type event. You can watch how just one side raises rapidly in preparation for an anticipated side impact.
The A8 comes standard with adaptive air suspension, but can be upgraded to include predictive active suspension with the Adaptive chassis package to provide drivers with what Audi claims is benchmark ride quality. 
Audi have packed the A8 full of driving systems and features that provide autonomy or semi-autonomy, depending on local regulations. Traffic Jam Pilot has received a lot of attention and delivers level 3 autonomy in slow-moving, divided road traffic that allows the driver to be completely hands off for speeds up to 37 mph. Audi is working to bring this level of autonomy to highway speeds, but have not yet committed to a timeline. Remote Garage Pilot is another feature that moves the A8 in and out of tight parking spaces using a remote control. The disappointing caveat with these systems is that US regulations do not yet allow for Audi to roll them out here.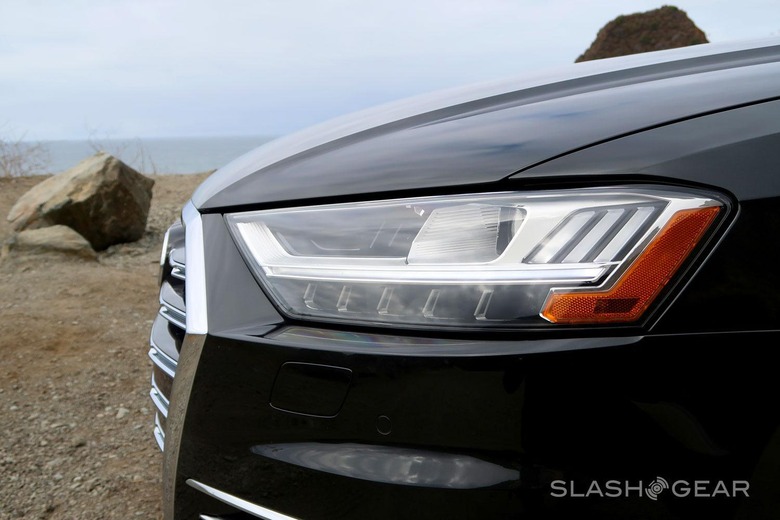 Europeans will be the first to experience these systems. Until then, State-side drivers can still take advantage of the updated systems running adaptive cruise assist, lane assist and collision pre-sense. These features are fed by a massive array of sensors, including 24 camera, radar and laser sensors. So complex are these inputs, to demonstrate the interaction of all these systems, Audi had us don Microsoft HoloLens to walk us through the intricacies of the A8 in 3D.
Audi have stated that some of these tech features will come pre-installed, and as regulators approve certain technologies, including Audi's new laser high beams, Audi can activate features over the air.
Quattro is standard on all A8 models, and when coupled with dynamic all-wheel steering, predicative active suspensions, and myriad driver assistance aids, Audi easily provides a bastion of both passenger peace of mind and driver confidence.
A vision realized
Though packed to the gills with technology, the Audi A8 puts the driver and passengers first. If you want the tech, it's there, even if those systems are quietly doing the work behind the scenes. The driving dynamic is surprising for the size of vehicle, and if you are in need of comfortable cruiser, the V6 will do it for you. But if you're after a little more urgency combined with creature comforts, then the V8 version is not far off.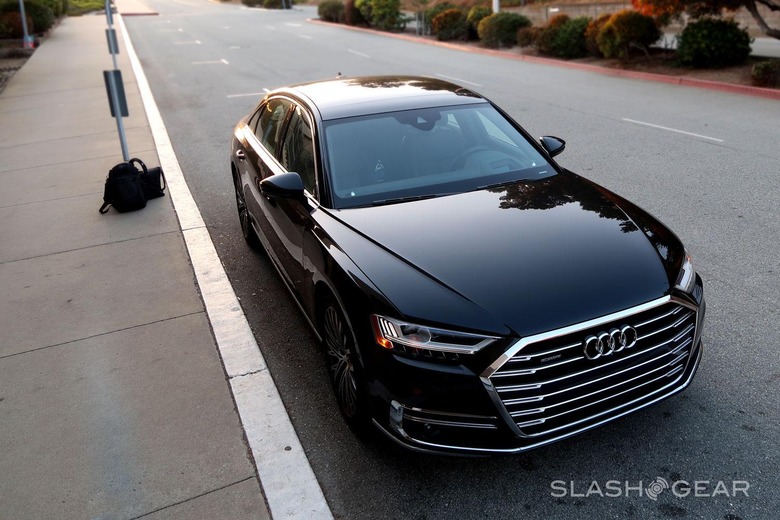 After spending a day behind the steering wheel, and in the back being driven, I can attest that Audi's vision of a sanctuary for driver and passenger is well developed in the 2019 Audi A8. Through its clever tech, it provides a rewarding drive, and a strong impression of luxury without the need to constantly remind you. Technophobes may find Audi's approach a little off-putting, but can be assured that the tech is easy to learn and use, and aims not to intrude with a cabin that delivers a place of quiet solitude and relaxation, or a productivity hub.
If this is the vision of luxury that you seek, then Audi have certainly delivered an impressive super-computer that just happens to look like a flagship luxury vehicle through the fourth generation Audi A8.