Audi MMI update integrates design and technology in one place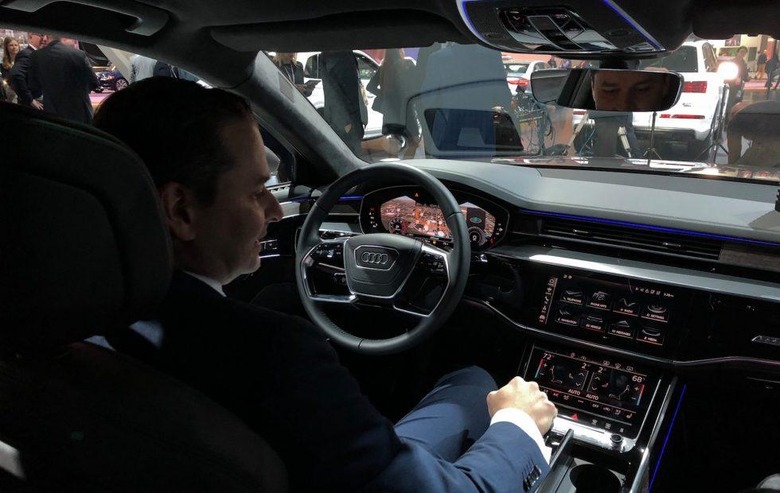 Who says concepts are just for phones and computers? Car makers have been putting out concept cars and outfitting them with forward-looking technology, some of which may never see the light of day. Some, however, do and they eventually get integrated into the car maker's premium line. At Detroit, we sat with Audi of America VP of Product Management Filip Brabec to talk about the company's plans to bring its technology, specifically its latest MMI system, from its luxury A8 to the rest of its premium brood.
"The focus of 2018 will be about going back and really refocusing and re-strengthening the C and D segments," said Brabec. That push started with the 2019 A8 that was unveiled in the last quarter of 2017. The luxury sedan was poised to carry more than just humans and their possessions. It also carried with it the technological platform that would find its way to the A7, the A6, and, eventually the upcoming Q8.
Audi's technologies span a wide range of systems, from infotainment to driver assistance, but they all converge on the central console fans lovingly call the MMI. Short for Multi Media Interface, the name belies what the MMI has become, going beyond simple entertainment functions. Indeed, what we were able to see at NAIAS 2018 offered the perfect blend beauty, technology, and usability.
When the car is off, you will not even see the MMI. Embedded in the black panel, the dormant system blends invisibly with the rest of dash. Start up the car and you will see three beautiful screens spring into life. In the middle, you have two MMIs, the one on top providing the conventional functionality, like infotainment and navigation, now displayed in a high resolution and responsive touchscreen. This same high-resolution upgrade is employed on the virtual cockpit, which changed very little from the previous generation save for the new "retina" screen and a 3D look that makes the instrumentation look a bit more realistic.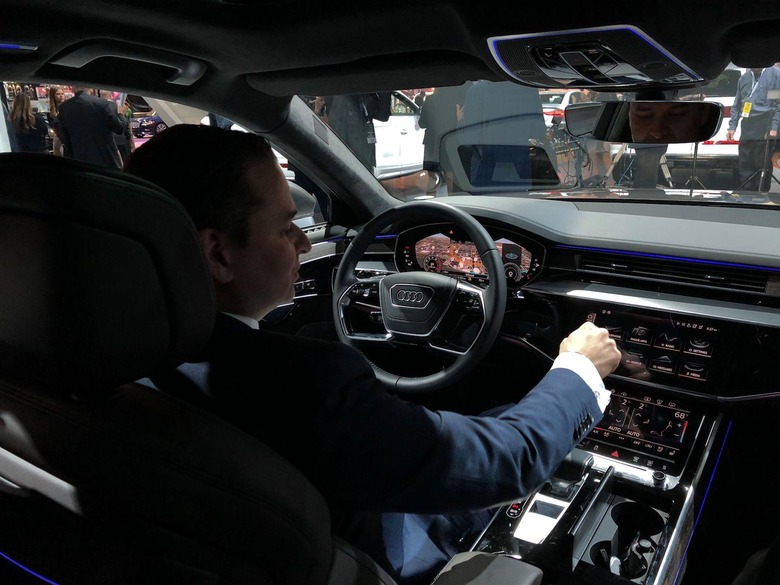 The second screen below is perhaps a better testament to Audi's daring as well as its innovation. It replaces the familiar physical controls that Audi's cars usually offer. Knobs, buttons, and sliders that give drivers confidence at a familiar interface. But Audi didn't simply abandon their customers. They applied everything they've learned from their previous MMIs. And they've learned that everyone has come to equate Audi's look and feel with the "click". And so the touch panel offers not just the sound of a click when you tap a button, you can also feel it underneath your fingers. And it's not the same, generic vibration you get on a phone or tablet. The haptic feedback is localized, fooling your finger into thinking there's a physical control where there's none. Small touches that reveal Audi's attention even to the minutest details.
We also got a chance to see one of Audi's latest driver assistance technologies. With a tap of the camera button on the MMI, or automatically when you shift to reverse, you get a real-time 3D view of the car and its surrounding, as if you were watching outside from a distance. The view is provided by a camera in the back, two in the mirrors, and one on front, then stitched together to help drivers get a better view of their surroundings within context.
While such features may have been seen on other cars before, Brabec believes Audi does it better because of one factor: usability. These technologies were designed to be usable, easy, and user-friendly from the get-go. It's not just some fancy gimmick or something nice to have. It's actually something you're going to use.
And use it you will if you get Audi's upcoming fleet. Some of these technological features from the A8 will trickle down to new A7, A6, and Q8, which will probably launch in the fourth quarter. But not before I fly to South Africa at the end of the month for a first drive experience of the all-new Audi A7 Sportback, so stay tuned for more details.