2019 Audi A6 Avant: 5 things you should know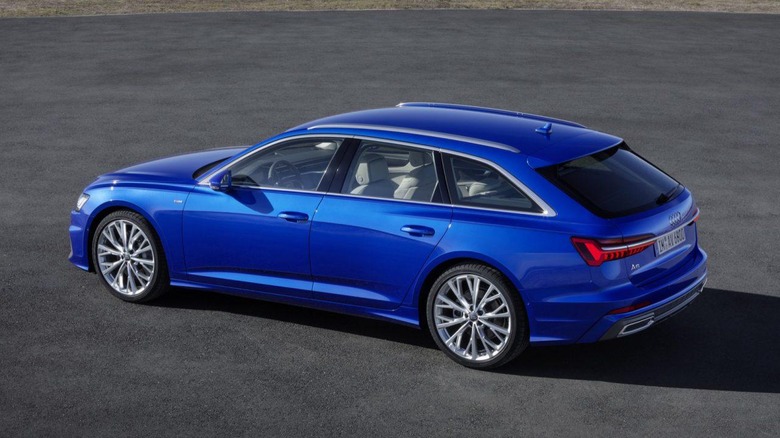 Crossovers and SUVs may be today's big thing, but the 2019 Audi A6 Avant proves wagons can be just as appealing – or even more so. The new A6 Avant – "Avant" being the German automaker's branding for this particular body style – takes the A6 sedan and lengthens it in a deeply pleasing way, with a rakish tilt to the rear glass and a general tapering to the lines that emphasize the A6's existing good looks. Read on for five things you should know about this handsome new wagon.
With space like this, who needs an SUV
At 16.2 feet long, 6.2 feet wide, and 4.8 feet high, the new A6 Avant is neatly proportioned. However, it's also practical. The trunk hoods 20 cubic feet as standard, but fold the rear seats down and that almost triples, to 59.3 cubic feet.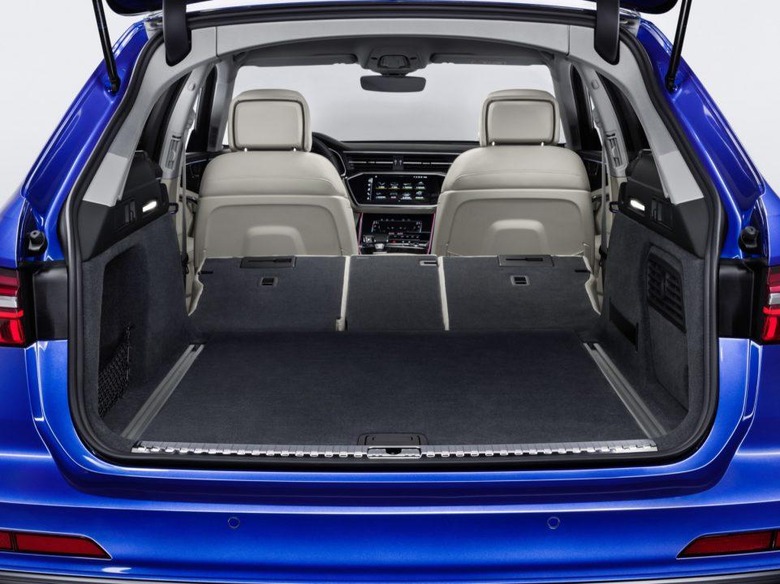 That, it's worth noting, is only slightly shy of the 60.4 cubic feet that the Audi Q5 SUV will accommodate, when its rear seats are folded flat. The Avant has a 3.5 foot wide loading width, too, and both the tailgate and the luggage compartment cover open electrically as standard. Optionally, you can have the trunk open when you wave your foot under the rear bumper.
It's not just a large space, however, but a flexible one. A rail tie-down system comes as standard, with four adjustable lashing points for tying objects down. Audi includes a tensioning strap, net, and two hooks, while the optional load-securing kit comes with a telescopic bar and strap, and allows the compartment to be sectioned off. 40:20:40 split rear seats are standard.
It's a hybrid - a mild one, at least
The 2019 A6 Avant is almost certain to use the same engines as its sedan sibling, of which currently two have been confirmed. The first is a 3.0-liter TFSI turbocharged V6 gas engine, which makes 340 HP and 369 lb-ft. of torque. The other is a 3.0-liter TDI diesel, with 286 horsepower and a 457 lb-ft. of torque.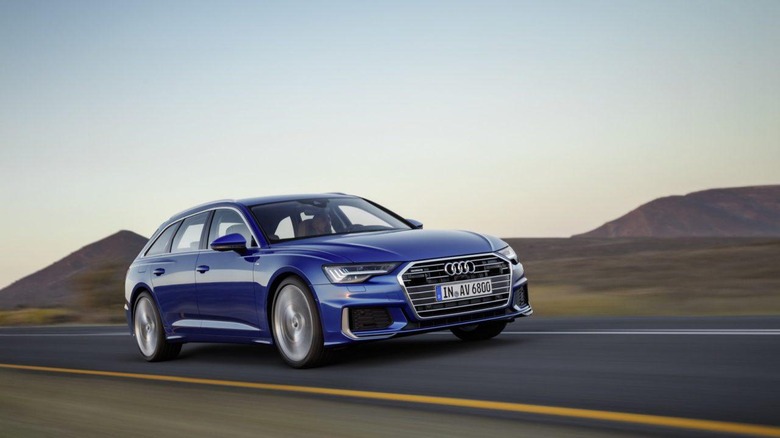 Both engines are so-called mild hybrids, which can't drive on electric power alone but use a more advanced, 48V electrical system for better refinement and overall efficiency. It's based on a belt alternator starter motor, which uses regenerative power when the A6 Avant is braking to recover up to 12 kW and store it in a li-ion battery.
That system can be used to more seamlessly shut the engine down or start it back up again, and not just when the car is at a standstill. Between speeds of around 34 and 99 mph, for instance, when the A6 Avant is coasting, the gas engine can shut off altogether until its power is actively needed. The start-stop system, meanwhile, now kicks in at just shy of 14 mph, rather than waiting for the car to come to a halt at the next set of lights or stop sign.
It's a smarter driver
Audi has been pushing the envelope when it comes to driver-assistance systems of late. While recent cars like the new A8 and A6 can't quite drive you autonomously, they can certainly offset some of the frustrations on the road. The 2019 A6 Avant is no different.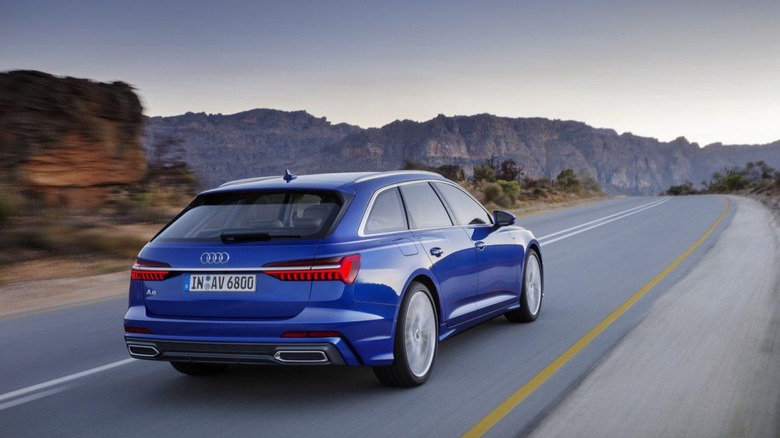 Its adaptive cruise control and other active safety systems can tap into as many as five radar sensors, five cameras, twelve ultrasonic sensors, and a laser scanner. Set a destination into the navigation system, and that can inform the cruise control ahead of time about upcoming turns so the system will slow for them automatically. Audi has also upgraded it to better deal with narrow roads, too.
There's no shortage of luxury or tech
Audi has given its dashboard tech and cabin trim a big upgrade over the past 12-18 months, and the new A6 Avant benefits from that as well. It's a more minimalistic place inside, with broad horizontal lines that emphasize the width of the space. Brand new seats can be had with ventilation and massage functions, and there are optional S sport seats with integrated head restraints.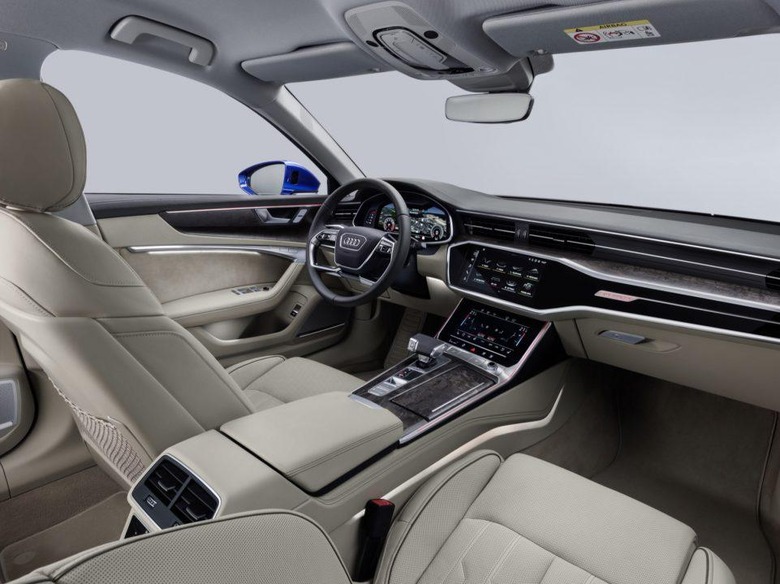 Five different trim packages will be offered, each with a different combination of colors and materials: basic, sport, design, design selection, and S line sport. If you want open-pore wood and Valcona leather, you can have it. A panoramic glass sunroof is also available, as is an air quality package which adds an ionizer and two different fragrances.
If it's tech you're more interested in, the A6 and A8's twin-touchscreen infotainment system has been carried over to the 2019 A6 Avant. The top display is 10.1-inches and used for entertainment and navigation. Underneath, there's an 8.6-inch display that handles climate control, seat comfort functions, and text input. Add in the MMI navigation plus option, and you get the 12.3-inch Audi Virtual Cockpit rather than analog dials, too, and there's an optional head-up display.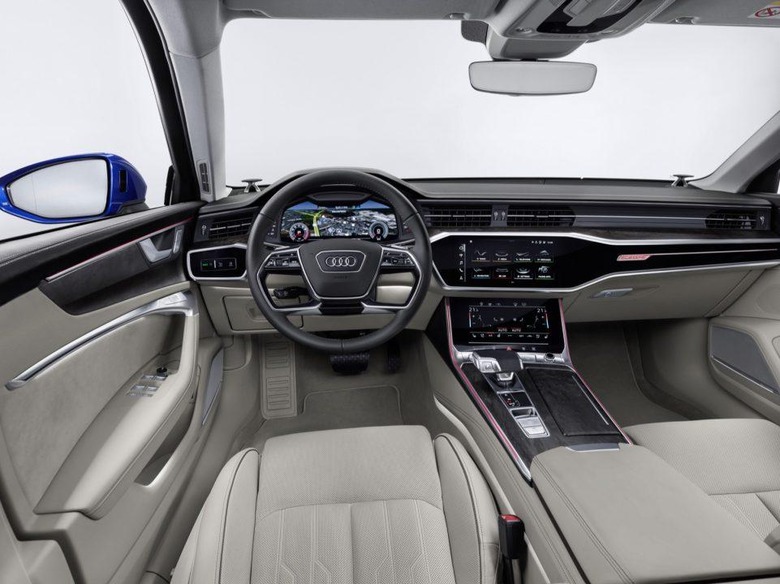 Like we've seen on earlier Audi cars, the A6 Avant taps into the cloud for smarter interactions. Natural language recognition, for instance, uses cloud-based processing to understand voice requests, rather than forcing the driver to memorize specific commands. Common journeys are recognized and intelligent suggestions made through the HERE-powered nav system. Audi's embedded LTE connection can be used for a WiFi hotspot, as well as Car-to-X services like remote smartphone control and even Voice-over-LTE calling.
Don't hold your breath for a US launch
America's aversion to wagons has led to a dearth of options in the US, especially given drivers' tendency to opt for the more upright seating position – and at least perceived off-road ability – of crossovers and SUVs. As a result, the last A6 Avant never officially made it here. Indeed, there's only one "wagon" in Audi USA's range, the 2018 A4 allroad, and even that is jacked-up to nudge into the crossover category.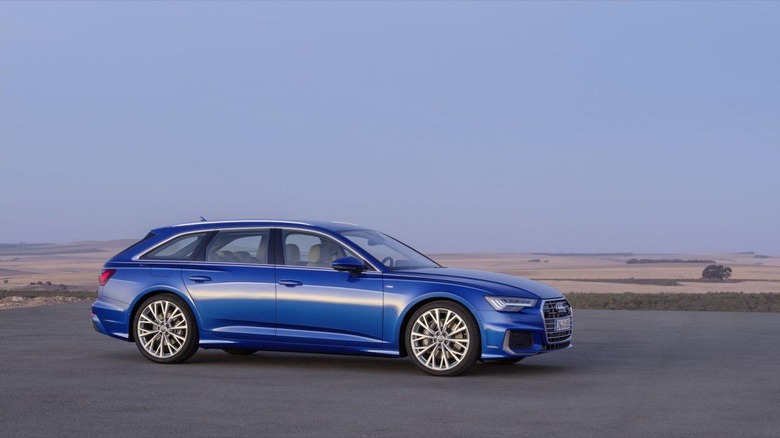 As a result, we're not holding our breath for a US launch, though we'd love to be surprised. Audi hasn't confirmed availability for the new A6 Avant yet, and could well surprise us. We've seen a slight resurgence of wagons in the US market of late – Volvo's V60, for instance, and Mercedes-Benz's E-Class Wagon – which could be just the motivation Audi needs to give the segment another try.