2018 Volvo XC40 gets official as the Swedes shake up SUV ownership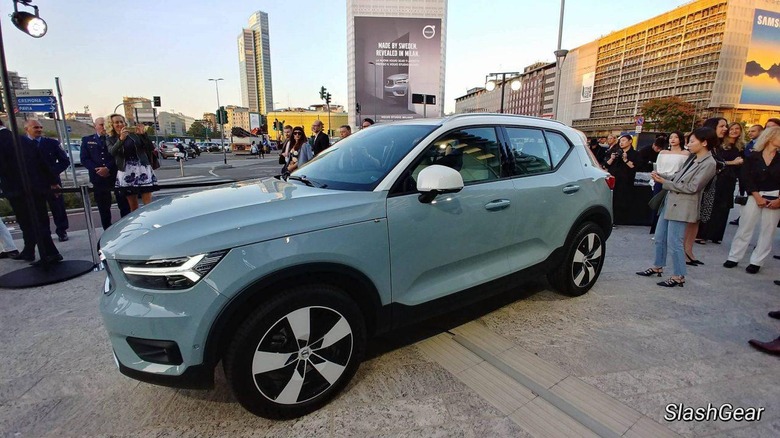 Volvo has revealed the 2018 Volvo XC40, its smallest SUV and the first to use not only its new architecture but the company's all-new way to buy cars. The XC40 slots in beneath vehicles like well-received XC60 and XC90, but though it borrows technology and styling from them both, it's built upon an entirely new platform. That's Volvo Cars' modular vehicle architecture (CMA) that will eventually form the basis of an all-new 40 Series range, not to mention fully electric cars.
For the moment, though, we have the 2018 XC40. It's has a more striking design than its bigger siblings, markedly similar to the Volvo 40.2 Concept the Swedish automaker showed off in May 2016. The front gets the same Thor's Hammer LED lights, flanking a bold grille, but the rear blends familiar features like Volvo's hockey-stick lamps with more unusual aspects like an oversized C-pillar.
It's a neat visual trick that pushes the cabin forward visually, and gives the XC40 an eager stance. That's particularly effective with the bi-color paint, combining a separate color for the main body of the small SUV and the roof section. It looks, though, like that will be an option for anyone not quite convinced.
Inside, anybody who has been in a recent Volvo car or SUV will find it a familiar place. That's no bad thing, certainly, given how polished Volvo's interiors have become since the launch of the XC90. There's the same Sensus infotainment system, with its large portrait orientation touchscreen in the center console, along with a larger number of cubbies and storage bins than you might expect.
Indeed, you get more space in the doors and under the seats, a fold-out hook for small bags, and even a removable trash bin in the tunnel console. A nook for your phone supports wireless charging, just in time for the iPhone 8.
Speaking of electricity, there'll eventually be EV models, but not at launch. Instead, Volvo will debut the XC40 with a D4 diesel or a T5 gas four-cylinder Drive-E engine, though it's unclear at this stage whether both will make it to the US. Later on will come a hybrid gas-electric model and a full-electric, in addition to the XC40 at some point being the first to use Volvo's new 3-cylinder engine.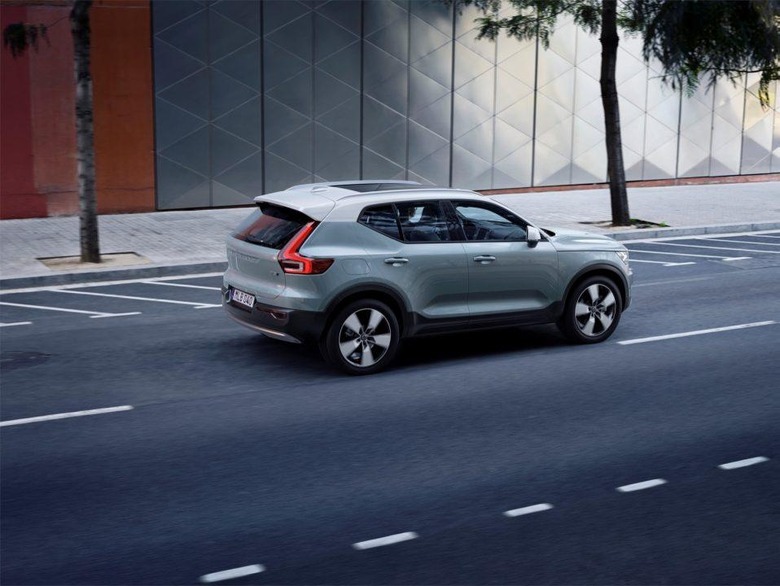 As for safety technology, Volvo is known for it and the XC40 is no different. There's Pilot Assist driving assistance, City Safety, Run-off Road protection and mitigation, and Cross Traffic alert with brake support. A 360-degree camera should ease any concerns about reversing because of those chunky rear pillars.
What's new, though, is Care by Volvo. It's the company's reimagined way to own a new car, though in fact ownership isn't really part of it. Instead, the automaker has borrowed from the idea of cellphone subscriptions.
So, you pay a monthly fee but don't have to think about a down-payment, insurance, taxes, service fees, or anything related to "geographical or customer age" according to Volvo. For European drivers, after 24 months of driving, you get a new Volvo; the US has it even better, with a new car after just 12 months. Care by Volvo will use the automaker's new digital key technology, too, allowing subscribers to share their car with friends and family more easily. [Updated to reflect the US length of agreement versus Europe]
Compared to traditional leasing, there'll be more of a focus on services and flexibility. Volvo says that users will be able to switch cars temporarily, depending on what they need: so, if you wanted a larger car for a weekend to help someone move house, that could be arranged. It'll be designed to work with the company's in-car delivery service, where couriers can drop off packages directly to the trunk of your vehicle. Finally, there'll be no negotiation process in the dealership, with set pricing both nationally and a unified price in Eurozone countries.
Initially, it'll be offered in Sweden, the United Kingdom, Germany, Spain, Italy, Norway, Poland, and the United States. Exactly how much Care by Volvo will cost is yet to be confirmed. We'll presumably know more in the coming weeks, ahead of the SUV entering production in November.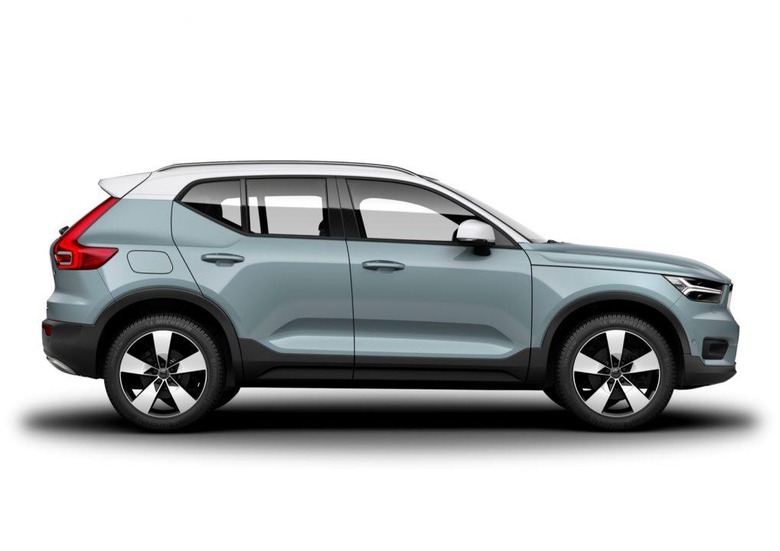 Update: Volvo has given us US pricing for the SUV, which will launch as a 2019 model-year car. The XC40 T4 FWD Momentum will start at $33,200, while the XC40 T5 AWD Momentum will start at $35,200 and the T5 AWD R-Design from $37,700 (all plus $995 destination). Options will include the $1,100 Vision Package with power-folding and dimming exterior mirrors, blind-spot information with cross-traffic alert, and Park Assist Pilot. On top of that, the $995 Advanced Package will add the 360 camera, headlight cleaning, and LED foglights and headlamps.
The $1,375 Multimedia Package will add Sensus Navigation Pro to the Momentum trim (it's standard on R-Design cars) and a harman/kardon 13-speaker sound system; the latter is $800 for R-Design trim. Individual options include $300 for the white contrast roof on Momentum trim only, full air suspension for $1,000 (from mid-2018), $575 to add keyless entry and hands-free tailgate opening to the Momentum trim (standard on R-Design), and $750 for heated front seats and steering wheel.