2018 Porsche Panamera 4 E-Hybrid packs 462HP and 31 mile EV range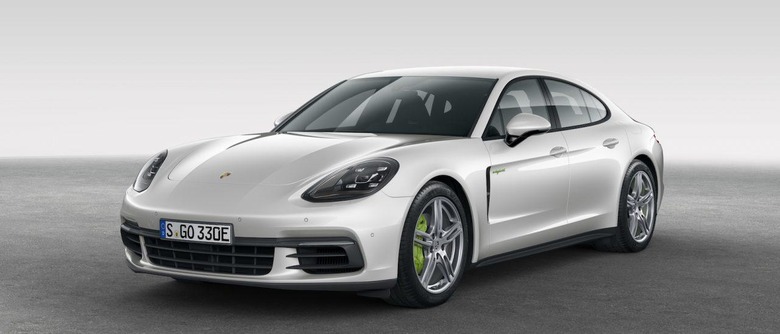 Porsche is running full-steam-ahead with the all-new Panamera, unveiling its latest gas/electric version of the four-door, the Panamera 4 E-Hybrid. Set to make its public debut at the 2016 Paris Motor Show later this month, the new car may have green credentials but it hasn't lost its spark: Porsche is claiming 462 horsepower overall, and a top speed of 172 mph.
That's a long way from your average Prius, to be sure, and yet driven with a less-than-leaden right foot you should be able to coax up to 31 miles of electric-only range from the car. US economy numbers aren't available yet, but on the New European Driving Cycle (NEDC) Porsche says the Panamera 4 E-Hybrid should do 2.5 l/100 km or 56 g/km of CO2 emissions.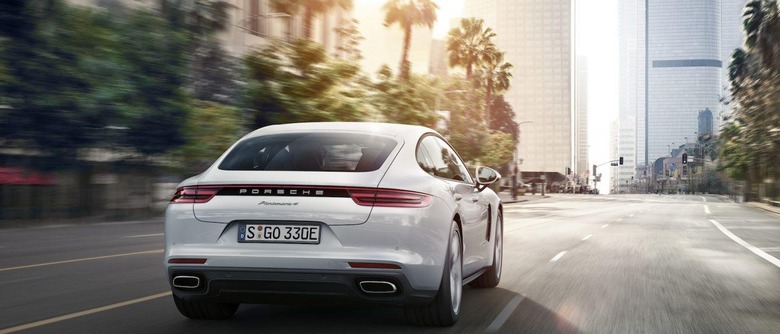 At its core, there's a 2.9-liter twin-turbo V6 engine which works along with an electric motor. The former musters 330 HP and 331 lb-ft. of torque, while the latter contributes 136 HP and 295 lb-ft..
It's not Porsche's first hybrid Panamera, but the automaker has changed how the electric and gas power are delivered. Previously, you'd need to kick down at least 80-percent on the accelerator to trigger "E-Boost" mode; now, following the route the 918 Spider laid out, that power comes through no matter the pressure you have on the accelerator.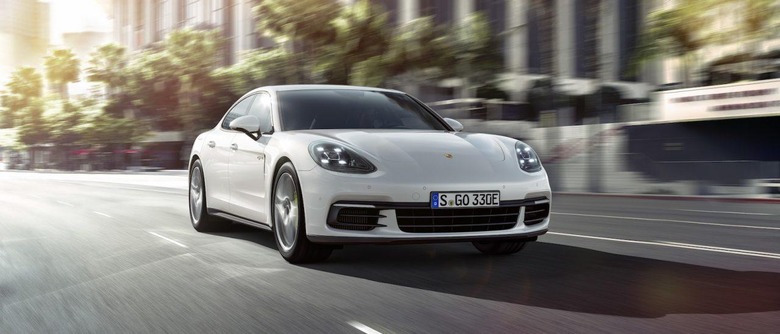 Various drive modes are supported. Default – and the mode the Panamera always starts in – is "E-Power" which uses electric alone. "E-Hold" saves the battery's charge and uses gas power instead, while "E-Charge" uses the V6 as a generator by running it faster than actual driving needs demand.
Finally, there's a new "Hybrid Auto" mode which promises the best efficiency by blending the output from battery and gas engine together automatically.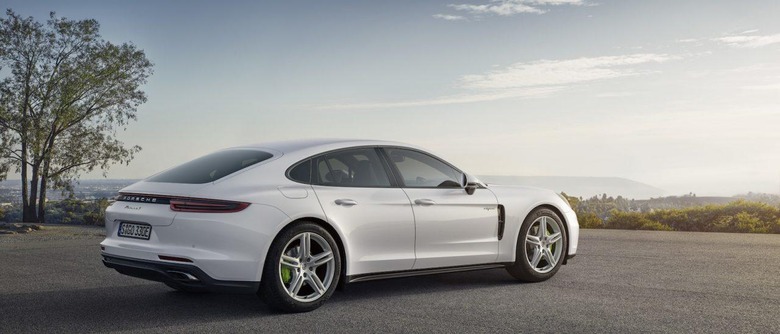 On top of all that, there are "Sport" and "Sport Plus" modes which keep the V6 active and use the battery power to deliver an extra bump of maximum performance.
The battery itself is a 14.1 kWh liquid-cooled li-ion pack under the trunk, which takes between 12 hours and three hours to charge depending on whether you're using a regular 110V household outlet or a 240V 40 amp outlet with the optional 7.2 kW on-board charger upgrade instead of the standard 3.6 kW unit. Auxiliary air conditioning – which cools or heats the cabin while on external power – is fitted as standard.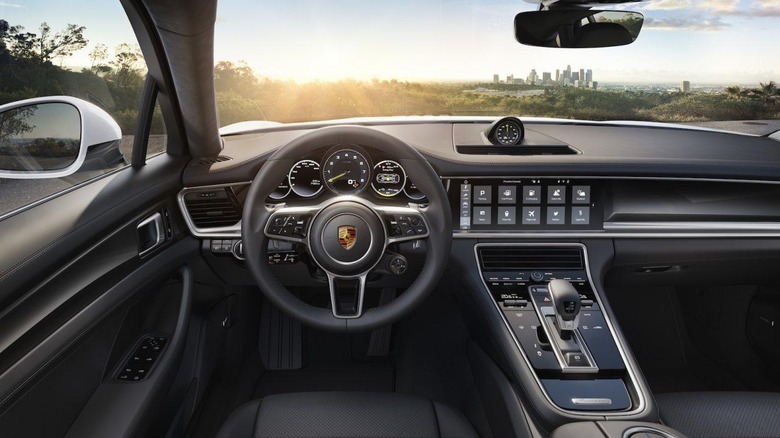 NOW READ: All the 2017 Panamera tech details you need
So too is the new Porsche eight-speed Doppelkupplung (PDK) transmission we've seen on the regular, gas-only Panamera. That car also donates its LCD-heavy cockpit, which in the hybrid gets a new set of virtual instrumentation showing power meter, regenerated power rates, and more.
Sales of the 2018 Porsche Panamera 4 E-Hybrid will kick off in the US come summer 2017.
Pricing will be confirmed closer to release, Porsche says, though the new car's predecessor, the Panamera S E-Hybrid, kicked off at roughly $100k.