2017 Panamera Turbo and 4S technical details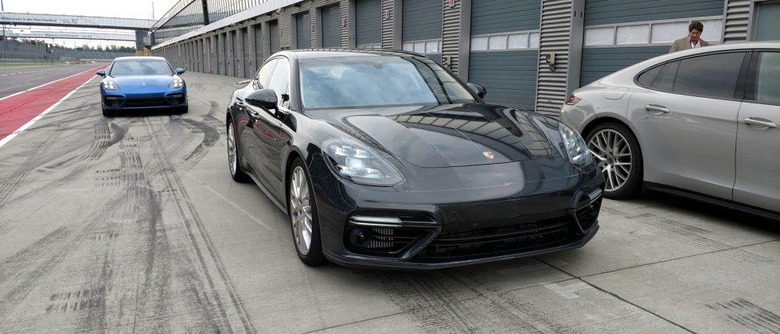 Overview, concept and design – The all-new 2017 Porsche Panamera epitomizes, to me, what a true four-door sports sedan ought to be: bad to its bones. Everything's new, inside and out; it looks like a Porsche; it drives and performs like a Porsche. The only thing left is for me to actually get behind the wheel myself.Sadly so far Porsche isn't quite ready to entrust those outside of the company with the keys, but the automaker did invite me to take a "Taxi Ride" in the new Panamera recently. Don't let the name mislead you: this is the hottest of hot laps, driven by a pro-driver around a proper racetrack. While I'd obviously prefer to be at the wheel of a car I've written about extensively over the past few months, this was definitely the next-best-thing. Launch control? Check. Slicing through hairpin turns? Check. High speed down the straights and then maximum braking? Check. One of the most epic cab rides ever? Oh, definitely check.
Drive the damn thing for myself? Soon, very soon.
The Panamera concept is simple. You take everything that makes a Porsche 911 great – both in appearance and performance – then extend the wheelbase, add an additional set of doors, a couple of rear seats, drop in exceptional performance, and finally stuff it to the gills with innovative tech. The result is a four-door sports sedan with the potential to best any other luxury sedan in its class.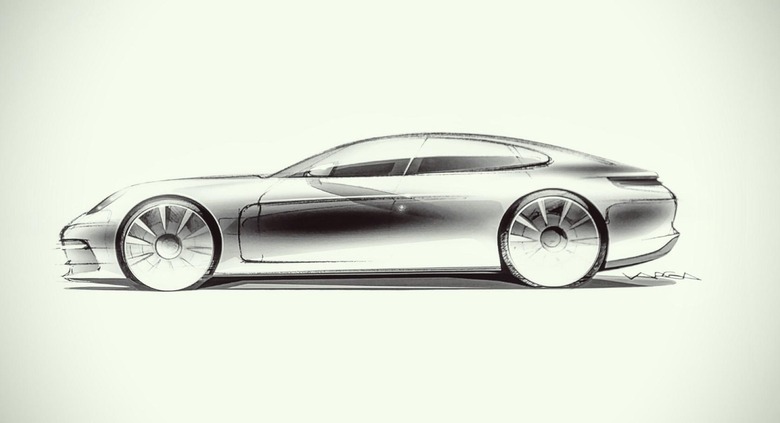 In fact, the overarching philosophy for the Panamera is similar to that of the Macan GTS, and indeed in Porsche's eyes they're both "true" sports cars, just molded in a different shape. While I know many may not agree with that, personally I've drank the Kool-Aid. At this stage in my life, with two young kids, buying a 911 Carrera just isn't an option. There's a reason the Panamera has been a hit among families with a taste for speed, and I'm perfectly fine with Porsche's vision of a people hauler.
Dimensions-wise, at almost 199 inches the second-gen Panamera is 1.34 inches longer than its predecessor, with width and height increasing a fraction. Its kept the low, purposeful stance Porsche is known for; what gives the Panamera its striking resemblance to the 911 is, indeed, the dynamic roof line which visually lowers the car's center of gravity.
Almost all of that length increase has gone on the wheelbase, now up to just over 116 inches. It pushes the front wheels forward by about half an inch, cutting the front overhang and increasing the distance between the A-pillar and the front axle.
More wheelbase pays dividends for internal practicality. The rear seats fold with a 40:20:40 split, boosting cargo space in the process from 17.4 cu.-ft. to 46 cu.-ft. That should be more than enough for a quick weekend home improvement project. As for carrying people, I'm 6'2 and have sat in the driver seat, front passenger seat, and rolled around in the rear seats while shooting an on track video with little discomfort. Even though rear headroom has actually dropped by 0.8 inches, the difference is hardly noticeable.
Outside, the new front end gets more structured, with an an A-shaped air intake that helps to emphasize the car's width. The contoured power dome in the hood leads a pair of lines all the way down to the bumpers; Porsche could drop the front end thanks to the compactness of the engine itself. Finally, the new headlamps have four-point LED daytime running lights, while the Porsche Dynamic Light System (PDLS) is standard on the Turbo and optional on the 4S.
Sadly, you can blame the US's outdated headlamp laws for the newly-developed LED Matrix headlights with PDLS Plus not being available here. We'll have to covet from afar the 109 LEDs – 84 of which make up the LED Matrix module – that European drivers can upgrade to.
As for the wheels, the Panamera 4S gets 19-inch alloys as standard, which rise to 20-inches as standard fit on the Panamera Turbo. 21-inch wheels are an option, and they suit the car – visually and on the road – well.
V6 and V8 twin-turbo and a new 8-speed Porsche dual-clutch transmission (PDK)
Until I get behind the wheel and drive the new Panamera for myself, I can't say first-hand just how well the V6 and V8 twin-turbo engines perform. That being said, I recently drove the new 2017 Audi S4 at Le Mans and the 2018 Audi S5 powered by the new 3.0 TFSI V6, which happens to be the first of its kind with a V-shaped cylinder bank. Audi's mono-turbo engine happens to be in the same new engine family as Porsche's new V6 and V8 bi-turbo engines; even with a single turbo, I hardly felt like the car was short on power.
So, two turbos are better than one, right? Certainly, if you're counting horsepower. The smaller 2.9-liter V6 on the Panamera 4S delivers 440 HP, while the four-liter V8 on the Turbo yields 550 HP. That's 86 and 196 more horsepower, respectively, than Audi's 3.0 TFSI V6, though still shy of Audi's new 605 HP RS7 Performance.
Having driven both extremes of Audi's engine, it'll be interesting to see how Porsche's take on the technology will compare. Meanwhile, there's the possibility that Audi will make use of the new V8 in the upcoming A8, though they'll be tuned very differently as the people at Porsche point out.
It's all about efficiency and performance
Horsepower alone isn't the whole story, there's torque to consider, and if you've ever driven anything with a reasonable diesel engine you're probably ruined for life. Porsche's two new gas engines aren't too shabby as numbers go: the V8 hits maximum power between 5750 and 6000 rpm, but its 567 lb.-ft maximum torque starts from a mere 1960 rpm. That's how Porsche is able to propel the Panamera Turbo from 0-60 mph in 3.6 seconds – only 3.4 seconds with the Sport Chrono Package – and on to a top speed of 190 mph. Redline arrives at 6800 rpm.
What about the 2.9-liter engine in the Panamera 4S?
Rest assured, it's no slouch. It, too, is completely new and, like its big brother, it's a V-engine with a 90 degree cylinder angle. Maximum 440 horsepower arrives at 5650 rpm, while its 405 lb.-ft of torque lands in a flat plateau between 1750 and 5500 rpm. It does 0-60 mph in 4.2 seconds – cut to 4 seconds even with Sport Chrono Package – and has a top speed of 179 mph.
Why is the "V" important? Basically, it means that the twin-scroll turbochargers – which supply compressed air to the engine's combustion chambers – are positioned centrally between the cylinder banks. It makes for greater efficiency but also a smaller overall footprint.
Just spray it on me baby! With the turbos in the middle, it's logical to centrally position the injectors, too, and sure enough that's where you find them under the Panamera's hood. Each of the high-pressure injection valves has seven nozzle holes, and there's a new high-pressure pump – one per cylinder bank – with a maximum injection pressure of 3625 psi, considerably increased over the outgoing engine's 2030.5 psi. The result? Near-telepathic throttle response.
Hey, the eight of us need a break. Much as you might want to, you're not driving flat-out all of the time. Depending on load and power requirements, the Panamera Turbo has a cylinder control system dubbed VarioCam Plus that can deactivate and reactivate cylinders two, three, five and eight as needed. Porsche's engineers tell me that this means both the intake and exhaust valves of these four cylinders are completely shut down, kicking in between 950 to 3500 rpm and up to a torque limit of 184 lb.-ft.
As for the V6, those guys don't get a break but Porsche hasn't left them completely in the lurch. Instead, it gets intake valves with variable timing and the centrally-located high-pressure injection valves. VarioCam Plus monitors whether you're cruising at a steady speed or need additional power for passing – by tracking the gas pedal position, among other ways – and then adjusts the variable stroke and variable opening time of the intake valves between 6 and 10 millimeters.
The first Porsche 8-speed PDK, recycled. Porsche showed off its brand new 8-speed dual-clutch transmission – it's called the "Porsche Doppelkupplung" hence PDK – recently, somehow adding an extra ratio over its predecessor yet even more compact. Indeed, while the V-engine layout is certainly nifty, I'd argue it has nothing on the new gearbox.
It's not a size reduction for the sake of boasting: the dual clutch transmission is smaller and lighter so that Porsche can fit in a hybrid module down the road. It works with rear-wheel or all-wheel drive setups, and by pre-engaging the next ratio trims gearchange times much faster than you could with a manual.
How can eight gears make for a smaller overall package? Porsche reuses gears 5, 7, 6, and 8 since they're less frequently called upon, whereas in contrast gear 1 through 4 are used the most. Along the way, the revised PDK also picked up a few new tricks to help lower fuel consumption, most notably with the 7th and 8th being overdrive gears. Yes, that means top track speed arrives when you're in 6th. Porsche has plenty of headroom for power, too, since the PDK has been designed to handle torque of of up to 737.5 lb.-ft.
InnoDrive – Autonomous driving is making headlines right now, but while there are certain cases where you might want the car to pilot itself, personally I still want to have full control as much as possible and happily Porsche shares the same view. Still, that doesn't mean the automaker is putting the topic aside; on the contrary, in fact, its InnoDrive system is shaping up to be one of the most advanced driver-assist packages on the market.
Unfortunately, it's not ready for testing, but in theory the adaptive cruise control scans up to 1.8 miles on the road ahead, while relying on nav data to calculate the optimal acceleration and braking patterns for the engine, transmission, and brakes. So, as you're coasting along with InnoDrive at the helm, the Panamera will essentially negotiate corners, add more throttle if you're going up a hill, and read speed limit signs in order to speed up or slow down appropriately.
Unsurprisingly, it also takes into account the current traffic conditions, using both radar and cameras in order to adjust to appropriate speeds. Indeed, it can even recognize roundabouts and independently adapt its speed to the conditions ahead. InnoDrive switches to a more aggressive dynamic map if you're in Sport mode, meanwhile.
Germany and other European countries will get InnoDrive first, in January 2017, but unfortunately Panamera owners in the US and Canada will need to wait a while longer.
Chassis
Porsche 4D Chassis Control both simpler and more complex. Historically, chassis control systems have used independent sensors; 4D Chassis Control on the new Panamera is now centrally networked. It tracks longitudinal, lateral, and vertical acceleration from all the various systems in real-time, so that each benefits from the data as a whole. The result: ride handling improves, because the 3-chamber air suspension now communicates with the rear axle steering, while also looping in PASM that a rough and tight turn is coming up.Porsche Active Suspension Management (PASM) isn't new to Panamera, but it does get new, lighter dampers while the responsiveness and the spread between comfort and sport are improved. Drivers will get "Normal," "Sport," and "Sport Plus" driving modes to play with, too.
In theory, body movement is tracked during acceleration, braking, dynamic cornering, and on uneven roads. That's sent to the new Porsche 4D Chassis Control System for real time calculation of the current driving conditions, at which point PASM instantly adjusts the damper stiffness with consideration given to the currently-selected drive mode. 4D Chassis Control, meanwhile, also communicates both the core data PASM's reaction to the various other electronic chassis systems. The result, Porsche promises, is better stability, performance, and comfort.
Three-chamber adaptive air suspension (PASM) More is better: each suspension strut now has three rather than two air chambers, for 60-percent more air volume. More volume means a broader spread of spring rates: when air fills all three chambers, that's going to be the most comfortable, whereas in Sport and Sport Plus modes, only one chamber is filled. Porsche can electronically adjust spring rate in a fraction of a second, so just when you start to think you're probably going to get some body roll during aggressive cornering or braking, you don't.
At lower speeds, the suspension now supports a height adjustment of 0.79 inches to help you from scratching the front on steep garage exits or over nasty speed bumps. For better aerodynamics and handling at higher speed, meanwhile, the Panamera can be lowered: the front axle by up to 1.10 inches, and the rear-axle by up to 0.79 inches.
The "Taxi Ride" experience. It was a cab ride I'll never forget: passenger as the Panamera Turbo roared down fast straights, then through hard braking and aggressive cornering at proper racing speeds. I can attest that there was very little to zero body roll, whether I was sitting in the front passenger or rear seat; indeed, the ride was so smooth, I was able to capture the experience while hand-holding a camera phone.
Porsche Dynamic Chassis Control Sport. It turns out, PASM can't take all the credit for avoiding body roll. Porsche Torque Vectoring Plus – aka PTV Plus – and the electromechanical power steering play a part, as does the new Porsche Dynamic Chassis Control Sport (PDCC Sport) system. That throws in integrated electromechanical stabilizers, among other things.
The recipe for great lap times is misleadingly simple. Fast on the straights, wait as long as possible before you brake hard, hit the apex, and accelerate out; repeat until you're top of the podium when the flag comes down. It's a lot easier said than done, particularly at proper racing speeds.
Driver skill is still the most important thing, but PDCC is much faster to react than hydraulic actuators at stiffening the stabilizers. It's technology the Panamera has borrowed directly from the 911, as is the electronically-controlled rear-axle differential lock that can do variable drive-torque distribution between the rear wheels. Individual wheel braking also delivers additional torque at the rear-axle, useful when you're diving into a corner. Throw in PTV Plus, and faster turn out of the bends is possible, specifically locking the differential for extra traction.
Speaking of the rear, for the first time Porsche is offering rear axle steering as an optional extra. It's designed to play a part not only in day-to-day driving such as low-speed maneuvers, but when you're indulging in more spirited driving.
At low speed, the rear wheels steer in the opposite direction of the front wheels. This is the equivalent of shortening the wheelbase, reducing the turning circle and making it much easier to park. For track or sportier driving, and during high-speed maneuvers meanwhile, the rear wheels steer in the same direction as the front wheels, virtually extending the wheelbase to increase agility.
Body – high tech, lightweight multi-material body with much more aluminum
The new Panamera may be longer, taller, and wider than before, but Porsche has used more aluminum to keep weight down. In addition to the outer door panels, the hood, hatch, and front fenders, the whole side section and roof are now made of the metal. It's all based on the Modular Standard Drive Train Platform (MSB), which was developed by Porsche for the Volkswagen Group.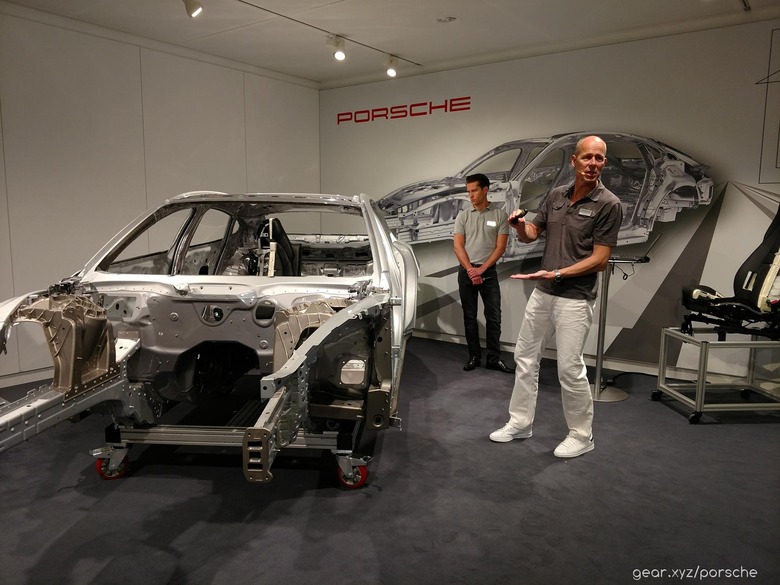 In fact, there are three core modules: the front body, the middle floor section, and finally the rear body. This modular design allows for versatility, such as a long or short wheelbase version of the car.
In additional to aluminum, various steel alloys and plastic are used to produce the firewall cross membrane. For the first time, Porsche is using an ultra-high-strength boron-alloyed steel for the firewall's cross member, while the passengers get extra high-strength, hot-formed steel for their protection.
Indeed, the recurring theme throughout the Panamera is the mixture of lightweight aluminum surfaces combined with high-strength steel structures. Its demanded a new manufacturing process, too, since joining aluminum can be a challenge, especially when – as Porsche is doing – you're using it in the floor, roof, and front end. Turns out the answer is a combination of roller hemming (a form-locking method of joining components without welding spots) with a bonding process to join the aluminum parts of the side wall to the high-strength steel side wall structure.
Overall, the Panamera is shaping up to be a worthy upgrade, with a bold new design not only inside and out, but under the sheet metal too.
Be sure to check out SlashGear's previous coverage to read more about Porsche's new Communication Management system, not to mention our hands-on with the new, optional, and very loud Burmester audio system. We're set to test drive the new Panamera in just a few short weeks, so keep your eyes peeled for our first drive experience.