What's a person to do if they want a Porsche 911 GT3 but also crave life out of the spotlight? The German automaker believes it has the answer with the 2018 911 GT3 with Touring Package, a new version of the coupe that drops its most outlandish feature. Where normally the GT3's sizable fixed rear wing would be found, the Touring Package trades it for a far more discreet alternative.
In fact, it's an adaptive rear spoiler more akin to those found on the 911 Carrera. It's not a straight carry-over, mind. Porsche has added a "Gurney Flap" aerodynamic lip, finished in the car's body color.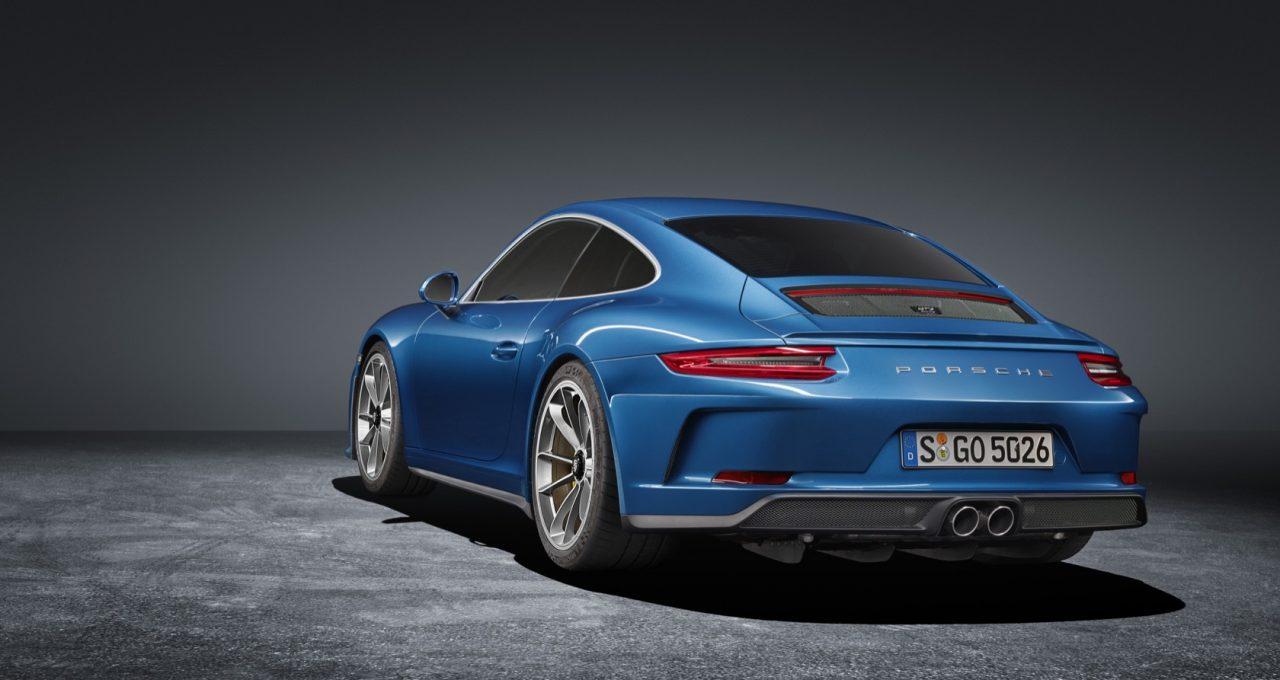 Meanwhile, the Touring Package also adds in silver-finish side window surrounds, Sport Exhaust tailpipes, and headlight washer system covers. The Porsche logo on the rear is also finished in silver. An "Exterior in Black" option returns them all to the black finish of the regular 911 GT3, as well as tinting the front turn signal lenses and the taillamps.
While the aesthetics might be different, the performance is the same. Under the skin is the same 4.0-liter naturally aspirated flat-six engine, good for 500 HP and 339 lb-ft. of torque. 0-60 mph comes in 3.8 seconds, with a top speed of 196 mph. If you want the Touring Package, meanwhile, you'll only be able to specify it with the six-speed manual transmission.
That's down to the history of the name, Porsche suggests. It first offered such a trim on the 911 Carrera RS in 1973, paring back the design to the core and keeping the interior as classic as possible. This new car does much the same, dressing the coupe – including its 1.7-inch wider rear – in the same color options as the regular 911 GT3.
The wheels are forged center lock alloys. Up front, you find 245/35 ZR 20 tires on nine-inch wide wheels, while the rears use 305/30 ZR 20 rubber mounted on twelve-inch wide wheels. Inside, leather takes precedence over Alcantara, further differentiating the Touring Package from other GT3 models. It covers the steering wheel – which keeps its 12 o'clock marker – shift lever, door panel armrests, center console lid, and interior door handles, while the seat centers are black fabric. All of the stitching is black thread, and there's black brushed aluminum trim.
Even with the manual instead of a paddle-shift gearbox, there's some neat tech to be had. Hit the "Sport" button and you get automatic rev-matching on downshifts. Power goes back through a mechanical rear differential lock with brake-based torque vectoring, and there's standard active rear-axle steering, too.
Orders of the 2018 911 GT3 Touring Package are being taken from today, with the car expected to arrive in the US in early 2018. It's priced from $143,600 like the regular GT3, plus $1,050 destination.