2018 Porsche 911 GT3 pleases purists with stick shift option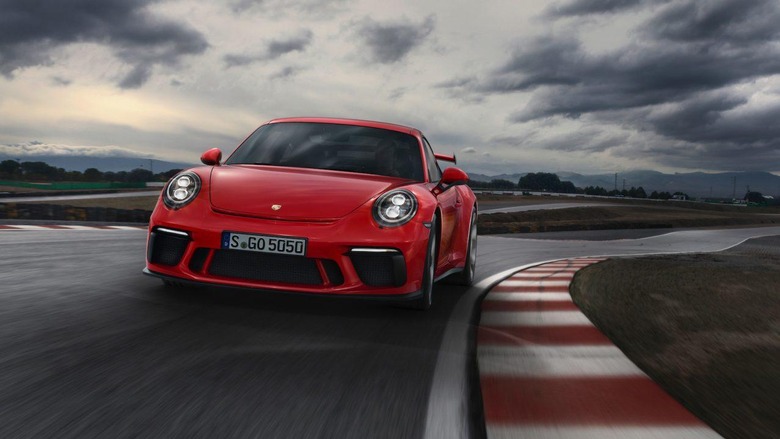 Porsche continues to give stick shift fans the manual transmissions they crave, and the good news is that the 2018 Porsche 911 GT3 is no different. The coupe, freshly announced at the Geneva Motor Show today, puts a 4.0-liter flat-six engine at its heart, and then offers it with either Porsche's achingly-clever PDK transmission or, for those who want to row themselves, a six-speed manual. Of course, there's more to the 911 GT3 than just what your right hand grabs.
For a start there's 500 HP and 339 lb-ft. of torque to play with. The engine is carried over from Porsche's 911 race cars – including the 911 GT3 R and the 911 RSR – which gives it some serious credibility. It's dropped into a redesigned chassis, and has an overall power-to-weight ratio of 6.4 pounds per HP.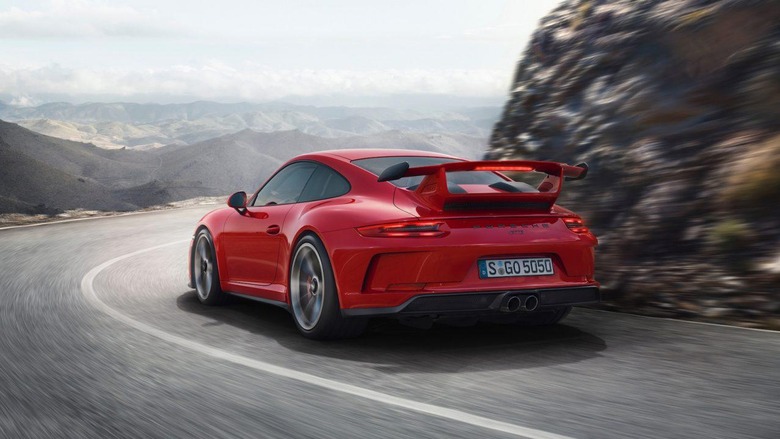 As standard, it comes with Porsche's seven-speed dual-clutch transmission that's been specially constructed and tuned for the GT3. With it, the 3,153 pound car will do 0-60 mph in 3.2 seconds. Top speed is 197 mph.
Opt for the 6-speed manual and you'll get a weight cut and a slight improvement on top speed. Curb weight drops to 3,116 pounds and it'll top out at 198 mph. However, there's nothing like the efficiency of the PDK for actually getting you up to speed most rapidly: with the manual, 0-60 mph takes 3.8 seconds.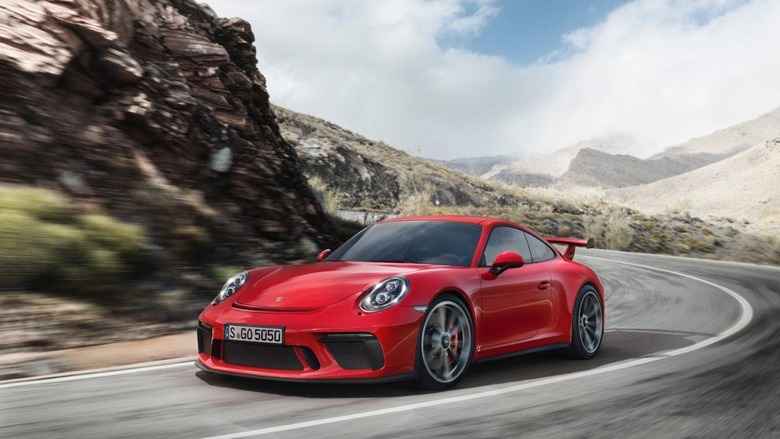 Elsewhere, there's rear axle steering which either turns the rear wheels in the opposite or the same direction as the front wheels, depending on overall speed. A rear locking differential is standard, as are dynamic engine mounts. A carbon fiber rear wing helps keep both downforce in play and overall weight down. At the front, the fascia and spoiler are pared back to cut weight while still allow for maximum airflow, and there's a new diffuser at the rear.
In the cabin, there's the same 14.1-inch GT Sport steering wheel from the 918 Spyder, together with Sport Seats Plus with extra bolstering and electric adjustment of both seat back and height. If you'd rather, you can specify Adaptive Sport Seats Plus, with 18-way electric adjustment and both a power steering column and seat memory. Full Bucket Seats, with electric height adjustment and a fixed carbon fiber reinforced backrest are an alternative option.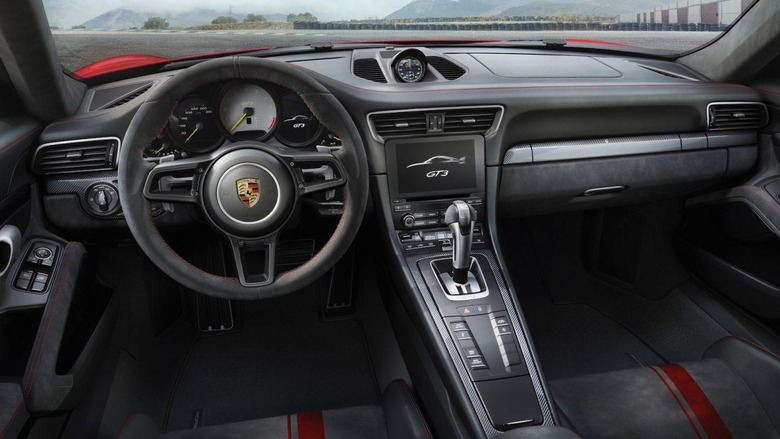 Don't plan on bringing the kids, mind. There are no back seats in the 911 GT3, though Porsche does fit its navigation-enabled infotainment system that includes Apple CarPlay. The companion Porsche Track Precision App allows track data to be logged on a paired smartphone.
If you can handle it, the 2018 Porsche 911 GT3 is set to show up in dealerships in the US come fall 2017. It'll be priced from $143,600 for the PDK, plus $1,050 destination. No word at this point what premium the manual gearbox will command.