2018 Lexus LS 500 F SPORT promises coupe handling from luxe sedan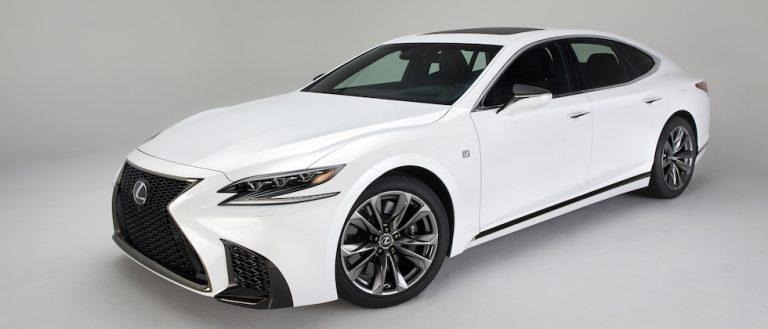 Lexus unveiled its curvaceous new LS 500 luxury sedan earlier in the year, and now the four-door is getting the F SPORT treatment. Revealed for the first time at the New York International Auto Show 2017, the fettled LS gets a more aggressive exterior design, more sporting-themed cabin, and changes to the chassis and more. However, there's a hiccup if you were hoping for a full BMW M760i or Mercedes AMG S63 Sedan competitor.
On the outside, there's a new F SPORT grille which Lexus is particularly proud of. That apparently took five months for the computer-aided design team to figure out, given its 7,100 individual surfaces that had to be adjusted so the interplay of light was just so. It's flanked by enlarged side grilles, while the rocker panel and trunk moldings are also new. F SPORT badging is fairly discreet, unlike the 20-inch alloy wheels. A special Ultra White paint job will be exclusive to the F SPORT.
Step inside, meanwhile, and you'll find new front seats with extra support. Perforated grille patterning on the leather is joined by scored aluminum trim, and there's an F SPORT steering wheel. As on the LFA, the speedometer and tachometer are built into a sliding gage that can push to one side so as to display more information.
The accelerator, brake, and footrest get aluminum trim, and there's an F SPORT shift handle. Ultrasuede appears on the seats and headliner, and Lexus will offer an exclusive Circuit Red interior option on the car. Obviously you still get the same big touchscreen display and other electronic niceties of the regular LS 500.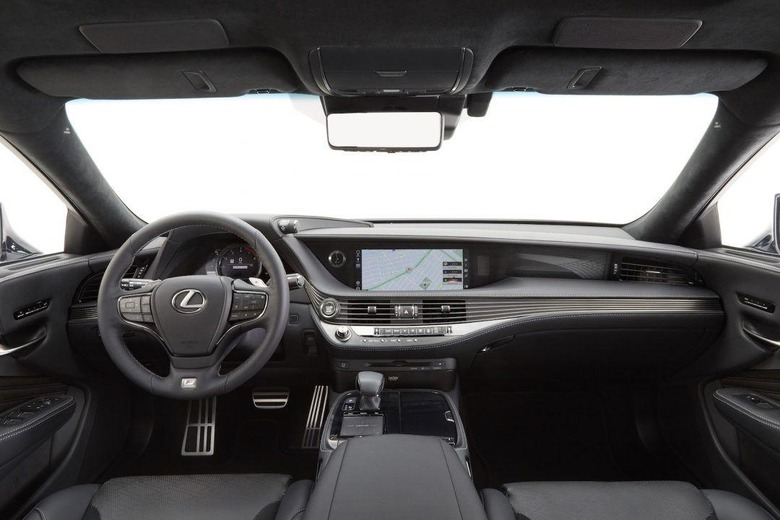 Unfortunately for those hoping for extra power, Lexus continues its F SPORT trend of upgrading style and handling but not changing the horsepower. Lexus will offer F SPORT versions of both the regular gas and gas-hybrid LS, while the RWD V6TT version will also have the option of an F SPORT Handling Package. Either way, you get a 3.5-liter V6 engine at the core, with the regular LS 500 mustering 415 HP and 442 lb-ft. of torque, and the LS 500h delivering 354 HP altogether with its electric drive, and 258 lb-ft. of torque.
The engineering changes are focused on the chassis and handling. A new Vehicle Dynamics Integrated Management system tracks movement in all directions and adjusts the braking, steering, powertrain, and suspension settings accordingly. If you have the RWD V6TT with the F SPORT Handling Package, there's variable gear ratio steering and active rear steering, along with an active stabilizer and air-suspension with rapid-height adjustment. The 20-inch wheels are wrapped with 245/45RF20+ 275/40RF20 tires, and there are larger front and rear brakes: six piston calipers up front, and four at the rear.
Pricing for the 2018 Lexus LS 500 F SPORT will be announced closer to release. The cars should begin appearing at dealerships later this year.