2018 Ford F-150 adds turbodiesel plus new safety tech and styling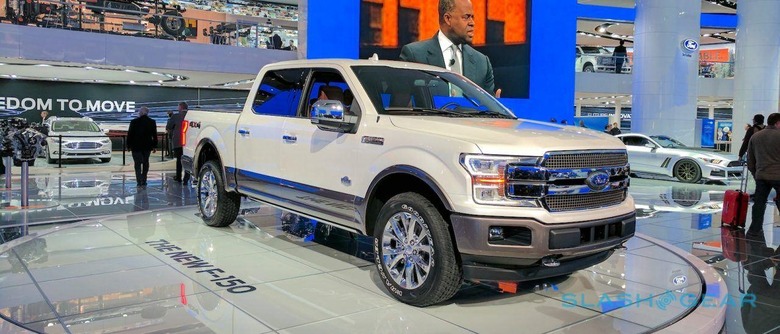 When the best-selling truck gets updated, plenty of people take notice, and so the 2018 Ford F-150 looks set to get attention at the Detroit Auto Show this coming week. Keeping the aluminum-alloy body that proved so controversial – and, indeed, still is fairly divisive among truck fans – the 2018 F-150 gets a revamped front and rear design, in addition to new engine options including a turbo-diesel. Meanwhile, the tech levels have been boosted, too.
From the XL up to the Limited version, the F-150 gets new grilles, headlamps, and front bumpers. They're designed to be more distinctive between trim levels than the current aesthetic, as well as give the trucks a wider, "more planted stance" than today. The Lariat F-150 Sport Package gets twin bars finished in the same body-color.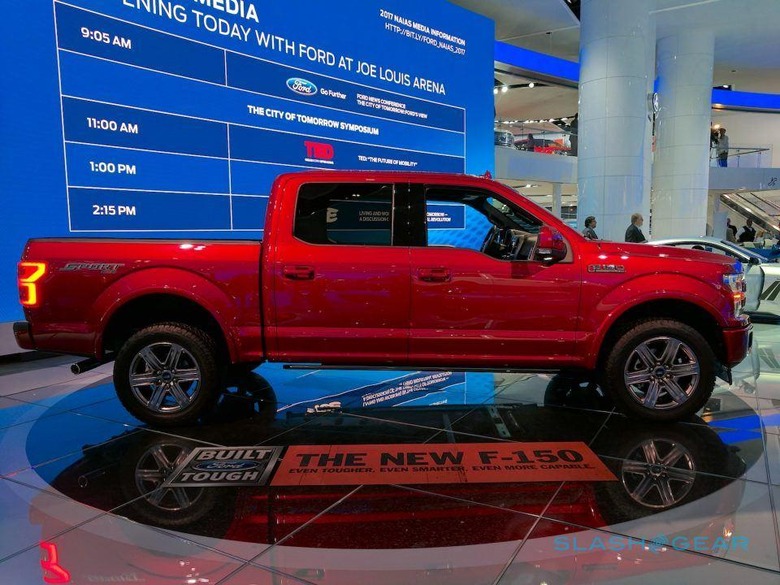 At the rear, the tailgate is now more sculpted, and there's a bold F-150 legend stamped in the center. New tail lamps have been added, and the King Range, Platinum, and Limited models get a horizontal trim line. Six new wheel designs are on offer, running the gamut from 17-inches through to a hefty 22-inches.
Inside, there's now two new seating trim options. The F-150 Platinum gets Dark Marsala, while the F-150 Limited has Navy Pier. The F-150 XLT Sport and Lariat Sport get carbon-fiber style trim inside, while the F-150 King Ranch has new Kingsville Appointed seats.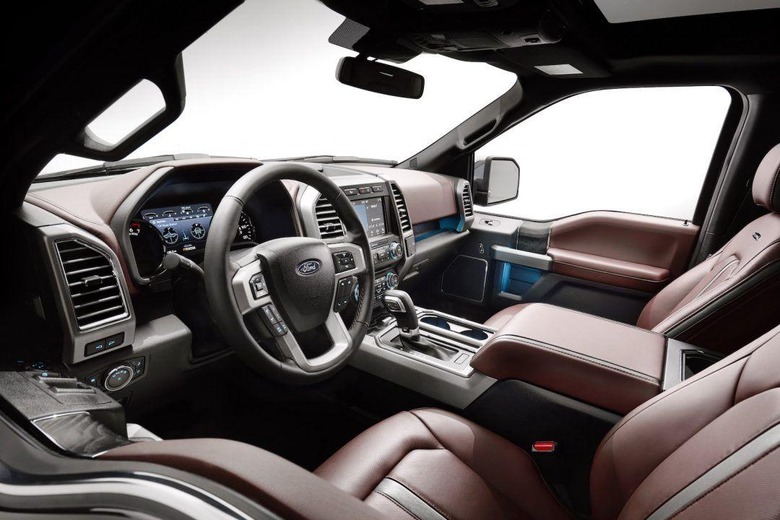 The technology has been bumped up, too. Adaptive cruise control – with stop-and-go support – has been added as an option, able to bring the F-150 to a complete stop if traffic demands it. There's Pre-Collision Assist with Pedestrian Detection also on the options list, as is a 4G LTE modem and WiFi hotspot for up to ten wirelessly-connected devices.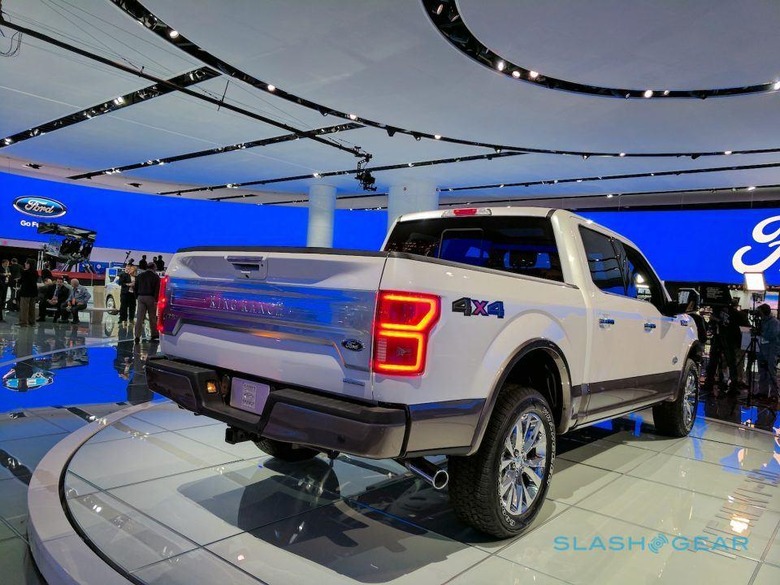 Ford's SYNC and SYNC 3 with FordPass infotainment systems are also optional, with Apple CarPlay and Android Auto. There's a new B&O PLAY audio system with upgraded speakers, again as a cost option, and 360-degree camera for an all-around view of the truck's surroundings. Lane-keep assist can keep the F-150 in the right lane, and there's a Blind Spot Information System which has been customized to also take into account the length of a trailer behind the truck. Trailers up to 33 feet are supported, using radar sensors embedded in the tail lamps.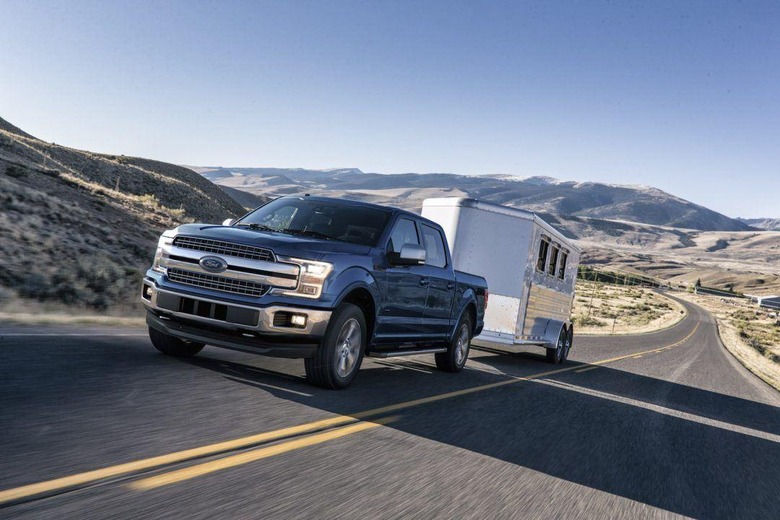 What F-150 fans may be most interested in, though, is the 2018 engine line-up. The new standard engine is a 3.3-liter V6 with direct-injection, good for 282 horsepower and 253 lb-ft. of torque. That's in the same ballpark as the outgoing 3.5-liter V6, though we'd expect to see at least a mild bump in economy numbers.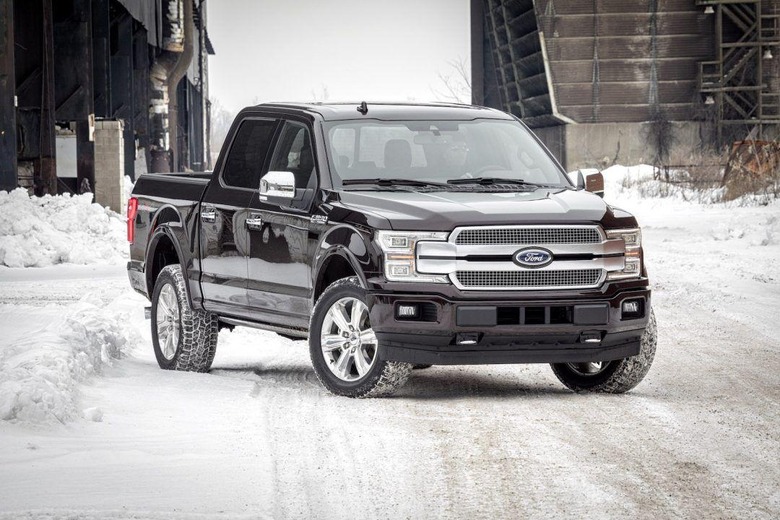 Ford's turbocharged EcoBoost engines have proved to be popular options on the F-150, and there's a new, second-generation model for the 2018 truck. It's still a 2.7-liter, but it's now expected to be more robust and improve efficiency and power output. Like the 3.5-liter EcoBoost, it's combined with a 10-speed automatic transmission.
The final gas engine will be a tweaked version of the 5.0-liter V8, with more power and torque coaxed out of the naturally-aspirated plant. Again, it'll be matched with the 10-speed automatic, a change for the 2018 truck.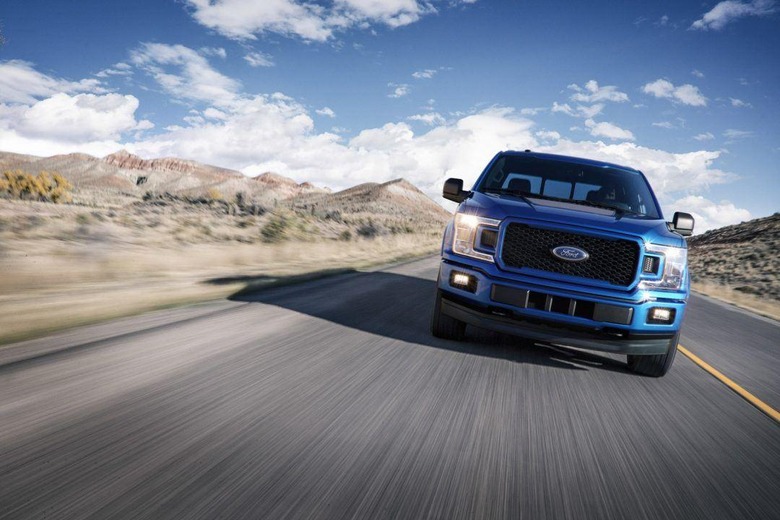 NOW READ: 2017 Ford F-150 Raptor First-Drive
For the first time ever in an F-150, there'll be a diesel engine option. The 2018 F-150 3.0-liter Power Stroke diesel has been designed in-house by Ford, and also matched to the 10-speed auto transmission. Like all of the other engines it'll have automatic stop/start as standard, though Ford isn't spilling the beans on power and torque numbers yet.
Ford will build the 2018 F-150 at its Dearborn Truck Plant in Michigan, and at the Kansas City Assembly Plant in Missouri. Pricing levels are yet to be announced, and we'll presumably know more on that front – and on detailed trim – when the truck goes on sale in the fall of 2017.
There are plenty more live pics of the 2018 Ford F-150 in the gallery below!