This is the 2018 BMW M5: Its AWD is super-clever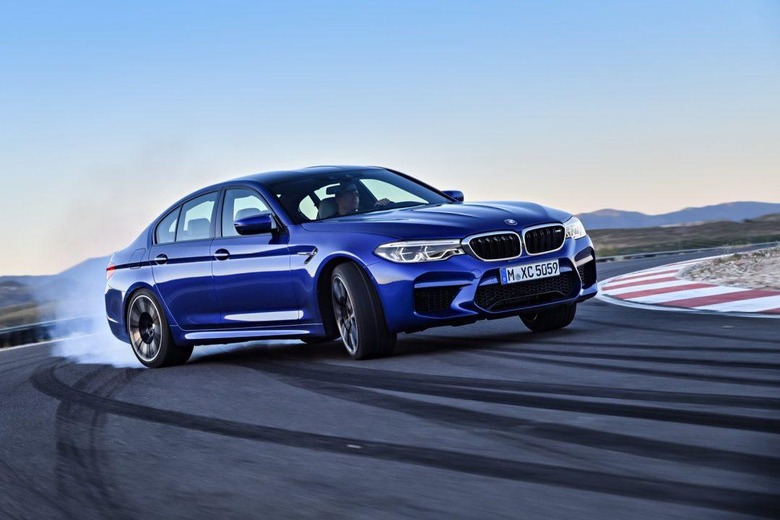 All hail the 2018 BMW M5, the sixth-generation of the iconic super-sedan, and the German automaker's most cunning yet. Sure, the 2018 M5 isn't short on power: its twin-turbo V8 is good for a heady 600 horsepower, along with 553 lb-ft. of torque, after all. No, what's really clever is BMW's specially-prepared all-wheel drive.
Purists may scoff, but this first debut of AWD on an M5 sounds like it could offer the very best of all worlds. The M-customized xDrive system starts out in all-wheel drive mode when you first start the car up, complete with all the electronic Dynamic Stability Control (DSC) nannies activated. However, that's where the fun starts.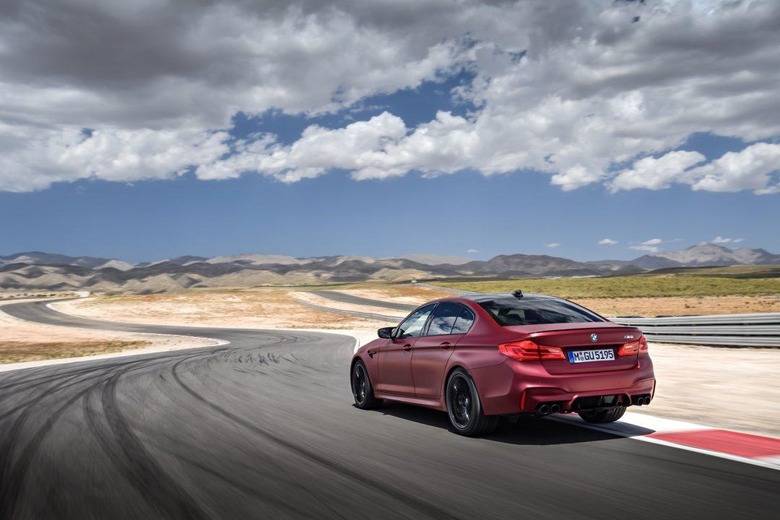 Even in the default mode, the 2018 M5 is rear-wheel biased. Indeed, the front wheels are only given power when those at the rear aren't able to put any more torque down effectively. A special transfer case splits torque front and rear, while an Active M Differential splits it between the rear wheels.
Switch to M Dynamic Mode, meanwhile, and more torque is pushed to the rear axle while the amount of rear wheel slip the electronics will allow is increased. A third, pure rear-wheel drive mode turns the AWD off altogether, and supports having the DSC off too, for those who think they can handle the car at its most excessive.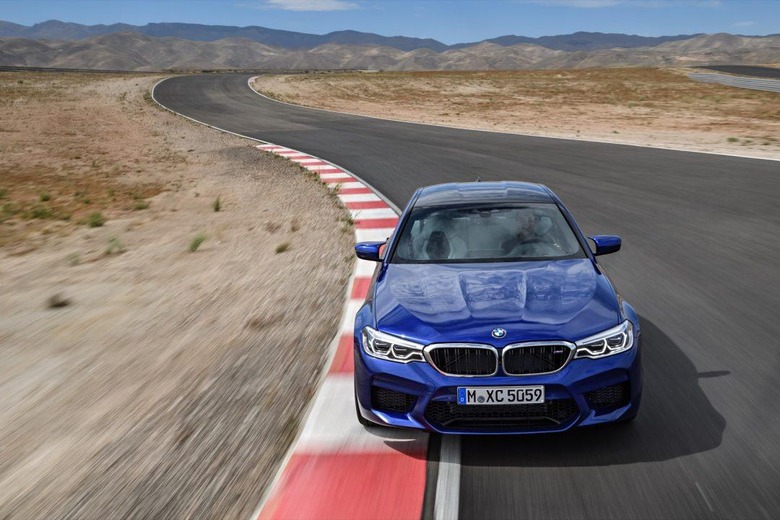 That's no small task. 600 HP comes between 5,700-6,600 rpm, which is high, but max torque arrives at just 1,800 rpm. Higher maximum injection pressure in the turbochargers makes for a more responsive engine too, while an active flap exhaust system not only keeps the soundtrack throaty – adjustable with a button in the cabin – but cuts weight by 11 pounds. The eight-speed M Steptronic transmission gets a shorter shifter in the center console along with paddles on the wheel.
Three transmission modes are supported, spanning fuel efficiency, through sporty everyday driving, to finally track-intended super-short shifting. In manual mode, meanwhile, the M5 won't upshift automatically even when you hit the rev limiter.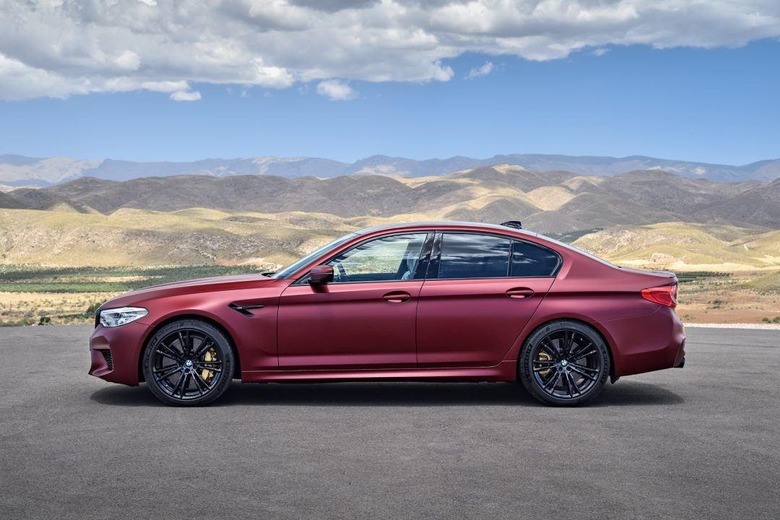 Underneath this all, there's Variable Damper Control – with Comfort, Sport, and Sport Plus modes – with electronically controlled shock absorbers, together with double-wishbone suspension at the front and five-link at the rear. Electromechanical steering allows for lower force during low-speed maneuvers, but then more weight when being driven aggressively. M compound brakes are standard, with M carbon-ceramic brakes a 50.7-pound reducing option.
Outside, it's still a fairly discreet car. The front bumper has larger air intakes while the front side panels have M gills (and are made of aluminum to cut weight, as is the hood). The roof is carbon fiber-reinforced plastic to save mass. Further around, the side skirts, rear diffuser, M rear apron, and M rear spoiler are all specific to the 2018 M5.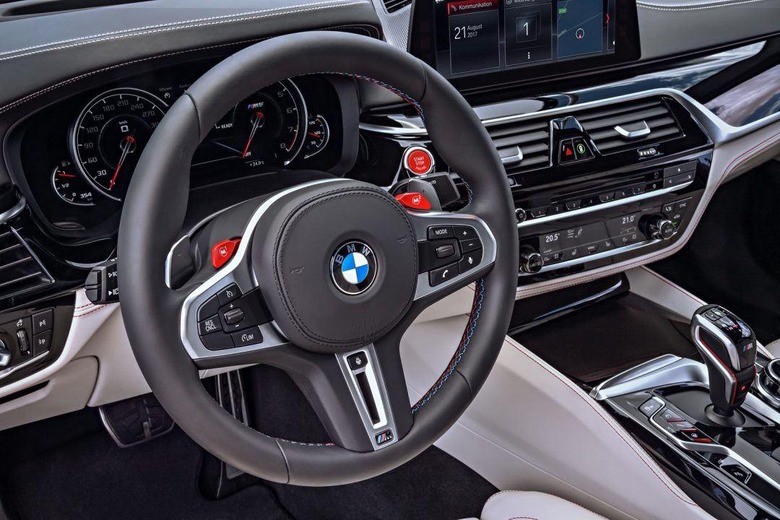 Inside, there's a big touchscreen int he center stack, and a digital instrument closer to M-specific graphics. BMW has added a variable rpm pre-warning field and shift lights, and the same data can be pushed into the head-up display, too. A special M sports steering wheel is fitted, along with a bright red starter button; there are also two red-finished M1 and M2 buttons on the wheel, which can be used for driver-configurable mode shortcuts. That way, M xDrive, DSC, engine, transmission, damper, and steering characteristics can be summoned with a single tap.
Extended Merino leather is standard, as are sports seats with integral head restraints and thicker side bolsters. All of the driver-assistance tech from the regular 5 Series, including adaptive cruise control and lane-keeping, are optional on the M5, too. There'll be a number of exclusive colors available, including a new Marina Bay Blue Metallic.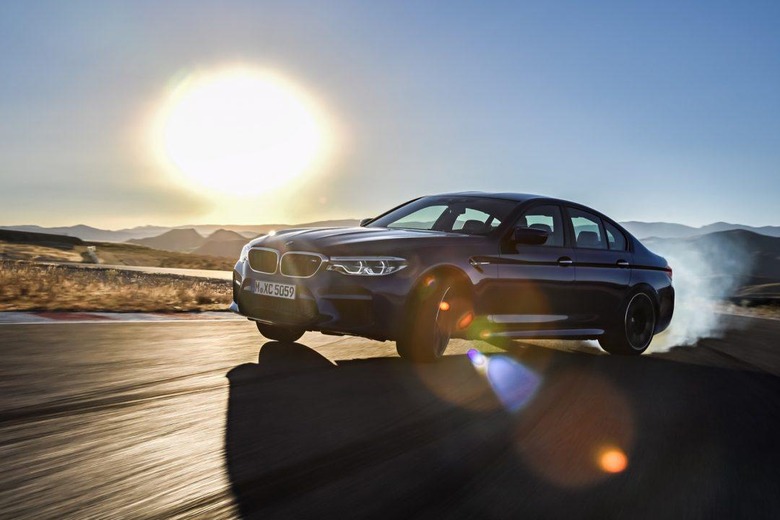 First out the gate will be the 2018 BMW M5 First Edition, with just 50 of the 400 total cars headed to the US. It will get Frozen Dark Red Metallic paint and Shadows Line trim, together with 20-inch seven-double-spoke light alloy wheels with a black finish. Inside, it'll have Smoke White leather with red contrast stitching.
Pricing for the First Edition car and the 2018 M5 in general will be announced closer to release. That's set to happen in the Spring of 2018. However, if you want to try the M5 out sooner, you'll be able to preview it – in digital form, at least – in Need For Speed Payback this November.