2018 Audi SQ5 and S5 Convertible hit NAIAS with high tech levels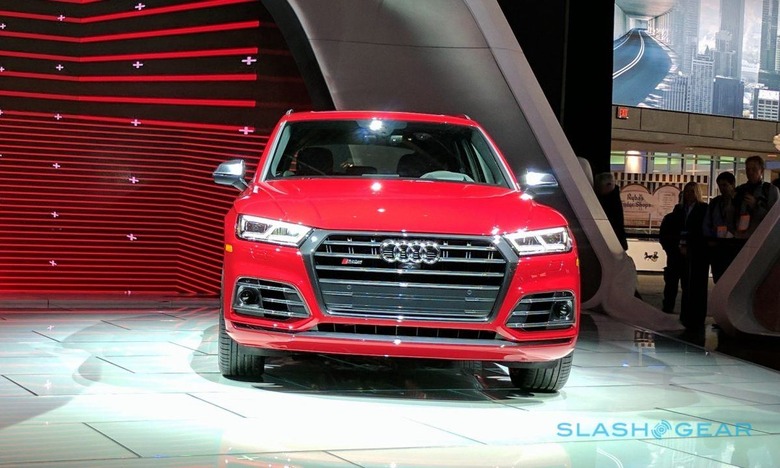 Audi has brought two fast helpings of bright red car to the Detroit Auto Show 2017, with the 2018 SQ5 and 2018 S5 Convertible showing up in North America for the first time. In fact, it's the new SQ5's debut worldwide, with the performance version of Audi's best-selling vehicle getting a turbocharged 3.0-liter TFSI engine and new driving dynamics systems. That's despite also delivering better economy than its predecessor, mind.
The V6 engine is good for 354 HPO and almost 369 lb-ft. of torque from 1,370 to 4,500 rpm, which adds up to a 5.4 second 0-60 mph time. Top speed is electronically limited to 155 mph. However, when you're not pushing it hard, it can switch into the "B cycle" that boosts the compression ratio among other things, improving efficiency. That means 28.3 mpg on the US cycle, and a cut in CO2 emissions.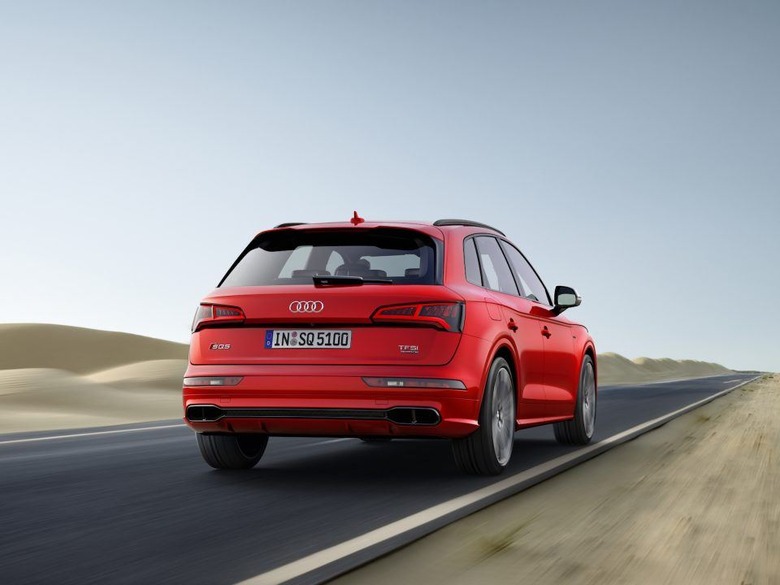 Add in a more than 30 pound weight cut from the new aluminum engine versus the old, supercharged engine, and you can start to see where the savings hit home. Audi's eight-speed tiptronic transmission plays its part, too. It has shorter ratios at the lower end, for more performance, and then longer ratios at the top for cutting consumption; however, it can also switch automatically into freewheeling mode when you lift off the gas above 55 mph.
Of course, SQ5 buyers are really concerned about performance, and we can't blame them there. The quattro all-wheel drive is active permanently, biased toward the rear wheels normally though capable of shifting power front or rear depending on traction needs. Wheel-selective torque control brakes the inside wheels to aid cut-in on tight cornering.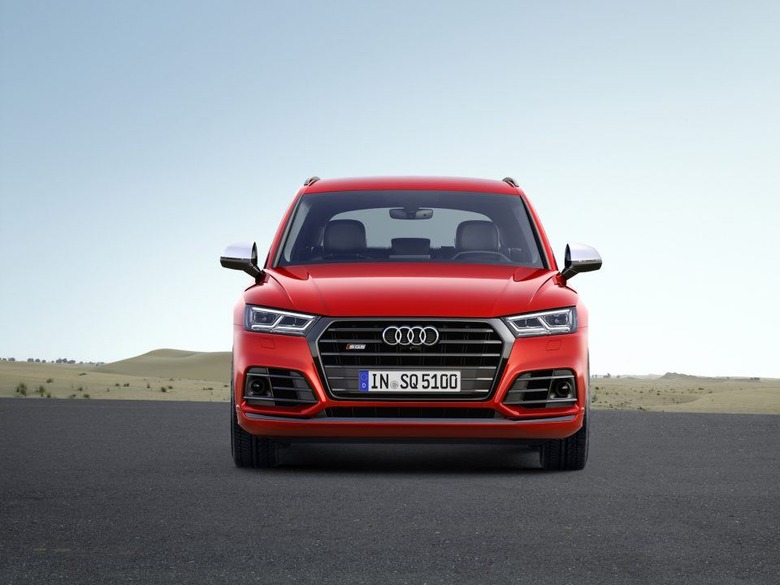 At the back, an optional sport differential can distribute torque to the left or right wheel on the move. Five-link suspension front and rear is standard, as is damper control with various settings between comfort and dynamic; adaptive air suspension is an option, with control over both handling and ride height. Electric power steering is the default, but can be upgraded to speed- and angle-dependent dynamic steering.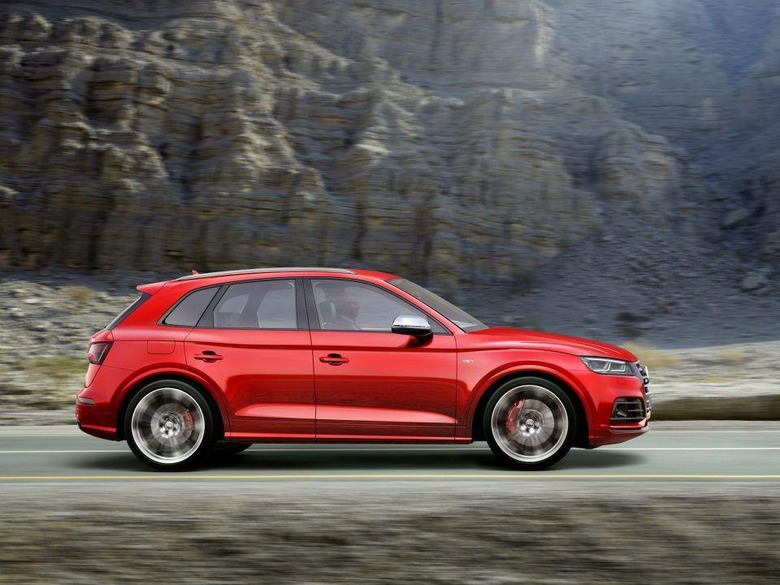 NOW READ: 2018 Audi Q5 first-drive
255/45-series tires on 20-inch cast aluminum wheels are standard-fit, while 21-inch are options. Six-piston fixed caliper brakes are standard at the front. Adaptive cruise control can be added, as can active lane assist, cross traffic assist, collision avoidance, turn assist, and all the other safety tech from the 2018 Q5.
Inside, there's S sport seats in Alcantara and leather, with Nappa leather seats an upgrade that also adds pneumatic massage. The seats and wheel have contrast stitching, and there's brushed aluminum on the dashboard; you can switch it to wood or carbon if you prefer. The back bench has a three-way split and can, optionally, be adjusted for back angle. Between 17.7- and 21.5-cubic feet of trunk space is offered with the rear seats up; drop them down, and you have 54.7 cubic feet.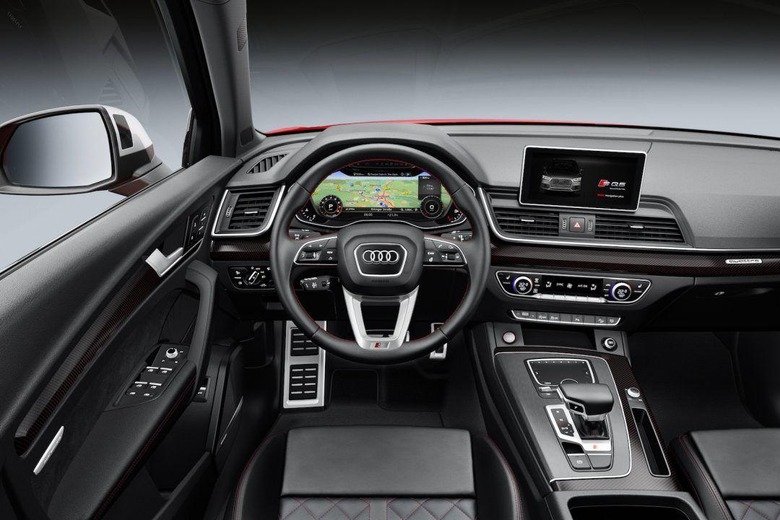 For technology, the 12.3-inch Virtual Cockpit display is standard, as is an 8.3-inch display atop the dashboard for infotainment. 4G LTE with WiFi hotspot support is standard too, and there's handwriting input for the infotainment system along with remote app control. A head-up display is optional, as is Qi wireless charging for your smartphone and a Bang & Olufsen audio system with 3D sound. Apple CarPlay and Android Auto are also available.
Audi is yet to confirm pricing or US availability for the 2018 SQ5. However, it'll go on sale in Germany in mid-2017.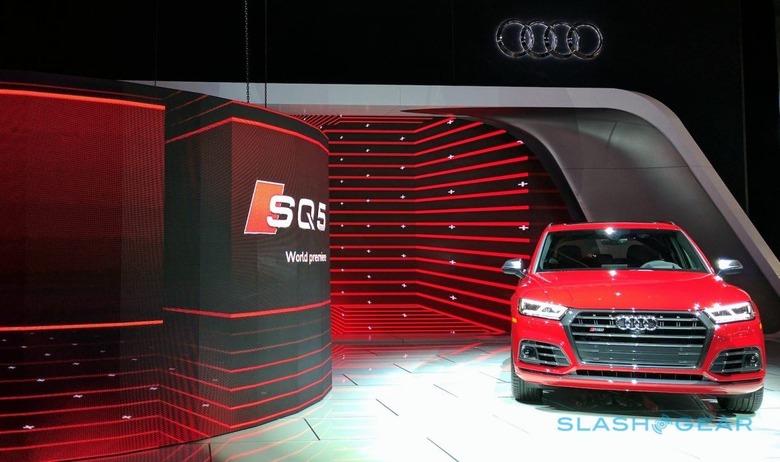 2018 Audi S5 Cabriolet makes North American debut
Shown off for the first time back in November, the 2018 Audi S5 Cabriolet is making its American debut today at the Detroit Auto Show. Last member of the latest A5 range, it seats four with the convenience of a full-automatic droptop with acoustic lining. That'll open and close while the car is traveling at up to 31.1 mph: opening takes 15 seconds, while closing takes 18 seconds.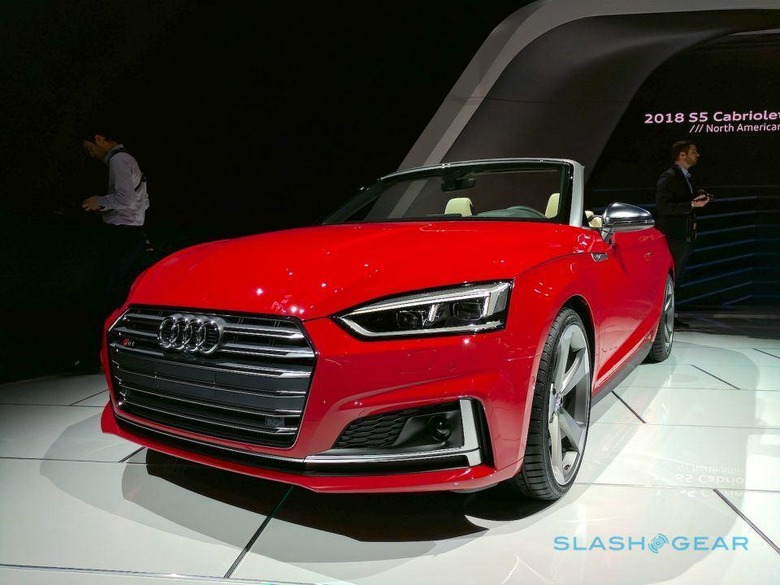 Under the hood there's a six-cylinder turbocharged V6 engine. Audi says that's good for 354 HP and 369 lb-ft. of torque, good for 0-62 mph in 5.1 seconds. It'll top out at the electronic limit of 155 mph. Audi's quattro all-wheel drive is standard, as is an eight-speed tiptronic automatic transmission.
While the S5 may focus on performance, that's not to say the interior tech is lacking. As well as Audi's Virtual Cockpit, 4G LTE with WiFi hotspot support, an optional B&O audio system with 755W and 19 speakers, and optional Qi wireless charging, there are microphones embedded in the seat belts for better audio pickup on calls and when speaking to the infotainment system. There's the usual safety kit too, including options for adaptive cruise control that can not only control speed but, on select roads, steering too.