2018 Alfa Romeo Stelvio Review: The "Sport" in SUV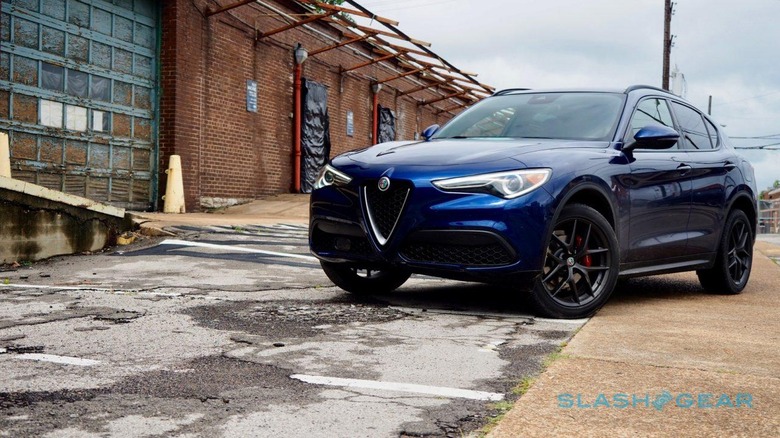 Alfa Romeo isn't a name you associate with SUVs, but the 2018 Stelvio would like to change that. Aggressively targeting the popular – and growing – premium SUV market, it takes a risk on the idea that, for all owners may make aspirational noises about broaching the outdoors, in reality they seldom road beyond asphalt. Accept that, and suddenly all that all-wheel drive traction can be used for something else.
By "something else" I mean "fun" and, frankly, if that's your goal then the Guilia sports sedan platform isn't a bad place to start out. Atop it, Alfa Romeo's designers have crafted a stylish SUV body that's unmistakably of-the-marque, with its deeply plunging front grille and distinctive light signature. You sacrifice some rear practicality what with the curvaceous rump, but it's probably worth it.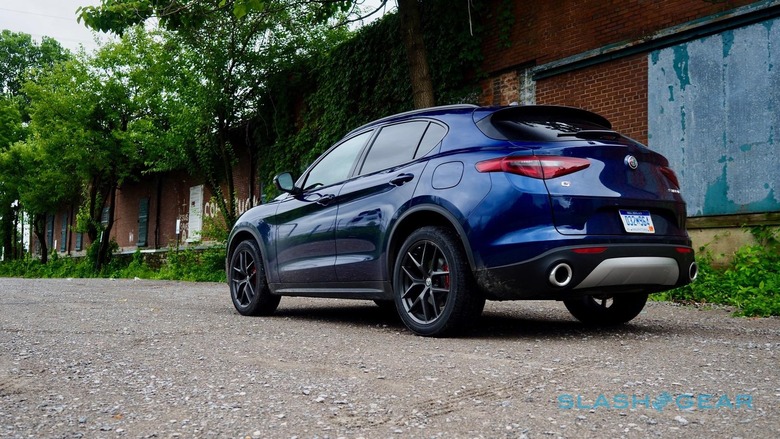 The Stelvio Ti Sport's cabin is a fairly pleasing place to be. It's dark, with lots of black plastic and dark wood trim, only lifted by touches of brushed metal, but feels solid and resilient. The sports seats are firm and supportive, though second-row legroom falls short of the best in the segment.
It wouldn't be an Alfa Romeo without some quirks, and the most noticeable are spotted from the drivers' seat. The paddle-shifters aren't just solid metal, but vast, like some sort of Klingon ceremonial weapon. I can't help but wish some of their budget had been spent on a larger display for the infotainment system, though. It's broad, but squat, as though you're looking at your navigation through a letter box. It gets even worse with the reversing camera, which occupies a needlessly small amount of the display. The software menus, which you navigate with a control wheel rather than tapping the screen, can be convoluted, and Apple CarPlay and Android Auto are in the pipeline but not available yet.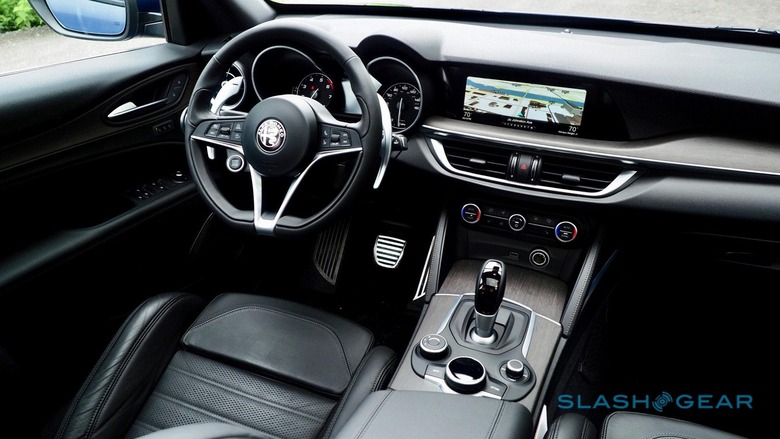 Alfa launched the car with a single engine option, a 2.0-liter turbocharged four-cylinder. It has 280 horsepower and 306 lb-ft. of torque, and the automaker says it'll do 0-60 mph in 5.4 seconds then keep going all the way to 144 mph. In the Stelvio, it's paired with an 8-speed transmission, which is great, and a jerky stop-start feature, which is not.
While the upcoming Quadrofoglio will add a Race drive mode, the Stelvio Q4 makes do with three: Dynamic, Natural, and Advanced Efficiency. They're accessed with a dedicated dial down by the gear selector and, unusually, the SUV doesn't force you to start out each time in the most frugal mode. Twisting it adjusts engine and transmission mapping, along with suspension settings.
It's a noticeable change, too. Though all-wheel drive is standard, usually the Stelvio pushes all of its power to the rear wheels. If traction needs demand it, up to 60-percent can be shifted to the front. This really, though, is an SUV for the road, not for the rough-stuff. It sits a mere 2.5-inches higher than the Guilia, and there's no mud/snow settings nor even a hill-descent mode.
Thankfully, then, the Stelvio puts its best foot forward where it's most likely to be used. The Advanced Efficiency "eco" mode leaves the car feeling sluggish, so I spent most of my time in either Natural or Dynamic. The former is good for everyday driving, particularly on roads where you're stuck behind slower-moving traffic. In Dynamic, the SUV waits to upshift until it really has to, which can leave the engine howling, while the hair-trigger throttle can make things jumpy at low speeds.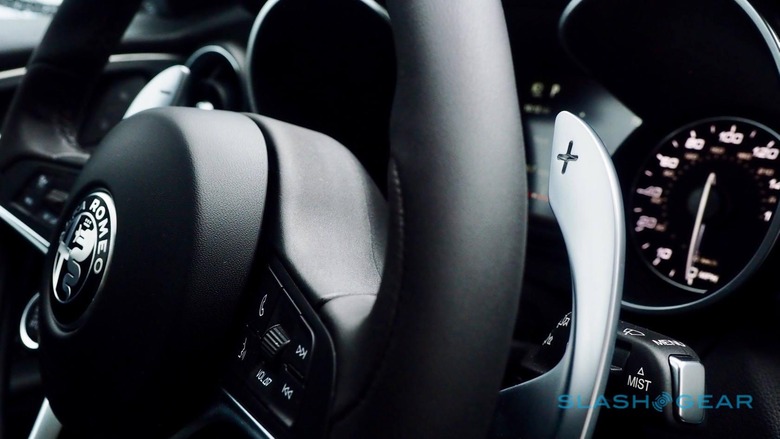 What I won't argue with is the general feel, nor the soundtrack. The Stelvio hides both its height and weight surprisingly well, feeling more nimble and compact than one of my other favorited driver's SUVs, Jaguar's F-PACE. The four-pot gathers speed eagerly, and sounds far more impressive than it has any right to given its size. 13-inch rotors and four-piston Brembo calipers up front, along with 12.5-inch, single-caliper discs at the back ensure shedding speed is just as effective, though their bite comes oddly far into the pedal's travel.
I'd thought that I would only miss the 505 horsepower of 2018's Stelvio Quadrifoglio the more time I spent behind the wheel of the Q4, but that wasn't actually the case. 380 HP, it turns out, suits the SUV well.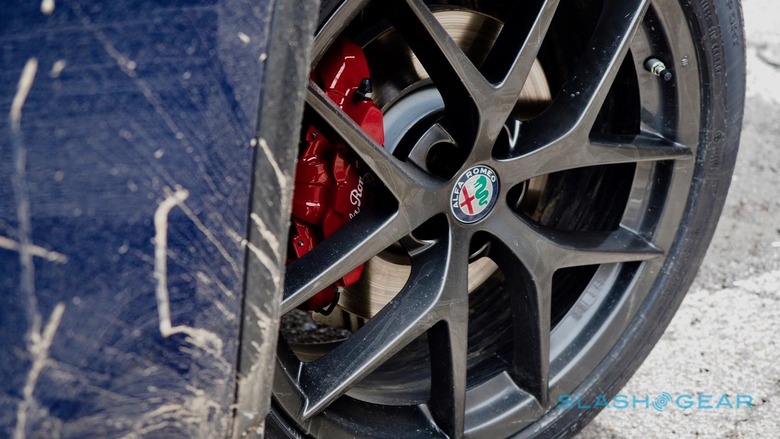 The lingering concern, undoubtedly, is Alfa Romeo's track record for reliability. Some of that is the arguably unfair legacy of admittedly disaster-prone cars of previous decades. Still, it's fair to say that Guilia hasn't been entirely free of mishaps.
It's something that's impossible to judge in a short-term test, though it's worth noting that I didn't experience any gremlins – electrical, mechanical, or otherwise – during my time with the SUV. For the moment, Alfa Romeo executives are doubling-down on their commitment to dealing with any issues that might arise swiftly. There's a 4 year / 50,000 mile warranty out of the gate, along with roadside assistance, which hopefully you won't need to call upon.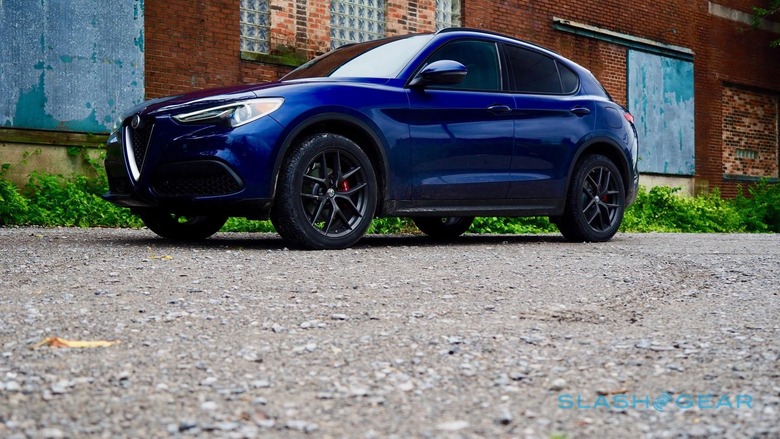 Sticker price for the Stelvio kicks off at $41,995, though since engine and AWD are standard across the current range, the major differences as you spend more cash come down to styling and equipment. Even at the entry-level you get leather seats, keyless start, and climate control, though the 8.8-inch display only arrives on Stelvio Ti trim, from $43,995. With extras, including a $1,350 dual-pane sunroof and a $1,500 driver-assistance package, the car I drove came in at $55,240.
The 2018 Stelvio Ti Sport AWD is competitive and distinctive. It legitimately emphasizes the "Sport" in SUV and, though that has a knock-on effect on just how much off-road "Utility" you can expect, for Alfa Romeo's target audience I suspect it's the right balance. If like so many drivers you've decided you need the practicality and height of an SUV, but you aren't willing to sacrifice on driving dynamics, the Stelvio finds itself well placed among admirable competition like the F-PACE and Porsche's Macan. Not bad at all for a first attempt.