2017 Mazda CX-5 First Drive: Obsession pays off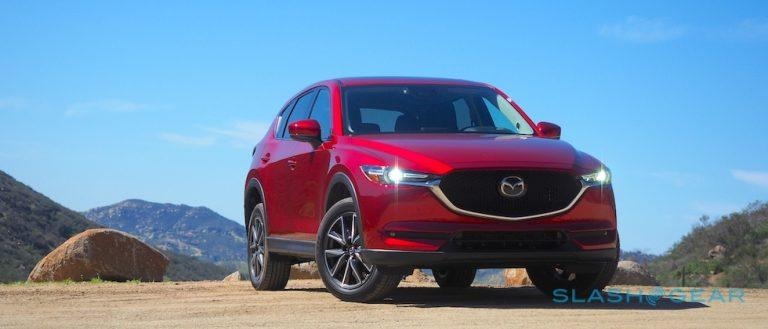 Mazda finds itself in a tricky spot. The CX-5 is due for a refresh; however, it's also the best-selling car in the company's US line-up. Sales in 2016, in fact, accounted for a quarter of all Mazda purchases in the US. Get it wrong, and the 2017 CX-5 could end up doing more harm than good.
The temptation must've been to play it safe: tweak a few things here and there, polish up the styling, and push out a "new" CX-5 that would coast by on the positive reputation of its predecessor. Instead, the company chose to make its most popular produce the next major step in an attempt to redefine the brand. Mazda is going upmarket.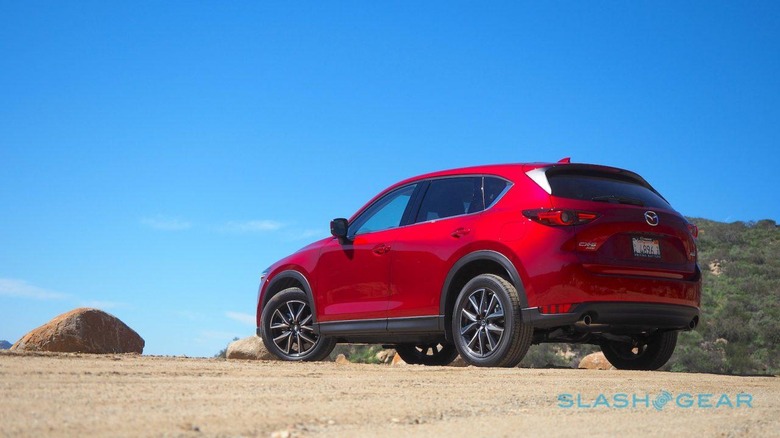 They're calling it "Mazda Premium", and it's all about maximizing the emotional bond the automaker has with its customers. Less competition on price, and more rewarding of loyal repeat-buyers and "making people smile". The cynics in the audience might argue it's also what happens when you're a niche, independent player in the automotive industry as a whole – Mazda has about 2-percent market share worldwide – and investing in electrification, autonomous driving, or anything too ambitious is pretty much out of reach for now.
It's a process that started with the excellent CX-9, but which will really reach the mass market with the 2017 CX-5. Take what's already a popular car and crank the obsession of the engineers up to 11: everything from noise while you're driving through the perkiness of the engine, to how much the passengers move around while the driver is getting their zoom-zoom on. All while being incredibly careful not to screw it up.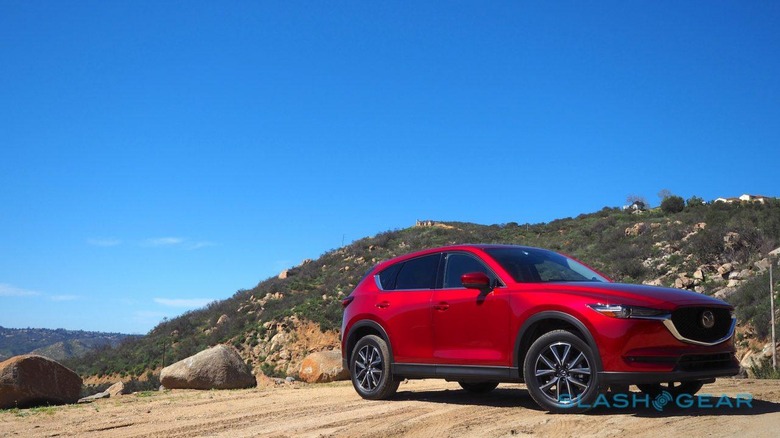 Here's your spoiler: the result is a triumph. Mazda has taken what I loved about the CX-5 and nudged it in meaningful ways toward the class above. That starts with the design, which is sleeker and more purposeful, but more significantly it impacts key factors which you'll live with every day.
The SKYACTIV-G 2.5-liter engine is broadly the same, but Mazda has fettled the software among other things. It makes for smoother pick-up from a standing start, with less jerkiness, as well as more meaningful grunt when you push a little harder to merge onto the freeway. Rather than throw out the old powertrain, Mazda's engineers dug deep to smooth away the lingering rough edges. That includes removing scant-millimeters of metal around the pistons to cut friction and engine knock; make the oil rings and the piston skirts asymmetrical for smoother and more efficient operation; and finessing the software calibration to make everything feel more linear with the standard 6-speed auto transmission.
On paper, you could argue that the changes are near-imperceptible. Horsepower rises just a few points to 187 HP; torque is now 185 lb-ft. Yet the combined efforts to cut lag from a standing start do leave the new CX-5 feeling friskier, just as burying your right foot for a sudden overtaking rouses everything that little bit quicker than before.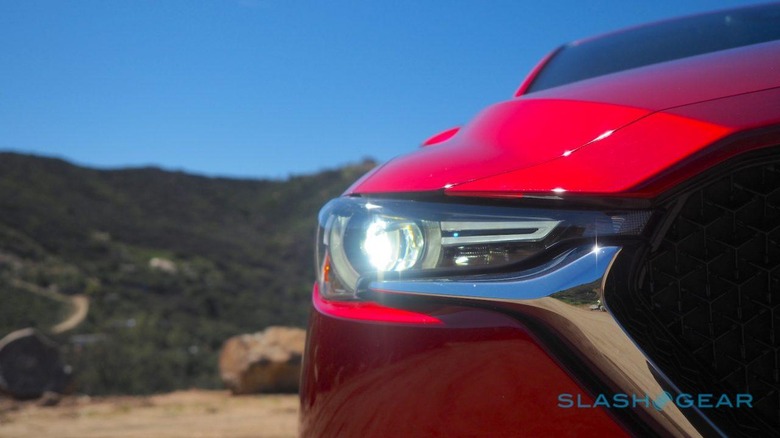 It's tough to enjoy your "Mazda Premium" if your passengers are complaining about being shaken around like balls in a pachinko machine, and that's where G-Vectoring Control (GVC) steps in. Numerous aspects of the steering and suspension hardware have been polished – a solid-mount steering rack to cut vibrations; lower friction suspension struts for greater agility; and better balance to the springs that keep each strut in check – but at its heart, GVC is about making the dynamics of the car more consistent.
Turns out, we're a fickle bunch when we drive. We turn the wheel, and – in that split second before the car actually responds – we get antsy, and so we turn some more. Then we find we've over-compensated, and have to correct it, and meanwhile our loved-ones are getting thrown about in their seats and, eventually, lose affection for us altogether.
GVC doesn't make the turns any more smooth in and of itself, but it does make the 2017 CX-5 more predictable as you steer. It's a mixture of technological know-how and simple materials-physics: the SUV trims engine torque ever so slightly – less, indeed, than you could actually notice – while the rubber of the tires stiffen as the load shifts to the front wheels, and the overall steering response improves. Because that all happens so quickly, Mazda says, you get used to it happening, and so you stop over-compensating.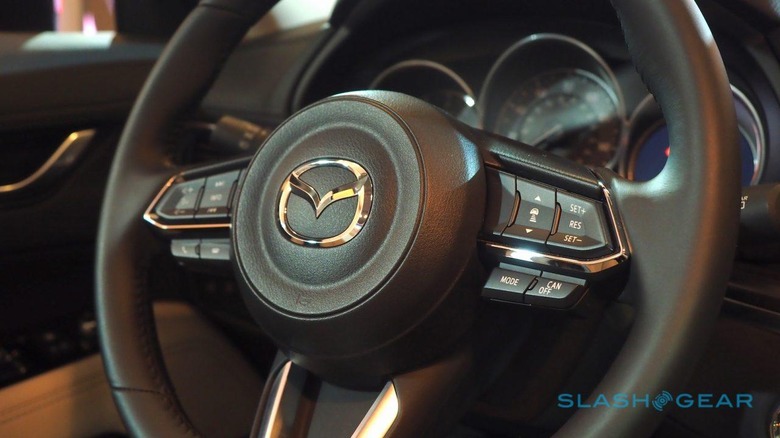 It's designed so that you don't notice it in action, but the result – less body movement when you're not the person behind the steering wheel – is recognizable when you specifically look for it. Push the 2017 CX-5 hard, and it flatters the eager driver without prompting nausea in those you're bringing along. Mazda's SUV already had perky driving dynamics, but the CX-5 feels a tiny bit closer to Miata territory than it did before.
If it feels like I've spent a not-inconsiderable amount of time discussing what turns out to be a near-imperceivable change, you'e not wrong. Really, though, that's what the 2017 CX-5 is all about: lots and lots of little improvements rather than, say, a brand-new engine or entirely changed cabin. In aggregate, however, those near-imperceivable changes condense into one of the most rewarding, entertaining SUVs on the road today.
So, the A-pillars have been drawn back: only by 35 millimeters, but enough to improve visibility into corners and, with an adjustment to the side mirror design, stand less chance of blocking your view of pedestrians. The rear doors now open to 80-degrees, rather than 74-degrees, and along with redesigned inner panels make for easier loading of passengers and child seats. The windshield wiper defrosters automatically switch on when the rear screen defroster is on; the headlights automatically come on when the auto-wipers are activated.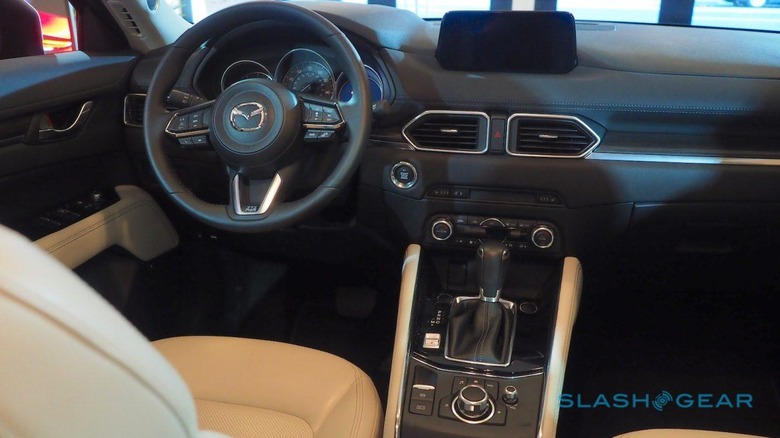 You could fairly accuse Mazda of being obsessional. The shape of the door handles has been changed, so that there's more space for your fingers to grasp, while the controls on the multifunction steering wheel have been condensed from four rows to two, allowing for a more usable cutaway grip. The shifter is 60 mm higher, balancing the center console with the door armrests, while what's behind the exterior grilles has been repositioned or blacked-out so as not to detract from the SUV's aesthetic.
It's not to say there aren't noticeably improved features. Mazda's optional head-up display no longer projects onto a pop-up secondary screen, but right onto the windshield, which the engineers claim is less distracting. The active cruise control can now bring the CX-5 to a complete stop, while a power lift gate is now available. Those in the rear seats not only get incline adjustment from 24- to 28-degrees, but their own HVAC vents, two 2A USB ports in the armrest, and optional heating for the outboard seats.
There's still room for improvement, mind. I'd like to see paddle-shifters on the steering wheel, and Mazda's infotainment system – a 7-inch touchscreen with a secondary control knob – still lacks Android Auto and Apple CarPlay. There's no WiFi hotspot option, nor active noise cancellation. Although the automaker took pains to reassure us that it had paid particular effort to making sure the "visual noise" of clashing textures and angles in the cabin had been cleaned up, there's still noticeable difference in the pattern and hue of the elephant-butt plastic on the dashboard.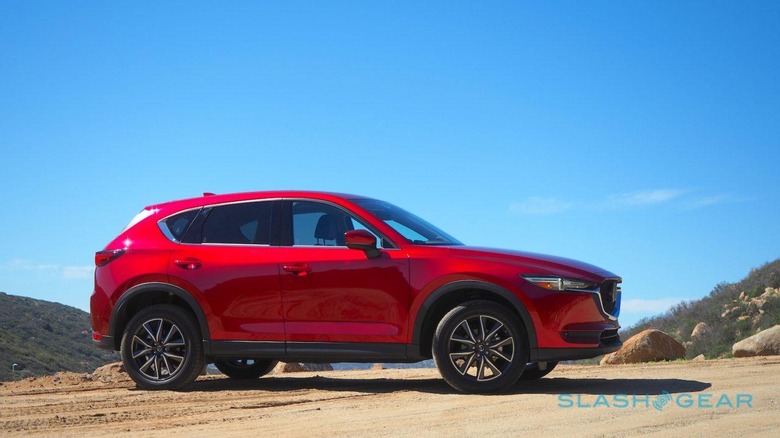 Does the 2017 CX-5 hold up to the Audi Q3, BMW X1, Lexus NX200t, and Mercedes-Benz GLA that Mazda had – confidently – brought along for back-to-back comparisons? Brand cachet aside, there's no denying that the CX-5 is a smooth, quiet SUV. Much of Mazda's hard work has been on filling in gaps where road noise might enter the cabin, fitting acoustic glass and new seals on doors and windows, and even changing the natural frequency of different parts of the vehicle. Throw in some extra insulation, and the result is a markedly quieter car.
I'm not entirely convinced that those with their heart set on a Q3 or X1 will abandon that for a CX-5, even if 2017's model is so improved. Yet, out on the road, it's hard to argue that the automaker's goals haven't been met. Mazda wanted a better-driving, more comfortable, smarter, and safer SUV, and by each of those criteria they've succeeded. Price has risen a little – by between $450 and $850 depending on trim – but so has the standard equipment at each level. With prices from $24,045 (plus $950 destination) for the base FWD CX-5 Sport, rising to $30,695 for the AWD CX-5 Grand Touring, it's still affordable, too.
Time will tell whether Mazda's premium ambitions play out. Beyond the semantics, however, is a more refined SUV that flatters eager drivers as much as it cossets passengers. Whatever you might be cross-shopping in the compact crossover space, the 2017 CX-5 earns its spot in consideration.