2017 Ford Mustang Shelby GT350 Review: Uncompromising track star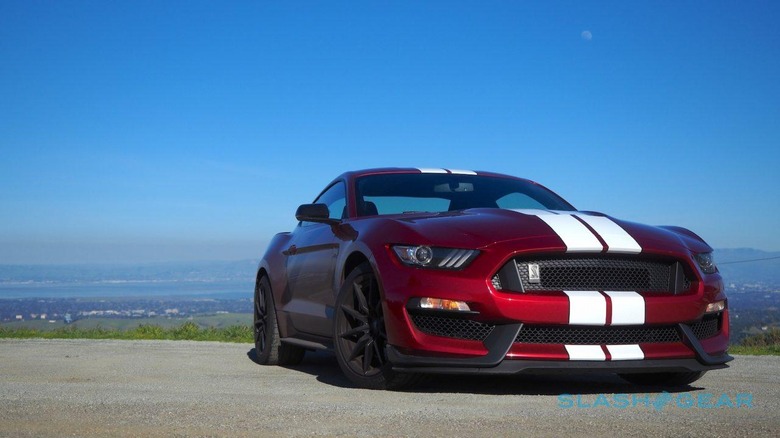 Ford should make you sign a contract committing to go to the track every weekend before they'll sell you a 2017 Shelby GT350. This 5.2-liter V8 Mustang may be related to the affordable coupe that bears the same nameplate but, by the time Ford Performance is through, it's a very distant cousin. To be worthy of the rearing snake badge, the GT350 has to be more than special: it has to be capable of putting fear into Porsches.
It sure looks the part. The Shelby team takes the Mustang's Coke-bottle body and gives it an aggressive makeover, with new front fenders, functional fender vents, a vent in the bulging aluminum hood, a rear spoiler, and a rear valance with integrated diffuser, among other changes. Indeed, it all works so well, it's at the heart of the inspiration for the 2018 Mustang's design refresh. Nonetheless, there's no mistaking the differences between the regular car and the GT350, even in the fairly low-key Ruby Red Metallic paint of this particular example.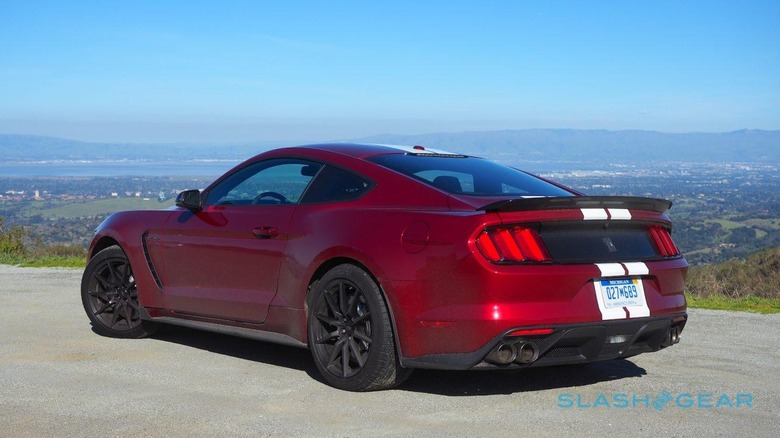 Inside, the key parts get the most polish. The steering wheel is wrapped in tactile, grippy Alcantara, while the gearshift knob is a palm-filling aluminum ball. Standard-fit racing seats – complete with GT350 headrest stitching – are as supportive as you'd hope, and finished in slip-resistant cloth and suede rather than leather. My slouching passenger complained of not being able to find an especially comfortable backrest angle, but from behind the wheel I had no complaints.
Otherwise it's the same Mustang dashboard we know and, grudgingly, accept. That means plenty of retro dials and toggle switches; sadly, the fully digital driver's binnacle that will be an option on the 2018 Mustang is missing from this 2017 GT350. At least SYNC 3 is now fitted as standard, unlike the frankly embarrassing audio system that came on the base 2016 car with its postage-stamp sized displays. Cabin plastics are solid but not particularly inspiring.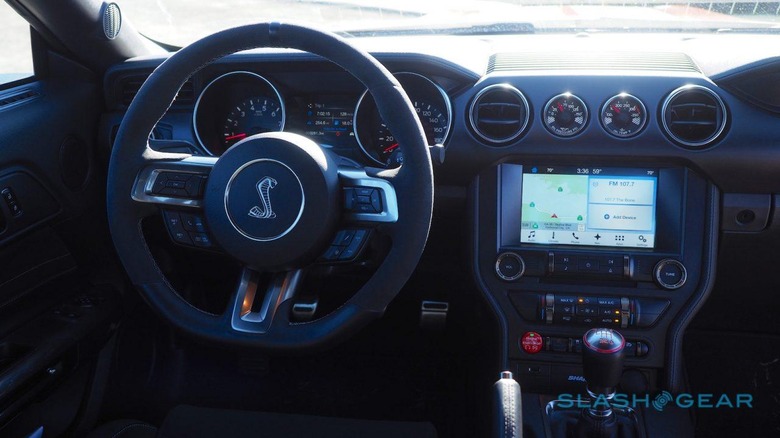 Your money predominantly goes to the powertrain, you see, and what a powertrain that is. 5.2-liters of V8, delivering 526 horsepower and 429 lb-ft. of torque, it's within spitting distance of Ford's newest GT supercar in fact. It's the automaker's most powerful naturally-aspirated engine, and though I'm a fan of Ford's EcoBoost turbocharging in general, there's nothing quite like a free-flowing V8 to bring a smile to your face.
It'll spin all the way up to 8,250 rpm before it hits the redline, at which point you're responsible for your own gear-changes. Ford opted for a TREMEC 3160 six-speed manual, and it's a short-throw transmission which responds best to a purposeful hand. Easing everyday use is the fact that the clutch is surprisingly light.
MagneRide Active Damping is standard, having previously been part of the optional Track Package (or standard on the more extreme GT350R), as is independent rear suspension. Six-piston Brembo brakes at the back show the snake is serious about stopping, too. Ford offers a number of drive modes, but you can also switch the exhaust system's modes separately.
I'd recommend it: the GT350's Ferrari-meets-NASCAR soundtrack is one of its very best features. Noises tend to be tricky to describe in simple words, so think "whooping dragon roaring astride anti-tank weapon" and promise me you'll head down to your nearest Ford dealership to at least start the Shelby up and hear things for yourself. While you're there, please also feel free to berate them for the unhealthy markup most of these cars suffer. Limited supply and eager buyers mean it's not unusual to see five-figure premiums tacked onto the sticker price.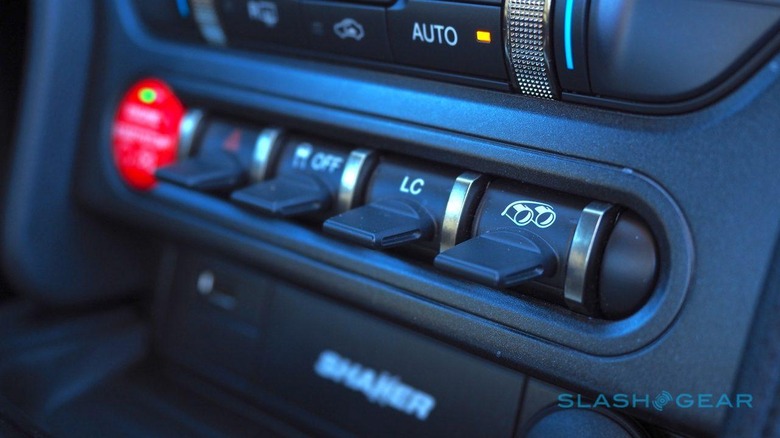 In the right conditions, you might well conclude that the gouging is worth it: I can't question the GT350's track credentials. As we found when we drove the coupe on the Mazda Laguna Seca Raceway, it's a feisty but rewarding handful. The steering is laser-precise, and this is Mustang that's actually eager to go around corners, not just in a straight line. Freedom from speed cameras and other traffic means you can wind the big V8 up and up and up, unlocking peak torque at 4,750 rpm. You don't get all of the horses until a heady 7,500 rpm, indeed, which is all the encouragement you might want to keep your right foot buried.
That ferocity of purpose became unmistakably clear when out on some of my favorite California back roads. The combination of a wet, land-sliding winter and poorly maintained asphalt left the Shelby skittish and bumpy, its unforgiving suspension refusing to temper the ruts and ridges. Those wide 19-inch wheels and their track-sticky tires love to tramline along the slightest of grooves.
Even in the tamest "Comfort" mode, the GT350 is determined to telegraph every imperfection back into the cabin. At one point I pulled over to the side of the road, convinced I'd picked up a puncture somewhere along the way. Finding the right spot to bring out the V8's power proved elusive, too, whether by nature of the public roads or the other cars that seemed determined to spoil my fun.
It's a frustrating experience. Clearly, this is a car with vast amounts of power and huge capabilities for going fast, turning sharply, and putting a ridiculously wide smile on your face. To only be able to tap a small percentage of that ability is enough to make a car fan weep.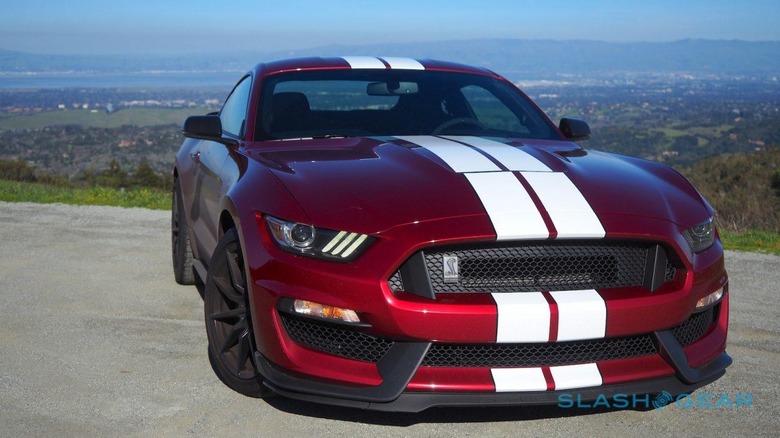 Many cars today are track-ready. The GT350 is, frankly, track-demanding. Its abilities are so clearly targeted toward coaxing the best lap times out of smooth asphalt, safe from the watchful eyes of traffic cops, that it's squandered if only used for road driving.
NOW READ: Drag-racing the Shelby GT350
I get it, the Shelby badge and the fierce bodykit are tempting. All the same, if you're not taking this particular snake to your nearest race course every weekend, I suspect you might have more casual fun on twisty public roads with a cheaper and less extreme Mustang from Ford's line-up. The 2017 Shelby GT350's natural habitat is the track, and it's frankly an act of animal cruelty to keep this snake from where it feels most at home.