2017 BMW i8 Review: A 21st Century Supercar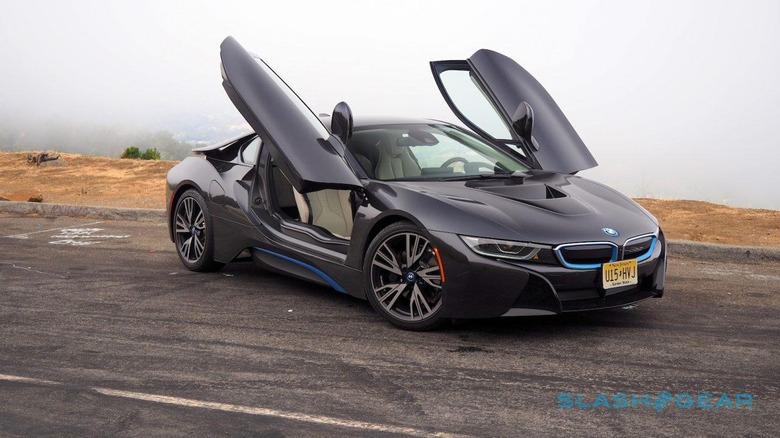 Electric cars needn't be hair-shirts and eco-piety: they can be like the 2017 BMW i8, and attempt to combine the best qualities of gas and electricity in one. Flagship of the i Series, BMW's overtly outlandish push to embrace alternative powertrains, the i8 isn't just a striking coupe but a clever combination of traditional and modern. Not only that, it makes a surprising amount of practical sense, too.
Even now, several years after its debut, the i8 looks faintly otherworldly. "Like a concept car come to life" may be a cliche, but it's nonetheless an accurate one. The proportions are textbook coupe but the silhouette, the unusual use of negative space as with the buttresses, and the gaping hole in the hood, are anything but.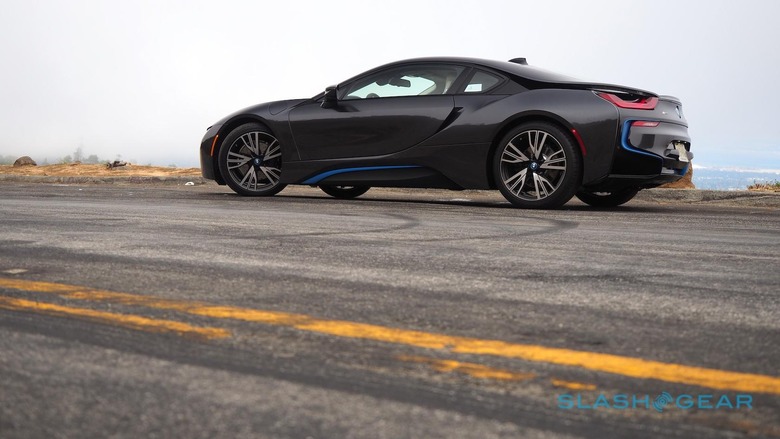 It gets attention, but then people ask you "what's under the hood?" and things become complicated. When sportscars are sneered at for having a "mere V6," the i8's 1.5-liter 3-cylinder gas engine is seriously unusual. Mounted at the back, it puts its 228 HP and 236 lb-ft. of torque to the rear wheels, via a 6-speed automatic. However, it's paired with a 96 kW electric motor that delivers a further 131 HP and 184 lb-ft. to the front wheels.
Mechanically, there's no connection between the two systems, but BMW's software is on hand to make sure they cooperate. Depending on drive mode, the i8 can run solely on electric power, juggle the two systems independently, or run them simultaneously for performance all-wheel drive.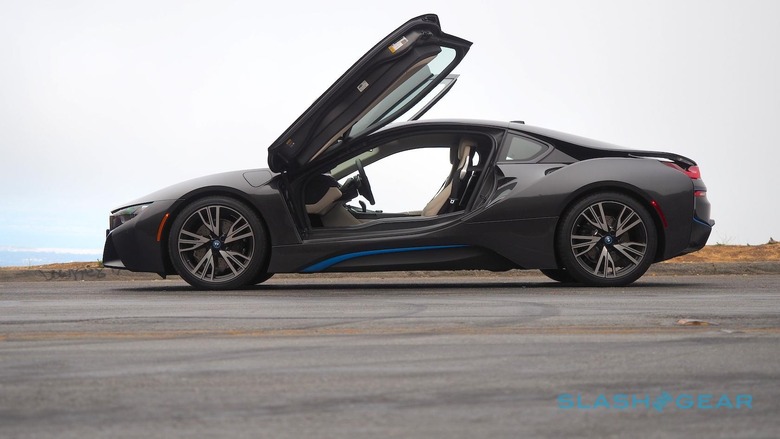 Graceful entry is an acquired talent. The i8's doors may swing upwards on gas struts but you'll still need to duck in order to slide underneath them. Combine that with the fairly wide sills and the car's low stance, and you have a recipe for parking lot embarrassment. After a couple of attempts I figured you need to throw a leg in first and then basically allow your butt to follow, hoping that you don't ruin the whole thing by smacking your head on the underside of the door.
Inside, the cabin is a close, compact affair. The dashboard bows forward, and with the raised center console it separates driver and front passenger into two individual pods. Rear seats are present, but suited only for small kids or luggage. There's a lot of plastic to the switchgear but it feels suitably space-age in its design, while the leather is supple and the blue pinstripe lighting a nice touch.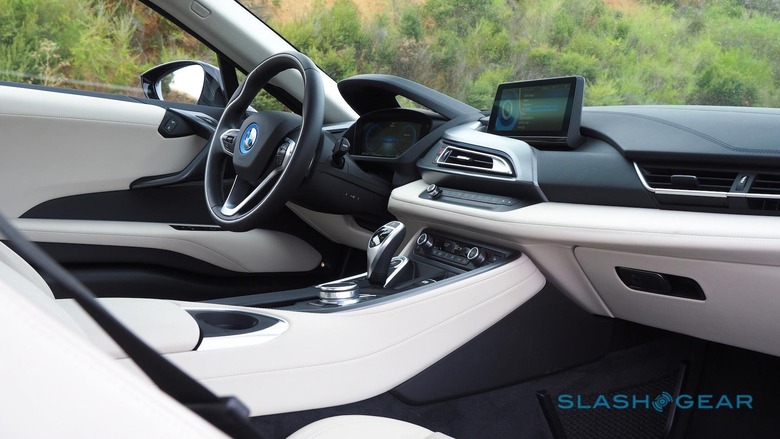 The instrumentation is digital, though it doesn't stray too far from what you'd see in any other BMW. Atop the center stack there's a free-standing LCD, controlled with the automaker's familiar iDrive joystick and scroll-wheel. A rocker switch flips the i8 between Comfort and ECO PRO modes; pushing the gearstick to the left engages Sport mode, at which point the digital graphics turn red.
The i8 isn't over-powered. In fact, despite the aggressive, shark-like looks, it's more of a grand tourer than anything else. Pull off under electric-only power, the faint whine of the motors the only sound before the engine kicks in, and you can see passers-by turning to watch, confused by the absence of the expected engine roar.
That does come later, as soon as you get any more eager with your right foot than the lightest graze, though the 3-cylinder isn't the most sonorous and BMW has used some artificial noise trickery to flatter the ears a little more. You won't get slammed back into your seat – there's none of the straight-line fury of a Tesla in Ludicrous Mode – but it's nimble and hides the weight of its batteries and other added hardware well. 0-60 mph comes in a quoted 4.2 seconds. Where it carries a big advantage over a Model S is in the corners.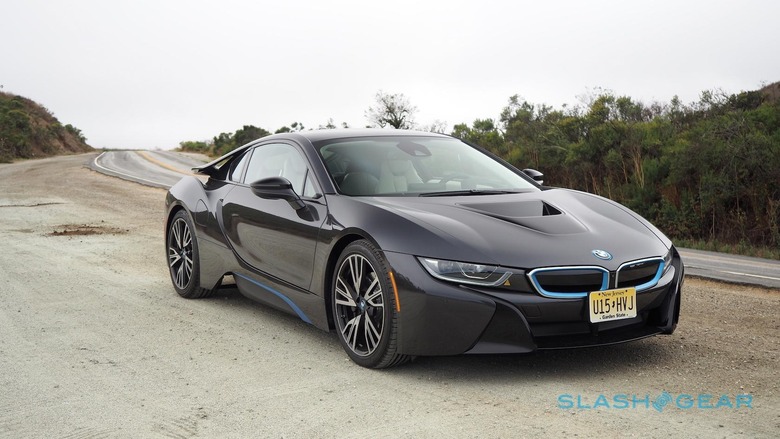 It's a very usable car. The batteries, mounted low in the body, help keep the center of gravity down; it feels planted and secure, pivoting neatly with decent feedback despite the electric steering. In Comfort mode it's positively relaxing, but flip into Sport and the i8 is quicker to call upon its gas reserves and squirt forward eagerly. BMW hasn't pushed things as far as Acura did with the NSX, which remains one of the most beguiling examples of why hybridization has a place in sportscars, but then again the i8 doesn't demand a track for you to find its charm.
All-electric range isn't going to win the i8 any awards. In fact, because of the way BMW has the coupe's powertrain set up, you're looking at a mere 15 miles of EPA range, though you can do so at speeds up to 75 mph. Overall, it's rated at 76 MPGe.
Still, on a regular 110V domestic outlet, you'll need about five hours to fill the batteries. Better to have a 240V Level 2 charger installed, which takes a more reasonable 2.5hrs. Unlike on the i3, BMW saw fit to equip the i8 with a fuel tank that contains more than just a few sips of gas, which means total range is around 330 miles.
The value of that is not to be underestimated. Certainly, for some drivers going fully-electric is practical, but for plenty of others the fear of being caught short more than an extension cord's length from the nearest outlet is just too real. Yes, you can drive the i8 predominantly in electric mode for your daily chores, but it's also just as happy purring in hybrid mode with readily-available premium gas its only demand.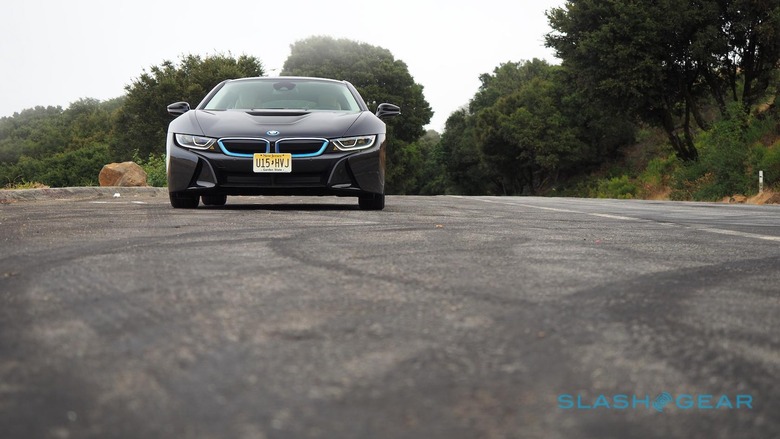 One thing the i8 does have in common with other coupes is that it doesn't come cheap. Sticker price is $144,395 including destination; this particular car had $2,000 20-inch alloys and BMW's incredibly potent Laserlight headlamps, a hefty $6,300 add-on. They punch the wallet hard, but their ability to illuminate an otherwise pitch-black road is outstanding.
Wrap-up
I once described BMW's electrification strategy as pretty confusing, and that opinion hasn't really changed. On the one hand, you have hybrid versions of its mainstream range, which wear their electric motors discreetly. Miss the subtle badging, and you could easily confuse them for a regular, gas or diesel powered 3, 5, or 7 Series.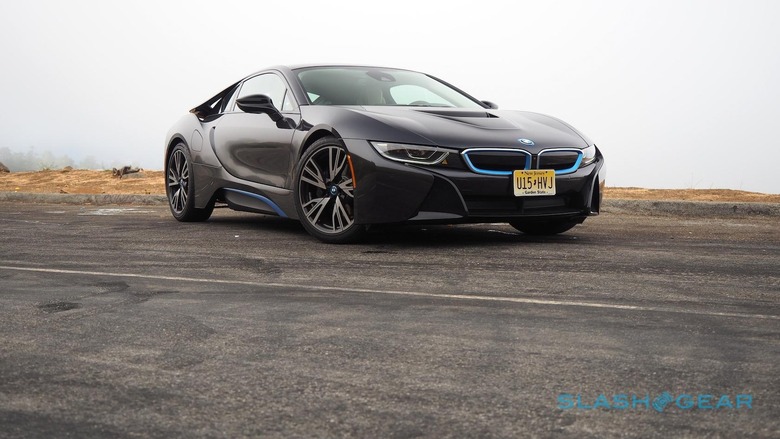 Then you have the i Series cars, with this i8 at the pinnacle and the i3 offering an unusual (and expensive) city runabout option. Nothing like subtlety here, but neither are they quite as green as rivals can boast of being. What they are is interesting, more than you can say about a lot of eco-transportation, not to mention relatively rare a sight on the roads.
If your primary goal is a swift coupe, there are better options out there. Similarly, if environmental credentials are your North Star, the i8 probably sacrifices too much green for grunt for your liking. All the same, the BMW i8 is a good example of what electrification can bring that's new to the table: unusual, eye-catching, and imperfect, and all the more charming for it.