2017 BMW I3 Vs I3 With Range Extender Review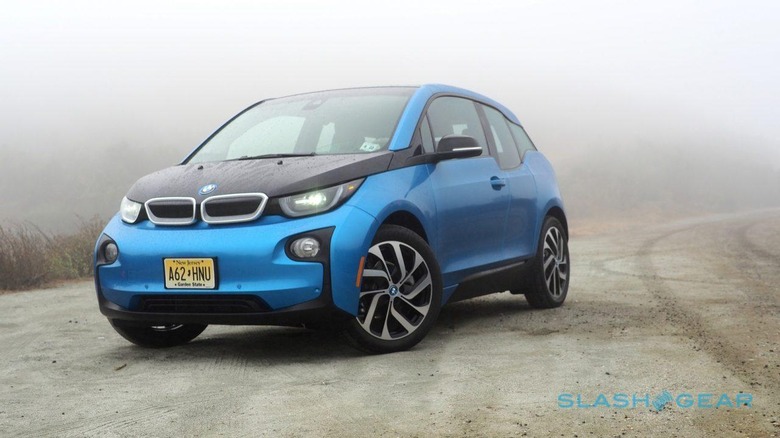 EDITORS' RATING: 6/10
BMW's 2017 i3 is actually two very different cars: this is actually a review of two i3 models, not one. The entry-level car is all-electric, with a 170 HP motor packing 184 lb-ft of torque and, new for 2017, a 33 kWh li-ion battery. On top of that, though, you can have the BMW i3 with Range Extender, which adds a 2-cylinder gas engine.
In a way that makes the i3 a hybrid, but the way it uses its gas engine is very different to most such cars. Rather than relying on it to power the wheels, BMW instead treats it as a portable generator. When you're low on battery, the Range Extender starts up and begins to charge it.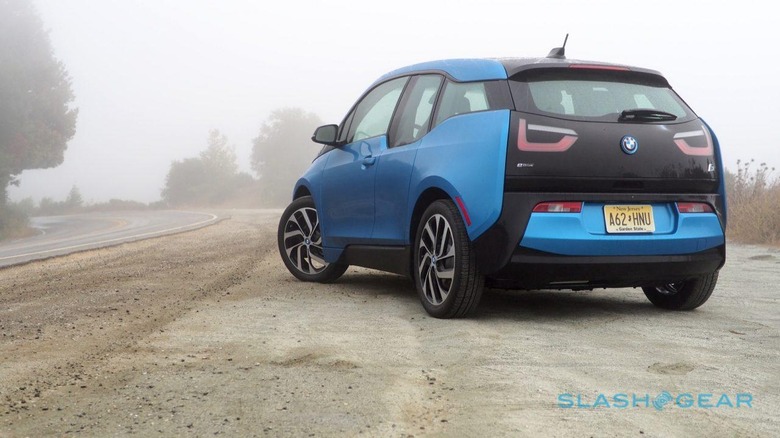 It's a clever system, not to mention a good backup for longer trips when a single charge can't be relied upon to get you all the way from A to B. The EPA rates the regular i3 as good for up to 114 miles. The i3 with Range Extender has a slightly shorter all-electric range, at a quoted 97 miles, but with a full tank of gas you can extend that to 180 miles. I spent about a week with each to see how they compared.
What we like
It's reasonable to describe the i3's styling as divisive. Some find the upright little hatchback, with its odd side-window shapes and futuristic flourishes appealing. Others would prefer it just look like a regular BMW, much in the way that the 330e demands a close examination if you're to figure out it's a hybrid.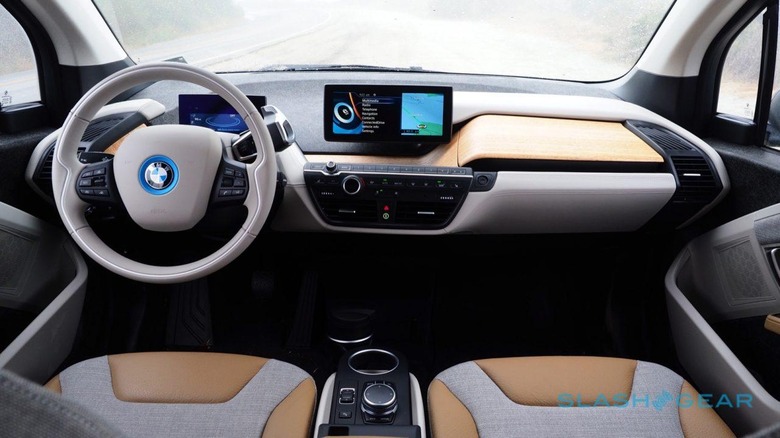 Personally, I like BMW's outlandish aesthetic, particularly on the inside. In fact, I'd go so far as to say that this is one of the very best interiors, in terms of style and ethos, the automaker has in its line-up. Pleasant materials like heavily-textured cloth and open-pore wood combine with black and silver plastic in a layout that's airy and adds to the i3's sense of interior space. Over 25-percent of the cabin materials used are recycled or renewable.
It doesn't fit with the traditional idea of luxury. However, it's absolutely in the right headspace for an environmentally-friendly vehicle. The center console is topped by an LCD display for BMW's iDrive system. It was a fairly pokey standard 6.5-inches on one i3 I drove, whereas the other had a larger screen with narrower bezels courtesy of the $2,350 Technology + Driving Assistant Package.
A second, also fairly small display sits behind the steering wheel. You select drive, reverse, or park with a stubby controller on the column, leaving most of the floor space open. There are some useful cubbies, heated front seats, parking sensors, and all of BMW's usual ConnectedDrive services, including the ability to remotely manage charging and cabin HVAC from the company's smartphone app.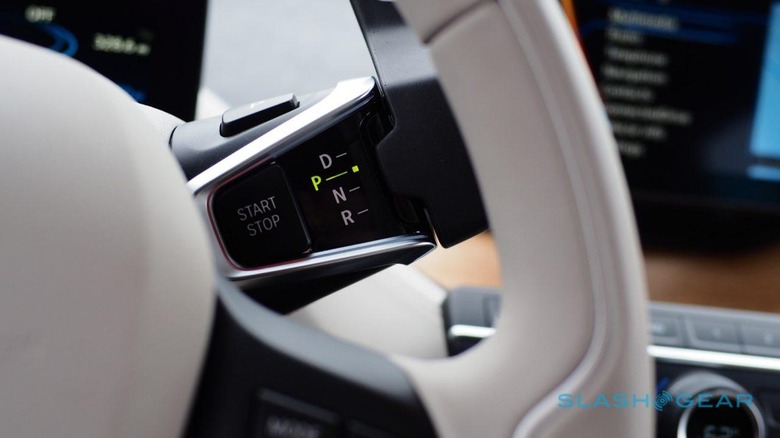 On the road, that usual EV torque advantage shows its hand with seriously nippy urban driving. You sit fairly high up in the i3, which saps a little confidence in aggressive cornering when it leans, but on the flip-side that position does help avoid the "small car" feeling that turns some off compacts. Unusually for an EV it's rear-wheel drive, like Tesla's Model 3. On the freeway the skinny tires have a tendency to tramline while the slab-sided i3 can be prone to wobbling in gusty winds, but it's not a difficult car to drive and there's still enough power to zip between lanes.
What could be better
With an electric range only just into three figures, the regular i3 isn't necessarily answer to those who suffer EV range anxiety. The good news is that its quoted range is fairly accurate: in the standard drive mode, with minimal concession to economy, I got around 90-110 miles on a full charge.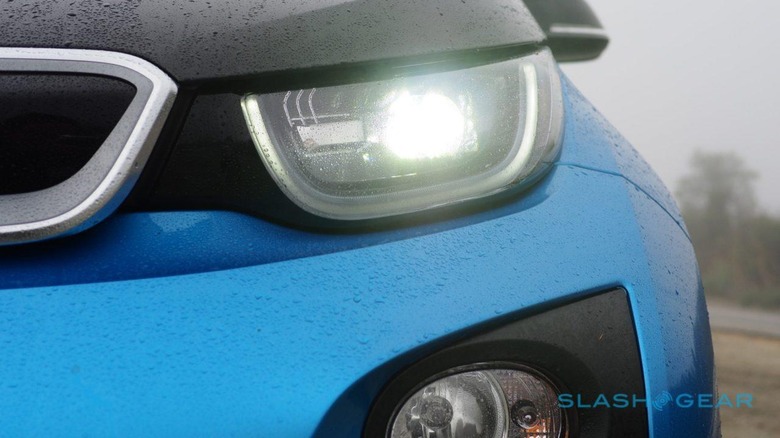 If you find a DC fast charger you'll get an 80-percent recharge in around 45 minutes. More likely, though, will be a Level 2 240V charger, which takes around five hours to fill the battery. If you've only got a Level 1 110V outlet to play with, it can take around 12 hours or so to completely recharge. It's worth noting that BMW's supplied "occasional use" cable for Level 1 use is oddly short compared to its counterparts from other automakers, which can make positioning the i3 close enough to an outlet tricky.
The i3 with Range Extender goes a long way to addressing that anxiety, though it's not a perfect solution. Its gas engine is a little buzzy and unrefined, though BMW does a reasonable job of insulating that noise from the cabin and, if you have music on, you'll hardly notice it kicking in. A full battery and gas tank, together, took me around 170 miles. No, the real frustration is the fuel tank.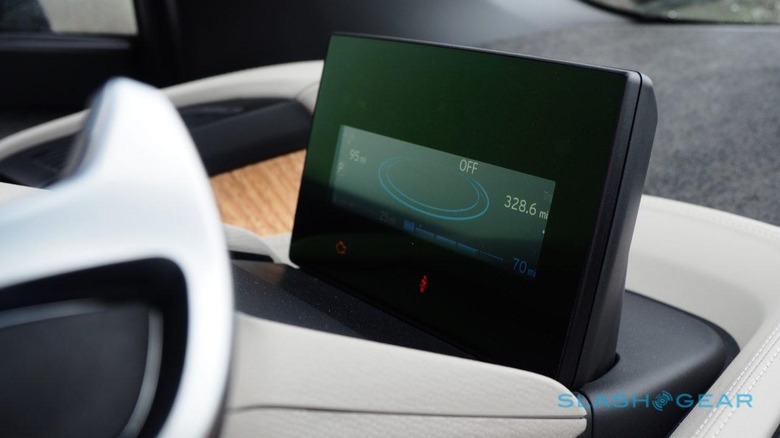 BMW opted for a minuscule 2.4 gallon tank, presumably to avoid loading the i3 down with unnecessary weight. If you're coming to the car with Chevy Volt-style expectations of hybrid flexibility, think again. When the Range Extender kicks in, you can almost see its fuel level drop as you watch.
It also means there's still some planning ahead involved if you intend to make a longer trip. If the tank is half full, you have to be certain that the gas station you go to doesn't have a minimum purchase that you might struggle to achieve. I can't help but wish that BMW had found space for a 5 gallon tank instead, which would've been far more flexible.
It's also worth noting that the Range Extender isn't intended to recharge the battery, only maintain it at around 5-percent. You can't choose to run down the gas tank in preference to the battery, either: the gas engine kicks in automatically when the battery is down to around 6.5-percent. That might be in recognition of the fact that, at a quoted 35 mpg, the Range Extender isn't especially efficient.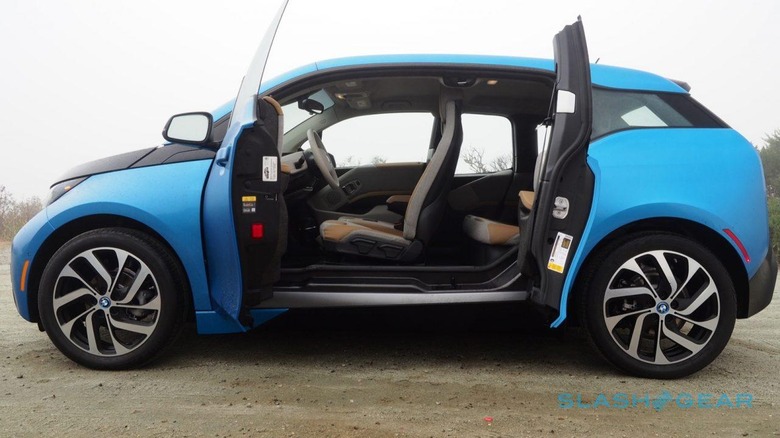 BMW's rear seats are large enough for adults, and the rear-hinged doors do, in theory, make them easier to access. In reality, the fact that the front and rear hinges don't open as wide as you might expect, and that you need to open the front doors before you can unlatch those at the rear, does present some annoyances. Trying to load the rear up with grocery bags while in a parking lot, attempting to open both sets of doors without hitting the car next to me, suggested that there's more than just safety reasons for why so-called "suicide doors" have generally died out in most modern vehicles.
Then there's the price. The 2017 i3 starts at $43,600 plus $995 destination; the all-EV model I tried only had the $1k Parking Assistance Package, with a rear-view camera among other niceties, ticked, bringing it to $45,595. From that you can take federal tax credits that usually amount to $7,500, plus any incentives your state offers.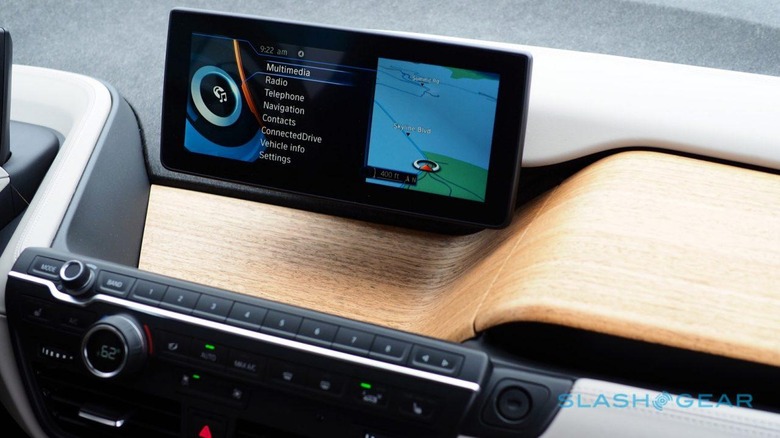 If you want the i3 with Range Extender, though, the base price rises to $47,450, making the gas engine a $3,850 upgrade. BMW had added several options, too, bringing it to a heady $54,295 before credits and incentives.
Now, BMW does include DC Fast Charging support as standard, which many EVs make a cost-option, along with navigation and automatic climate control. All the same, there's no denying that the i3 is under pressure from Chevrolet's much cheaper Bolt EV, which also has considerably more range, and – eventually, when production ramps up – Tesla's Model 3, which also bests the BMW on range.
Wrap-up
It's easy to write the i3 off as BMW's so-called compliance car: the EV excuse to prove to regulators that it's doing its part for zero-emissions. Personally, though I love the BMW's interior, the significantly greater range and lower cost of a Bolt EV means, were it my lease, I'd probably be found at the Chevrolet dealer. While the Model 3 has its advantages too, until production ramps up it's still little more than wishful-thinking: if you don't have a reservation already, you could be a couple of years through an i3 or Bolt EV lease before Tesla is ready to build you a car.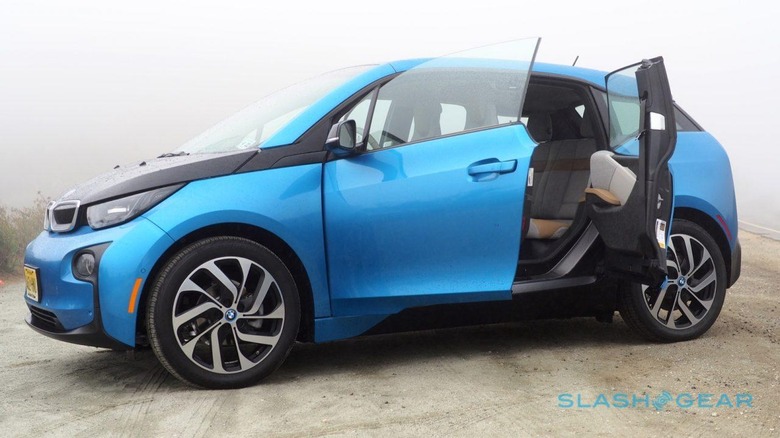 Still, there are some solid reasons to like the 2017 i3 all the same. It's far more visually distinctive than most of its EV brethren, the cabin is charming, and standard equipment levels solid. BMW dealers have some aggressive lease deals, while the Range Extender option does offer another route beyond the typical pure-electric/hybrid decision.
Most BMW buyers, I suspect, would be happier with the 330e, even though it has far less electric range. However, BMW isn't giving up on the i3. Next year will see the 2018 BMW i3s arrive, a sportier version of the car packing 184 HP, 199 lb-ft. of torque, a Sport mode with matching suspension, chassis, and wider track, along with upgraded tech.