BMW unveils first ever i3s with sporty style and more power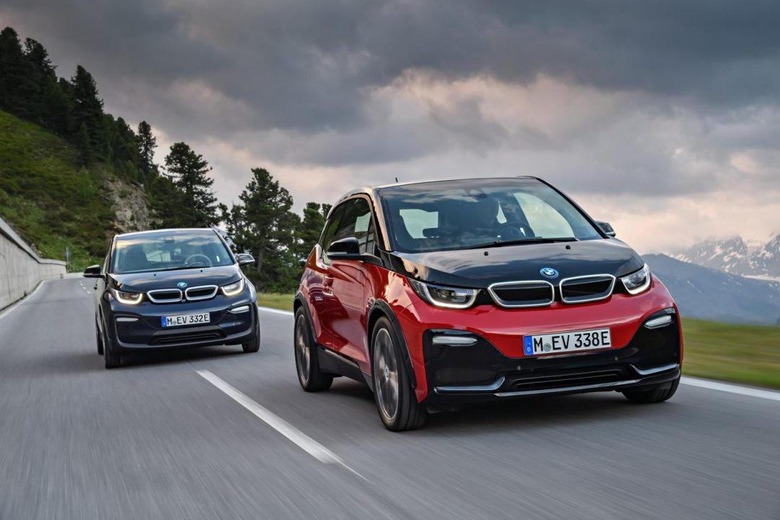 MW has rolled out the latest version of the BMW i3 and the first ever BMW i3s sporty EV. The new i3 and i3s will make their world debuts at the International Motor Show in Frankfurt next month with pricing for the cars announced closer to launch. Both versions of the i3 can be equipped with that cool Range Extender motor to eliminate range anxiety for owners.
The BMW i3 has been redesigned with new styling, equipment features, and new digital services. Both the i3 and i3s get power from a high-voltage lithium-ion battery that was developed by BMW and has a cell capacity of 94-Ah. The vehicles are fitted with an improved Dynamic Stability Control system that has a revised and faster responding Traction Control system.
That change is to give drivers more confidence in all conditions. Just in case i3 drivers want to do some drifting, BMW says that the Dynamic Traction Control will allow mild and safely controllable drifts when grip levels are reduced. The i3 has a synchronous electric motor that makes a max output of 170hp and 184 lb-ft of torque. The power goes to the road via a single speed transmission in the car can reach 60 mph in 7.2 seconds and has a 93 mph top speed.
The i3s gets revised styling including a gloss black finish for the roofline and A-pillars. The i3s is 10mm lower than the normal i3 and has broader gloss black wheel arches and is 40mm wider in track width than the normal i3. This car comes standard with 20-inch alloy wheels that are half an inch wider than previously offered.
The i3s has a power output of 184 hp and 199 lb-ft of torque. The i3s needs 6.8 second to reach 60 mph and na reach a top speed of 100 mph. The 2-cylinder range extender for all models is designed to feed the battery electricity when needed and extends the overall range for daily use by 87 miles to a maximum of 180 miles. Both cars also have full LED headlights and are also packed with driver tech like parking assistance, active cruise control, and more. We reviewed the 2016 BMW i3 last year, this is the previous generation i3.