2017 BMW 530i Review: Geek excess comes at a price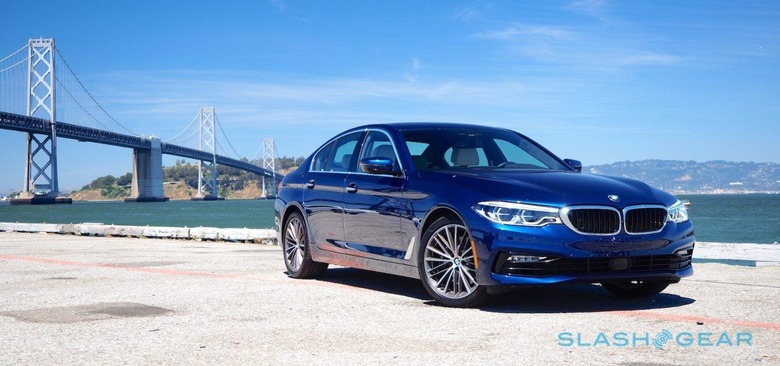 EDITORS' RATING: 8/10
Does it matter if all modern cars start to look the same, if your slick new 2017 BMW 530i could easily be mistaken for a 7 Series twice the price? The new entry point to 5 Series ownership isn't cheap, of course, but it's certainly cheaper than you might expect. There are a couple of compromises along the way if affordable Bavarian motoring is your modus operandi, mind.
Hang on, let me check that badge again
Take a glance at this, the seventh-generation 5 Series, and that's not the only seven which will probably come to mind. BMW's design inspiration for the car clearly encompasses the larger 7 Series, and the cues shared between the 530i and its bigger, more expensive sibling are numerous. Personally, I reckon that's no bad thing, given the 7 Series is an imposing and handsome beast.
Where's my inline-six?
Once upon a time, a luxury sedan without at least a six-cylinder engine would be laughed out of the executive parking lot. Times change, though, and emissions standards get tougher. Suddenly, it's not unusual to find a turbocharged 4-cylinder under the hood of your German icon.
This isn't BMW's first walk in the turbocharged park, and the 530i demonstrates that polish. Power is up slightly over the outgoing car, at 248 HP, while torque comes in at 258 lb-ft. 0-60 mph arrives in 6.0 seconds, and the 530i will carry on to a top speed of 130 mph.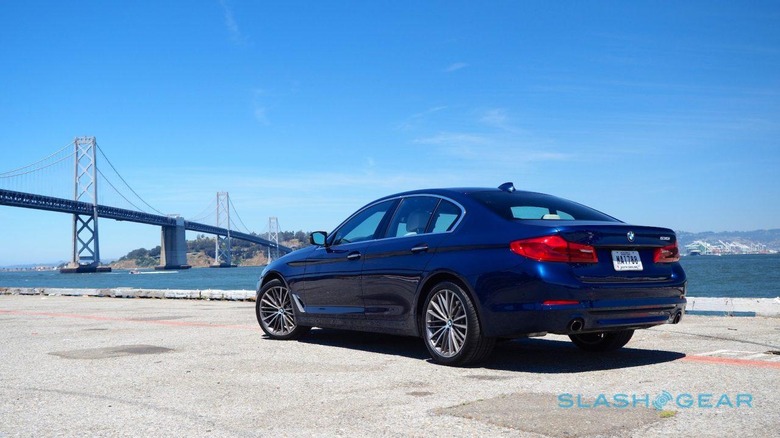 So it's not the fastest 5 Series – indeed, in RWD form, it's the slowest; the xDrive AWD version knocks 0.2 seconds off the 0-60 dash – but for the most part I'm not sure you'll care. True, you don't get the sonorous rumble of a six-cylinder, which I did miss at times on long highway cruises, but torque lag is practically non-existent and the 530i picks up quickly. You'll want Sport mode for that, which is joined by Comfort and Eco Plus, along with Individual settings for the suspension, powertrain, and other aspects.
So just how economical is that turbocharged 4-pot? BMW quotes 34 mpg on the highway, 24 mpg in the city, and 27 mpg combined. In my own, mixed driving, I saw an average of 24.7 mpg. I'm sure you could get better with a more cautious right food, but that hardly befits "the Ultimate Driving Machine," now, does it.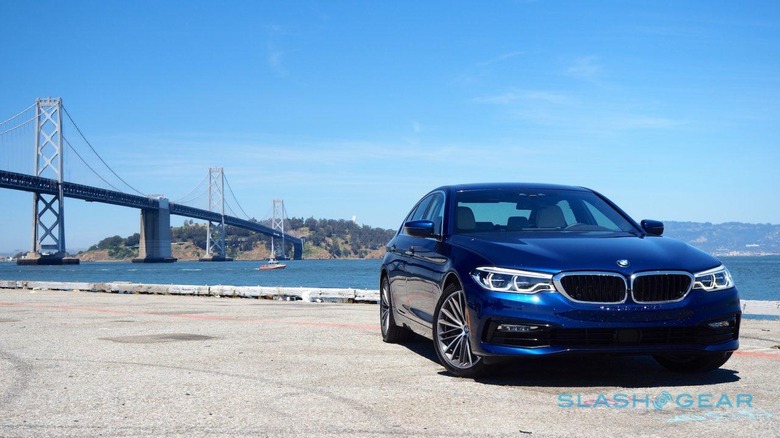 Welcome to tech-city, please bring your wallet
Inside, the 7 Series inspiration continues. Indeed, if you've been in BMW's most recent flagship, much of the 530i's aesthetic will be familiar. True, there's a little more plastic to the switchgear, where the 7 Series would use metal, but it's still a welcoming and cosseting place to find yourself, not to mention significantly cheaper.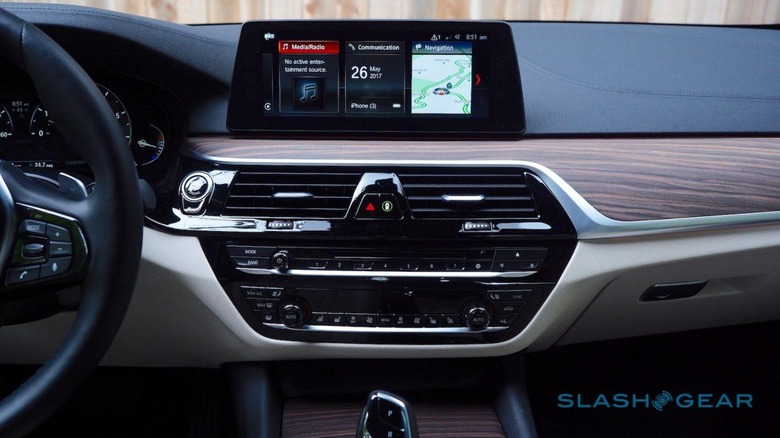 BMW's engineers have run riot down the 7 Series spec list, too, and many of the features you previously had to spend six figures to attain are now offered on this much more affordable car. As with earlier iDrive systems there's a navigation dial topped with a touch-pad for sketching out addresses and phone numbers in the center console; however, the 10.2-inch center display is now a touchscreen, too. It gets a new UI, including a more information-rich homescreen with customizable widgets.
You don't even need to touch or speak to the car if you don't want to, mind. Another trickle-down from the 7 Series is the gesture recognition, with a motion sensor in the dashboard tracking your flailing hand movements. Spin your finger around, for instance, and you'll adjust the volume up and down. Jab two fingers toward the dash, as though you're warding off the evil eye, and by default you'll skip to the next music track; alternatively, you can customize it to do things like set the navigation to your home address.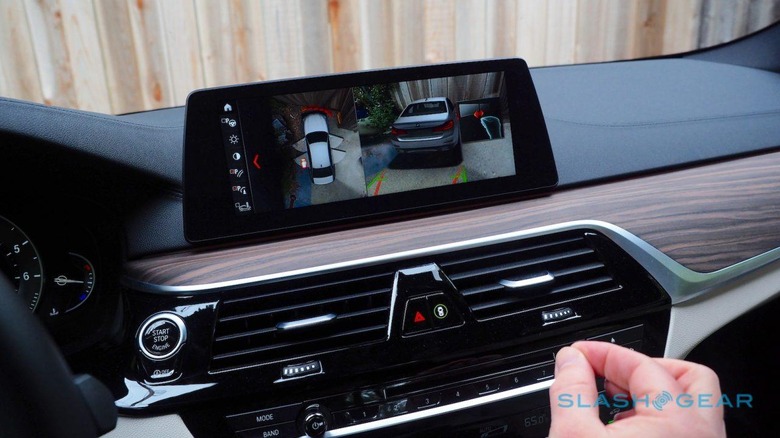 It doesn't end there. When you're parked up, pinch two fingers together in the sensor's line of sight and you can manipulate a virtual, on-screen 530i to see it from all directions. It's a fascinating upgrade to the (already incredibly useful) 360-degree bird's-eye camera. Essential? Probably not, but it made me feel like I was entering "bullet time" in the Matrix every time I parked.
The 5 Series' excesses make the few omissions all the more glaring. Apple CarPlay is available – albeit a $300 option, whereas I personally think it ought to be free – but there's no Android Auto. The steering assistance is designed to help when the adaptive cruise is turned on, but is available even when it's not; unfortunately, it showed a worrying habit of suddenly losing track of the road markings and drifting.
The primary downside, though, is the impact all this has on the price. The 2017 530i starts out at a not-unreasonable $52k including destination. Tick all the options boxes of this particular car – including an $875 surround sound system, $1,600 massage seats, $2,300 Premium Package, and almost $5k of "driver assistance" add-ons, to name but a few – and you're looking at another $20k on top of that. That's no small chunk of change to spend on a luxury car with a 4-cylinder engine.
Wrap-Up
There's a lot to like about the BMW 530i. Sure, it may not have an inline-six, but 90-percent of the time you wouldn't be reminded of that fact on the road; yes, it's not as thoroughly sporting as some of its stablemates – or, indeed, as BMW's reputation might lead you to believe – but for comfortable cruising with the occasional backroad playtime it's a solid package. Just don't expect to get BMW's economy figures if you do.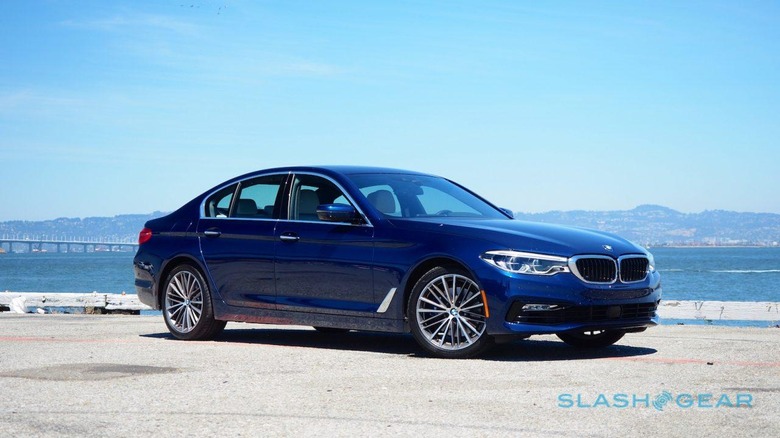 NOW READ: 2017 BMW M760i Review
As ever, it's important you only brave your nearest BMW dealership when you're feeling flushed with fiscal restraint. The lure of the options sheet is strong, and it's comically easy to take a car in the low-50s and find yourself comfortably in the 60s – or above – with just a few boxes checked. If you're a gadget-freak like I am, the temptation could bankrupt you.
Hold firm though, be discriminating, and the 530i starts to feel a lot less like the entry-level 5 Series and more like a mini 7 Series bargain. Engine snobs will want to step up to the 540i and its inline-six, but those who can stomach a few extras will find themselves in a car that not only looks grown-up, but drives like it too.