2016 Subaru WRX STI Review: Backroad Behemoth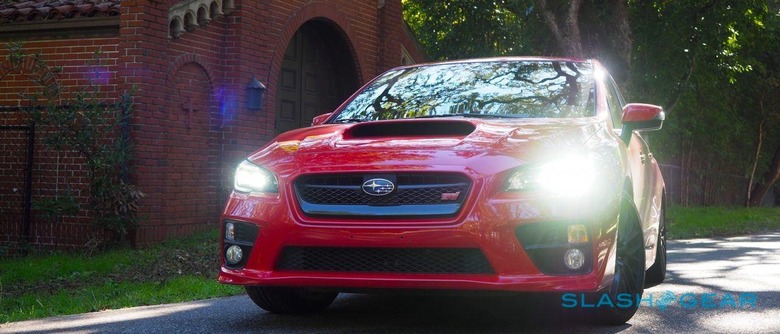 There's an "oh, NOW I get it," moment with the Subaru WRX STI. A point at which you stop hating the overly-firm ride, forget about the uninspiring interior, and can ignore the vast and ridiculous rear wing. It turns out, that point comes when you first throw the rally-inspired sports sedan into a corner on a slightly wet backroad, and realize that yes, they were right, Subaru's all-wheel drive really is that good.
"They" in this case are the small but vocal cohort of Scooby fans who have been championing the automaker's cars since, for the most part, its 80's successes in the World Rally Championship. Since then, the wings have gotten bigger and the tuning more intense, but one thing has pretty much stayed the same. Suburu is a brand for people who like to go play in the mud.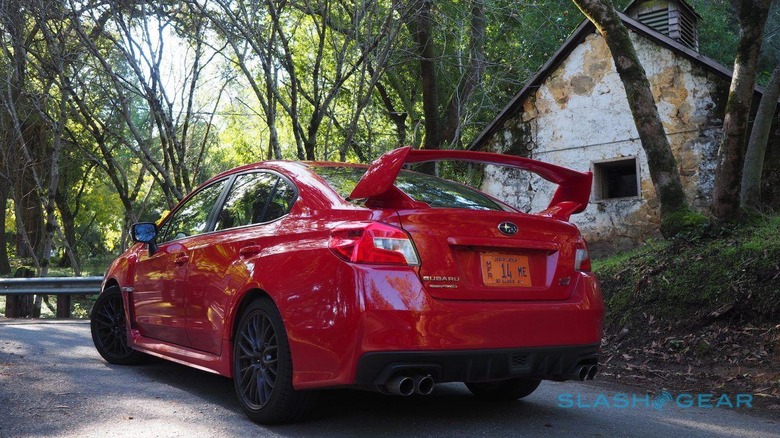 Core to that is the AWD system. In the case of the WRX STI that's the Symmetrical All-Wheel Drive with Vehicle Dynamics Control and Active Torque Vectoring, plus a Driver Controlled Center Differential (DDCD) and Subaru Intelligent Drive (SI-DRIVE). Lots of acronyms, yes, so let's boil it down.
Obviously, all the wheels get engine power. An electronically-controlled mechanical limited-slip differential adjusts how much goes to the front and how much to the rear – biased, normally, 41/59 – based on which wheels have traction, how heavy you are with the gas, steering angle, and other factors. You can leave the STI to manage it itself, or control it manually. Active Torque Vectoring uses braking on the inside front wheel to tighten up your turns, as with other WRX models, but the STI also has a helical limited-slip front differential and Torsen limited-slip rear differential.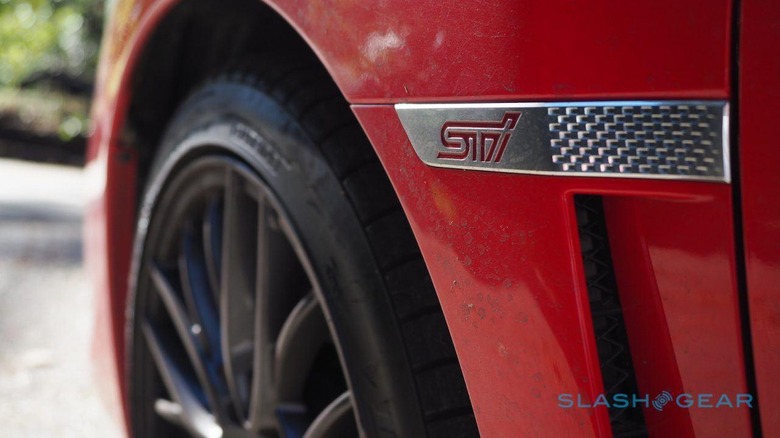 Thanks to SI-DRIVE, there are three different options for how all those components play together – Sport, Sport Sharp, and Intelligent – affecting things like throttle mapping. Finally, traction control does its level best to keep you on the tarmac rather than in a ditch.
It all works, too. In fact, the degree of grip the STI shows is kinda astonishing: enter the corner, turn the wheel, and the car just zips around. There's no fuss, no ungainly squeal from the moody black 18-inch aluminum-alloy wheels with their 245/50 R18 tires – even with Summer rubber – only perfect pivot after perfect pivot.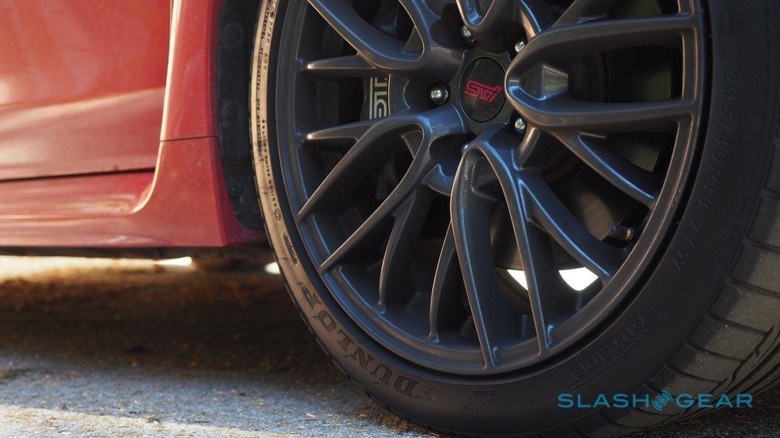 Helping bring the magic is Subaru's 2.5 liter turbocharged "Boxer" 4-cylinder engine. It's good for 305 horsepower, arriving at 6,000 rpm, and 290 lb-ft. of torque, at 4,000 rpm. The slightly tamer WRX can be had with a manual or a paddle-shifting CVT, but with the STI your only choice is a 6-speed, close-ratio manual.
This is not a bad "only choice" to have, mind. Manual gearboxes may be fading in popularity in the US, but I suspect that decline would be at least slowed were more people to try Subaru's shifter. With its pleasingly short throw and ideally weighted clutch, the latter catching quickly for whippet-fast gear changes, it's a masterclass in why stirring your own is still good fun.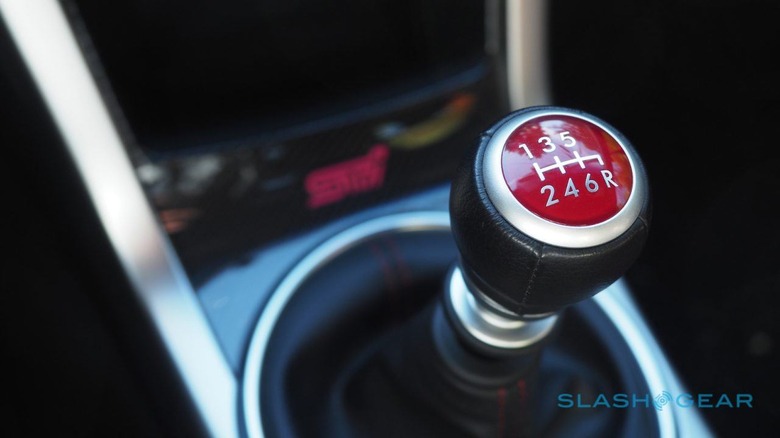 Once you figure out that the AWD is more than capable of dealing with an aggressive right foot, the result is sublime. The STI is a car tailor-made for back roads and hairpin turns, flattering those of us who didn't cut our teeth on forest rally stages, yet still allowing enough playfulness to staple-gun a grin to your chops. Big, reassuring Brembo brakes take care of slowing things down, and are more than sufficient for the task.
The downside is that not every road was designed with the STI in mind. That means ride quality that's well into the harsh side of firm, which makes for a tiring highway cruise. At least you get plenty of overtaking power with little need to downshift in the higher gears.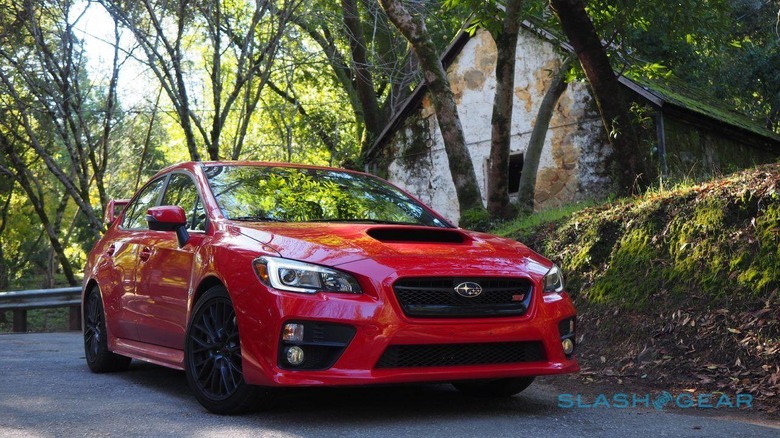 Economy? Subaru claims 19 mpg combined, or 17 mpg in the city and 23 mpg on the highway. With a mixture of the two I hit 21 mpg with no issues. Bring that turbo into play, mind, and you shouldn't be surprised to see fuel consumption in the low-teens.
Subaru's styling is an acquired taste, and I'm not sure I've acquired it. Lots of creases and bulges; vast vents and grilles. The comical rear wing – which you can switch for a low-profile lip-spoiler if you prefer – that just screams "boy racer" at the top of the STI's lungs.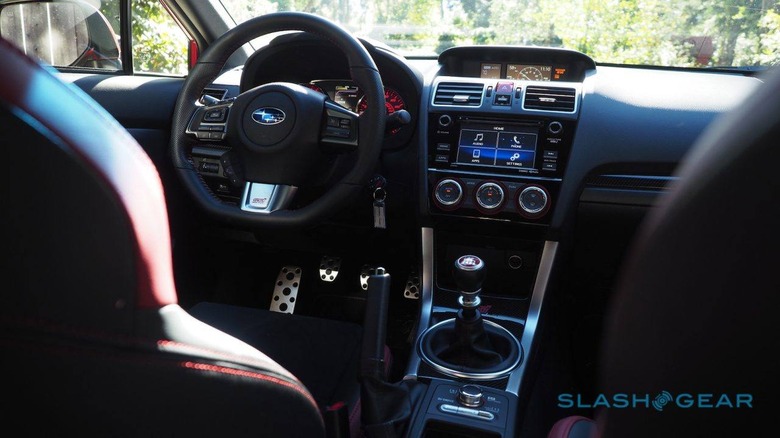 Inside, Subaru's cabin feels oddly somber in contrast, though splashes of body-color plastic and some matching stitching do attempt to lightning things. All the same, it's the place where the WRX STI's age starts to show its hand. Plastics are sturdy but uninspiring, while controls err on the side of functional rather than fancy.
Driving and infotainment data are spread across three screens: one in the center binnacle between analog dials, another on the top of the dashboard controlled with a separate joystick just beneath, and a 6.2-inch touchscreen in the center stack. The latter gets Subaru's Starlink infotainment system, which proved sluggish to control my iPhone 7 when plugged in via USB. I actually had better results skipping tracks and such when paired over Bluetooth.
The Alcantara-trimmed seats, meanwhile, are supportive and comfortable. They heat up quickly, too, even if the switches to control that are awkwardly placed, while rear bench space is good enough for average height adults. If there's something more impressive at the back than the height of the rear wing, it's the depth of the 12-cubic-foot trunk underneath it. It makes up, practically at least, for Subaru's discontinuation of the hatchback, even if it's a spiritual loss the Scooby crew won't get over.
Subaru's rivals haven't been sleeping. Ford's Focus RS is an obvious alternative to the STI, with its own trick differential not to mention more power, while the Golf R brings VW's Germanic polish to the party. They're probably more comfortable on the highway, too, though you'll pay more: the STI is $35,490 with delivery, more than $1k less than the starting price of either the Ford or Volkswagen.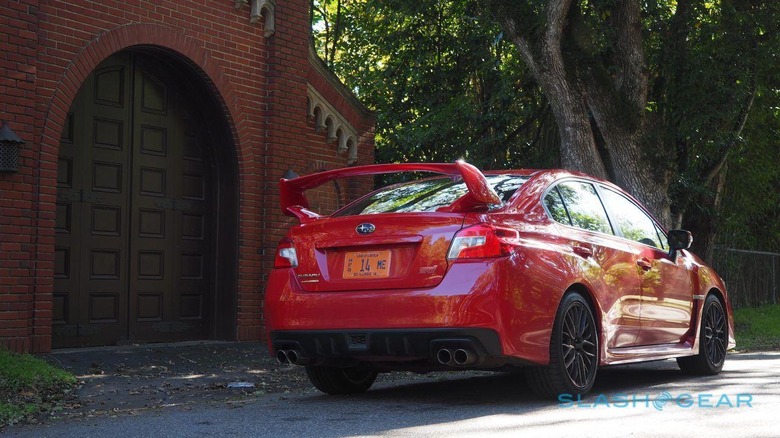 NOW READ: 2016 VW Golf R Review
The Scooby faithful are happy with their niche option, though, and that offbeat charm works in the STI's favor. Yes, it's more tiring than it needs to be when you're trying to drive it like a regular car, but it's tough not to succumb to its charms when you find a road that flatters it and the whole thing comes alive. It's almost enough to make you forget the lackluster cabin.
Were it my money, I'd confound the purists and skip the big wing. I'd probably go for a darker, less "look at me, officer!" color than the Pure Red of this particular review car, too. In fact, I'd take the STI to as clandestine and discrete a point as Subaru could possibly make it. I don't want to shout about how much fun I'm having, or draw attention to it. Just give me the keys and a stretch of mountain road, and I'll be happy.