Volkswagen doesn't have a lot of friends right now out there in auto-land – the foot-in-mouth associated with the TDI diesel scandal has had far-reaching implications in terms of public trust in the brand – but those that continue to stick up for VW during this dim period do so because of cars like the 2016 Volkswagen Golf R. This hot hatch's spec sheet reads like a wish list pried from the imagination of every teenager who's ever lain awake at night building and re-building the ultimate version of the ten year-old Golf parked in their parents' driveway.
292 turbocharged horsepower? Check.
All-wheel drive? Check.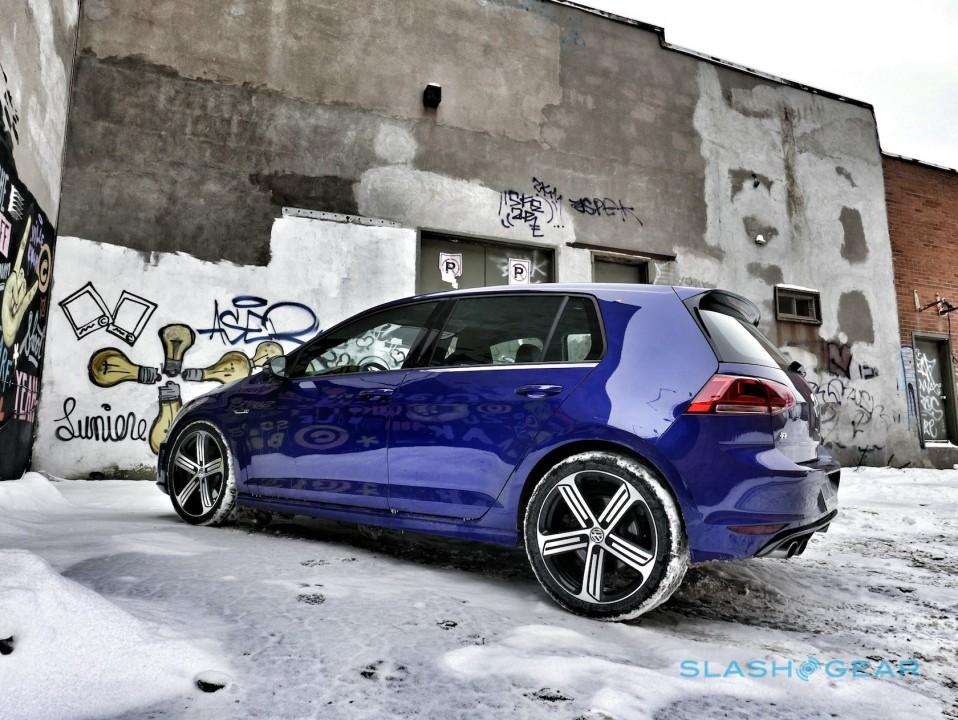 Six-speed manual transmission? Check.
Artificially-enhanced engine noise exiting the stereo speakers? Uhhhhhh….. Check
In fact, the only aspect of the Volkswagen Golf R's formula that would give any fanboy or fangirl pause is its window sticker. But hey, only the most actuarial of fantasies make room for details like monthly payments.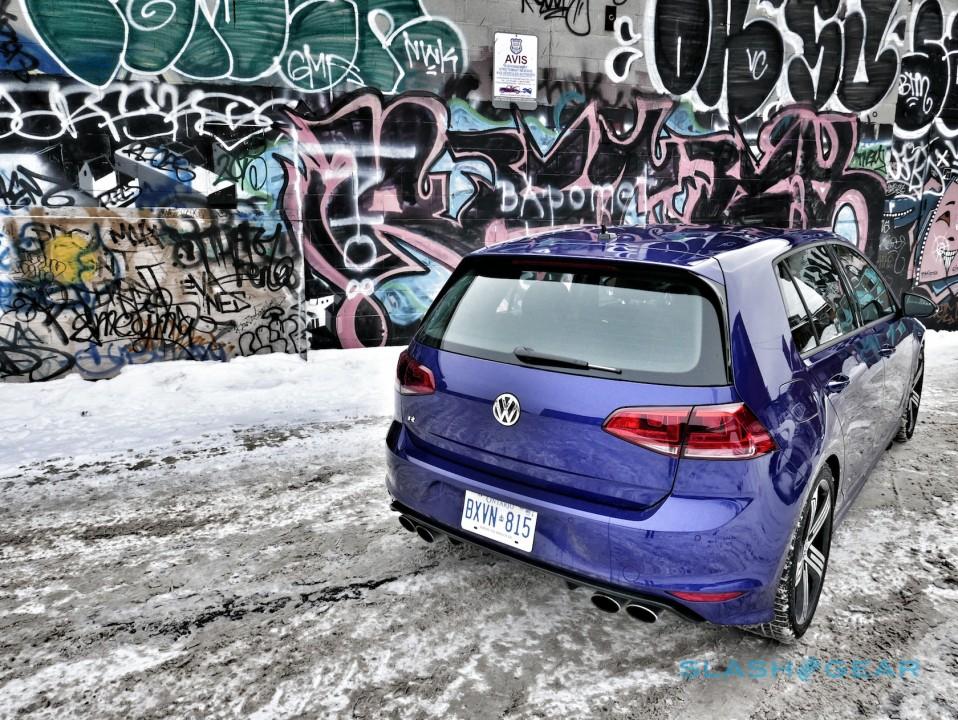 If you're willing to live the dream, the Golf R is right there waiting to blind you with the science of its next-generation platform and make you forget about what other options might be out there lurking at the same price.
Do The Evolution
Some cars get old. Others mature. The 2016 Volkswagen Golf R reigns from the top of the Euro roost like a middle income earner who's long-since taken the Fahrvergnügen poster down from the wall but still keeps their passion stoked with a smoky burnout as the background image on their phone.
The Golf R's lineage is further proof of its evolutionary, rather than radical take on the performance hatchback concept: by using the GTI as its starting point, Volkswagen has managed to build a brand flagship that stands on the shoulders of a giant not just in terms of engineering, but also when it comes to taking advantage of a pre-existing audience eager to take things to the next level.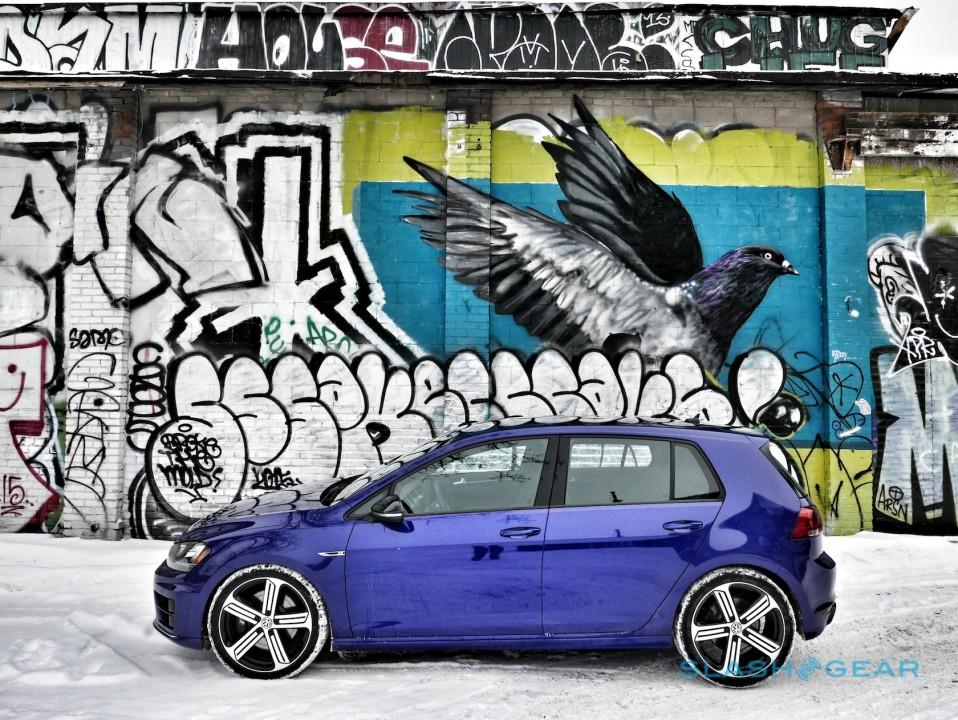 'Next level' is exactly where the Volkswagen Golf R is all too willing to help you explore. The 292 horsepower and 280 lb-ft of torque generated by its 2.0-liter, turbocharged four-cylinder engine are a hearty upgrade over the similar mill found under the hood of the GTI, and it's matched with 4MOTION all-wheel drive and your choice between a six-speed manual transmission or a six-speed, dual-clutch automated manual setup called 'DSG.'
Having previously had the chance to drive both gearboxes, I was pleased to discover that my mid-winter tester was outfitted with the former. Although the third-pedal might not be as quick off the line as compared to the auto unit (which offers a launch control feature), it's far more engaging to drive.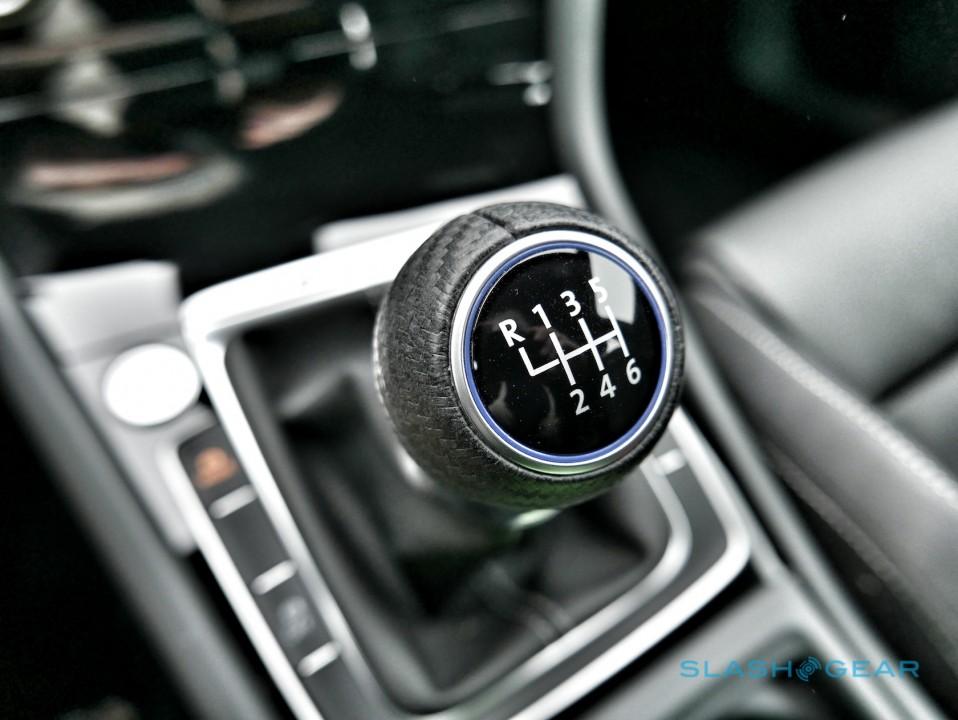 Ultimately, it comes down to what's more important to you – hitting 60-mph from a standing start in 4.5 seconds (more than a half-second faster than the manual) or feeling like you're a more active part of the man-machine interface on a twisting two-lane road.
Dual-Purpose Performance
It's not a decision to take lightly, because while the Volkswagen Golf R's drag-strip credentials are impeccable, taking a mere 13.2 seconds to blast down the 1320 with a trap speed of 106-mph, the hatchback's MQB platform delivers a chassis that is best enjoyed more than a quarter mile at a time. This is especially true if you order the car with its optional Dynamic Chassis Control system, which allows you to stiffen or soften the VW's shocks at the touch of a button.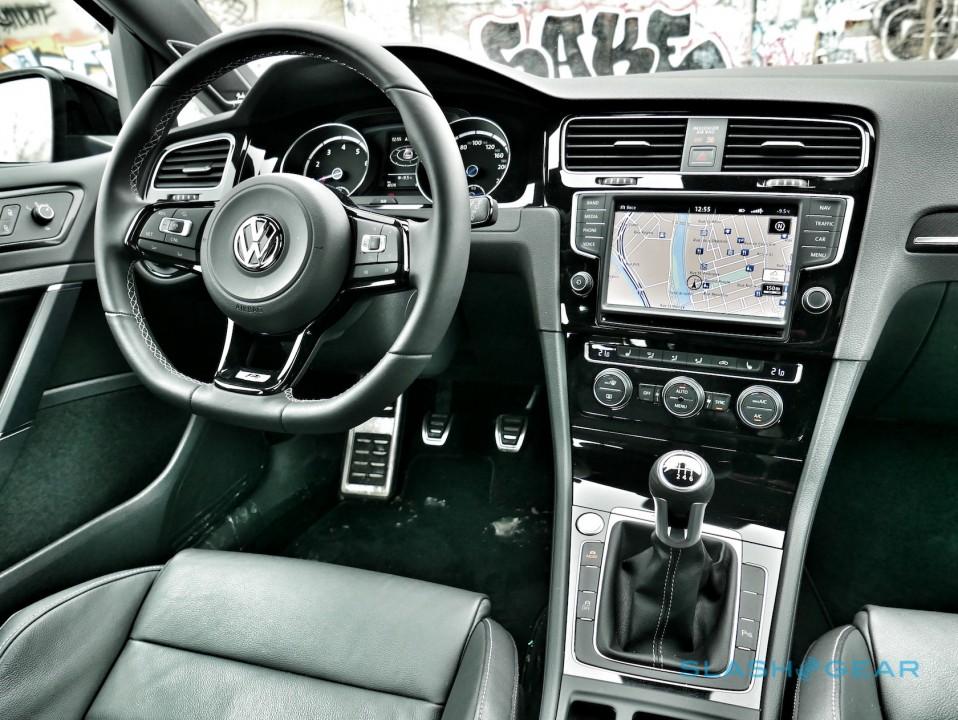 Other driver-configurable aspects of the Golf R's character include steering ratio, throttle response, and, unfortunately, how much you want the car's engine sound to be digitally sweetened before it's piped into the cabin – an affectation that would have been wholly unnecessary had Volkswagen elected to unclamp its iron grip on the R's exhaust note and allow us to enjoy a little unmuffled aural pleasure.
Regardless of your position on artificial enhancement, it's hard not to see the Volkswagen Golf R's relatively silent quad tips as yet another callback to the maturity that I mentioned earlier in this review. Rather than build a track-only edition of the Golf whose appeal would be limited to a small cadre of diehard enthusiasts, the ability to sculpt the VW's on-road personality in the driver's own image broadens the car's scope and hints at shades of grand touring aspirations in the compact performance segment.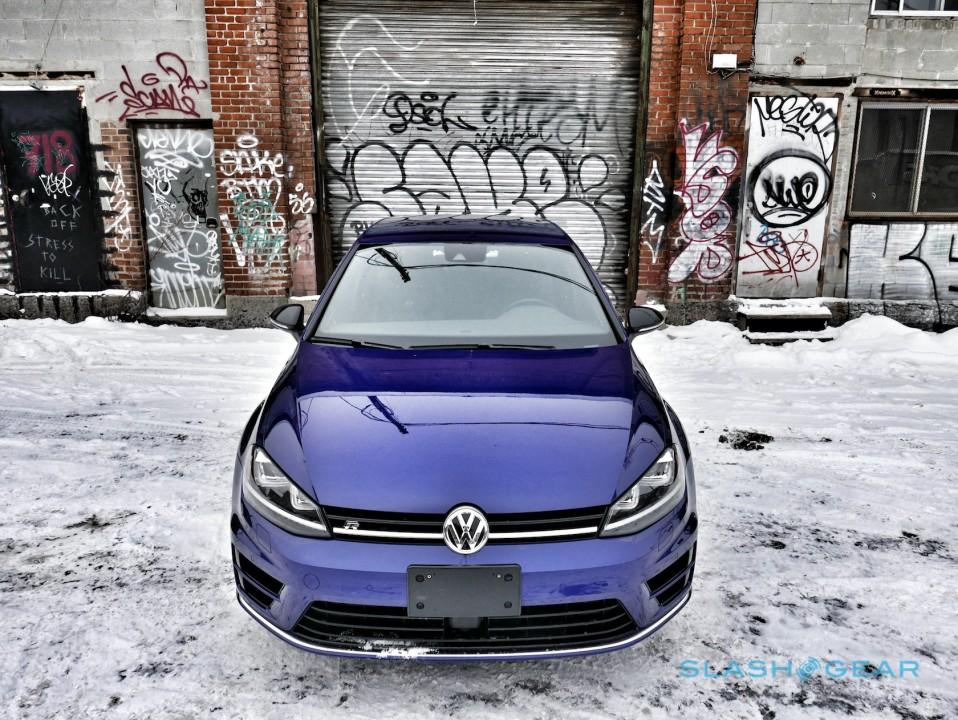 This added dimension shines through in the Golf R's ability to effortlessly transition from comfortable commuter to competent canyon carver at the push of one (or several) buttons. It may not be as focused as its closest rival – the Subaru WRX STI – but that's a conscious decision on the part of Volkswagen's product planners. Never forget that the Golf R's MQB platform and its entire drivetrain also happen to be shared with the Audi S3 sedan, a vehicle which would never be construed as targeting the boy racer crowd.
Bargain Hunters Need Not Apply
Given that it's intended to court a more affluent – read, older – buyer, it's really no surprise that the 2016 Volkswagen Golf R retails for $35,650. For those hoarding their paper route pennies and dimes, that's a full $10,000 more than what you'd spend on a base GTI, a gap that widens by another $2,245 if you ante up for navigation, DDC, and 19-inch wheels.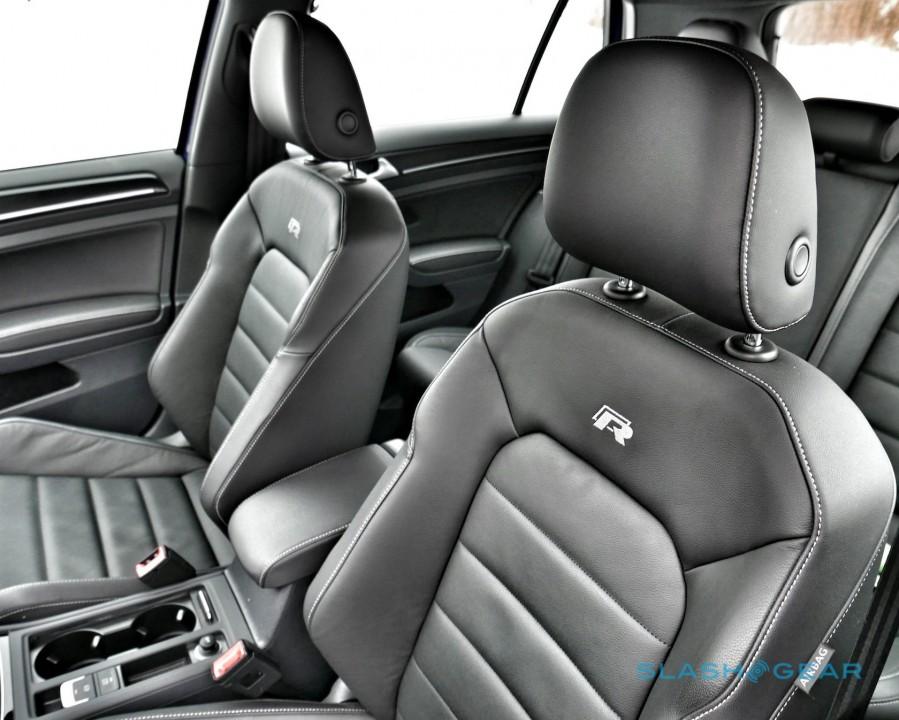 Whereas the GTI is a significant and affordable upgrade over the entry-level Golf, it's harder to make the same argument for the Golf R's positioning above its turbocharged sibling. Certainly quicker than the GTI in stock form, offering a stronger list of standard gear, and featuring a 4MOTION all-wheel drive advantage that simply isn't available from the aftermarket, the R's value proposition tails off dramatically when comparing the two models strictly on a 'fun to drive' basis.
Consider, too, that $35k buys a lot of car on the modern marketplace, with hi-po options like the Ford Mustang GT, Chevrolet Camaro SS, and the previously-mentioned WRX STI all hovering at around the same ask – and each capable of trouncing the VW in any number of performance-based categories.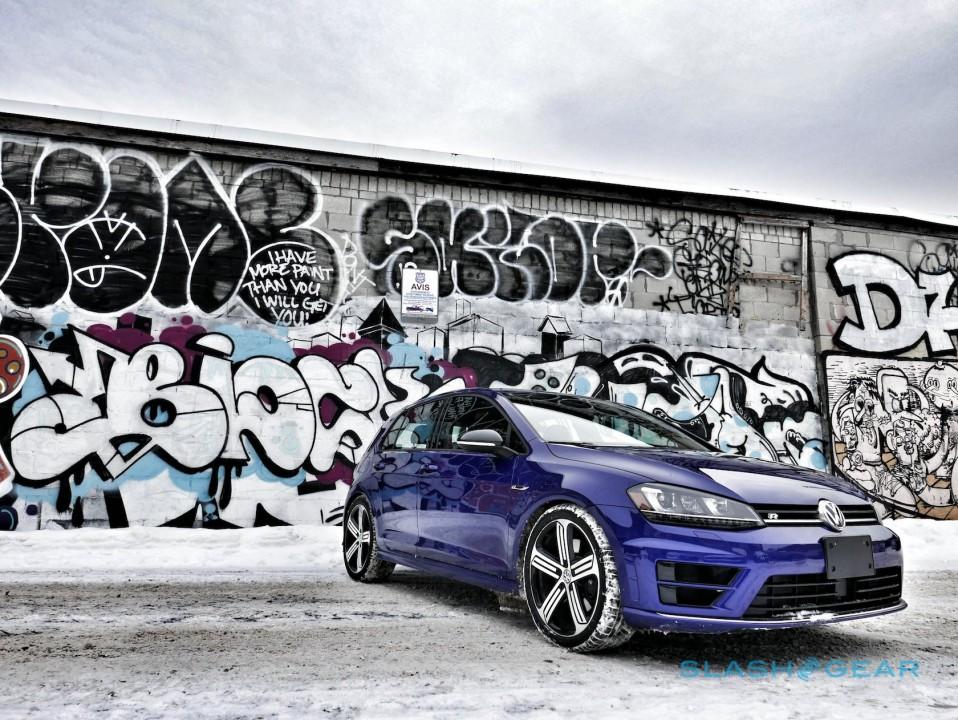 NOW READ: 2016 Ford Mustang GT 5.0 Review
Could you get as much joy out of a well-tuned Volkswagen GTI as you could from an out-of-the-box Golf R? Most likely yes.
Is the R the best version of the Golf that's every found its way to American shores? Undoubtedly.
If you're willing to pay the cost of entry to enjoy this very specific level of prestige, and like the idea of a GT car shrink-wrapped into a compact hatchback package, then the Golf R is worth a long look. If you're a seeking a budget-friendly pocket-rocket, however, then you're likely better off directing your gaze to the other side of Volkswagen's showroom floor.