2016 Scion iM Review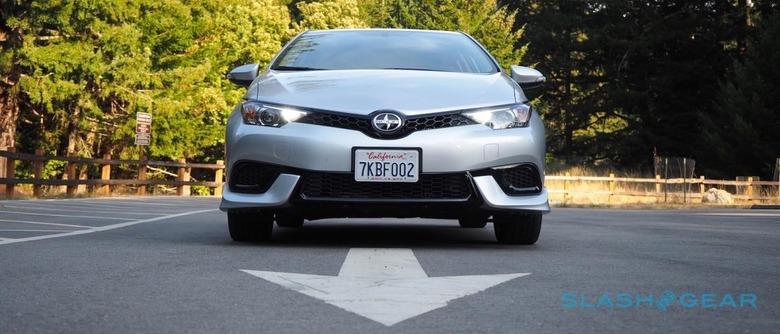 Scion needed a hot hatch on a budget, and so under $20k gets you the 2016 Scion iM and a handful of compromises. If you're European then you might get a sense of deja-vu from the iM. Scion didn't look far afield for its donor car, effectively just rebadging the Toyota Auris sold across the Atlantic and slapping a body kit on the outside.
It's not an ugly car by any means, though I'm not sure the styling additions do it many favors. The 17" wheels are nice, but the side sills in particular lack finesse. Most of the properly neat detailing, like the squinty headlamps and the sharply protruding rear light clusters are pure Auris.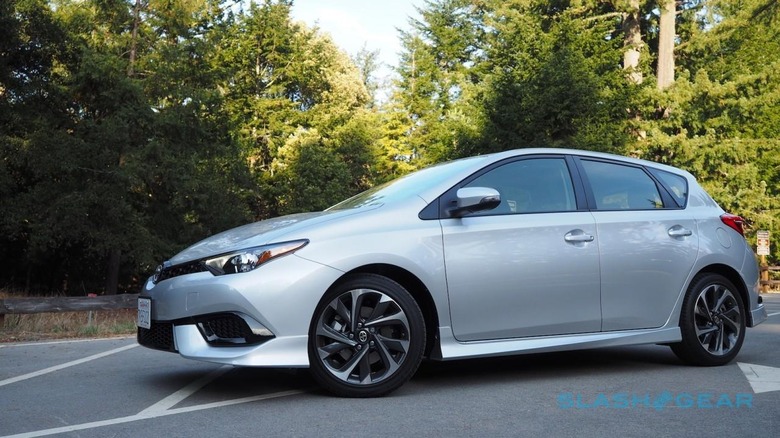 Inside, parent company Toyota's proclivity toward glossy black plastic is well in evidence, a big slab of the stuff in the center stack holding the infotainment unit. It's tough to keep clean from greasy fingers, but at least you get a physical volume knob. I had some issues with Scion's Bluetooth implementation, particularly when trying to pipe through Google Maps instructions: every time they finished, the music on my phone would automatically resume, even if I'd turned it off beforehand.
For the sub-$20k price there's an almost astonishing amount of standard kit. Dual-zone climate control, a Pioneer 6-speaker audio system, 7-inch touchscreen head unit with Bluetooth and USB input, reversing camera, remote keyless entry, auto headlamps, and 17-inch alloys are the sort of thing you'd usually expect to pay handsomely for; you even get power-folding wing mirrors, not that I can imagine most would need them on the narrow iM.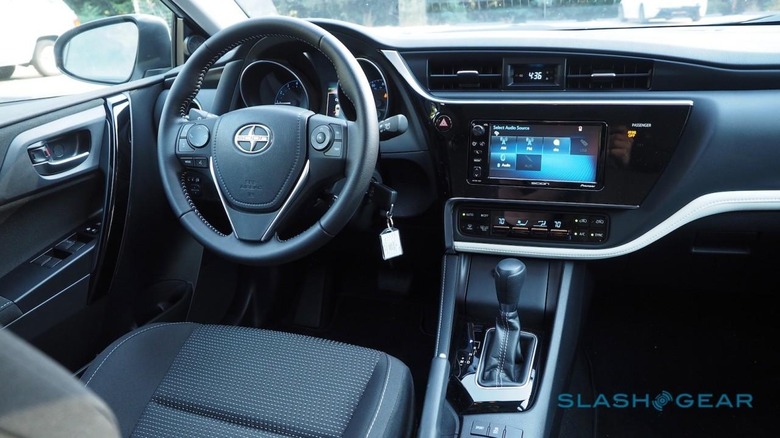 It makes the few conspicuous omissions all the stranger. No sunroof option, no opportunity to upgrade the – well bolstered for my fairly narrow shoulders – fabric seats to leather, and no SiriusXM radio. The absence of CarPlay and Android Auto from a vehicle resolutely targeting younger, smartphone-obsessed buyers is particularly disappointing.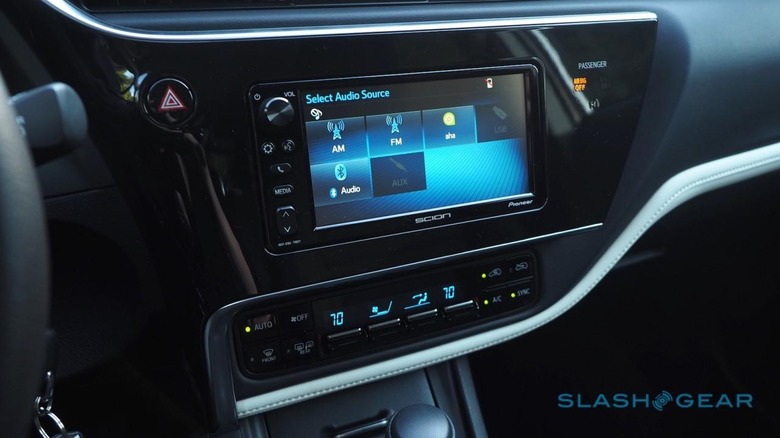 In fact the only real choices you get boil down to color and transmission. I spent time with both the 6-speed manual iM and its CVT counterpart, and though a proper hot hatch should probably involve stirring the cogs manually, at the end of my time it was the automatic that I preferred.
The manual isn't one of Toyota's best, with a long throw and some mushy imprecision to the gear lever. The clutch is fairly light, but it has too much travel to encourage eager driving.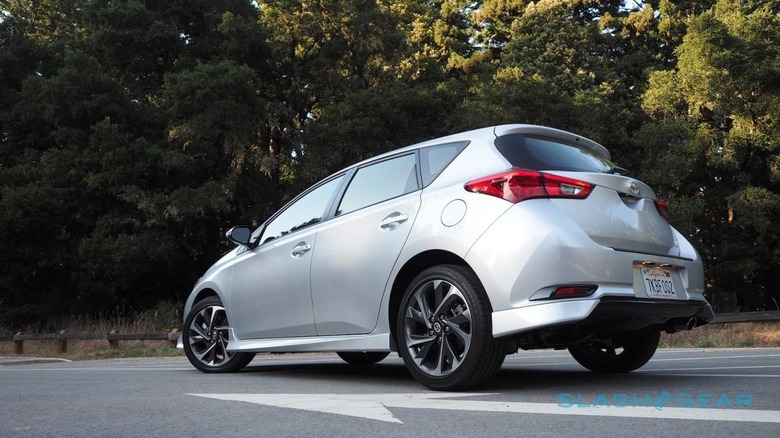 Meanwhile, the CVT mimics a seven-speed traditional automatic, with a faux-manual mode though no paddle shifters behind the wheel. It's a transmission of two moods: normally, it slurs through the virtual ratios smoothly and quietly, but hit the Sport button and it keeps engine speed up, particularly as you leave the corners.
The 1.8 liter four-cylinder engine doesn't particularly sound that great – particularly when grunting in Sport mode – and neither is it especially powerful, with 137 HP and 126 lb-ft of torque. There's certainly an argument to be made for more conservative power matched with driver enthusiasm and braking skill, and the iM does have predictably-accurate steering even if the rack is over-assisted to the point of numbness, but the Scion doesn't quite reach that balance point of eager pep.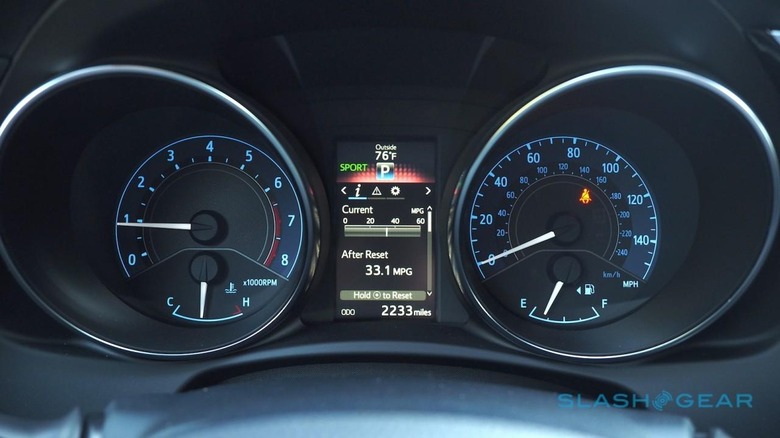 In fact the whole thing makes more sense when you think of it as a well-equipped, sensible little runabout. That requires ignoring the bodykit, which looks a little tacked-on anyway, and living with the higher-than-usual road noise in the cabin. Rear headroom is a little lacking for taller adults, but the 60/40 split seats extend the compact trunk space, even if they won't fold entirely flat.
NOW READ: 2016 Scion iA First Drive
As for economy, Scion rates the $19,255 manual at 27 mpg city, 36 highway, and 31 combined, whereas the $19,995 automatic comes in at 28 mpg city, 37 highway, and 32 combined. After roughly a week with each, I managed 32 mpg of mixed driving from the manual and over 33 mpg from the CVT.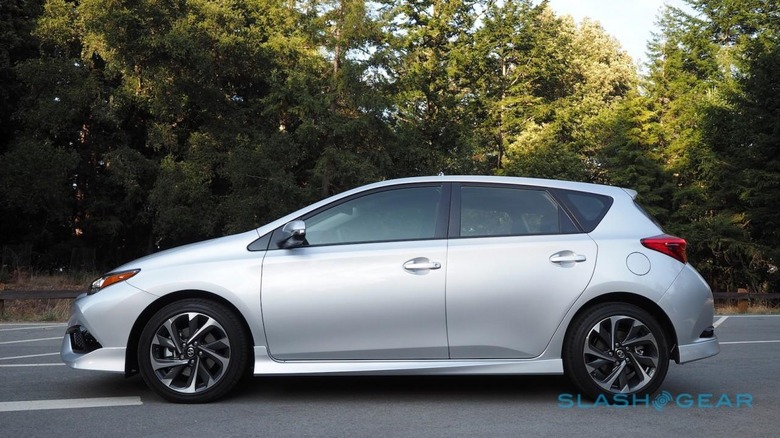 None of that does much to elevate Scion's reputation among the youth crowd, however, and at the end of the day the iM is neither lively enough to be considered a budget Golf GTI nor oddball enough to play to the crowd that loved its original xB.
That shouldn't bother you if you're in the market for an affordable and well-kitted-out hatchback, hate haggling, and insist on buying new. Anybody after real zeal might want to peruse what's preowned on the lot to make sure they're not missing out on better driving dynamics even if they sacrifice the new car smell in the process.
[gallerybanner p=409919]