2016 Scion iA first-drive - Slack-jawed sedan with Mazda zoom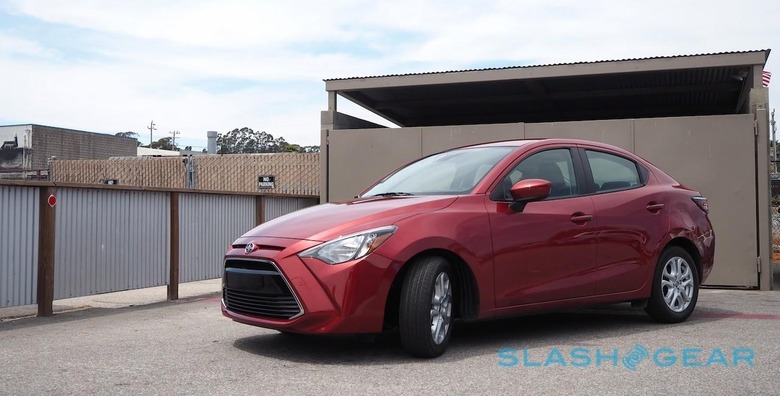 Scion has decided the 18-35 demographic it's desperate to attract to is in need of an aspirational sports sedan, and the 2016 Scion iA is the result. Mouth of a guppy, mechanics of a Mazda, and price tag of something several years old and with at least one other owners' name on the title, the iA isn't lacking in ambition, certainly, and neither has it spared the spec-sheet. All the same, the controversial looks and dinky engine could spoil the show, though Scion has reached high for things like safety tech.
At first glance, and particularly from the side, the iA looks a whole lot like a Mazda6 that's been hit with a shrink-ray. That's because, for the most part, this new entry to Toyota's "youth" brand is Mazda through and through.
In fact it's effectively the Mazda2 sedan, a car the makers of which decided wouldn't have a future in the US under its own badging at least. Scion, though, reckons the recent spate of fiery four-doors has kicked off a new age of sedan respect among younger drivers, and that the iA joins a clique that "breaks the mold of the econobox rental stigma" according to group vice president Doug Murtha.
It's an unusual shape in a segment dominated by the Fiesta, Sonic, Accent, and Versa, and it won't arrive quietly either, courtesy of that gaping grille. According to Scion, the styling was the number one reason to buy the iA among those who said they liked it, though the company's 30k-40k unit sales target suggests it's still very much a small-scale player.
Personally, I feel the trapezoidal maw lacks some of the finesse of stablemate Lexus' similarly-controversial faces, and while Scion clearly had to make the iA its own beast, I can't help but think that there were prettier animals it could've come up with to match the rest of the smoothly-sinuous body.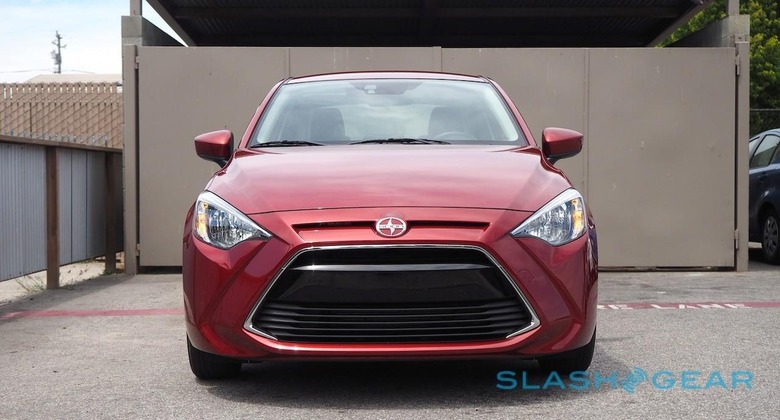 Perhaps you'll be distracted from the grille by the price tag on the windshield. The six-speed manual iA will be just $15,700 when it hits dealerships September 1st, with $795 destination, while the six-speed automatic will be $16,800. Both get a 1.5-liter Mazda engine, a well-packed Mono Spec equipment list, and two years/25k miles of no-cost maintenance with roadside assistance.
If the Miata's prevailing success has taught us anything it's that Mazda knows how to make a good, small engine and matching gearbox, though the iA falls well short of the sport sedan Scion has modeled it after. With 106 HP and 103 lb-ft of torque – arriving at a high 6,000 and 4,000 rpm respectively, at which point the four-cylinder sounds coarse and unhappy – the gearbox needs to be kept in motion if you're to get anywhere at more than a sedate trundle.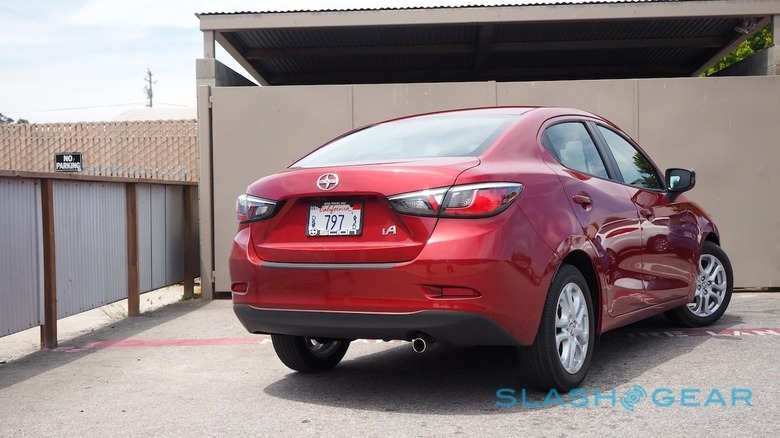 Uphill acceleration is particularly unimpressive, the roughly 2,400 pound iA needing to be dropped down at least a gear and preferably two to keep from slowing. Happily the six-speed manual is a neat little thing; not as short in its shift as a Miata box, true, but nicely notched and slipping easily from cog to cog. The auto, in comparison, gets you better economy (33/42/37 mpg for city/highway/combined, versus 31/41/35 mpg) but saps even more of what sporting ambitions the iA might hold.
Steering is predicable and crisp, and though there's the inevitable understeer in tighter cornering, the combination of McPherson front struts, torsion beam rear suspension, high-strength steel chassis and additional braking make for a composed ride. This isn't so much a car that could handle more power as it is one crying out for it.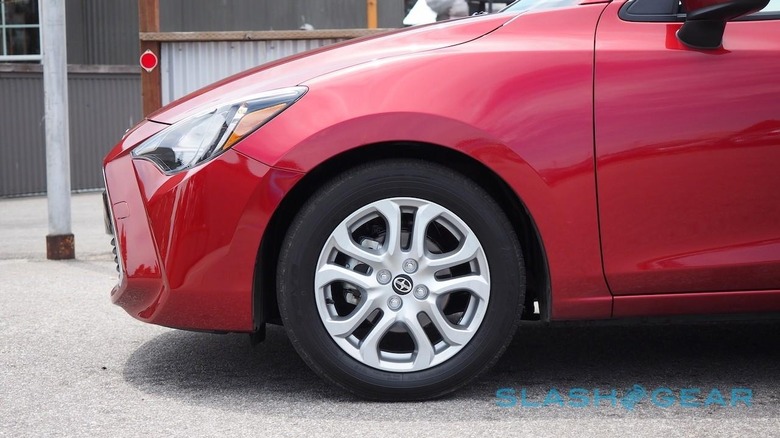 Elsewhere, Scion has worked on the principle that more is better, and so beyond choosing exterior color, transmission, and whether you want navigation or not, there's nothing to be added on. Outside, that means 16-inch alloys, halogen headlamps, and power-folding mirrors as standard, while on the inside there's remote keyless entry with push-button start, a backup camera, power windows, and a 7-inch touchscreen display for the multimedia.
The dashboard design is effectively all Mazda's handiwork, and so it looks great but feels a little cheap. It's all too easy to reach out and make contact with hard plastic, and the touchscreen wobbles a little as you stab it. In the front, the seats are comfortable but would benefit from a little more side support, while in the back the limited legroom and headroom will start to impinge on adults over 5'7 or thereabouts. You do, however, get almost 13.5 cubic feet of storage with the 60/40 rear bench folded down, though the shape of the trunk might preclude bulkier items from fitting.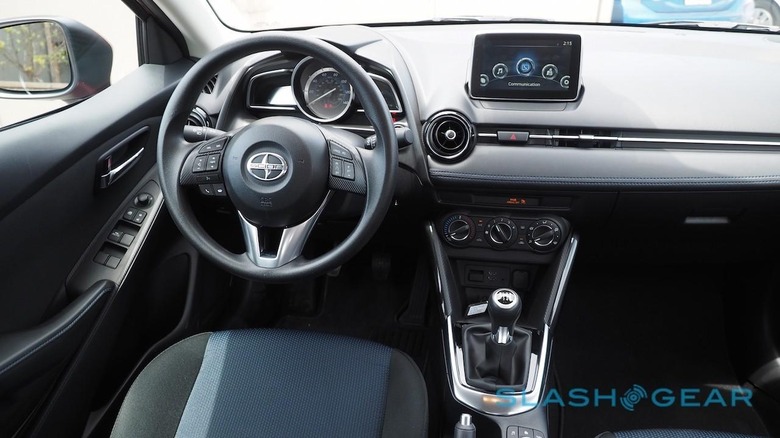 Whereas the Scion iM that the iA launches alongside gets Toyota's underwhelming Entune infotainment software, the Mazda-donated system in the sedan is a more pleasant affair. It's easy to navigate, though the touchscreen only works at a stop and very low speeds: anything more than a few miles per hour and you have to use the combo scroll/joystick down in-between the front seats.
While there's no CD player or Sirius XM radio, you do get AM/FM/HD Radio, two USB ports, and an aux-in socket. Scion is expecting its youthful buyers to hook up their smartphones, either streaming via Bluetooth or using apps like Aha for internet radio. That seems a sensible assumption, but it makes the absence of Android Auto or Apple CarPlay all the more unforgivable.
What Scion (and Mazda) deserve credit for is the safety kit. As well as dynamic stability control, ABS, and such, there's a low-speed anti-collision system that, at speeds of 2-18 mph, uses a near-IR radar to scan up to 30 feet ahead of the iA. Should it spot a large object, it'll flash up a warning to the driver, pre-charge the brakes, and even bring the car to a halt so as to avoid a crash. A secondary anti-collision system uses the brakes should the iA be struck from behind, so as to hopefully avoid shunting into the vehicle ahead.
It's tech that's not unfamiliar from other cars, but it's rare to find anything like it on a sub-$20k vehicle. The alternatives from Ford, Chevrolet, Hyundai, and Nissan may be more powerful and more engaging to drive, but it'll take more cash to bring them up to spec parity, if indeed the options are even available to add.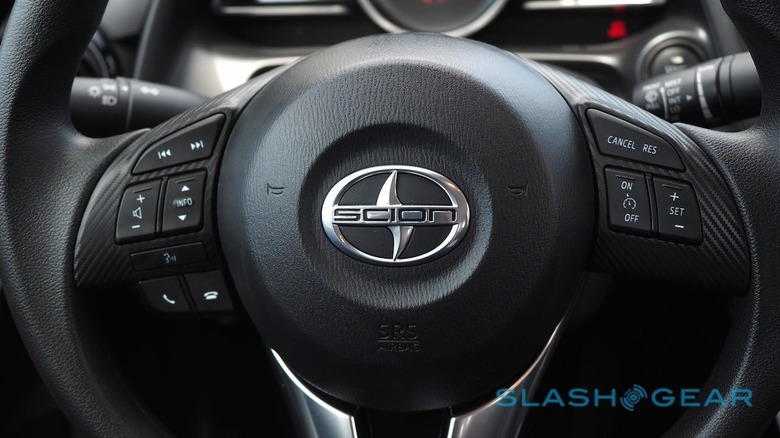 All the same, the 2016 iA feels short on Scion identity. The decision to chase a driver more mature in spirit if not age – "this is a car I'd be proud to valet park" was apparently one of the ringing endorsements out of Scion's focus groups – has squeezed out the kookiness that made cars like the xB appealing in their oddball way. Meanwhile, the vague promise of a sport sedan on a budget isn't matched with the underwhelming performance.
Potential iA drivers, Scion's Doug Murtha explained, "can't afford to be materialistic but are very brand-conscious." While the iA certainly fits the bill on price, it remains to be seen whether it has enough cachet to satisfy the fashionistas.