2016 Honda HR-V first-drive - The crossover that would be king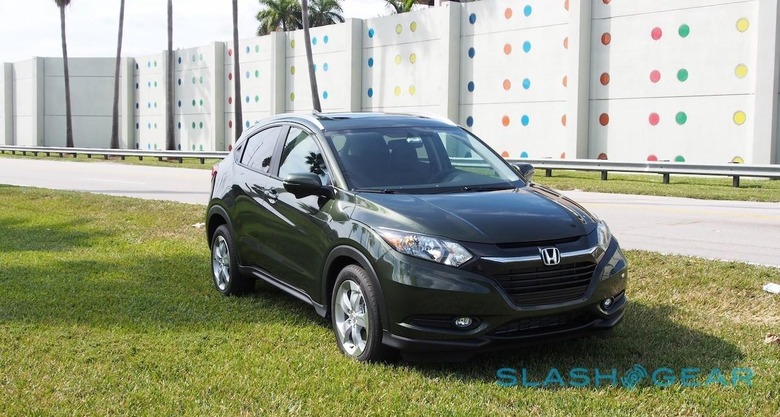 Small cars are big money to Honda, and none might demonstrate that so well as the new 2016 Honda HR-V. Launching the brand right into the midst of the flourishing subcompact crossover segment, Honda isn't playing it safe with its ambitions, targeting 70,000 sales in the first year. With prices kicking off at under $20k, there's a tricky balancing act involved to achieve the winning mix of styling, performance, equipment, and safety, however. More importantly, does the HR-V do enough to differentiate itself from its own more affordable Fit stablemate, or are you simply paying for a loftier seat?
We're big fans of the Honda Fit, its perky styling and not only capacious but cleverly-organized interior making it one of our top picks in the compact line-up. Turns out we're not the only people Honda has convinced, with Fit sales flourishing.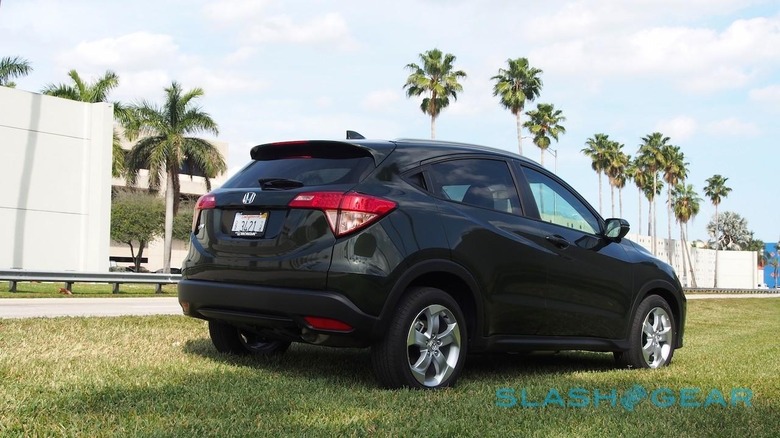 Given that demand, it's hardly a surprise that the Fit has gained a chunkier sibling. Honda is hitting all the typical subcompact crossover keywords for its target demographic, even going so far as to describe the car as having "coupe allure with minivan practicality", but at its core it's that appealing mixture of elevated driving position, practical space, and more striking styling that has been in demand ever since SUVs first made their way onto town and city streets.
If the Fit is a cutesy urban runabout, then the HR-V is a mini spaceship. It takes more than hiding the rear door handles in the C-pillar to give the impression of a coupe, but even discounting the hyperbole it's an altogether more dynamic-looking car.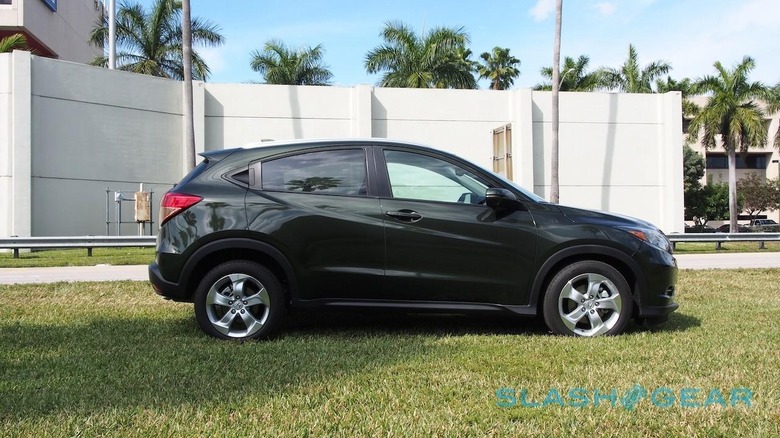 Angular headlights and a deeply dipping grille give the HR-V's face some personality, and Honda's love of sharp cut-lines is in evidence too, both in the hood creases and the sweeping line that runs from the front wheel up to the rear doors. There's a noticeable taper in the stance, too, which leaves the car looking solid; the built-up arches help there, too.
From the rear, the Honda family resemblance gets a little clearer, and there's something of the Odyssey minivan about the glass. Oversized lamps and some meaty bumpers give a little visual flourish, but the HR-V is definitely a car that looks more interesting from the front three-quarter angle than the back.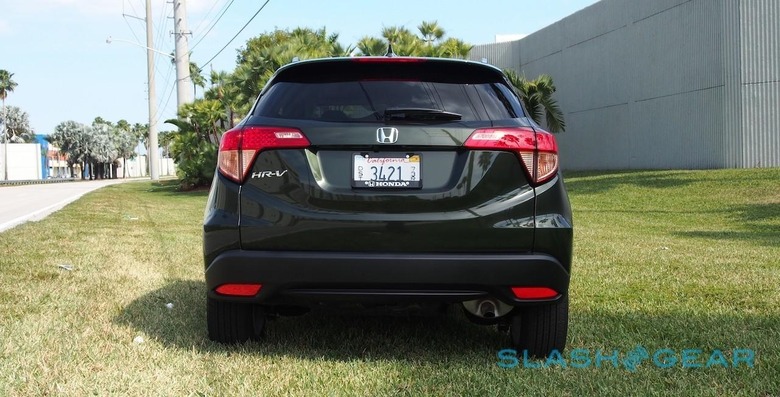 Happily – and sensibly – Honda hasn't allowed the whims of the designers to undermine what many HR-V buyers are going to be most interested in: practical internal space. In fact, though the crossover is around 10-inches shorter overall than its CR-V big brother, its 102.8-inch wheelbase is less than half an inch shorter.
It pays dividends once you get inside. The HR-V's headline stowage feature is the "Magic Seat" Honda debuted on the 2015 Fit, with the rear seats not only folding down but also hinging up so as to allow a tall object to fill from footwell to headliner. This "tall mode" has become one of the hallmarks of Honda's smaller cars, and it works just as well as you'd expect in the crossover, too.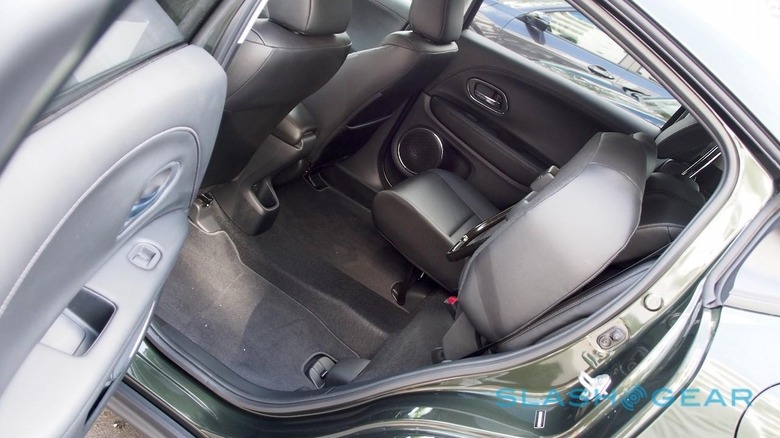 With the 60/40 split rear seats in place, you get up to 24.3 cu. ft. of space, but that grows to as much as 58.8 cu. ft. with the seats folded flat. The front passenger seat can similarly collapse down, allowing for long objects to run the full length of the interior.
Even better, actually adjusting all those seats is straightforward. The trunk opening is broad and tall, while the seats drop down easily. Latching the Magic Seat into place is a simple case of pulling on the cushion and then flipping up the support leg underneath.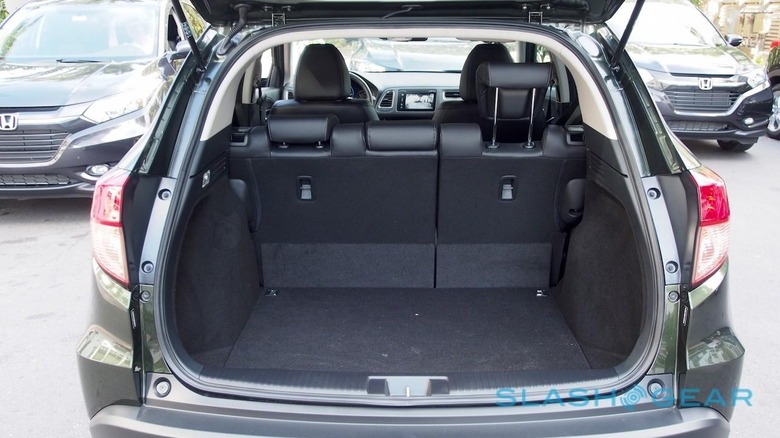 The interior in general is a step-up over the Fit, with altogether more grown-up switchgear and layout than the somewhat plasticky city car. Soft touch plastic is found in most of the places that matter – though you can still reach out and find the harder stuff without much searching – and the sweep of the dashboard is more cohesive than that of the Fit.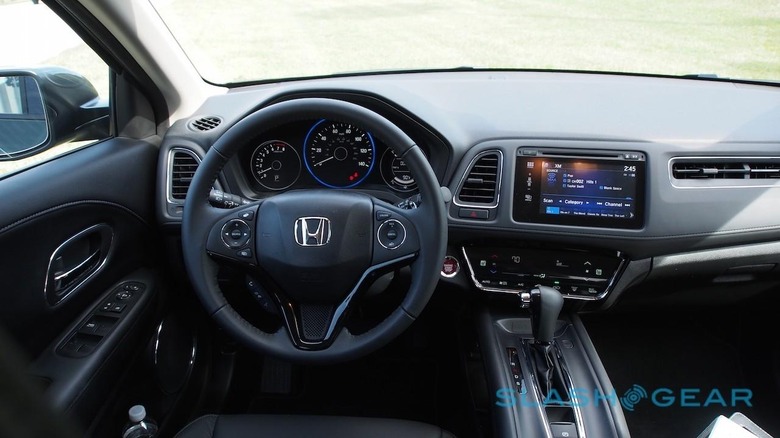 It's also more functional. The climate controls now get a touch-button panel – it looks suitably futuristic, though you have to look down at it to make sure exactly what it is you're tapping – and there's an electronic parking brake as standard. A row of vents run all the way across the passenger-side of the dash, too, for what Honda says is swifter cooling or heating when you first get into the car. Sure enough, it's straightforward to establish a mini-gale to subdue the person sat alongside you.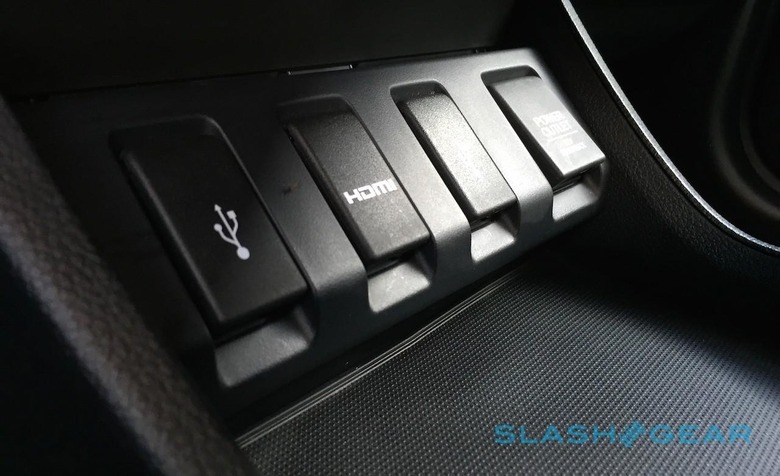 Honda has lifted the center console, integrating a sliding arm-rest for the driver's elbow, and leaving space for a "Console Pocket" cubby under the gearstick. It's not just a place to drop your phone, either, with up to two USB ports, an HDMI input, and a 12V power outlet. That's an unusual degree of connectivity for a car in this segment, but the positioning leaves something to be desired: actually figuring out where to plug in your phone charger behind each of the covered outlets is trickier than it needs to be.
As for infotainment, Honda has a basic AM/FM/CD system for the entry-level LX, but things get more interesting on the EX and EX-L Navi, which have the Honda 7-inch Display Audio and 7-inch Display Audio Navigation systems respectively.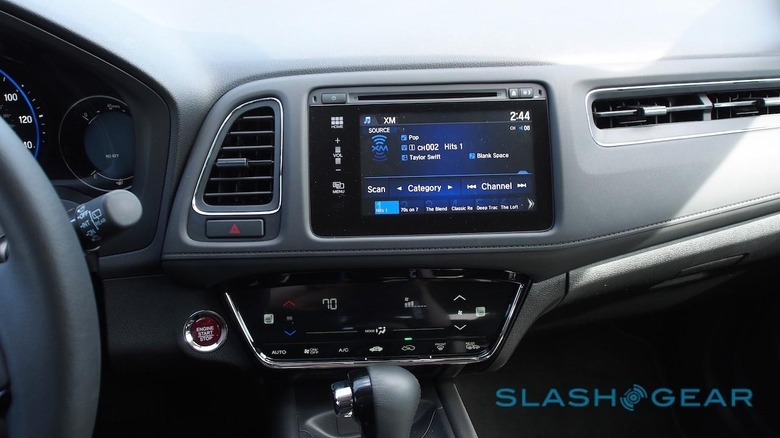 Just as in the Fit, you can get a mixture of standalone functionality and smartphone connectivity with the Display Audio systems. In the EX, that means AM/FM/CD playback built-in and, if you hook up your iPhone or Android device, streaming Pandora and other Honda apps running on your phone. Thanks to the HDMI input, you can mirror the display of your phone on the dashboard, though to be frank I'd still prefer to see CarPlay and/or Android Auto, neither of which are on offer.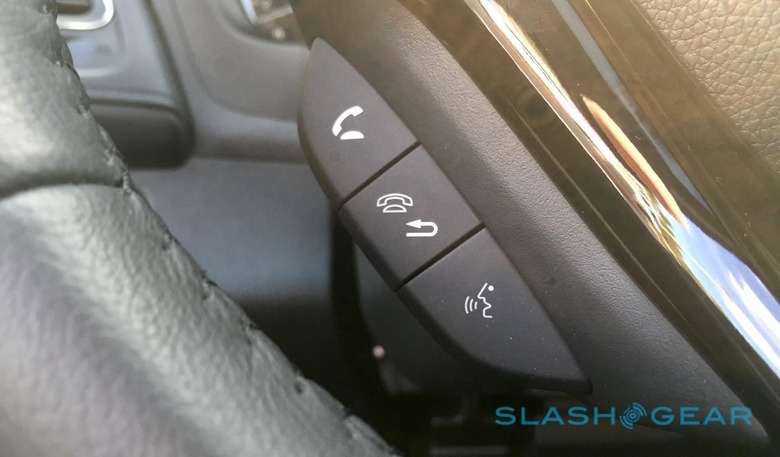 Still, you can give voice command instructions, and read and respond to text messages received on a connected phone. Step up to the EX-L Navi, and you add satellite navigation, SiriusXM and HD Radio, and Honda's traffic updates.
While the Fit's infotainment was ambitious, I found I struggled with the at-times sluggish interface and easily-defeated voice navigation. Things have taken a turn for the better in the HR-V, and while the UI still inexplicably ignores most colors beyond shades of blue, at least it navigates more smoothly on the new crossover.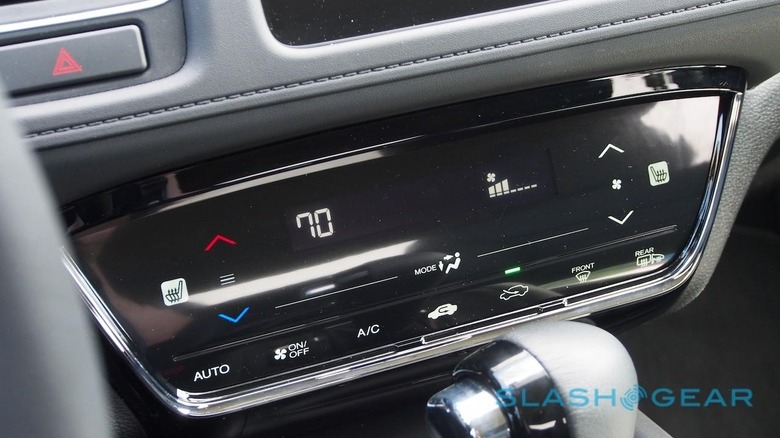 The HR-V LX comes with 17-inch alloys as standard, plus a rearview camera, cruise control, Bluetooth, two 12V outlets, power windows and locks, and rear seat vents. Brake Assist and Hill Start Assist are fitted to every car, too, plus electronic stability control and a tire pressure monitoring system.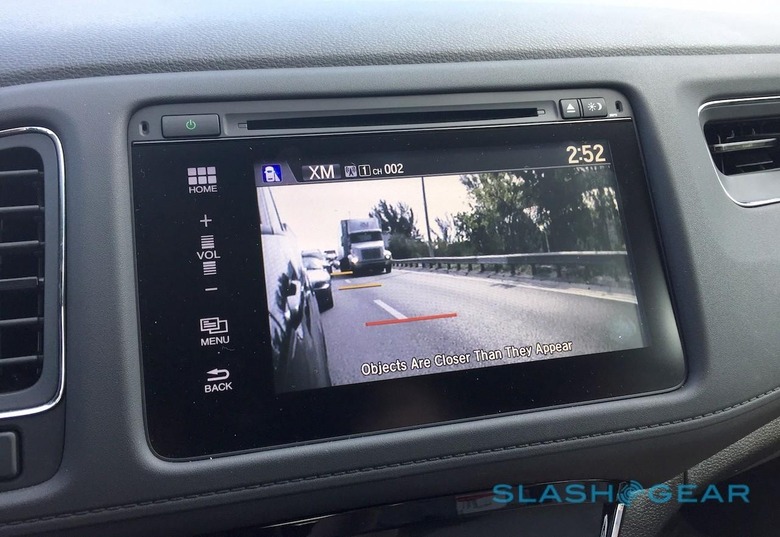 EX cars and above add moving guidelines to the rearview camera, to show where the car will end up as you maneuver, together with keyless entry, heated front seats, climate control, and automatic headlamps. They also throw in Honda LaneWatch, which flashes a view of the lane to the right onto the dashboard display whenever you indicate in that direction, or when you hit the button on the end of the stalk. Step up to the EX-L Navi and you get leather-trimmed seats, wheel, and gear shifter, plus an auto-adjusting rearview mirror.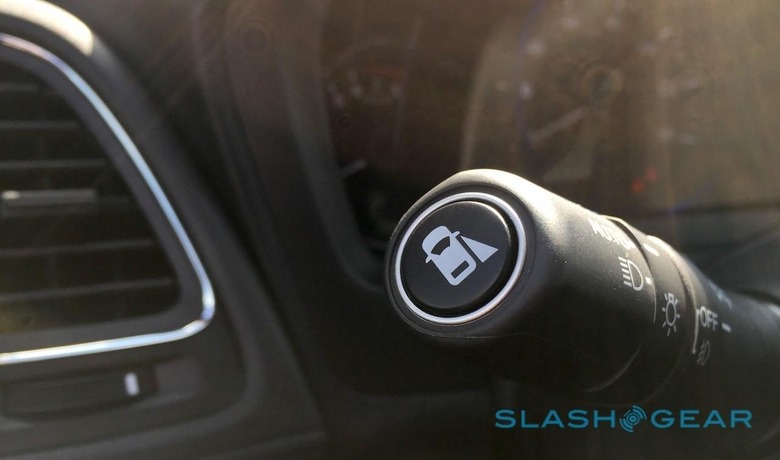 Engine options are even simpler. In fact, Honda will only offer a single powerplant, at least initially: a 1.8-liter SOHC i-VTEC 4-cylinder, good for 141 HP and 127 lb-ft of torque. Front-wheel drive cars will get a choice of a CVT transmission or a 6-speed manual; the all-wheel drive HR-V will only be offered as a CVT.
It's a decent engine, though most of the time you hardly hear it running. Honda has put extra sound insulation into the structure, including around the fenders front and rear, and a sound-absorbing underbody cover. The result is a noticeable reduction in road noise.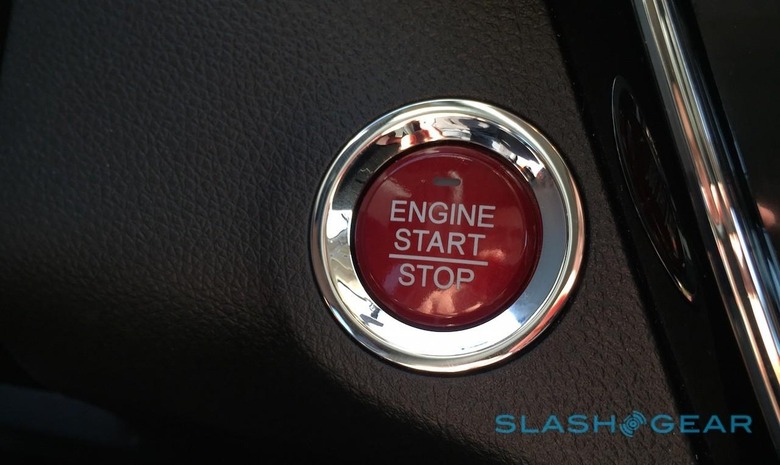 Pushed, the 4-cylinder has some poke to it for the city, but it's never the most sonorous of engines. The 2WD car should manage up to 28/35/31 mpg in the city/highway/combined, while the AWD should dip slightly under those numbers, at 27/32/29 mpg. There's no sign as yet of a hybrid version, though I imagine Honda will be watching closely to see how much demand there is for that powertrain.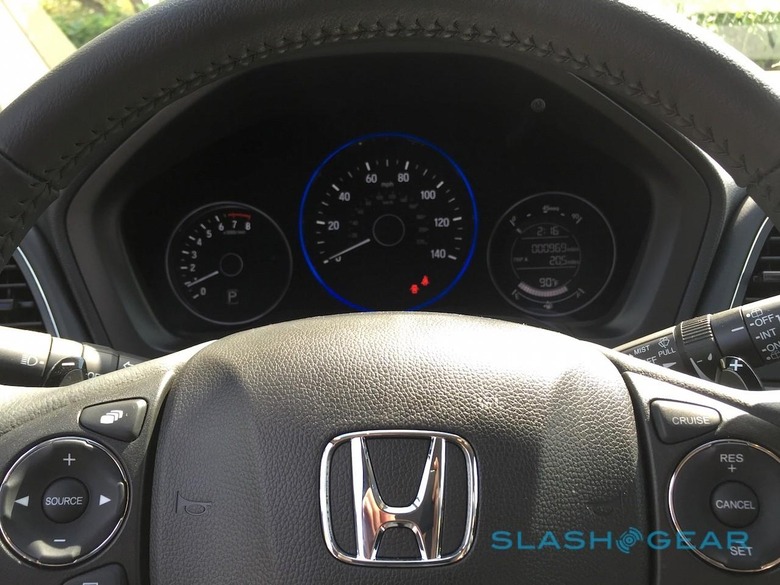 City cars should be nippy and direct, and happily the HR-V's steering and suspension do a solid job there. Honda says it took pains to keep the center of gravity low, and there's certainly little wallow; meanwhile, a special twin-piston system in the suspension can deliver both firmer damping for when the car is being driven more aggressively, and softer dampening for handling potholes and untidy roads. The HR-V probably won't ever make it offroad, even in AWD form, but the ride stayed smooth even when the surface got rough.
Honda isn't saying what sort of percentage of HR-V buyers are expected to opt for the 6-speed manual, but I can't imagine it will be many. It's a reasonable gearbox but not an outstanding one; shifts are a little long for sporty changes, though they do feel firm and reliable.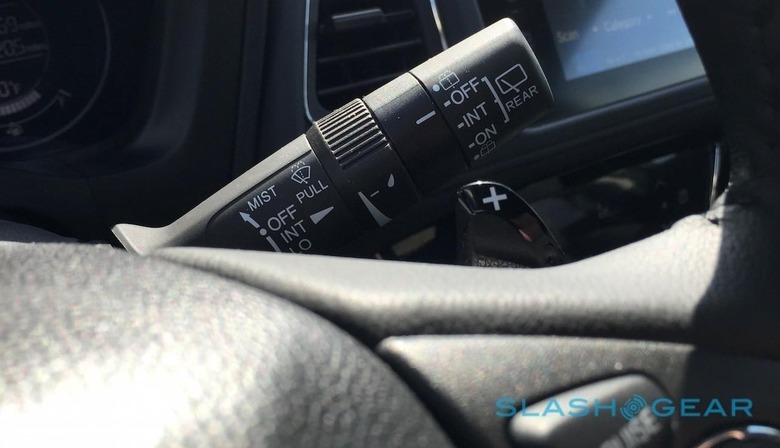 For most drivers, then, the new CVT makes more sense. It offers three different modes of operation, including mimicking seven manual gears with paddles behind the steering wheel, and it matches the HR-V's point-and-go attitude nicely. After experimenting with the paddle shifters, it seemed easier just to leave the CTV to its own devices, particularly around town, though being able to force the transmission down a few virtual gears with a few swift taps did come in useful on more twisty routes.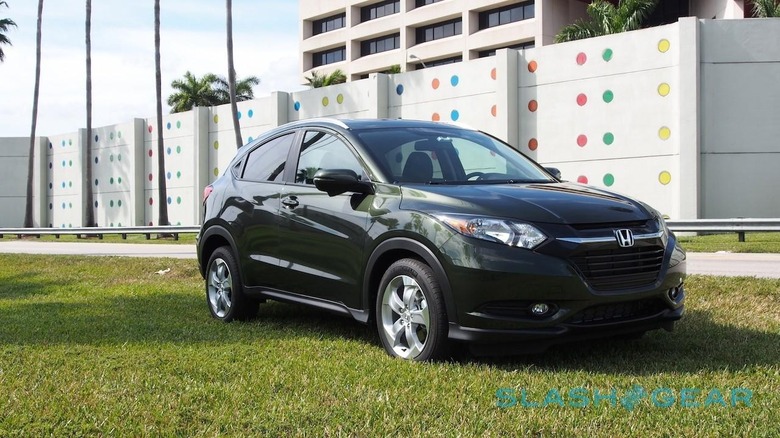 Honda is expecting big things from the HR-V in safety, and though the crossover is yet to go in for its NHTSA and IIHS testing, the prediction is a 5-Star score and Top Safety Pick rating respectively. That includes a "good" rating on the IIHS' brutal small-overlap frontal collision test, something likely to reassure safety-conscious Honda fans.
They'll get some toys to help them around the city and in traffic, too. Auto Brake Hold takes a little getting used to, for instance, but soon you start to wonder why all cars don't automatically hold the car in place after you've braked but before you've hit the gas again, even if your feet aren't touching any of the pedals.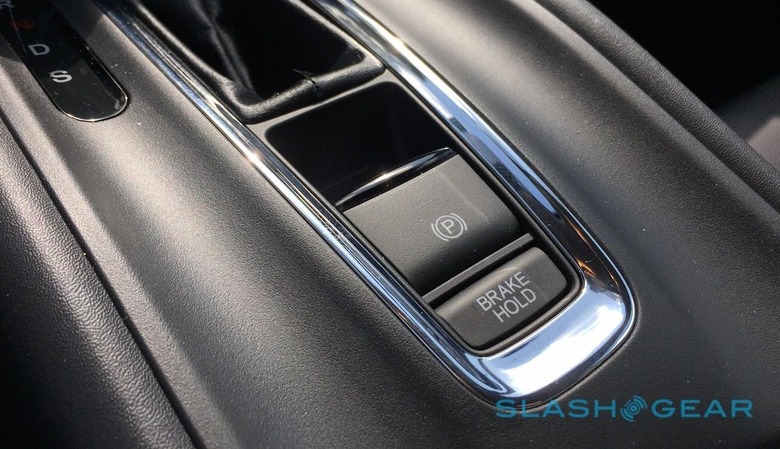 The 2016 HR-V is competitively priced. Things kick off with the LX 2WD six-speeder, at $19,115, with the CVT an $800 step up; the LX AWD CTV is $21,165, the same price as the EX 2WD manual. An AWD EX comes in at $23,215, while the top-spec EX-L Navi is $24,590 and $25,840 for the 2WD or AWD respectively.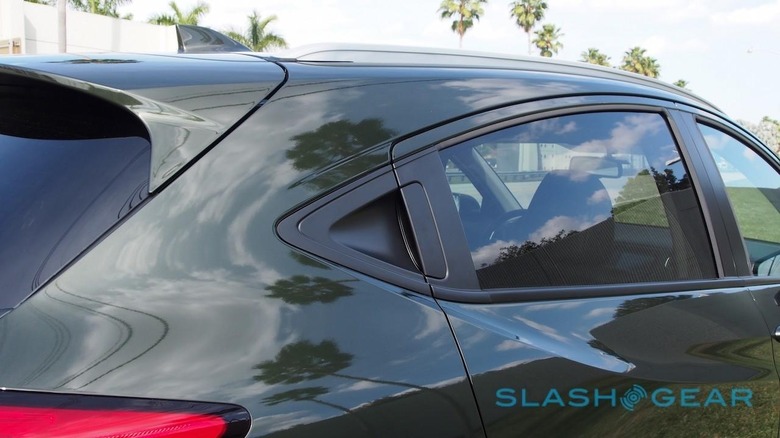 While the subcompact crossover space may be relatively sparsely-populated, Honda does still face some competition. Mazda's handsome little CX-3 will launch as a 2016 car this summer, with pricing yet to be confirmed; it's likely to be more powerful courtesy of a 2.0-liter engine, too, though the HR-V's interior looks to be more flexible.
Meanwhile, Fiat's new 500X is a striking alternative, though it's more expensive from $20k and nowhere near as practical inside, with just 18.5 cu.ft. of trunk space or 50.8 with the rear seats down.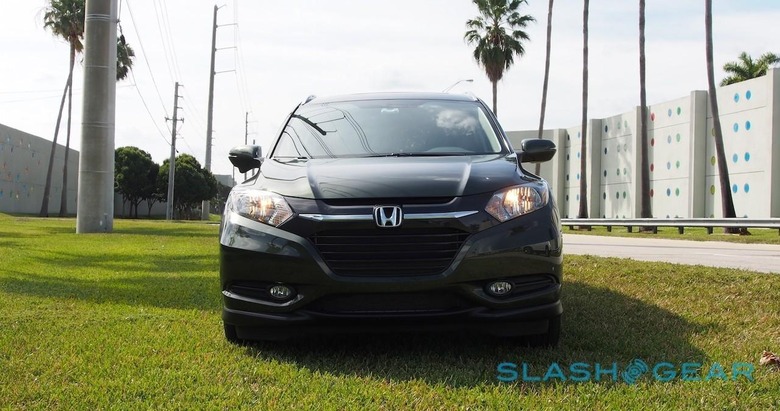 In short, I can't dismiss Honda's ambitious sales goals as just wishful thinking. The 2016 HR-V certainly ticks all the worthy boxes – interior space, economy, and quiet ride – that typical Honda customers are interested in, but it also does it with a greater-than-usual splash of style and a fair number of toys.
If the Fit has shown us anything, it's that clever packaging and a few simple choices are in demand. The 2016 Honda HR-V builds on that with fashionable styling alongside the reassurance of a familiar name badge, and it's hard to imagine it not coming to rule the subcompact crossover segment.