2015 Honda Fit first-drive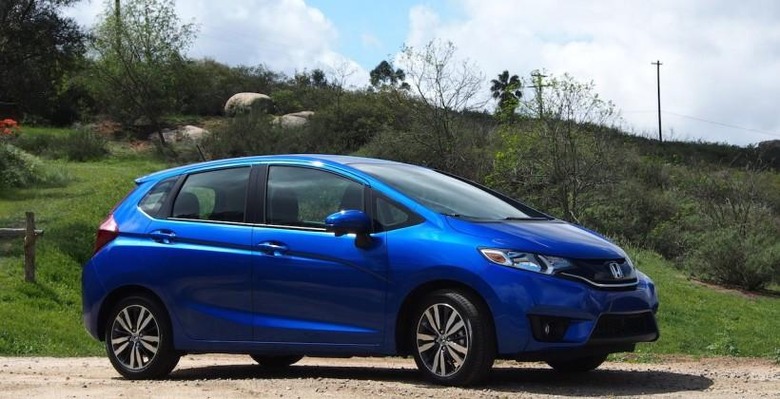 Subcompact cars needn't be underwhelming or underspecified, at least that's what Honda believes with the 2015 Fit. Making a small, affordable, and capable car is arguably tougher than a $65k+ luxury sedan: sticking to budget while still delivering that premium feel just about every driver now demands. There's plenty riding on the new Fit, especially since it'll also be the basis for Honda's upcoming "urban SUV" later this year. SlashGear spent some time behind the wheel to see if it's more than Fit for purpose, and whether the new Honda Link infotainment system really can bring the best of your iPhone to the dashboard.
Design and Interior
One Fit; many audiences. Honda's subcompact has an unusually varied fan base, spanning young drivers, through urban families, to retirees, and it takes some careful planning to deliver an updated model that satisfies them all. Key to the third-gen Fit's look is helping make Honda more appealing to a younger age-group, however, the company told us, hence a more eye-catching design than the models that came before it.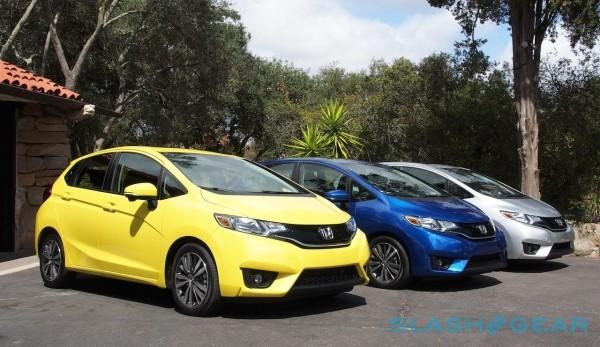 So, the grille is more aggressive and the lights front and rear more angular and jewel-like. The substantial lower half of the 2015 Fit – everything below the shoulder-line – is emphasized to give it a meatier stance, particularly on the 16-inch alloy wheels that are standard from the mid-tier EX and up.
The usual near-indecipherable car design language dubs it "Crossfade Monoform", and while that's a mouthful we do like the strong crease-line running from midway through the front doors to the rear lamps, a detail that demanded new manufacturing processes to achieve, so Honda's styling team tells us.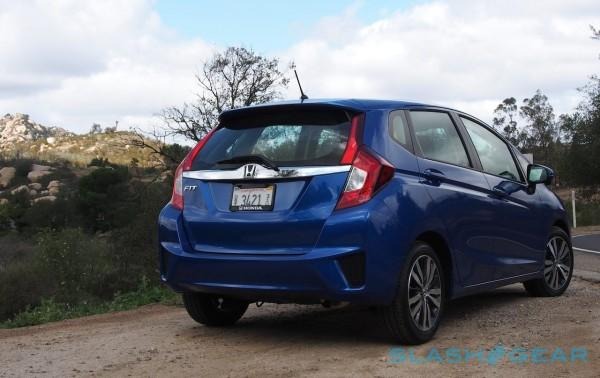 Sharp looks sit on top of some legitimate improvements in packaging, however. The 2015 Fit is 0.3-inches wider than the model it replaces, even though shoulder room inside has increased 1.4- and 0.8-inches for front and rear passengers respectively. It's also 0.6-inches shorter, despite increasing the wheelbase by 1.2-inches.
More important, by reworking the gas-tank so that it's wider and thinner, and putting it under the front seats rather than further back, rear passengers get an extra 3.1-inches of space between them and the seats ahead of them. It's enough to accommodate two adults each over six foot in the back, without them feeling unduly cramped.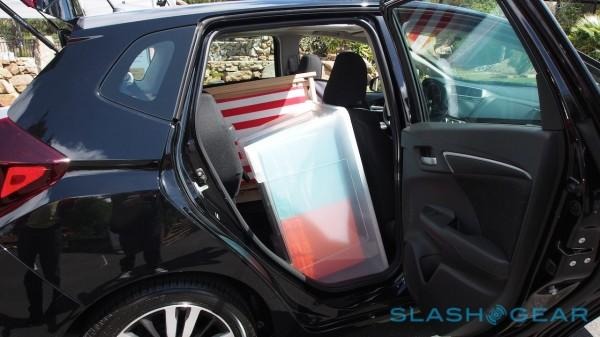 Cargo space, too, is improved – not only versus the outgoing car, but the Fit's rivals too. With 52.7 cu.ft. to fill, Honda has managed to squeeze in more room than the Chevy Sonic and Nissan's Versa Note; in fact, the 2015 Fit has more than twice the room of a Ford Fiesta. It's utilized in varied ways, too, such as by dropping the rear seats flat (and potentially the front passenger seat too) for fitting in a bike or a surfboard.
Most impressive, though, is what Honda calls "Tall mode": lift the seat base of the split rear seats up, fold in the leg, and you have standing room from the base of the footwell all the way to the roofline. Only the slightest bump in the middle interrupts the floor; it's the perfect space for carrying pot plants, small bookcases, or other tall furniture, and is one of the best features of the new car.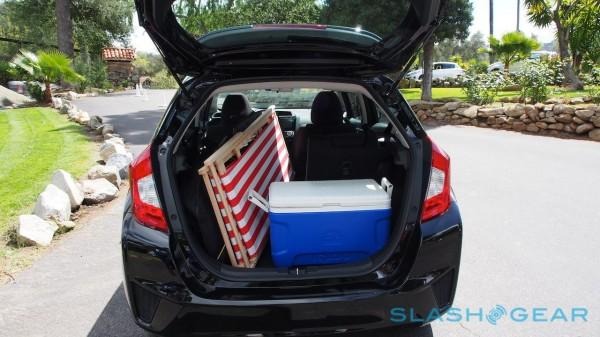 Seat comfort front and back has been improved, with a noticeable increase in support from the new seat designs. It's quieter on the move, too, with new acoustic dampening, and the standard-fit equipment has improved, too. On the entry-level LX you get power windows, a rearview camera, automatic headlights, LED taillights, cruise control, remote keyless entry, and manual air-conditioning, while the EX – which Honda expects to account for more than half of sales – adds in a moonroof, push-start, Lane Watch, fog lamps, and paddle shifters.
The top-spec EX-L (which will also be available as the EX-L Navi, with navigation built-in) adds XM and HD radio, full leather heated seats, heated side mirrors, and leather on the wheel and shifter knob.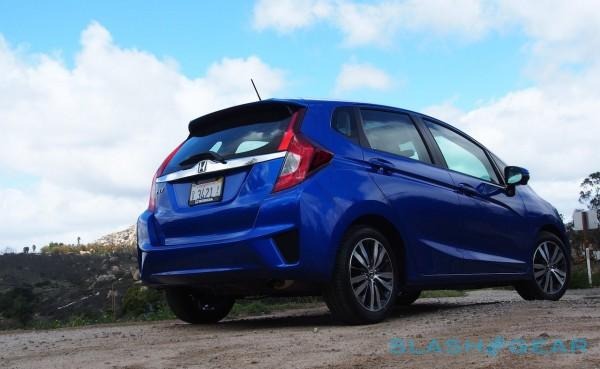 Honda's dashboard design is fair and reasonably laid out, though the faux-stitched-leather look and the glossy center touchscreen aren't our favorite finishes. The big knobs for controlling HVAC are at least easy to understand, and there are useful keys for navigating the infotainment system on the steering wheel. The 2015 Fit simply doesn't feel as daring inside as it does on the outside, however; the angular Fiesta dash, or the swooping Chevy Sonic center console feel more inspired than Honda's functional layout.
Honda Link Infotainment
What the Fiesta and the Sonic can't compete with, at least on paper, is the new Honda Link infotainment system, new to the third-gen Fit.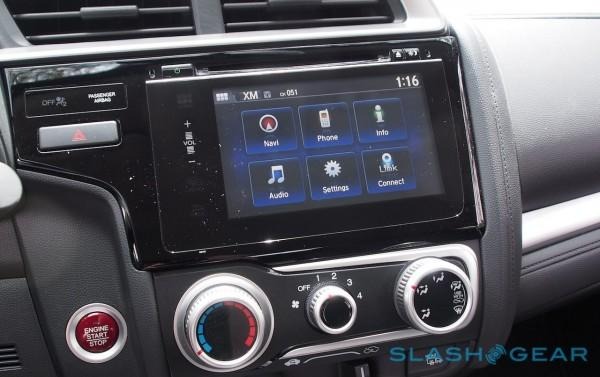 Honda's argument for Honda Link makes a lot of sense: instead of doubling up on features built into the dashboard, instead take advantage of the smartphone many drivers area already carrying. Similar to Apple's CarPlay, the new Fit can mirror the display of an iPhone, but also works with a suite of Honda iOS apps for streaming, navigation, calls, and more, that can be controlled by the touchscreen and steering wheel buttons.
Honda Link is standard on the 7-inch infotainment system offered on the EX and above (the LX gets a more basic 5-inch version), and the basic apps are free. The exception is Honda Link Navigation, which is $59.99 for the North American version; still, that's cheaper than the $1,000 premium to upgrade the EXL to the EXL-Navi with its built-in sat-nav.
On its own, the base 5-inch system on the LX has a 160W AM/FM/CD four-speaker system, a single USB, and Bluetooth; the 7-inch "Display Audio" system steps up to a bigger WVGA touchscreen, 160W six-speaker audio, and a second USB port, along with an HDMI input. When used with Apple's HDMI adapter, an HDMI cable, and a USB cable, Honda Link can hook up to an iPhone 5s, iPhone 5, or iPhone 5c.
While Honda's concept of relying on a smartphone for advanced functionality may be straightforward, the implementation is a little less clear. For a start there are four iOS apps, each doing slightly different things: as well as the navigation app, there's Connect for location searches, weather, messaging, and service scheduling; Aha, for streaming internet radio, Twitter and Facebook updates, and a point-of-interest database; and finally Launcher, which brings approved third-party apps to the dashboard.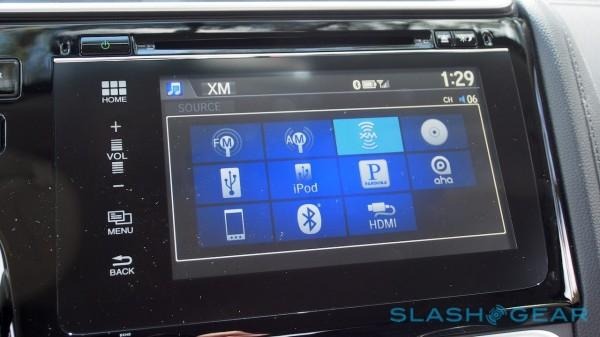 Opening and switching between these apps is all controlled by the infotainment system, but there's noticeable delays in doing so. Similarly, while the touchscreen supports familiar gestures like pinch-zooming on maps, there's a frustrating degree of lag that simply doesn't match the immediacy of an iPhone display. At times we tapped an on-screen button and were left wondering whether it had registered or not.
Scale back expectations and try to forget how responsive your phone is, and Honda Link becomes less frustrating. Still, there are some odd decisions in its design: near-empty screens with a tiny button that required two or three jabs to hit properly, for instance, or counterintuitive menu structures. We missed a regular knob for controlling volume, too, though there are at least steering wheel buttons to do that.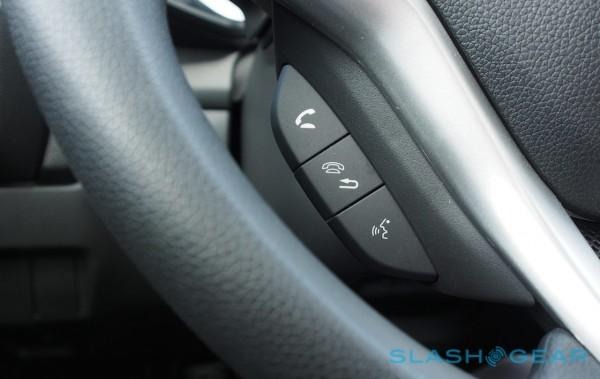 Honda Link does have some useful features. It can read out not only incoming SMS messages and email, but Twitter and Facebook statuses, and there's Siri Eyes Free support for using Apple's virtual personal assistant. Unfortunately, the bulk of Honda's own voice control system is limited to the top-spec EXL-Navi package, which gets natural voice control over things like the radio. On lower-spec infotainment, however, voice control is effectively for placing calls and nothing else, which somewhat undermines the idea of running navigation from your phone without it being a compromise overall.
There's obviously Bluetooth streaming for A2DP music from compatible phones and media players, and the HDMI input can handle just about anything with a video output. We were able to get Mobile Safari on the iPhone running on the Fit's display, though we had to control it from the phone since the remote touchscreen wasn't recognized. It'd be more useful if you had video stored on a separate device, though Honda disables the HDMI playback when the Fit is out of park.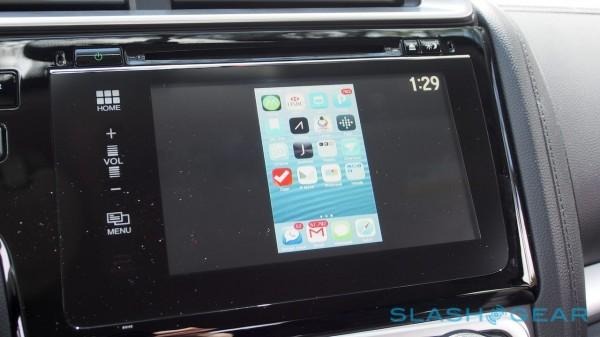 Overall, then, Honda Link feels ambitious but not quite fully baked. The idea of relying on a phone for advanced features makes plenty of sense, but then limiting things like advanced voice control to the top-spec system feels counterintuitive. Meanwhile, the plethora of apps and the occasional sluggishness to the interface left us frustrated at times while trying to move between social networks, internet radio, and navigation on the move.
Honda can, of course, update Honda Link over time, and the company tells us it has significant plans for the system. That will include Android support, expected to arrive in late 2014.
Engine and Performance
Honda will offer a single engine option on the 2015 Fit, a 1.5-liter in-line 4-cylinder gas engine with 130HP and 114 lb-ft of torque. It'll be paired with either a 6-speed manual transmission (standard on the LX and EX) or a CVT with paddle shifters (optional on the EX, and standard on the EX-L); Honda quotes 29/37/32 mpg for city/highway/combined from the manual, or up to 33/41/36 mpg from the CVT.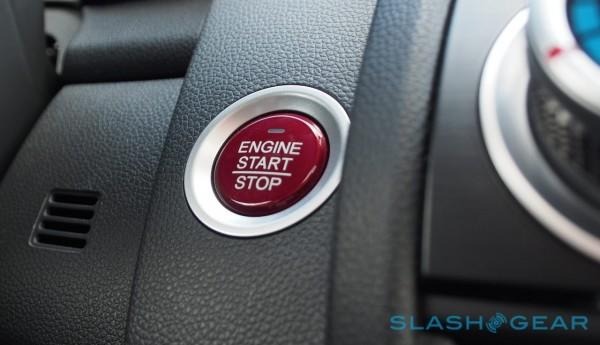 EX and EX-L Fit get Honda LaneWatch, which uses a camera built into the passenger-side wing mirror to give a side view of the car on the dashboard display whenever you indicate. It sounds like it should be a gimmick, but after a few minutes navigating highway traffic we were convinced by the system. All models get Hill Start Assist and Motion Adaptive-EPS, the latter torquing the wheel to correct under or over steering during cornering.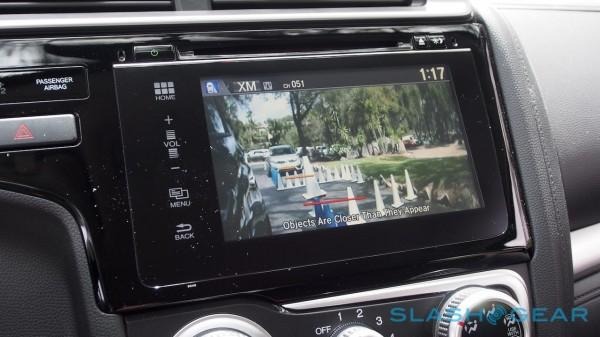 We drove both the manual and CVT versions of the 2015 Fit, and came away impressed. It's a quieter, more refined car than before, smooth at highway speeds, but handles surprisingly well thanks to the front strut-type suspension and H-type torsion beam rear suspension. Honda says the throw of the manual gearbox has been reduced by about 10-percent for a more sporty feel, and that it snicks into place more eagerly than before, though it's far from being a sports 'box.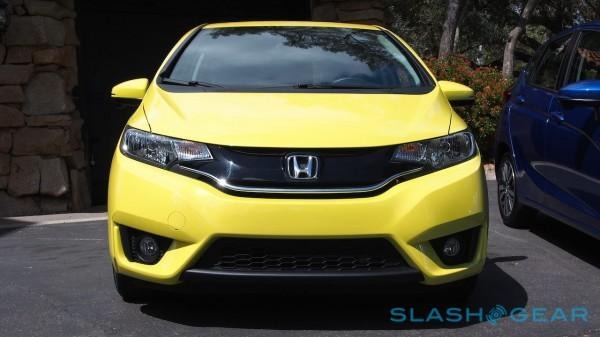 Shift stroke could definitely benefit from being reduced even further, though the new Fit is certainly happy to rev high for more spirited driving. Unfortunately, while you gain an extra gear over the 5-speed in the outgoing car, the ratios have been adjusted so that sixth in the 2015 Fit is effectively the same as 5th in the old model. We'd have preferred a lower-ratio at the top end for more frugal and quieter highway driving.
As for the CVT, it's a lazier experience than the manual, preferring to keep the Fit smoothly churning rather than catering to more enthusiastic drivers. Yank one of the paddle shifters and the gearbox temporarily mimics a 7-speed manual, going back to normal after a short period. Alternatively, it can be switched into sport mode and manually controlled permanently.
Wrap-Up
Starting from $15,525 for the manual Fit LX ($16,325 for the CVT), the 2015 car delivers a fair step up from the model it replaces. Standard equipment is improved, the ride, handling, and performance are both more predictable and perkier, and the internal space is better configurable. We'd probably step up to the EX ($17,435 for the manual; $18,235 for the CVT) simply for the considerable improvement in equipment, mind.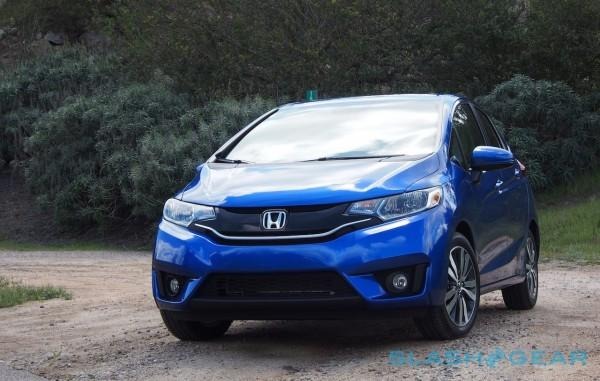 If Honda has got the basics – and more – correct, there are still some rough edges. Honda Link is ambitious and well-intentioned, and we certainly approve of leaving more advanced infotainment functionality to smartphones, but in its current implementation it's clunky and confusing at times. Our hope is that Honda will refine it over time, since we could see it becoming a legitimate differentiator from rival cars.
Most important, though, is the new sense of personality that the Fit has discovered in its third-generation. It's still a car you buy with your head more than your heart, but it's certainly less appliance-like than the outgoing Fit, and Honda has legitimately raised the game for subcompacts with how it has utilized the interior space. Impressive stuff for a runabout, and a shift that leaves us eager to see what Honda's urban SUV delivers later in the year.