2016 Audi S7 Review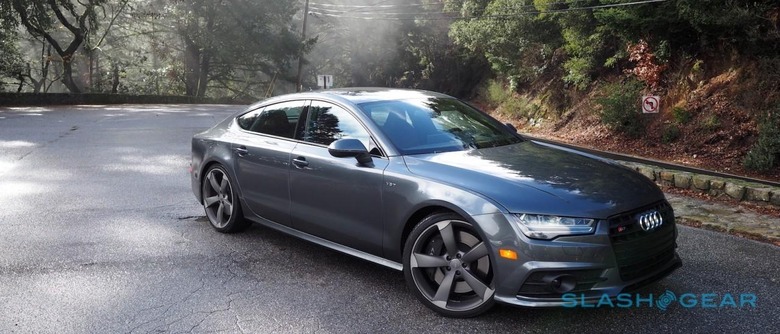 The "four-door luxury coupe" might have seemed like an odd fad initially, but its matured into a legitimate segment. Audi's take on the category, the 2016 S7, has an excellent starting point in the shape of the slinky A7, ramping up the curb appeal with bigger wheels and more aggressive strolling front and rear. Nothing too outré, mind, but enough to single the car out as something special.
Speed is a given. Give the S7 a right-foot massage and it surges on a crest of torque: never mind the speed limit, triple digits arrive with worrying rapidity. Audi says 0-60 mph takes 4.5 seconds, but I'd say that's a little conservative.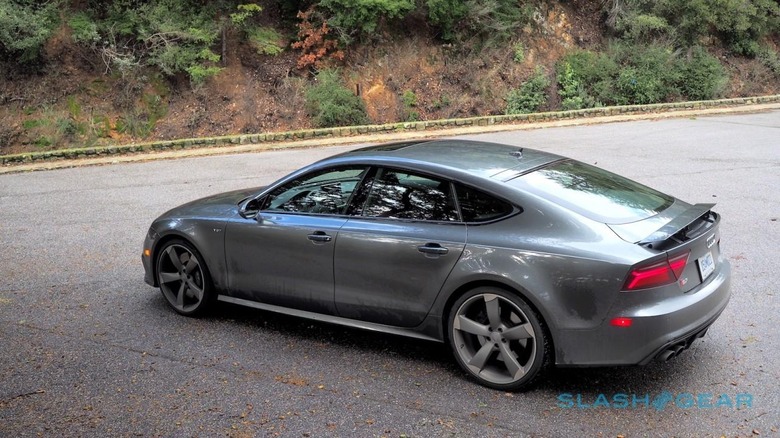 It's all thanks to a 4.0-liter, twin-turbo V8 TFSI engine, which for the 2016 model year gets a bump in power to 450 HP and 406 lb-ft. of torque. That's paired up with a 7-speed S tronic transmission with paddle shifters.
Most cars have some sort of adjustable drive mode these days, but all too often the most noticeable change is a light on the dashboard. Audi's Drive Select, though, bucks that trend.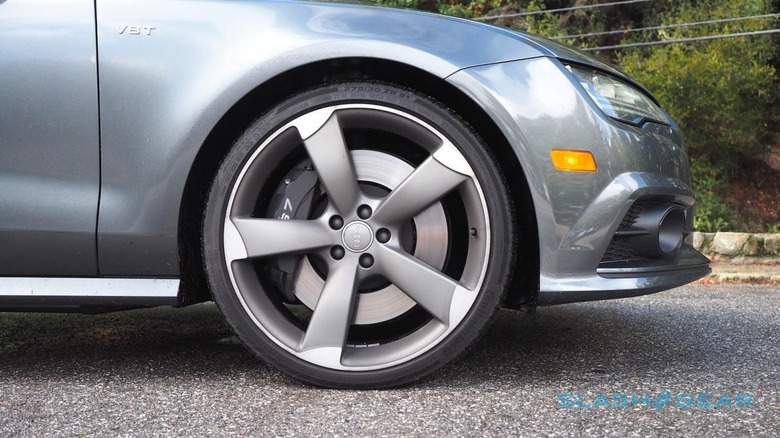 In Comfort, the S7's adaptive air suspension coddles you from lumpen side street to pock-marked freeway, and though the 21-inch wheels with their performance rubber contribute (courtesy of the $2,700 "Black Optic" package) their own little bit of expected sabotage, you could happily play chauffeur to the grumpiest of passengers without complaint.
Flip over to Dynamic, however, and the S7 is a different animal. Its cornering skills are simply phenomenal, particularly for a car of its size, with the quattro all-wheel drive system automatically pushing between 20- and 80-percent of the power to the rear as required.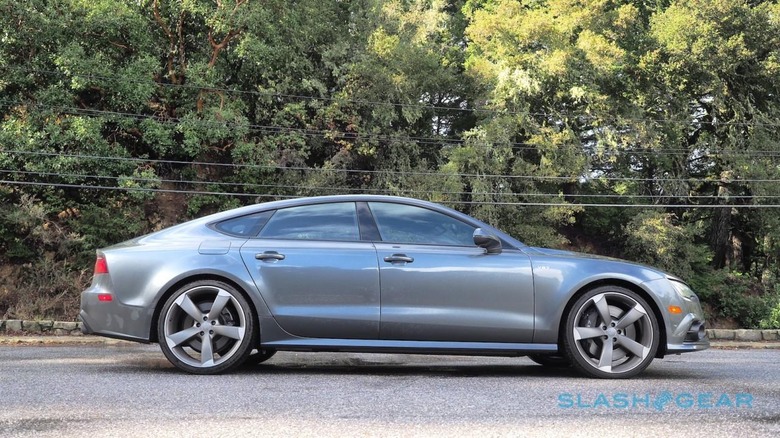 Audi offers an S7 Sport Package for $3,500 and I'd highly recommend you tick that box: it adds dynamic steering, a black-tipped sport exhaust, and – most importantly – a quattro sport rear differential. As well as helping with grip and balance, it should also massage away any doubts you might have about not going for a rear-wheel drive car.
Pull back on the stubby shift knob and toggle the transmission into Sport mode, meanwhile, and you get whippet-fast gear changes too, along with periodic pops and snarls from the tailpipes which punctuate things nicely.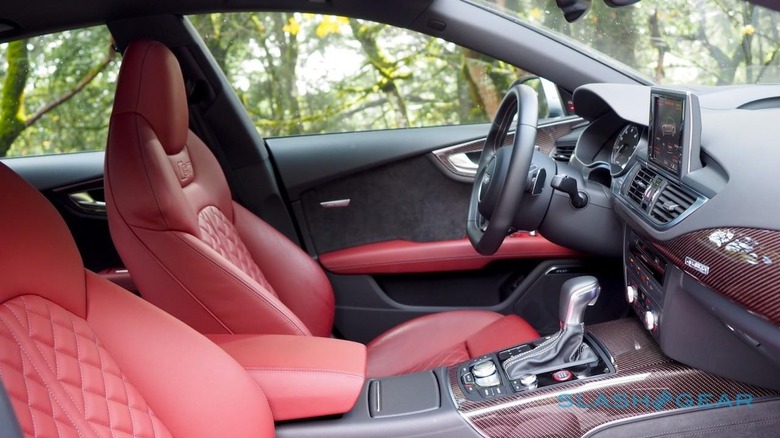 Inside, it's a cosseting cocoon of leather, aluminum, and carbon fiber. Perhaps guessing that I'd wanted to be a 19th Century Parisian bordello madam while growing up, Audi supplied a car with the optional Arras Red interior that, along with red-tinged carbon fiber, makes up the $2,500 Audi design selection package.
They set off the comfortable, supportive S7 Sport seats beautifully, and help brighten what could otherwise – thanks to the car's low stance and narrower glass than its S6 sedan sibling – be a fairly dark cabin. The standard sunroof helps there, mind.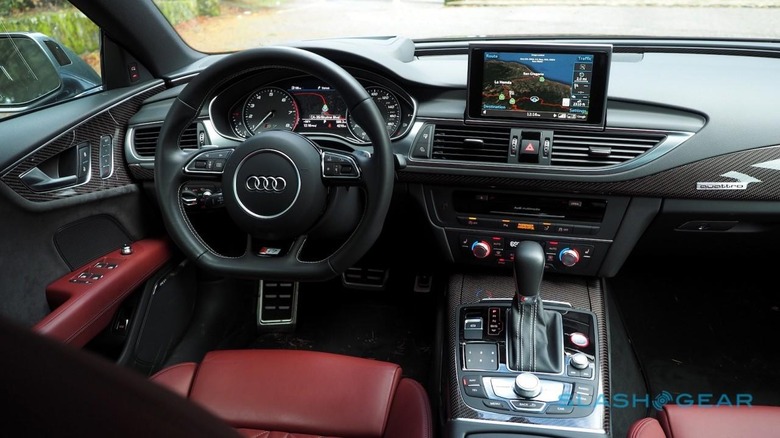 Up in the front, driver and passenger get 12-way power adjustment and heating, while the back seats are heated too. The swooping roofline does cut into rear headroom, but with the seats set to suit my 5'8 frame there was no shortage of legroom for another adult behind me.
As well as the pop-out display atop the center stack, there's a second screen for the driver sandwiched in-between the slightly canted tachometer and speedometer. It not quite Audi's excellent Virtual Cockpit from the TT, R8, and most recently the Q7 SUV, which does away with analog dials altogether, but it still manages to accommodate a big chunk of mapping for the road ahead. The S7 gets a head-up display as standard, too, showing speed and upcoming directions.
Bose surround sound is standard, happily with regular USB ports for plugging in your phone rather than the old multifunction adapter which required special cables for different devices. Navigation is also standard-fit, complete with universal search across POIs and live data on things like nearby parking lots complete with pricing courtesy of the baked-in LTE modem.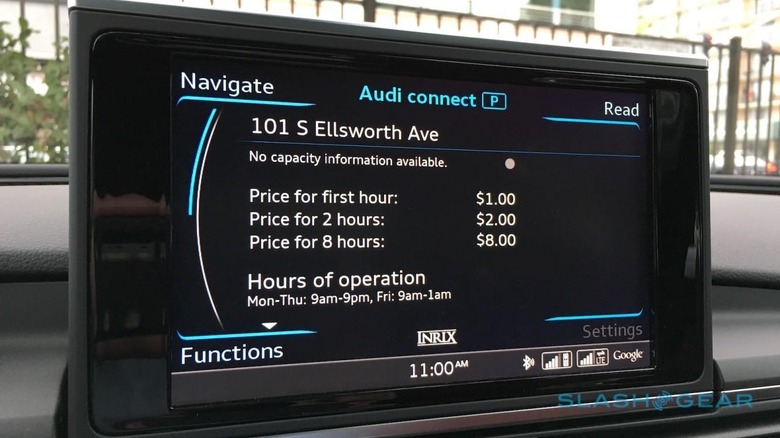 Everything's controlled via the MMI system, a combination of a scroll wheel, shortcut buttons, and a trackpad down by the gear shift. It can be mildly confusing at first: the wheel is surrounded first by a ring of four contextual buttons which relate to app-specific options shown on-screen, and then by a second ring of shortcuts to jump to navigation, media, and other features.
More recent MMI systems have pared back these buttons some, but after a little finger-training I got used to them. I particularly like the way you can trace out letters on the trackpad rather than using an onscreen keyboard, which proved a lot faster. Google Earth mapping, meanwhile, looks great on the high-resolution displays.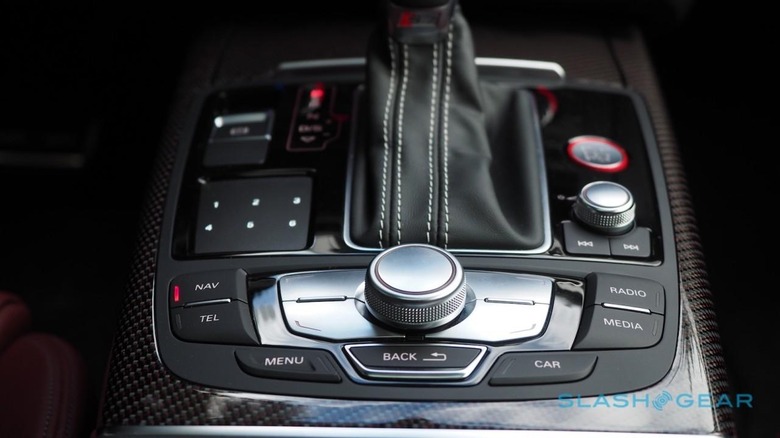 Adaptive cruise control, active lane assist, and corner view cameras are part of a $2,450 Driver Assistance Package, though I really think they should come as standard.
The lingering surprise is the practicality. Since the S7 is a hatchback, the motorized rear opens up to expose a trunk both enormous and readily-accessed. 24.5 cubic feet is not to be sniffed at, though it's probably worth taking advantage of the chromed tie-holes and lashing down anything you don't want sliding across the broad floor.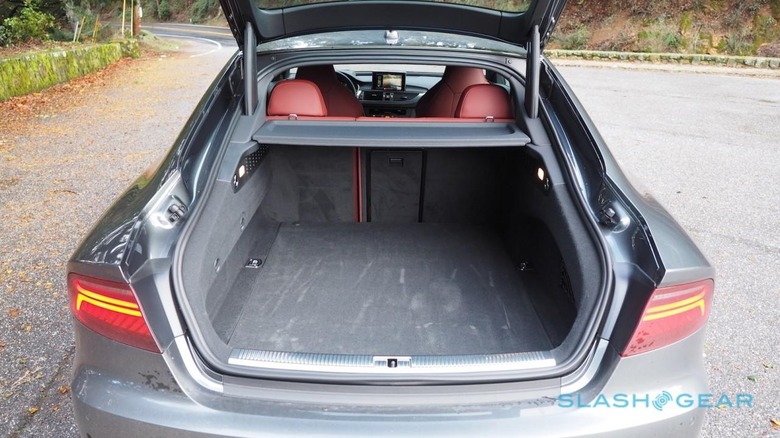 It adds up to a car that legitimately feels like two very different animals, yet neither show any signs of doubt in their own individual personalities.
In limo mode, the engine is tamed and the ride is smooth, while cylinder deactivation and auto start/stop help with an EPA-tested 17 mpg in the city, 27 on the highway, and 21 combined. With little restraint from my heavy right foot, I saw an average of 20 mpg from mixed driving.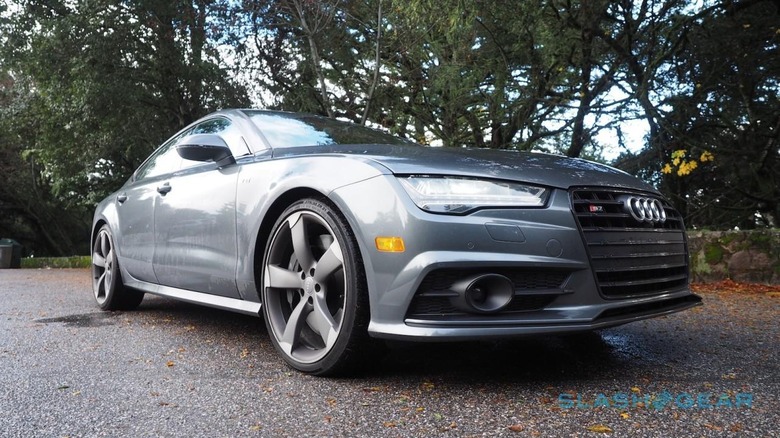 Allow the S7's performance flag to fly, meanwhile, and the combination of power, grip, and reliably effective brakes soon have you throwing it into corners and giggling as the twin-turbos wake up and hurtle you forward.
"Quiet" and "performance" and "practical" are a combination many struggle with. With even its S-line glitz a relatively subtle expression of speed in comparison to an AMG-blessed Mercedes or an M-fettled BMW, the S7 doesn't shout about its capabilities in the way that a lot of drivers would like it to.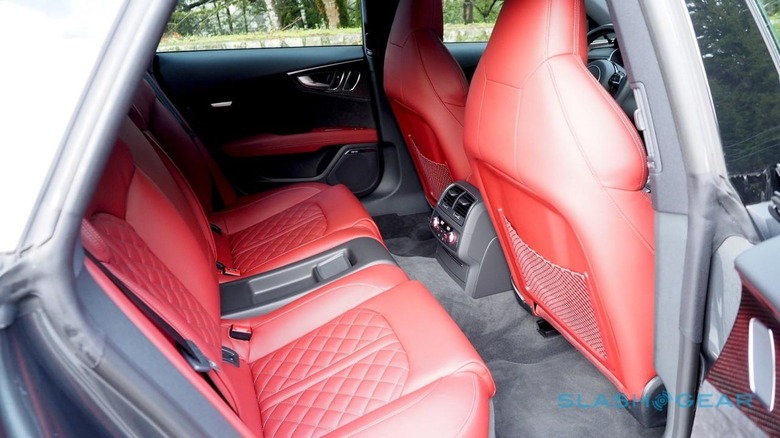 An anecdote, then. A week after the Audi had been collected, I was cruising a bright yellow Bentley Continental GT V8 S down California's highway 280, only to be overtaken by an S7.
It wasn't the right color – black, not Daytona Pearl – and I could see through the rear glass that it didn't have the right interior – black leather, not red – not to mention that it cost a third of the Bentley. Yet all of a sudden I felt envious.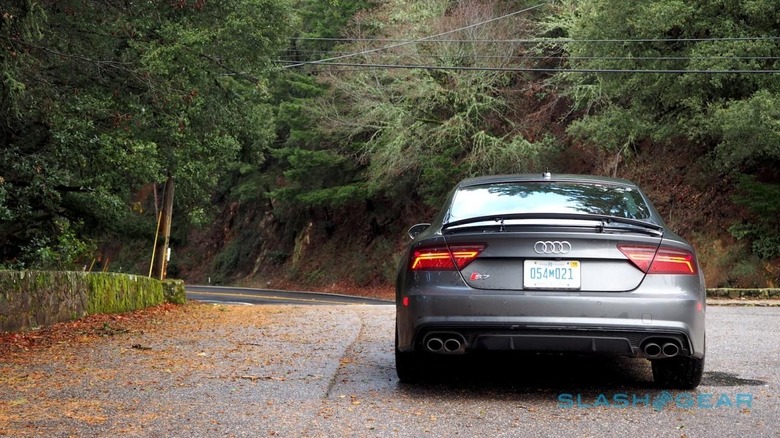 Admittedly, with the options ticked and destination covered, this review car comes to $95,525. You'll probably want to cross-shop at your friendly Mercedes and BMW dealerships for the CLS and 6-Series Gran Coupé, perhaps see what Porsche could do for you on a Panamera, and the overly-sensible shopper might be swayed by the cheaper S6 of course.
NOW READ: 2017 Audi Q7 first-drive
Personally, the style, dual-personality driving, cosseting interior, and great infotainment options have me leaning toward the S7. There's more than enough power to keep you from being too envious of the RS 7, with its 560 HP and $26k premium, and it's delivered in a way that supports the eager rather than threatens to punish them by running out of grip in a corner. Priced from $82,900, the S7 feels like a subtle bargain.
[gallerybanner p="418923"]