2017 Audi Q7 First-Drive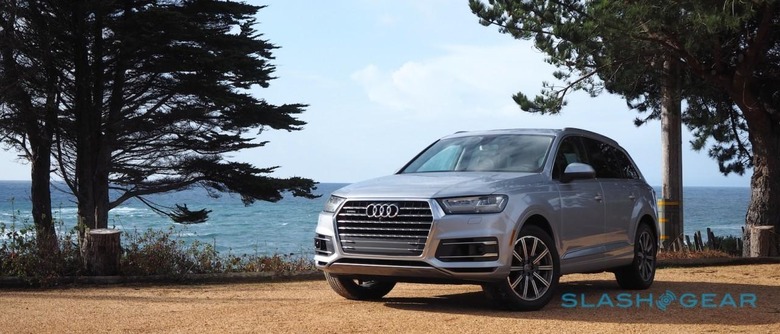 Audi isn't ready to let the public loose in its autonomous cars, but the robo-racers are donating safety tech en-masse to the 2017 Audi Q7. The new luxury SUV not only gains a sharp new suit and an interior borrowing heavily from the classy A8 sedan, but packs the sort of auto-braking, road-following, pedestrian-spotting gadgetry that not long ago was science-fiction.
Let's not forget how easy-on-the-eye the new SUV is. Gone is the tank-like exterior of the old Q7, replaced with a far crisper suit that leans on aluminum and advanced body surfacing techniques to bring some of the TT's sporting lines to Audi's family model.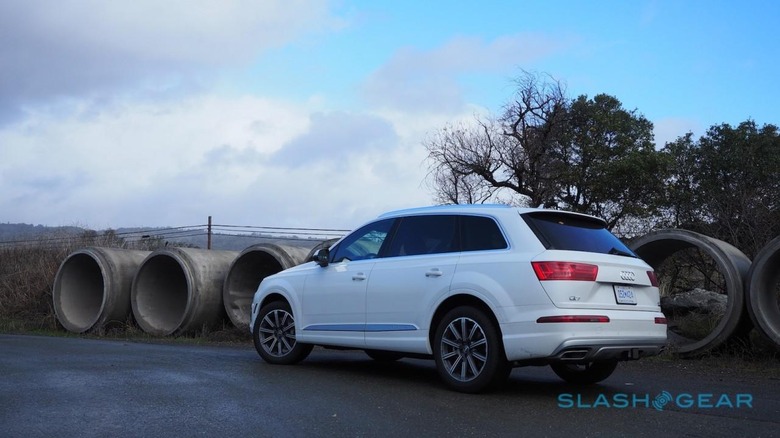 The trapezoidal grille is now a 3D shape in its own right, rather than just a trim molding, and combined with the LED daylight running lights give the Q7 a more aggressive fascia. From the side, Audi accentuated the wheel arches to highlight the standard all-wheel-drive, while the shoulder lines are meant to remind you of those of the original quattro rally cars.
I'm not sure you'd ever mistake the Q7 for something belonging on a rally track, but it's certainly a cleaner and more visually-taut design than the outgoing model.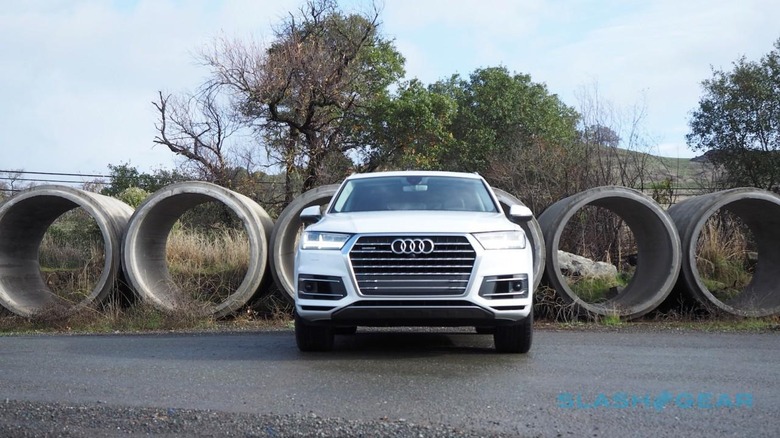 Audi is particularly proud of just how technologically-advanced the 2017 Q7 is; so much so, it held a full day of demonstrations, complete with some of the German engineers responsible for bringing them to reality, before letting me loose on the real roads. The SUV has a total of 31 assistance systems, nine of which can intervene in how you're driving.
"I hope you have a chance to test all of these features on your drive," an Audi safety tech engineer tells me, before wincing a little. "Well, not all of them."
Around a third of the assistance systems are described as "protective", after all, and even though Audi was keen for the Q7 to demonstrate all of its charms, that didn't include encouraging media to drive off the road, into oncoming traffic, or with reckless abandon.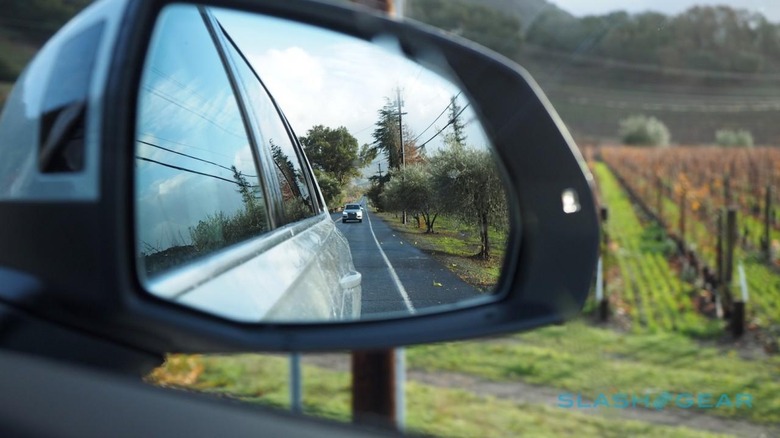 Try it, and while the 3.0-liter V6 TFSI with its eight-speed Tiptronic automatic transmission and quattro permanent all-wheel drive with self-locking center differential may be good for 333 horsepower and 325 lb-ft of torque – the power, it's worth noting, of the previous S-line Prestige flagship, and enough for a 0-60 mph time of 5.7 seconds – the SUV has more than enough gadgetry to bring you into line. In fact, this is probably the closest to an autonomous vehicle that Audi has allowed the public to buy so far.
"Now we drive toward the child"
"Now we drive toward the child," Audi's Sebastian Will tells me, dryly. We're strapped into a Q7 and, at the other side of a parking lot, Audi has a child-sized mannequin coyly staged as though it's just absent-mindedly stepping out from behind a parked A4. The SUV accelerates smoothly to up to speed and Will resists the urge to stomp on the brake, trusting in Pre-Sense City to save bambino and bumper.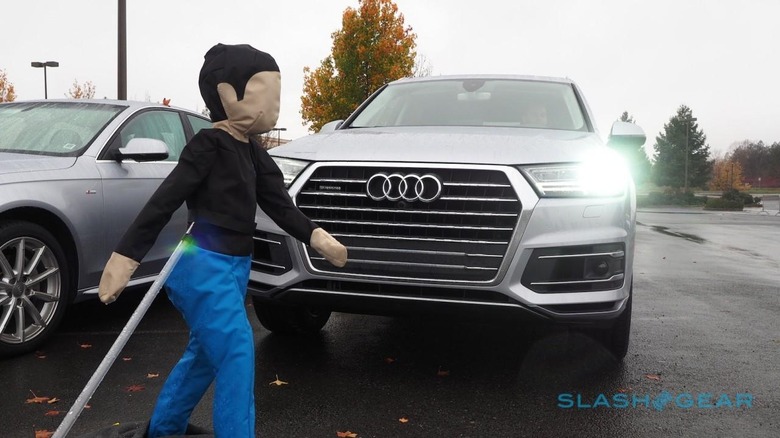 It's faith well-placed. Officially there are three stages to the Pre-Sense City process – first a warning beep and a message on the dashboard, followed by a dab of the brakes to grab your attention, and then finally the Q7 bringing itself to an abrupt stop – but even at lower speeds they really happen too rapidly for you to differentiate them until later, when you're marveling at the half-foot or so of space between the car and the child.
At the time, all you really notice is the sudden deceleration, the seat belt protectively tightening around you, and the windows rolling almost closed.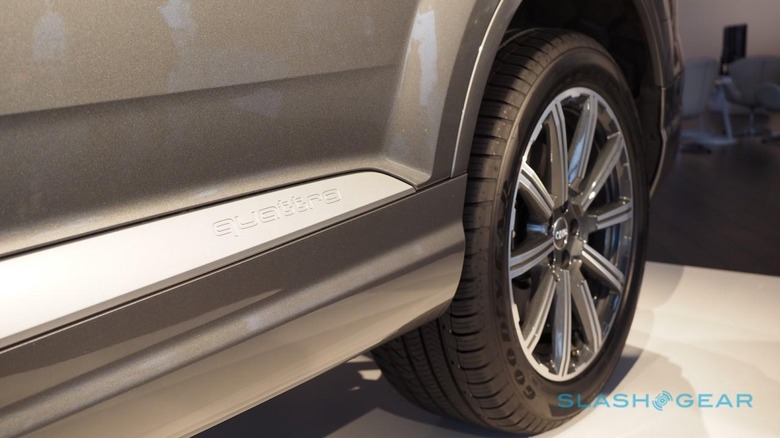 I make Will do it all again, this time stood as though I too am about to spring out from behind the parked car, intent on the hunt for my own escaped soccer ball or leashless dog. Up close, the shock of a near-5,000 pound SUV screeching to a halt of its own accord is even more dramatic. "This will save lives, won't it" I tell him afterwards, to which he smiles bashfully and gives me the corporate line that all of Audi's assistance features are designed to mitigate injury and loss of life, and that they're very proud of them.
Pre-Sense City operates at speeds of up to 53 mph, and the company says it can trim 25 mph from the current speed of the car, which seems on the conservative side to me. It's a standard-fit item on the Q7, and it'll spot other traffic too. I couldn't get too cocky, though.
"Watch out for the cows."
Turns out, Pre-Sense City has been tuned for bipeds, not quadrupeds, and so while it can tell the difference between pedestrians, cyclists, cars, and trucks, you're on your own when it comes to two thousand pounds of beef unexpectedly occupying your lane. With Audi's route of choice taking us through tracts of unfenced farmland, that meant the cow warning was not the joke I initially thought it to be.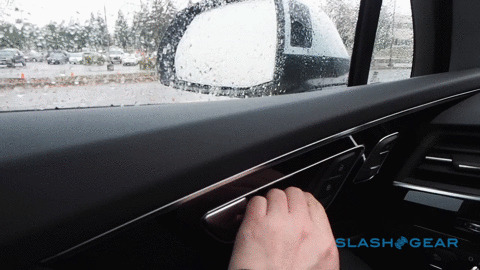 It's not the only safety system, mind. Side Assist, for instance, uses the radar sensors invisibly integrated into the corners of the rear bumper to track traffic approaching or passing behind you. If you're parked on the road, it'll flash the pinstripe lighting built into each door should you begin to open it when there's a car surging up behind you.
While reversing out from a parking spot, meanwhile, the same sensors keep an eye out for fast-approaching traffic in either direction. There's an audio alert and the video feed from the reversing camera glows red, ominously, and if you fail to heed its caution it'll slam on the brakes on your behalf.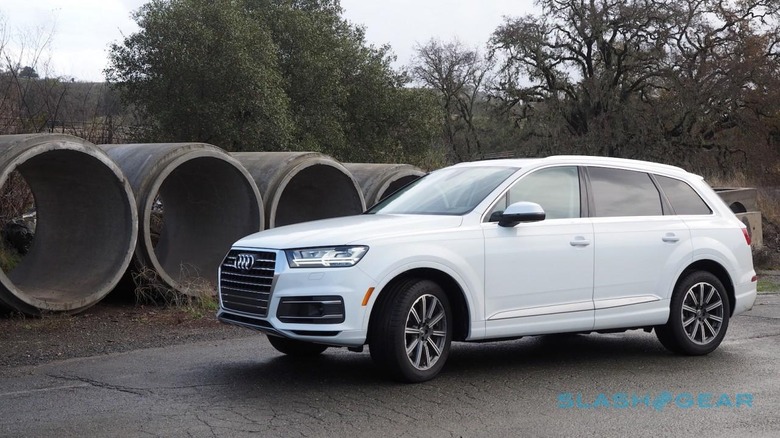 NOW READ: 2017 Audi Q7 e-tron quattro first-drive
Happily, most of my time with the Q7 was spent with the brakes off and the gas on, rather than the other way around. Having spent time behind the wheel of the Q7 e-tron quattro a few weeks back – a model which isn't due to arrive in the US for another year or so at least – I had an idea of what to expect, though was still curious whether the entry-level steel suspension would struggle in comparison to the optional air suspension.
I needn't have worried. In fact, the steel suspension is so good that I'd hold off recommending anybody other than those with towing or true off-roading needs spend the roughly $4k it costs to upgrade to air (which gives you niceties like adjustable ride height in Audi's Drive Select system).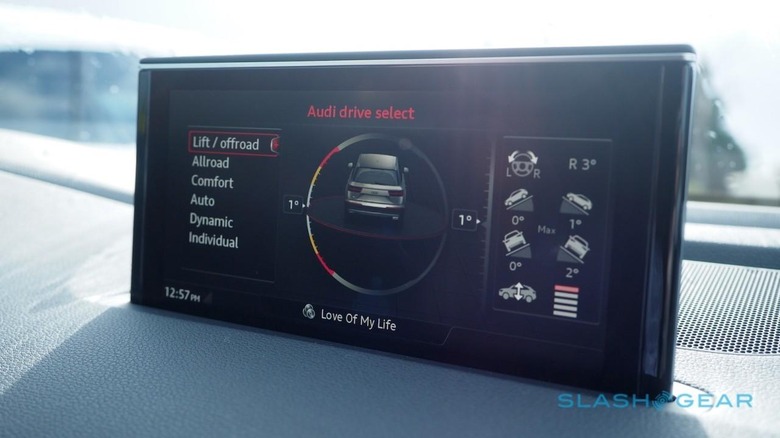 The Q7 feels smaller the more you drive it, and though you've space for seven inside you could easily tell yourself it's one of Audi's larger Avant models. A fair part of that is how well it handles, belying its curb weight and – in Dynamic mode particularly – hustling around the bends with little in the way of body roll. I much prefer the steering feel in Dynamic mode too; set to Comfort it suffers Novocaine-levels of numbness.
One extra advantage to air suspension: that way, you get four-wheel steering. The Q7's rear wheels can turn by up to 5-degrees, with the SUV's brain deciding whether to match or mirror the front wheel angle depending on speed. The upshot is slightly tighter cornering as well as a much reduced turning circle.
Audi describes it as "supercharging on demand"
The nicely communicative V6 and Tiptronic transmission help, too. Audi describes the former as "supercharging on demand", relying on an electronic clutch to keep the supercharger out of the equation for the benefit of both efficiency and noise until around 4,000 rpm. Once it kicks in, though, the Q7 surges forward, the gearbox whirring pretty much invisibly and seldom opting for the wrong ratio.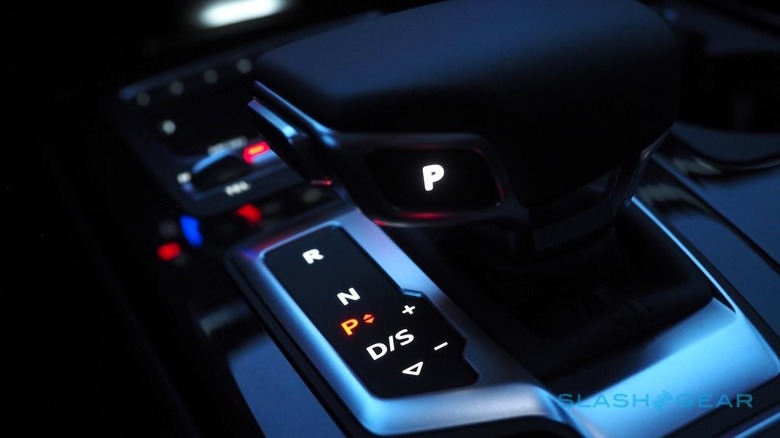 Later in the model year there'll be a smaller 2.0 turbo option with 252 HP, and Audi says there's also a TDI diesel in the pipeline, though the latter has no firm launch date yet. The 3.0 V6 is yet to get the EPA treatment, but Audi is expecting 19 mpg in the city, 25 on the highway, and 21 combined.
Program the navigation and the SUV can be even more helpful. On top of its optional Active Cruise Control (ACC), which uses the various front-facing sensors to track traffic in front and adjust speed accordingly, the Q7 will look at the next bend on the map and automatically slow down if it thinks that's necessary. In Comfort mode it prioritizes a smooth experience, slowing early and then gently easing back the power, but in Dynamic it can be more aggressive than a human driver, waiting to brake and then powering out of the bend in a way that takes a little getting used to.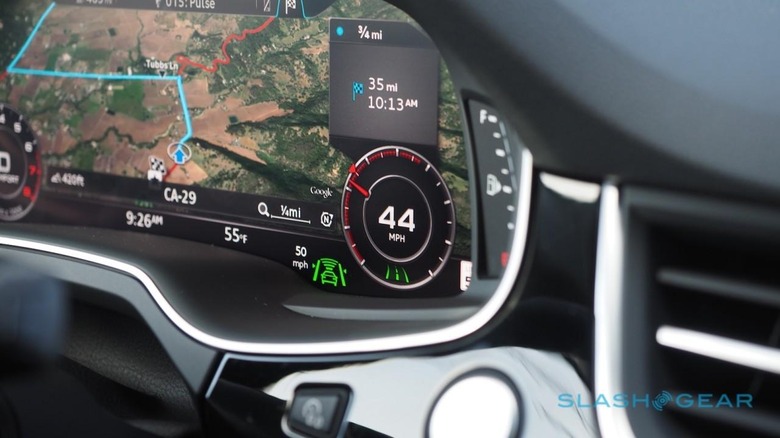 There's also Traffic Jam Assist. As long as you're under 37mph, and have two or more vehicles in front of you, the Q7 can take over the throttle, brakes, and steering and motor along in a little convoy. If the navigation knows where you're going, the ACC will even slow as you approach your next turn, though it won't stop altogether.
(If you continue regardless, and you've ticked the Turn Assist option, the Q7 can spot an oncoming car and bring itself to an absolute stop from speeds of up to 6 mph.)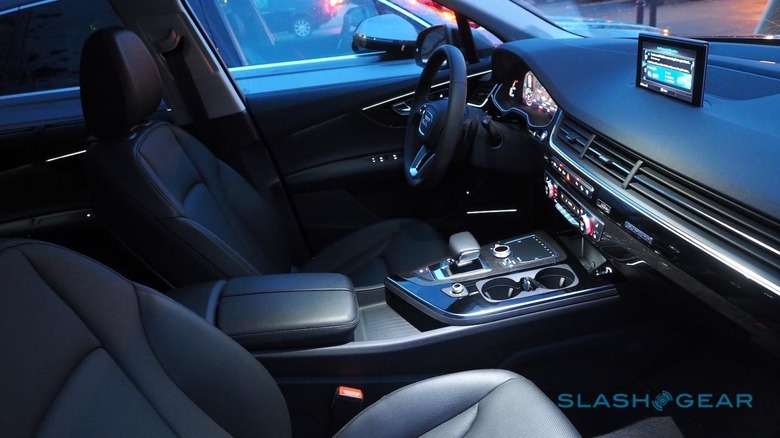 Inside, leather, wood, and aluminum combine for a light and airy cabin. The seats are power-adjusted in the front and heat up as standard, while a Luxury package throws in active cooling and massage features. Second-row seating gets legroom adjustment as well as a 35/30/35 split, and tumble forward with a little muscle effort to access the third row, which support power-fold as standard.
Space in the second row is fine for adults, though the very back starts to feel a touch cramped, particularly with the lower roofline. Trunk space is roughly the same as before, with 14.8 cubic feet normally and 71.6 cubic feet if you drop all the seats, but the load floor is lower and wider so as to be more flexible.
Out go the physical dials
Then there are the toys. The entry-level Q7 get a regular driver display, with analog speedo and tachometer flanking a reasonably-sized LCD, but Audi expects most to upgrade to its excellent Virtual Cockpit system in the Prestige. Crossing over to the SUV from Audi's more sporting models like the R8 and TT, out go the physical dials and in comes a huge, 12.3-inch widescreen running at 1440 x 540 for the driver.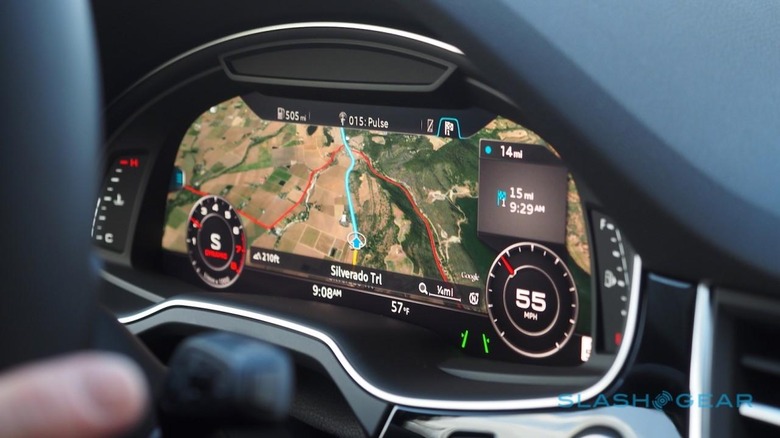 Where passengers in the TT have to entertain themselves, the Q7 throws in a second, 8.3-inch 1024 x 480 LCD that rises out of the top of the dashboard. Finally, there's an optional head-up display projected for the driver onto the windshield, showing essentials like speed, local speed limit, ACC status, and upcoming navigation instructions.
Along with the displays there's a refined version of the MMI interface. With your wrist resting atop the broad, flat shifter knob, your fingers fall atop a scroll wheel that not only clicks in to select but toggles left and right to open contextual menus. Just above it is a large glass touchpad for scrolling through the map as well as scribing out letters with a fingertip.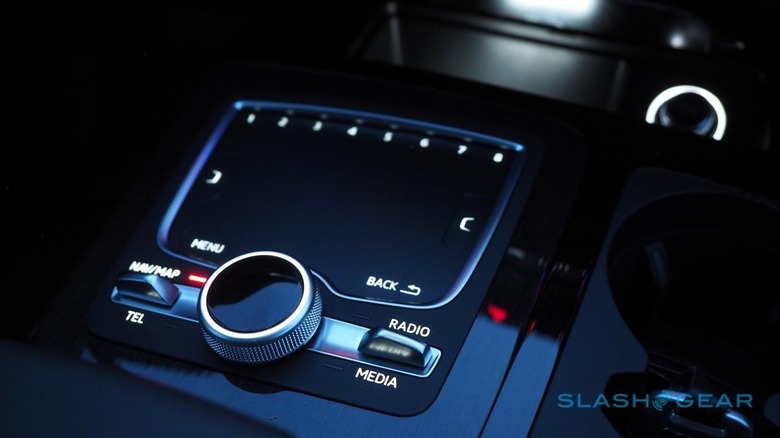 MMI is fast, smooth, and fairly intuitive. Each display gets its own Tegra 3 processor, and that keeps things like animated system settings and pinch-zooming in the maps lag-free.
If you prefer, CarPlay and Android Auto are both supported, while Audi has a new version of its Audi connect app offering things like remote locking/unlocking, location-based alerts, geofencing, and status reports, including from your Apple Watch or Android Wear watch.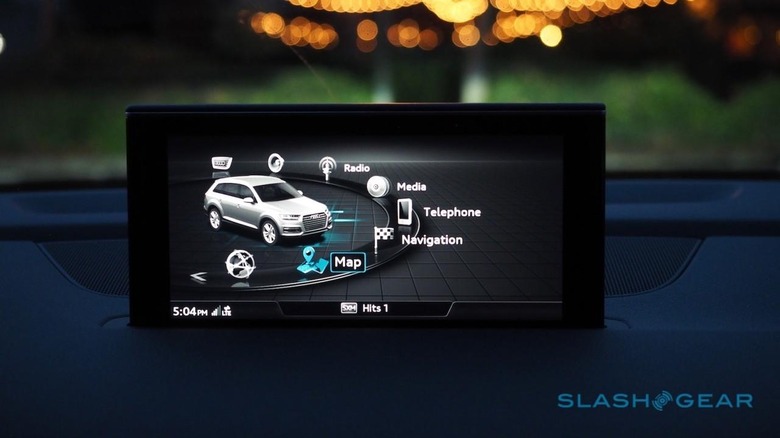 Both Bose and Bang & Olufsen audio systems are available, though while the former is clearly capable of filling the cabin with its 19 speakers and 558W with no issues, the latter is something of a gem. Featuring the same pop-up acoustic speaker lenses in the dashboard as the Audi A8, the B&O 3D Advanced Sound System is $5,000 and only available on the top-spec Q7 Prestige.
Your ears will thank you, though, not only with the sheer volume from its 23 speakers and 1,920 watts of amplification, but the clever 3D sound processing which delivers a noticeably broader soundstage and better separation between instruments and vocalists.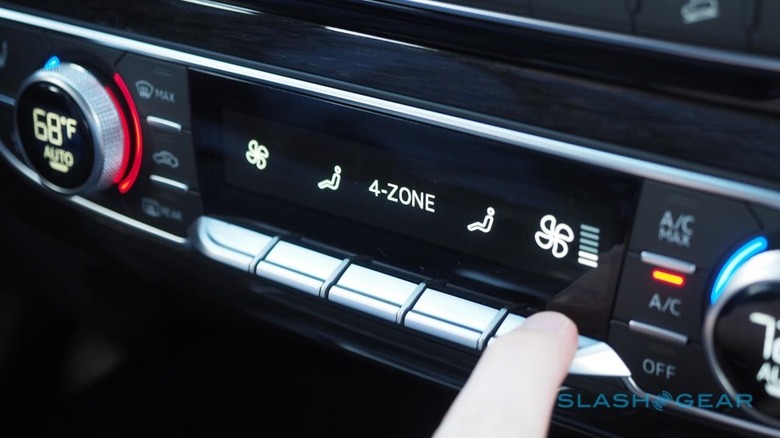 All the usual niceties like multi-zone climate control, a panoramic sunroof, and 4G LTE are present or optional. What helps elevate them is the attention to detail, like the touch-sensitive climate control switches which expand the related icon with more information when you first touch them, or the color-adjustable ambient lighting with 900 combinations, like hue for your Q7.
No luxury SUV comes cheap
No luxury SUV comes cheap. The 2017 Q7 kicks off at $54,800 for the Premium, climbing to $58,800 for the Premium Plus, and finally $64,300 for the Prestige which Audi expects to be its top-seller. In comparison, Mercedes-Benz's GLE starts at $51,100 while Volvo's XC90 begins at $49,800, though as ever in this segment there's a huge options list to be mulled over before you can make like-for-like comparisons.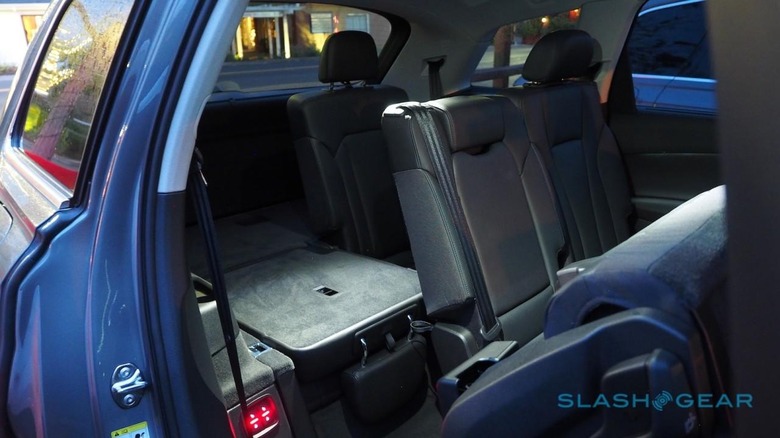 Clear out of the gate is that Audi has made a driver's SUV. Yes, you can leave the Q7 in Comfort mode and waft serenely, but it best differentiates itself from the rest of the segment when you click over to Dynamic and plant your foot. It's not just in a straight line, either, and when that angular grille meets a corner the Q7 sails right around it.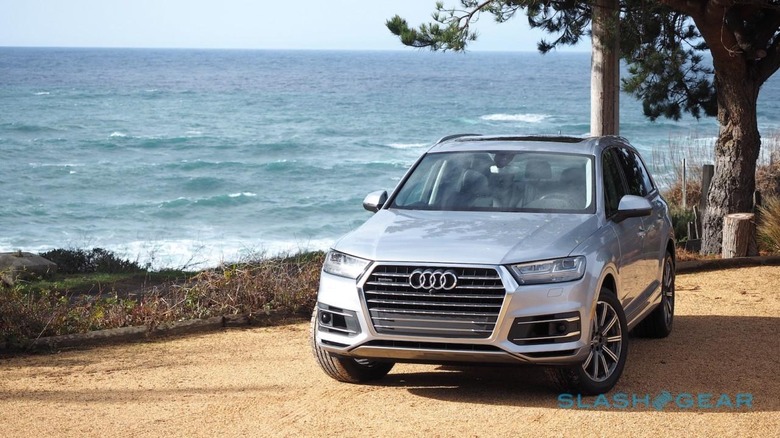 NOW READ: I raced against Audi's self-driving RS 7
Factor in solid build quality, advanced safety tech, and handsome design, and it's only that meaty starting price and equally rich-blooded options list which give pause for thought. With minimal effort you can be up in the mid-$80,000s, at which point you'd really have to consider Porsche's Cayenne S, too.
Stay level-headed when everything in the showroom is screaming you should go wild, however, and the 2017 Q7 delivers driver appeal and luxury in spades. Though the true geek-appeal will arrive with the Q7 e-tron quattro, for the moment the 3.0 V6 has more than enough safety gadgetry to keep the tech-minded owner happy.
[gallerybanner p="418325"]