2017 Audi Q7 e-tron 3.0 TDI quattro first drive - Diesel redeemer?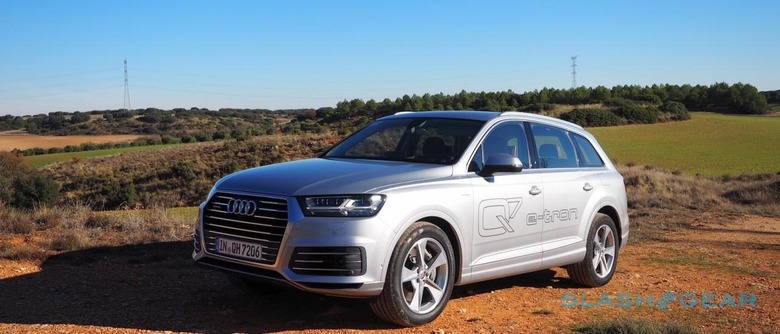 Damned by diesel, or redeemed by electric? The timing seems ill-fated for
's brand new 2017 Q7 e-tron quattro, a plug-in hybrid that arrives under the NOx cloud of the VW group's ongoing emissions scandal. Though on paper it makes sense – the plentiful torque of a V6 diesel paired with the eco-peppy zing of a plug-in EV – the fuel's already patchy reputation in the US hasn't been helped by the recent "dieselgate" revelations.
Audi isn't willing to call time on it, though, and hence I found myself in Madrid at their invitation, behind the wheel of a European-spec Q7 e-tron quattro and with a brace of data-loggers and eager German engineers waiting to explain exactly what had happened on my test drive.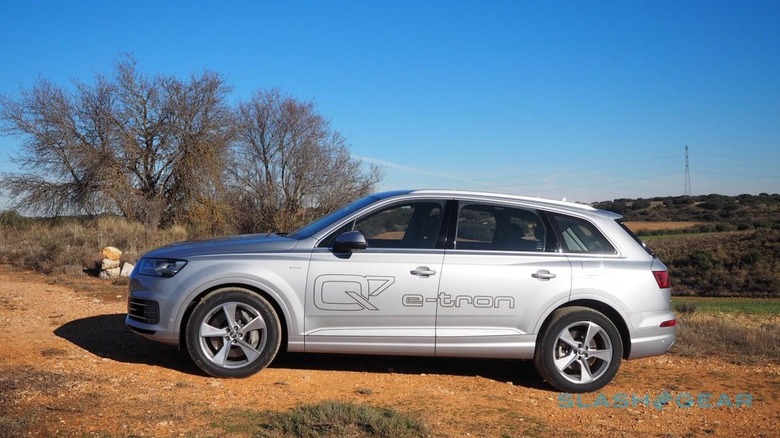 And, by extension, convince me that VW group diesels still haven't had their day.
The styling has been tightened up in this second-generation Q7, with sharper crease lines, crisper lamps, and a look more in keeping with the recent A4 refresh. No bad thing, given how handsome the small sedan is. It makes the SUV look smaller than its predecessor, too, not to mention a little more aggressive at the front.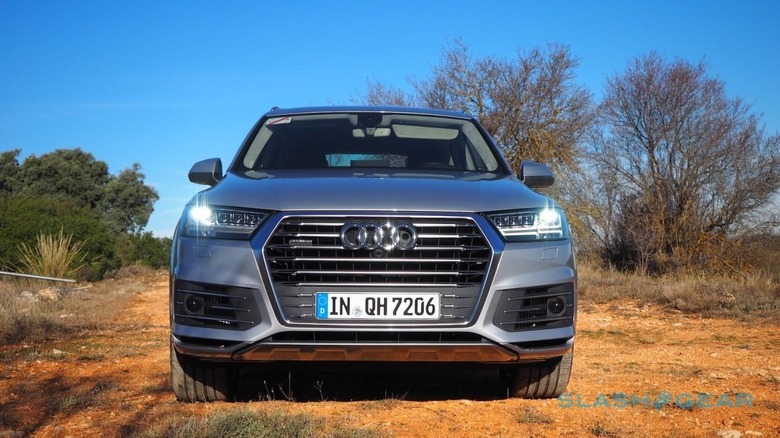 The cabin is arguably the most well-appointed of any recent Audi, at least when it comes to the company's SUVs and sedans. The seats are firm and supportive – with multi-mode massaging for those in the front – while the inlaid metal seams running through the dashboard wood manage to be both beautiful and authentic.
There's a lot of technology – a pop-up LCD display, baked-in 4G LTE, numerous drive modes to flip the Q7 between degrees of dynamism, multiple zones of climate control, and a remote app which shows engine details, charge status, and more – all navigated through a sizable trackpad in the center armrest. As a result, the MMI system can be a little complex at first, especially when you realize that tapping the left and right of the trackpad can summon even more contextual menus.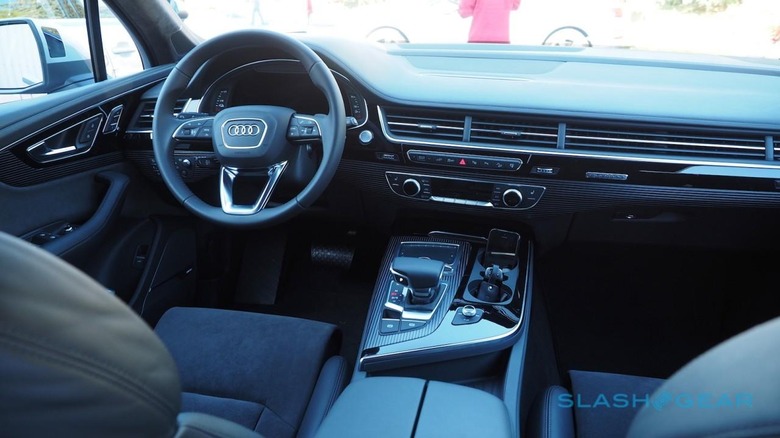 Its responsiveness saves it – there's no lag between menu transitions or in entering addresses – as do the healthy number of physical controls for instant access to things like volume and cabin temperature.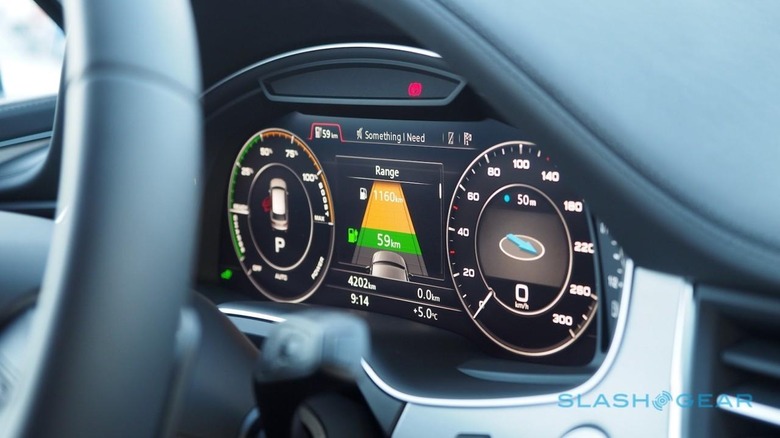 Audi's Virtual Cockpit – a sizable high-resolution screen that fills the driver's instrumentation binnacle – makes an appearance in the Q7, this time with some extra hybrid-related instrumentation. The gages are customizable, flanking a Google Earth map which can be adjusted in size, and show remaining range broken down by electric-only and gas extended.
The Q7's localization smarts don't just run to the satellite-style graphics, however. Audi calls the system its Predictive Efficiency Assistant (PEA), and it aims to use some round-the-corner prescience to improve your eMPG.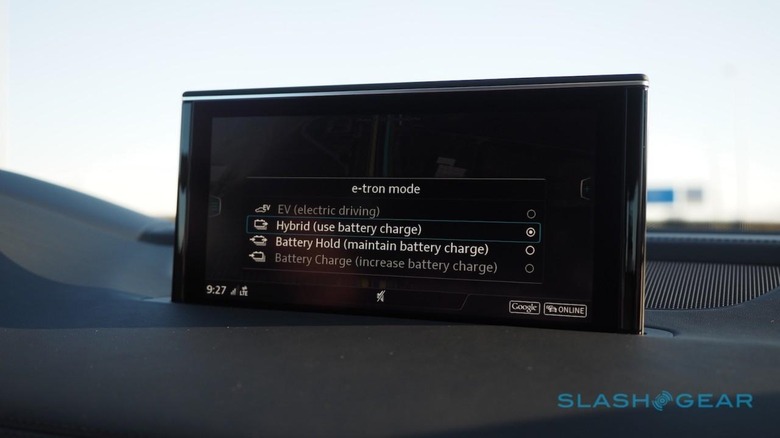 It knows what junctions are coming up, how the road will slope, and it can read speed limit signs and town signs, and use that awareness to figure out what the Q7 and its engine should do for maximum efficiency. If there's a lower speed limit coming up around the next bend, for instance, a green foot icon indicating the driver should lift off the accelerator appears.
Leave the e-tron in Hybrid mode – as opposed to EV, which uses battery power first; Battery Hold, which saves charge for later; and Battery Charge, which actively replenishes the 17.3 kWh Li-Ion pack slung under the trunk floor – and PEA will automatically figure out when to let the system coast and when to throw in some electrical boost.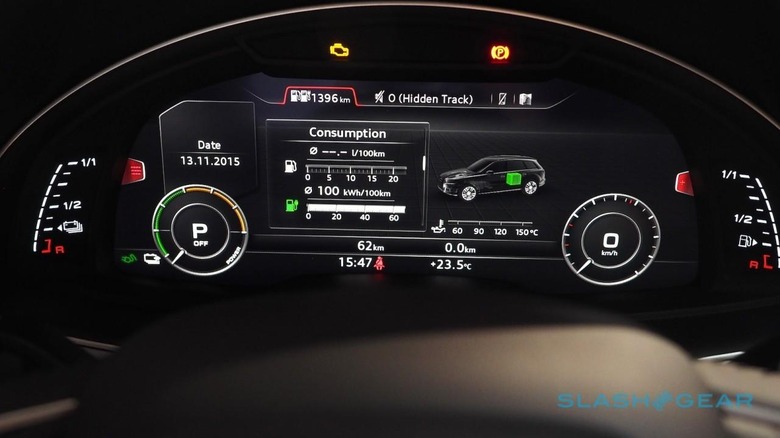 Arguably most impressive, if you've told the navigation system your destination then PEA will take into account the nature of your route to better decide its various modes. Rather than splashing battery power on a wasteful highway burst, for instance, it'll hold it in reserve until you make it to urban portions of your journey. The goal is to make it to your end point with as little charge left, and as little traditional fuel used up.
Even from my relatively brief time with the Q7 e-tron quattro, it's clear that this is the sort of system required to elevate hybrids to properly "smart" cars.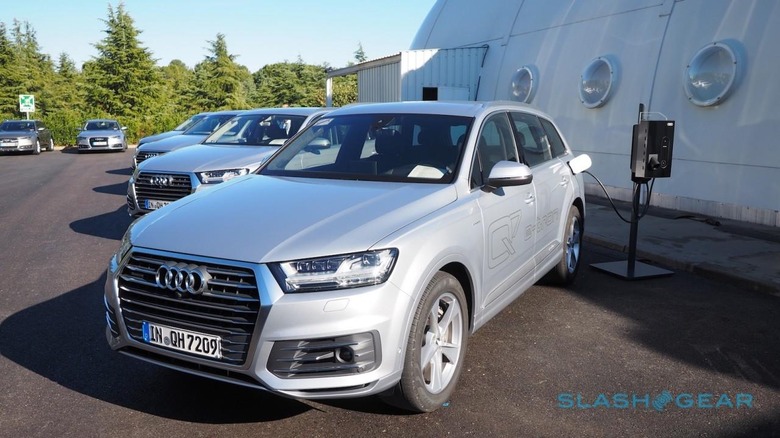 Audi had fitted its small fleet with data-loggers that could contrast what the PEA would do if left to its own devices with how I actually drove. With my fiddling with the hybrid settings, I completed the 97 km (60 mile) route with the combustion engine active 46.7-percent of the time, using a total of 6.9 l/100 km of fuel. That works out to around 35 mpg.
In contrast, a pass of the same route with PEA calling the shots saw the combustion engine active just 28.5-percent of the time, and with only 3.3 l/100 km of fuel used.
Audi's own numbers are even more impressive: 1.7 l/ 100 km, or a whopping 138.4 US mpg equivalent. Not bad for a sizable SUV packed with all the trimmings, though we'll have to wait for the EPA to weigh in to know final US numbers; electric-only range in the mid-20s is Audi's expectation under those test conditions.
Unfortunately for US drivers, PEA won't work – yet – on North American roads. It requires a richness of mapping data that, right now, hasn't been gathered in sufficient depth; indeed, filling that gap is one of the reasons Audi agreed to form a consortium with Mercedes-Benz and BMW to acquire HERE from Nokia.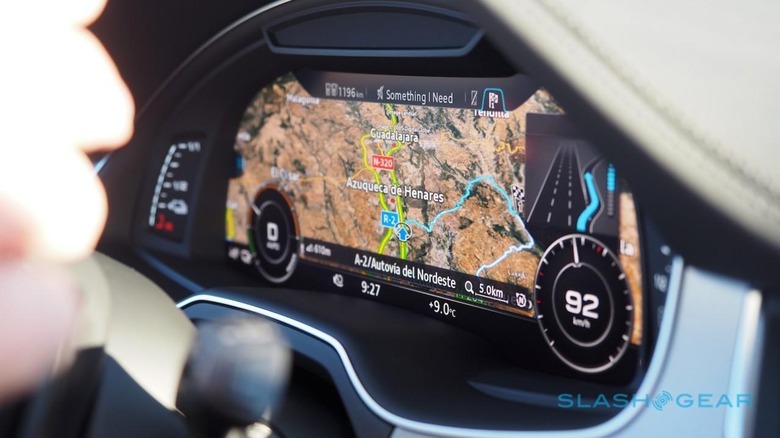 The Q7 e-tron quattro's natural competitor is probably
. Like the Audi, the XC90 has a hybridized EV powertrain with a small amount of all-electric driving supported, a mid-20s electric range, and a more sizable traditional engine that kicks in when the batteries are dry or insufficient. Both have their own distinctive brand of luxury, not to mention plenty of space inside, though the XC90 does have a third row of seats.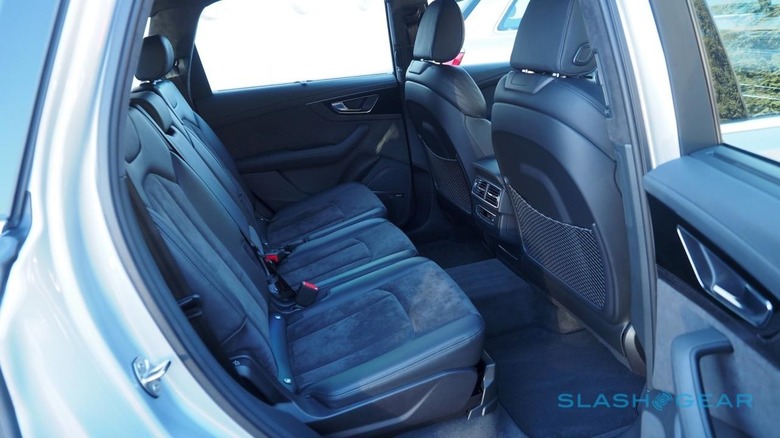 Unlike the XC90, though, the US will have to wait for the Q7 e-tron quattro. Although sales in Europe should kick off in 2016, US regulatory testing is yet to begin; it's unlikely to hit American roads until early 2018. Even then, it's unclear at this point which engine Audi will pair the EV drivetrain with for its US audience: the 3.0-liter V6 TDI which I drove, or a 2.0-liter TFSI turbocharged gas engine.
I'm told the overall experience is pretty much the same for each, suggesting it may come down more to fuel reputation than engine itself. Certainly, the transition between diesel and electric drive, or some combination of the two, was effectively invisible from the cabin; all you notice is the surge of power as the Q7 throws its 373 HP through all four wheels.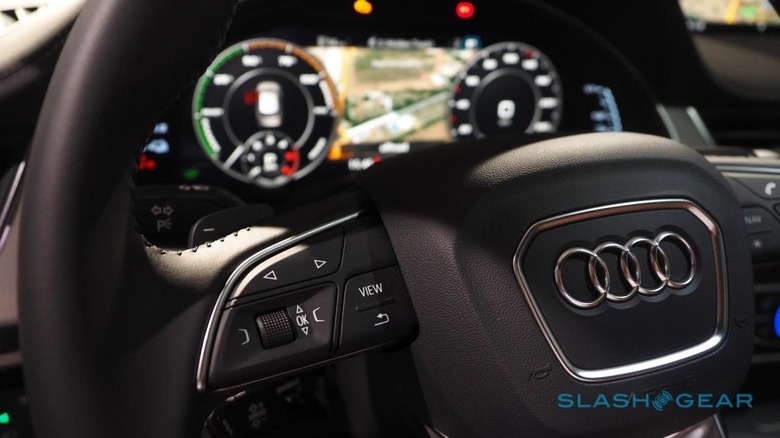 Audi quotes a 6.0s 0-62 mph time in hybrid mode, or half a second slower in electric-only. Unlike many hybrids, the Q7 e-tron quattro is willing to stay for lengthy periods in EV mode, too, with a top speed of 78 mph. Flip into hybrid mode and that climbs to 140 mph.
If your daily commute is under that 50 km figure, meanwhile, you could feasibly go the whole distance without ever having to call on fossil fuels. Audi pressurized the tank, too, so that there are no worries about the contents going stale.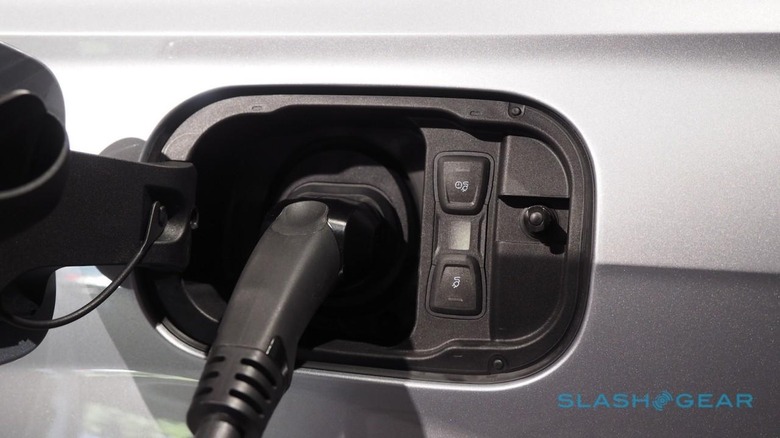 Audi says an industrial power outlet will recharge the battery in just 2.5hrs, but of course not everyone has access to a 400V supply. Figure on around eight hours from a household outlet, assuming you have a 240V option in your garage.
What established EV drivers might find a little disconcerting is that the electric drive still goes through the SUV's eight-speed transmission. Only the truly obsessed are likely to notice – or complain about – its smooth ratio changes, mind. Unfortunately the steering also trades feel for smoothness, though Audi says that's just what its customers expect from a vehicle in the Q7's class, and it at least hides the extra 450 kg (around 990 pounds) in all but the most eager of cornering.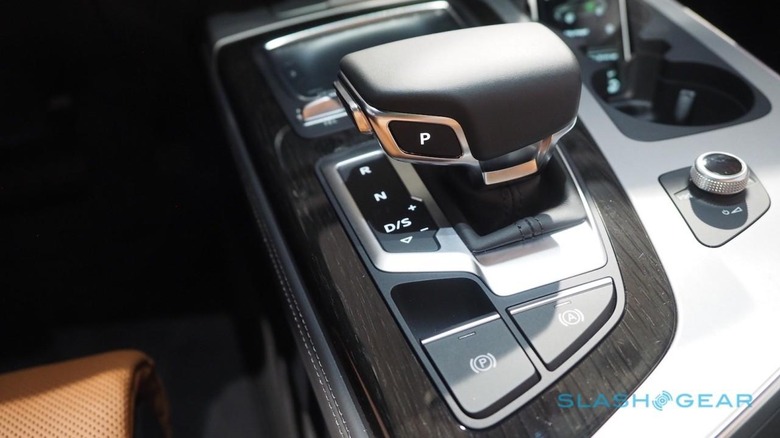 The question of whether the Q7 e-tron quattro will have a hand in securing diesel's redemption among would-be US drivers may never be asked. I'd wager the engineers will talk to the dealers and the marketers, and settle on the far more PR-friendly TFSI option by the time the car reaches these shores.
If, as Audi insists, the overall driving experience is the same, then perhaps it doesn't really matter. The Q7 e-tron quattro drives well, looks great, cossets pleasingly, and debuts smart eco-software that doesn't force a hair shirt on you in the process.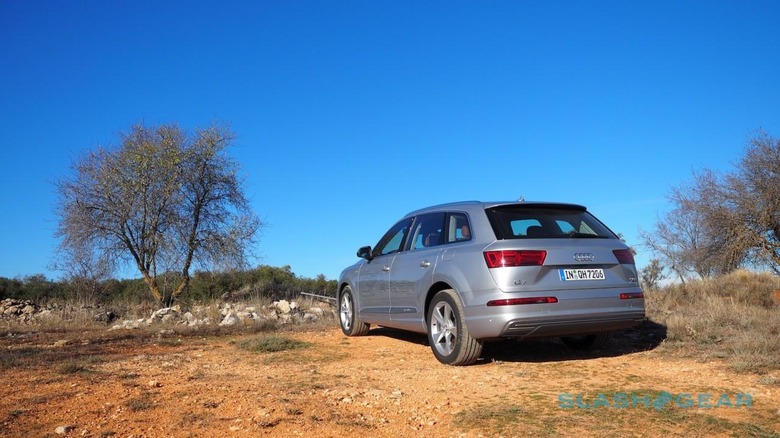 It doesn't really deserve to find itself in the shadow of the diesel scandal, but plenty could change between now and its US launch in either late 2017 or early 2018. Pricing hasn't been confirmed so far in advance, but with the 2017 Q7 3.0 TFSI quattro expected to range between $54,800 and $64,300 depending on trim when it arrives at the beginning of next year, I'd expect a healthy premium on top of that upper limit for the capable e-tron.
[gallerybanner p="414575"]