2015 Kia Soul EV First-Drive: A new city-car star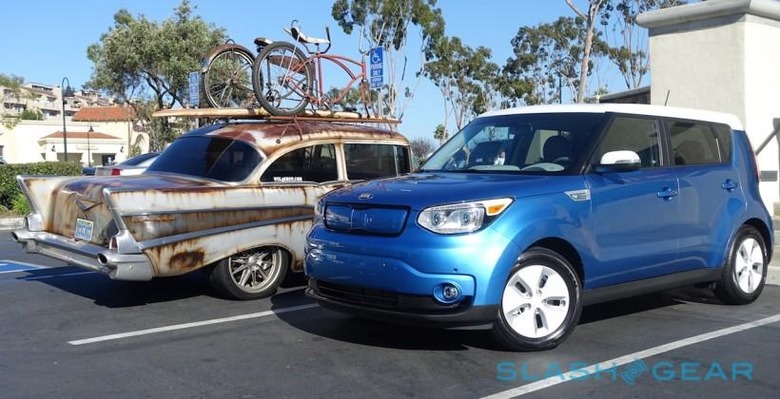 Kia's 2015 Soul EV may look cute, but the company isn't playing around when it comes to its first all-electric car for the US market. Based on the hit Soul city car, but dumping the gas engines for a torquey electric powertrain, the Soul EV may be following the Leaf, 500e, and Focus EV to market, but its clearly used that extra time to learn from what they got right – and how to avoid their mistakes.
Design
The Soul has always been one of the more eye-catching city cars in gas form, and the Soul EV's electric tweaks – some for aerodynamics, some in the name of just looking different – only help that. It's pseudo-moon-buggy looks and upright stance have found favor with those who prefer to sit above the rest of traffic, as well as satisfying a market which might like the styling of a crossover but not want – or be able to afford – the full-sized thing.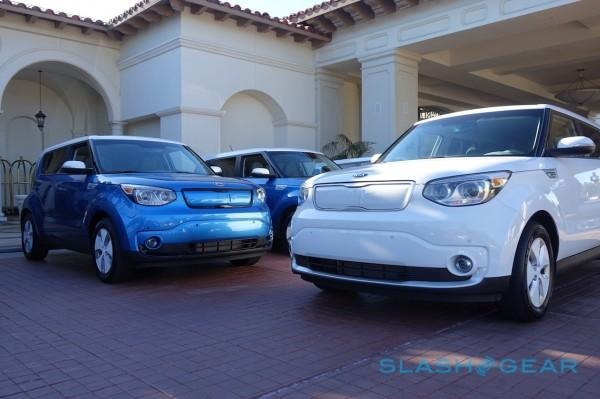 For the electric version, there'll be four exterior colors, ranging from a clean white, through a blue with white roof, and all the way to an aggressive black with red highlights. The grill is larger, though blanked off unlike the regular Soul, and there's ECO/Electric badging on the sides and at the rear.
The projection beam headlights have blue-tinged trim – matching fog lamps come with the more expensive Soul EV+ model – while at the rear the light clusters use LEDs. 16-inch wheels with super low rolling resistance tires – a 10-percent cut in resistance compared to even regular low-resistance versions, Kia claims – were picked for their slipperiness, but they also look great with their inset white panels.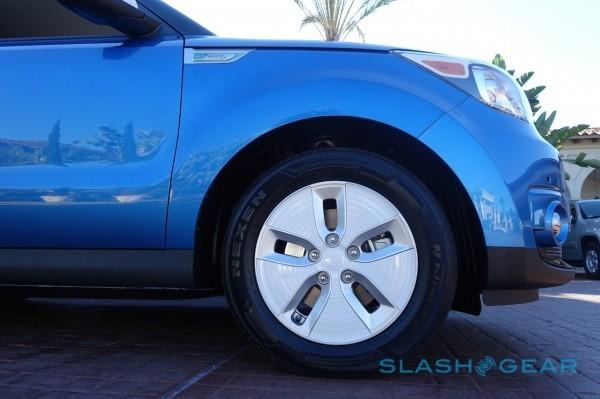 Kia's design has a second, more important factor however. The Soul EV was designed in parallel with its gas-powered counterpart, rather than having electric shoehorned in as an afterthought, while the body shape pays dividends when it comes to hiding all the extra tech.
So, the batteries sit low down, but because of the height of the cabin and the sills you hardly notice any intrusion into passenger space. The rear seats are an inch or two higher than usual, and the trunk floor is a little more raised, but otherwise you could sit in the Soul EV and not realize you were carrying a sizable Li-Ion Polymer power pack.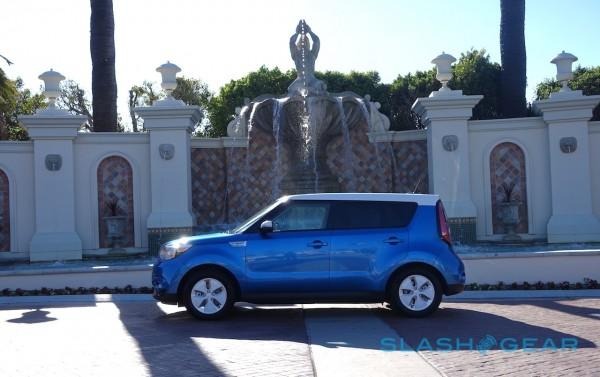 What you can't escape is the extra weight, and so the underlying architecture carries a few changes from the roughly 300 pound lighter gas version. Five cross beams support the battery packs, and the pillars are reinforced too. Underneath there's a full belly pane, which reduces drag by 5-percent.
EV Powertrain and Performance
Kia calls its car an "Urban EV" and the range reflects that. The official EPA figures suggest a 93 mile range – second only to a Tesla Model S, Kia points out, though you're getting 208+ miles from Elon Musk's car – from the 27 kWh batteries, sufficient for shuttling around town but probably not something you'd want to tackle a road-trip with.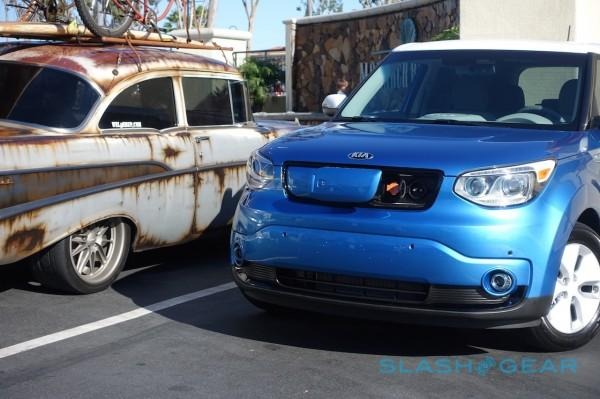 That doesn't mean it's low-tech, though. Kia's batteries have been designed for warm-weather use (sensible, given the Soul EV will go on sale in California initially, before spreading to cooler states, where it will be fitted with a heater system) as well as better thermal stability and more stable degradation over time. That means a more predictable "distance to empty" reading on the dashboard, rather than the wildly-oscillating figures some EVs display.
Charging is courtesy of either a regular 240V connection or a 480V CHAdeMO DC fast-charge port, both hidden behind the pop-open grille. Figure on a charging time of 4-5 hours if you're supplying 240V or 33 minutes to go to 80-percent on 480V.
Yes, you can plug into a regular 120V domestic supply too, but figure on being tethered there for a full 24 hours.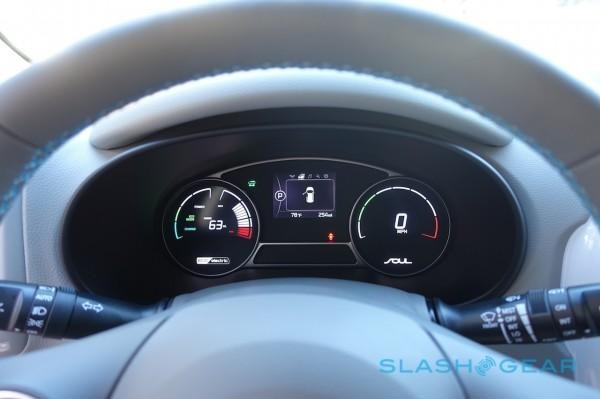 The batteries are linked to an AC synchronous permanent magnet motor, with liquid cooling, and a single-speed transmission. It's one of the more refined EV motors I've driven: Kia says it has slapped in extra sound insulation, but even with the windows open there's minimal whine under either acceleration or regenerative braking that you can so often encounter in an electric vehicle.
With 109 HP the Soul EV is down compared to its gas-powered brethren (which muster between 130 and 164 HP), but that all-important torque is up significantly: the electric car musters 210 lb-ft, while the gas Soul tops out at 151 lb-ft. It's instantly available, too, just as with any EV, rather than having to wait for the engine to spool up.
The result is a car that can surprise ostensibly meatier vehicles when pulling away from the lights. Sure, they'll quickly catch up if the road stays clear – Kia quotes a top speed of 90 mph and a 0-60 mph dash in 11.2 seconds – but it's the nippiness at city rates that makes the Soul EV a tiny urban warrior. Kia says the 18.6-43.5 mph run takes 3.9 seconds, and it's that sort of rapidity that makes lane-changes and last minute overtaking so straightforward.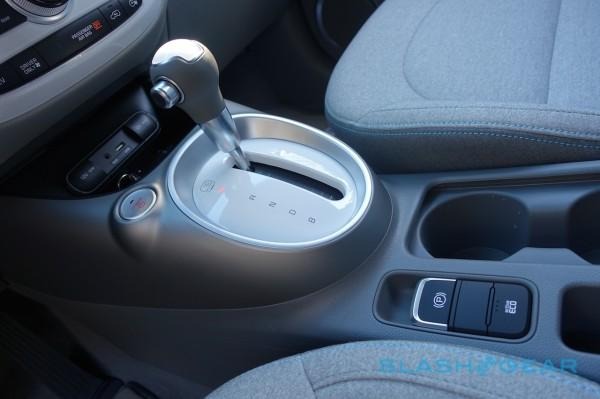 It's also more comfortable while doing so than the gas Soul. The extra weight of the electrics, as well as the cross beams which double as stiffening, mean the Soul EV flexes less and feels more stable on the road. Hop between lanes and there's no wobble or rock as you might predict from an upright little car with a relatively short wheelbase.
Braking, too, is smooth – you can either put the Soul EV in regular mode, or notch the transmission selector to "B" and have the accelerator also bring in more aggressive regenerative action, effectively driving the Soul EV with a single pedal as you can do with the Model S – and predictable, and it never felt like the battery heft wanted to keep pushing forward despite my intention to stop.
The electric power steering won't win any awards for dynamism, but it's accurate even as it subdues road feel. Hit the "Active Eco" button down in the center console and the Soul EV gets even more miserly, being quicker to start the regen when you lift your right foot, among other things.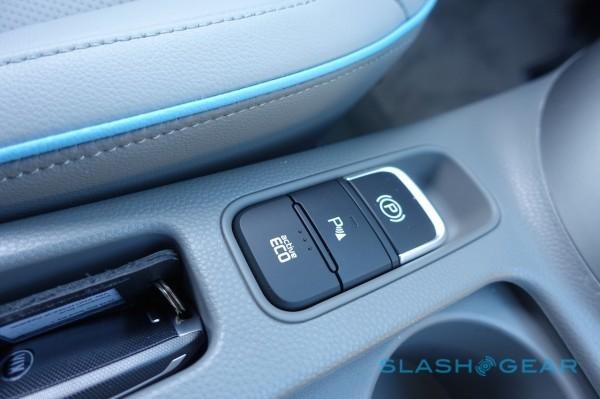 93 miles may not sound like a lot, but there's a lot to be said for having a predictable range expectation. One of Kia's main priorities with the Soul EV, project manager Steve Kosowski told me, was to make the number you see on the dashboard as close to what you'll actually get on the road as possible.
Without spending longer with the car I can't say conclusively whether that's always the case, but it certainly looks promising. When I hit the Start button the digital gage told me I had 109 miles of range; after a mixture of mid-speed highway and stop/start city driving, I compared the distance I'd actually traveled versus what range the Soul EV claimed I had left. The initial estimate turned out to only be two miles different to what I'd done in the real world.
Interior and Infotainment
Kia has two versions of its electric car to choose between, the regular Soul EV and the Soul EV+. Standard-fit kit levels are high either way: power windows, an 8-inch touchscreen navigation system, 6-speaker SiriusXM radio with USB/aux-in, reversing camera, two 12V power outlets, Bluetooth, heated side mirrors, and push-button keyless start.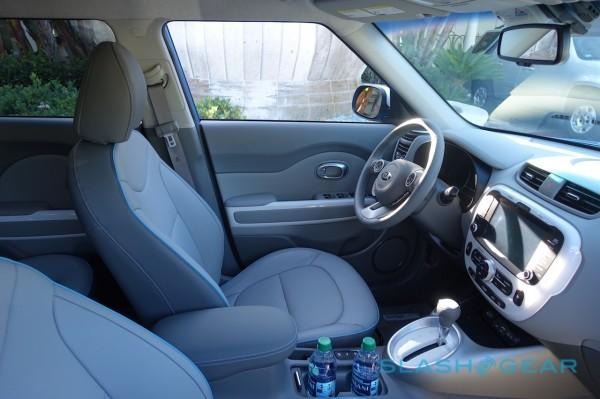 The regular upholstery is a soft grey fabric, almost felt-like, with bright blue piping. It looks and feels great, and the seats themselves are firm and comfortable, though I can't help but wish Kia had gone for something other than grey for the majority of the dashboard. The glossy white plastic trim around the infotainment system looks good, though.
The Soul EV+ throws in fog lights and power-folding exterior mirrors, leather seats – perforated, and still with the neat electric-blue piping – with an extra level of heating control in the front and heated rear outboard seats, ventilated front seats, and park-assist for the front and rear.
You might not realize it, but the drivetrain isn't the only place where Kia has gone to some effort to lessen its petroleum footprint. A combination of corn and sugar based plastics, as well as thermoplastic elastomer fabric, means that around 53 pounds of interior trim is actually eco-friendly, the company says, rather than using traditional plastics made from fossil fuels.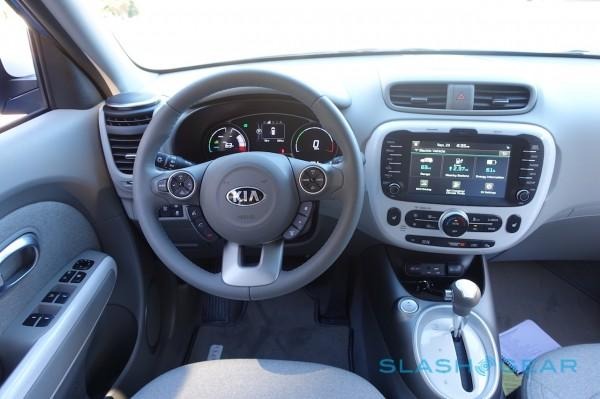 The headliner, carpet, A-pillar trim, center console, and most of the cargo area trim all use the new fabrics and plastics, and Kosowski says that's just the start of it. "You'll see in the future fewer and fewer petroleum materials used," he explained, as Kia experiments with non-traditional and renewable options.
Behind the wheel, you get gages for power status – including an indicator to remind you when you're driving economically, and when you're regenerating power – and speed, flanking a low-power 3.5-inch OLED for trip data. There's more information to be found on the EV drivetrain through the center touchscreen, however.
For instance, you can see an map estimate of how far you could travel on your remaining charge, though it's only a simple circle spreading out from your current position rather than taking into account different types of road. Kia taps into SiriusXM's charging point database, too – the Soul EV has a built-in 3G connection for feeding data to the companion UVO EVServices smartphone app, as well as passing location and accident data to roadside assistance or 911, but the satellite connection means you'll still get charger details even if you don't have a data signal from Verizon's baked-in modem.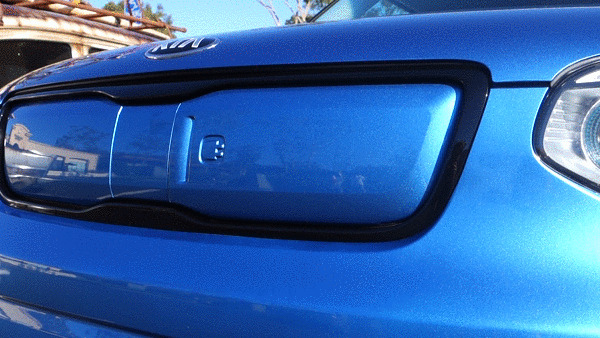 From the phone app, you can check current charge status, remotely start or stop charging, and see where the car is. Kia is bundling five years of UVO EVServices with each Soul EV; pricing after that hasn't been decided yet, and there are sadly no current plans to turn the car into a mobile hotspot, GM-style, head of connected cars Henry Bzeih told me.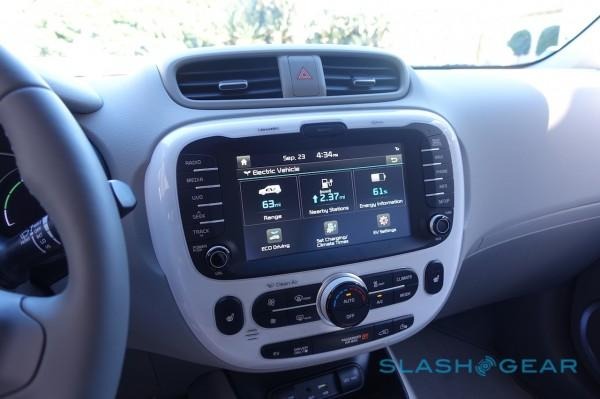 It's all easy to use, and I was pleased to see that Kia hadn't done away with physical buttons entirely, keeping a mixture of touch and hard controls. Navigation and multimedia can share a split-screen view.
Interestingly – and relatively unusually in my experience – Bzeih told me that, while the Soul EV won't support either Apple CarPlay or Android Auto initially, the car's infotainment system would support an update to one or both down the line. Kia hasn't decided on whether it'll actually go through with retrofitting existing cars that way, but simply the fact that it's a possibility is a differentiator from most other car companies that have committed to the smartphone hook-ups but are yet to actually deliver them.
The other cabin changes are predominantly eco-focused. The Soul EV uses an HVAC heat pump, combining the AC and heating circuits into one – 27-percent more efficient, so Kia tells me, than what you'd get in a traditional EV – and there's clever air sampling which checks how close exterior temperatures are to the driver's settings, and can scale back the air-conditioning pump if the difference is minor.
Hit the "Driver Only" button, meanwhile, and all the vents not directly pointed at whoever's behind the wheel shut off, also cutting the amount of work the HVAC needs to do.
Pricing and Value
Sticker to sticker, the Soul EV carries quite a premium over its gas siblings. Whereas you can pick up a regular Soul from $15,100, the Soul EV is $33,700, and the Soul EV+ comes in at $35,700.
That's before rebates and incentives, of course, and when the Soul EV lands in California in October it'll benefit from $7,500 of federal tax rebate and a further $2,500 from the state. That brings the cost of entry to an altogether more reasonable $23,700, and leaves the Soul EV looking competitive against the electric alternatives.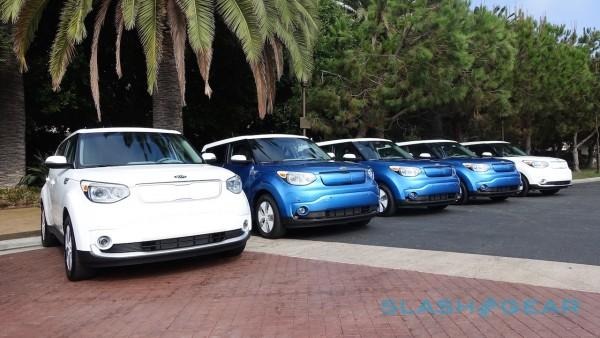 Nissan's Leaf – probably the most obvious alternative – can be had a little cheaper, from $21,510 after incentives, but has less range and less standard kit. Kia will also be offering a three year, 36k mile lease option for $249 a month.
As for charging, Soul EV drivers will get a Kia ChargeUp card powered by greenlots, which will grant access to the network of public chargers, while the car will work with Bosche, Leviton, and Aerovironment domestic 240V chargers too. Meanwhile, Kia is putting multiple 240V and 480V chargers in its own dealerships, to try to flesh out the number of places a Soul EV can top-up. It's not quite Tesla's Supercharger network, but it's a good start.
Wrap-Up
As is the case with most electric cars, Kia's launch plans are conservative. The Soul EV will arrive in California first, followed by Oregon, and then the company plans to look at the east coast and EV hotspots such as metropolitan Atlanta and Austin. Nobody would tell me how many it hopes to sell, or even how many Kia will be making.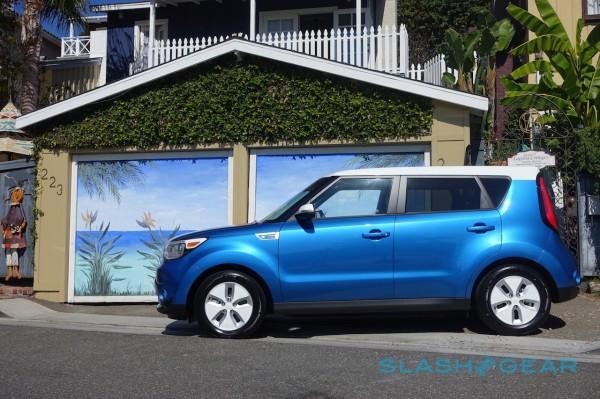 It deserves to succeed, however. The Soul EV keeps what I like about the regular Soul – its chunky, playful looks; great interior space; and comfortable driving style – but throws in the torquey fun of electric drive and an even more grounded feel on the road, without much in the way of compromise.
Sure, 93 miles isn't close to what you'd get from a full tank of gas in the regular car, but if Kia can really deliver on its range accuracy commitment, that'll go a long way toward assuaging the anxieties of the city dwellers the Soul EV seems perfect for.
Those with longer range demands (and lacking the funds to scratch their itch for a Tesla) should probably look to something like a Prius or Volt, but for the city the Soul EV hits the spot. More personality than a Leaf, a cabin that doesn't feel compromised in either design or equipment, and lashings of usable space all add up to making the 2015 Soul EV my pick of the more affordable all-electric cars.