2015 Ford F-150 aims to reinvent American trucks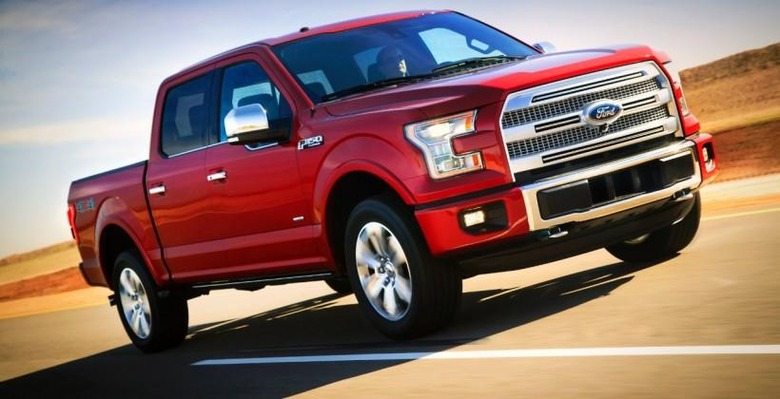 Ford has revealed the all-new F-150, the latest version of the company's best-selling truck, redesigned with an aluminum-alloy body, 2.7L EcoBoost engine, and smart-tech features like 360-degree cameras and LED headlamps. The new truck, a much-anticipated launch at the North American International Auto Show, will go on sale later in 2014 and be built on Ford's Michigan and Missouri production lines; it features the latest iteration of the boxed-ladder frame, made from high-strength steel, and then clads it in military-grade aluminum alloys to help cut up to 700 pounds of weight over the outgoing F-150.
That, Fords says, makes for a truck that can tow more, accelerate faster, stop with more urgency, is more economic, and more resilient to low-speed bumps. All key factors if the company is to convince its traditional audience that the move from aluminum to steel isn't akin to driving around a beer can.
To help with that, Ford has been putting the new F-150 through some extra-arduous tasks, including load-hauling in -20 through to 120 degree Fahrenheit temperatures, as well as the Baja 1000 race; in total, Ford says the truck has done more than 10m miles of testing.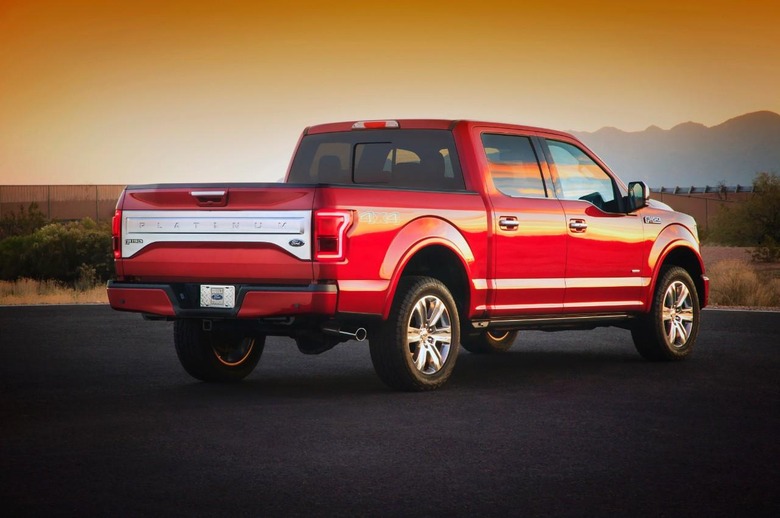 Still, today's buyers expect some tech as well as toughness, and there the 2015 F-150 delivers too. There's an 8-inch LCD on the dashboard which will flash up economy and towing tips, among other things, as well as showing the feed from the 360-degree camera view that will show a bird's-eye perspective of the car to help with parking and navigating tighter trails.
As on the Atlas concept that has clearly inspired the exterior, the new F-150 gets LED headlamps and taillamps; there's also a remote tailgate; 400W, 110V power outlets in the cab, LED spotlights on the side mirrors, a smart trailer tow module which can diagnose problems on lamps and other factors; and an LED-lit cargo box to help find tools.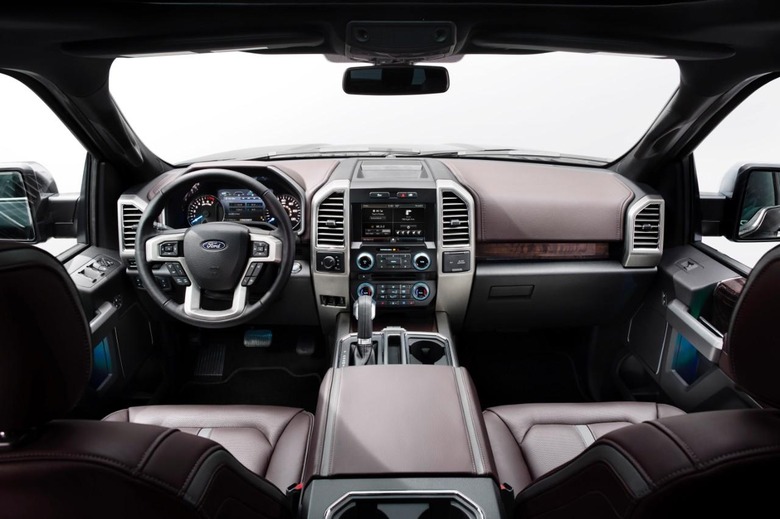 Ford has also included integrated loading ramps for motorcycles and mowers, and a new tailgate step, along with a boxside step for the short 5.5-foot box. In total there'll be five core trims – XL, XLT, Lariat, Platinum, and King Ranch – while Ford will offer chrome appearance packages on the XL, XLT, Lariat, and King Ranch, and monochromatic sport appearance packages on the XL, XLT, and Lariat.
Under the hood there's a choice of four engines. The 3.5L EcoBoost and 5.0L Ti-VCT V8 return, alongside a new 2.7L EcoBoost with auto start/stop, and a 3.5L V6 with twin independent variable camshaft timing. The EcoBoost versions get active grille shutters to cut aerodynamic drag when the engine compartment doesn't need cooling.
Ford is yet to confirm pricing on the new F-150, which will be announced closer to the 2015 truck's release this fall.