Ford Atlas Concept eyes-on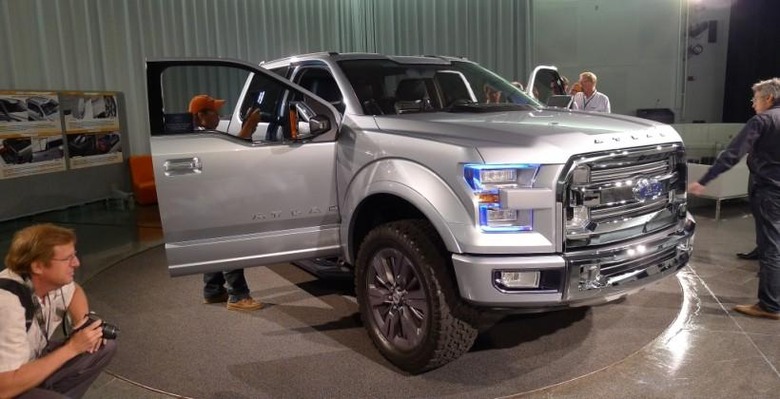 With the Ford Atlas Concept vehicle, the company delivers a showcase of technologies and capabilities that'll be ready for the next generation of on and off-road drivers. We've gotten the opportunity to get up close and personal with the Ford Atlas Concept this week, having a peek at its interior as well as its striking silver outer on the showroom floor. This vehicle comes in with an aesthetic that's not that far off from the current range of F150 vehicles and makes for a heavy-duty push in both image and power.
It was all the way back in January that we first saw the Ford Atlas Concept take shape. Back then it was presented as a unit with a feature set that didn't appear too far off from road-ready reality. Items like a drop-down front air dam that lowers for improved underbody airflow at highway speeds alongside power running boards that appear when the doors are open both seemed like they were ready to hit the market without delay.
But here we are, June of 2013 and this machine is still appearing ready to roll at Ford special events. Active wheel shutters for improved aerodynamics, active grille shutters for engine cooling, and next-generation EcoBoost with auto start and stop optimized for trucks are all here and fully operational. This vehicle works with a six-speed SelectShift automatic transmission as well.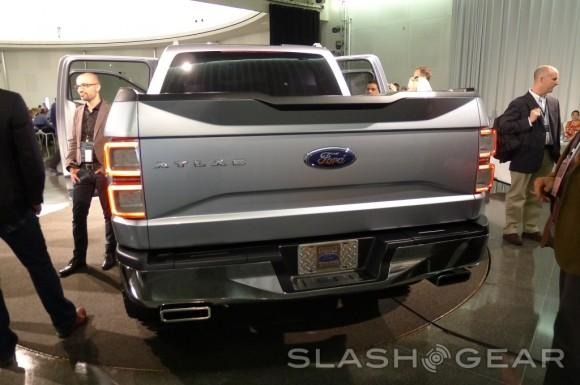 You'll be seeing 22-inch alloy wheels here with all-terrain tires (LT323/50R22) on a 150-inch wheelbase and a track of 78 inches. This vehicle's 238-inch length works with a body that's made up of high-strength steel including boron, its height coming in at 81-inches and its width at 88-inches (without mirrors).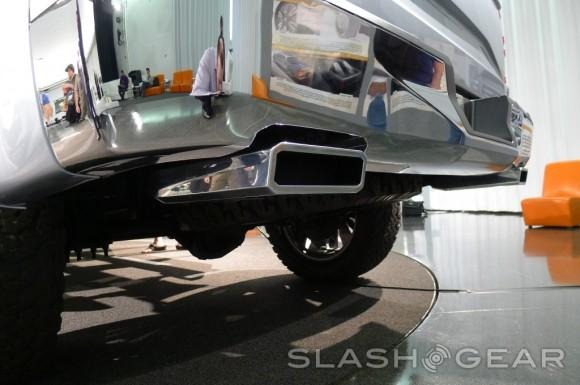 The Ford Atlas Concept works with a dual-purpose tailgate step and cargo cradle. Here you'll be able to extend to free up space while several backup and hitch features make connecting to a trailer an easy exercise. Also included are a set of hidden cargo ramps. In other words, this is certainly a truck you'll be asked to use when your relatives are moving large objects.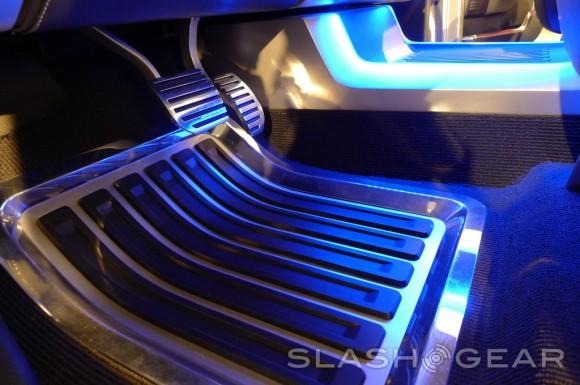 Both the headlamps and taillamps on this vehicle work with LED lighting technology with "near-instant" response time. LED lighting also appears inside this vehicle's cargo box and side mirrors for a fully forward-thinking lighting experience.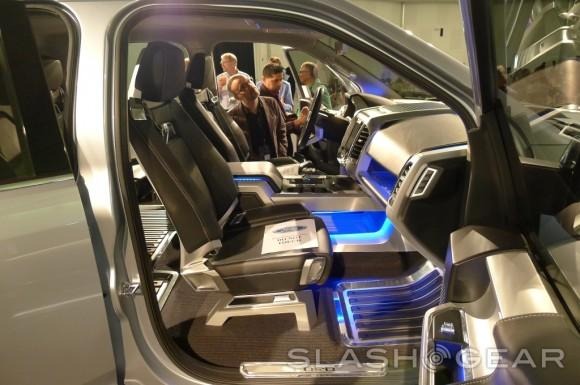 There's also a 360-degree Point-of-view camera here, the first time such a system has appeared on a Ford truck.
Have a peek at this vehicle from top to bottom in the images above and gallery below, and be sure to continue to follow our Ford coverage all week long through the SlashGear Ford tag portal as well as SlashGear's Car Hub.
Contributions to this article made by Craig Lloyd.