Ford Atlas concept is likely the next F150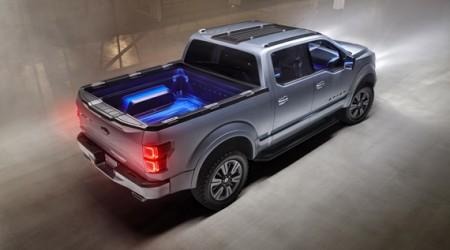 The Ford F150 is a hugely important vehicle to the automaker as one of its most popular and bestselling vehicles. Ford is showing off a new concept vehicle called the Atlas Concept that the automaker is billing as the future vision for pickup trucks. What we're looking at is likely the next generation of the Ford F150.
There's nothing I see about this truck that is so far out there that Ford couldn't put it into production tomorrow if it wanted. The concept uses the next generation EcoBoost engine promising increased capability and class leading fuel efficiency. From the side the truck looks very much like the existing F150.
The big change from the existing vehicles comes in the front with a more angular grille and narrow headlights. The large grille looks a lot like the front of Ford's existing heavy-duty pickups. The Atlas Concept has a number of features aimed specifically at saving fuel via aerodynamics and reducing wind resistance.
The Atlas Concept features active grille shutters that stay open when the engine needs cooling and close on the Highway to improve aerodynamics. The concept also has active wheel shutters that deploy at highway speeds to help aerodynamics and close at low speeds and when stopped. The concept also has a drop-down front air dam that lowers at highway speeds to improve underbody airflow. Power running boards deploy automatically when the doors are open and tuck away under the vehicle when in motion to improve dynamics. Check out the video below to see more of the attractive Atlas Concept.
[via Ford]