2015 Dodge Charger SRT Hellcat: The insane 707HP sedan you wanted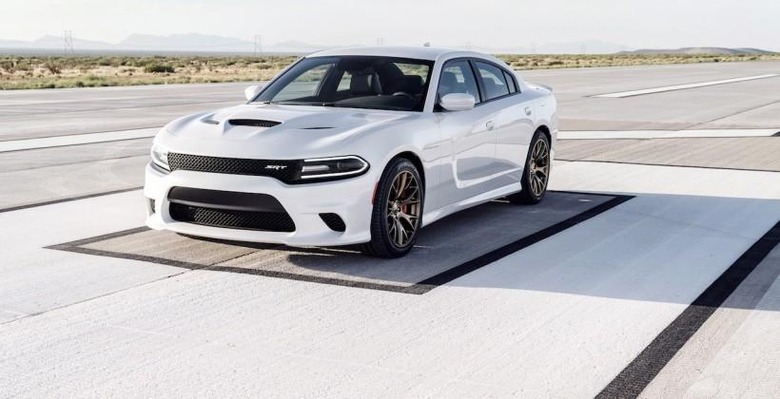 So you're in love with the Dodge Challenger SRT Hellcat we drove last week but need some practicality with that ridiculous power, never fear: Dodge has just the crazy Charger to fit the bill. The 2015 Dodge Charger SRT Hellcat is, with 707 HP from its supercharged 6.2-liter HEMI Hellcat engine, the fastest and most powerful sedan in the world, happy to embarrass Porsche Panamera and Bentley Flying Spur drivers in the process.
In fact, with a top speed of 204 mph and 650 lb-ft of torque, the Charger SRT Hellcat could wipe the smiles off the faces of many sports car owners, too. Dodge says it's quick enough to do the quarter mile in 11 seconds wearing street tires, while it'll race to 100 mph and back to a standstill in less than 13 seconds.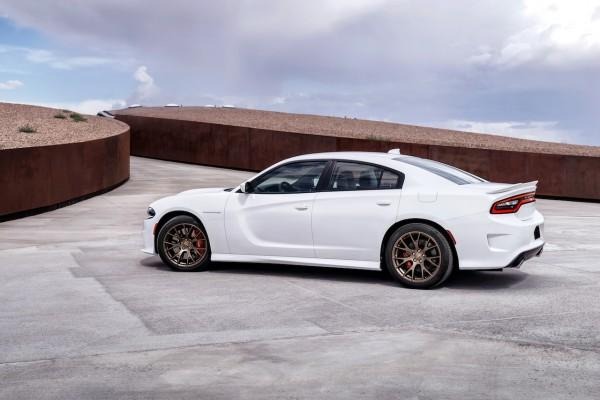 The magic comes from the new HEMI V8 engine, which is paired with a TorqueFlite 8HP90 eight-speed auto transmission. As you might imagine, when you're dealing with that sort of torque and horsepower, the engine crank needs to be up to the job: so, Dodge and SRT made sure it could withstand the firing pressure equivalent of five family sedans on top of each piston.
Meanwhile, at the other end of the race there are suitably powerful brakes. 15.4-inch Brembo two-piece rotos with six-piston calipers are on the front, just like the Challenger SRT Hellcat wears.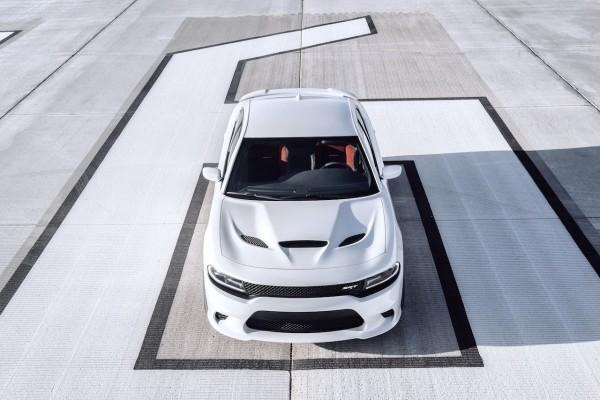 Five drive modes – Default, Track, Sport, Eco, and Custom – are offered, tweaking horsepower, transmission speed, paddle shifter action, traction, and suspension, and all tweakable through the 8.4-inch infotainment display. Meanwhile, there are two key fobs – one black, one red – just as with the Challenger, with the black limiting engine output so the car is less unruly in the wet.
As for the styling, Dodge is describing the Hellcat as "sinister" and it's a good description. The whole fascia and grille have been updated, with blacked-out upper and lower textures, an integrated front splitter, and smoky daylight running lamps. At the back, there's a single piece spoiler and "racetrack" LED tail lamps.
The wheels are "Slingshot" split-seven spoke 20 x 9.5 inch lightweight alloys, and will come in a choice of matte black or brass/dark bronze finishes.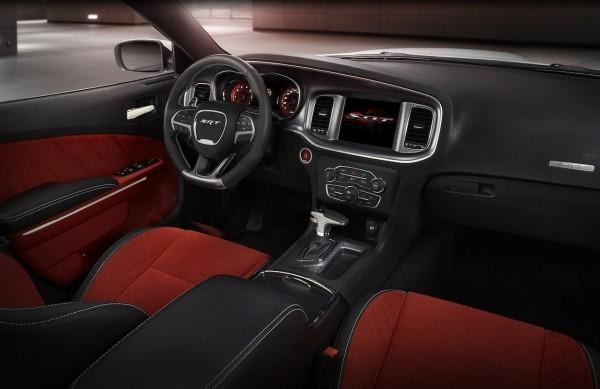 Inside, there's a 7-inch driver display, standard 900W 18-speaker Harmon Kardon audio system, and a new electronic shifter with a T-handle top. The heated steering wheel has a thicker rim and flat bottom, with paddle shifters and integrated audio controls.
The new seats are heated and ventilated in the front, and heated in the back, and there's extra bolstering for comfort at speed.
In all, it's a whopper of a sedan that we can't wait to get behind the wheel of. Dodge says production will kick off in Q1 2015, and pricing will be announced closer to that release.
Check out our first-drive of the 2015 Dodge Challenger SRT Hellcat to find out how this amazing supercharged engine runs