2014 Mercedes-Benz S 63 AMG: Take one luxobarge and add crazy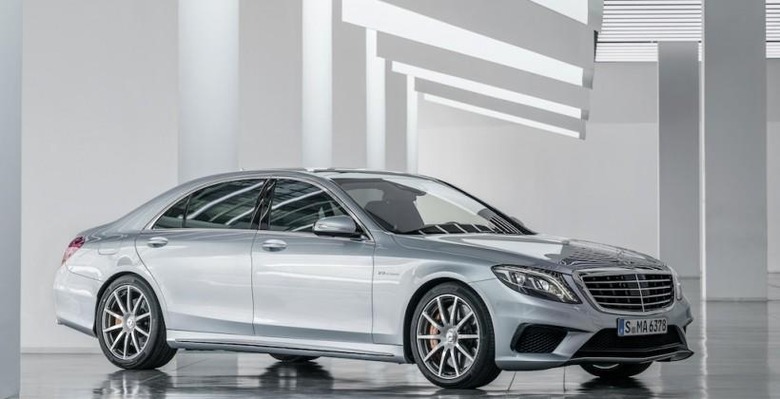 Mercedes-Benz's 2014 S-Class wouldn't be complete without a ridiculously powerful AMG version, and the tech-saturated new luxobarge has delivered on that with the S 63 AMG. Caressing up to 585 HP out of the AMG 5.5-liter V8 biturbo engine, the new übersedan can get to 62mph in just 4.0s and barrel on to an electronically-limited top speed of 155mph, while transporting passengers in a leather-clad interior that has more LCD displays than your local Best Buy.
The original S-Class is no slouch, but the three AMG variants headed to the Frankfurt International Motor Show in September crank things up considerably. The two regular cars do 0-62mph in 4.4s and are available in either short- or long-wheelbase versions, with up to 900Nm of torque apiece. Then there's the S 63 AMD 4MATIC long-wheelbase, which uses all-wheel drive tuned for performance to cut 0.4s from the acceleration by pushing a third of the torque to the front and the rest to the rear wheels.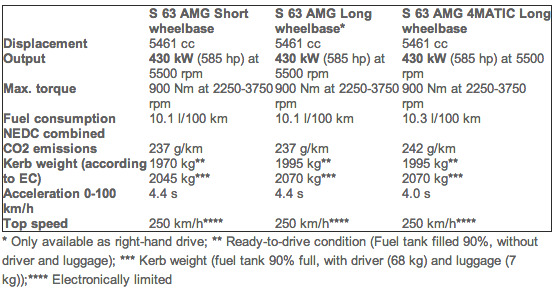 The 4MATIC also gets AMG Ride Control sports air suspension, with continuous damping adjustment. The other models get Mercedes' Magic Body Control, which uses things like road scanning cameras to adjust in real-time to suit driving conditions. All three have comfort and sport modes, which adjust steering feel, suspension, and more.
Despite the added extras over the previous AMG version of the S-Class, Mercedes claims the 2014 car has actually lost weight. 100kg has been cut, thanks to new forged light-alloy wheels, swapping the traditional starter battery for a li-ion power pack (saving 20kg), and using new composite brakes. The whole outer skin of the car is now aluminum, and the spare wheel sits in a carbon-fiber bucket, saving 4kg along.
On the outside, there are a few cues to show other drivers you've spent massive amounts on a slab of German madness. Larger air dams on the front apron, high-gloss black grill inserts and side air-intakes, and a silver chrome front splitter keep the front looking interesting, while there's two chromed twin tailpipes at the back.
Mercedes-Benz S 63 AMG detail:
Even the noise has been fettled, with those four exhausts having special flaps inside that keep the sound muted when you're in comfort mode, but let things roar more impressively when you're in sport or manual modes. The latter shut off the ECO start/stop system and makes for more aggressive gear-changes from the 7-speed transition, while in comfort mode the S 63 AMG defaults to pulling off in second gear and smooths changes in a more leisurely manner.
Mercedes-Benz S 63 AMG interior:
Inside, there's gobfuls of leather, including a perforated leather AMG wheel with aluminum paddles. The LCD TFT driver display gets AMG logos and new virtual dial shapes, and there are special AMG sports seats with memory and heating for those in the front. An IWC clock is embedded in the dashboard.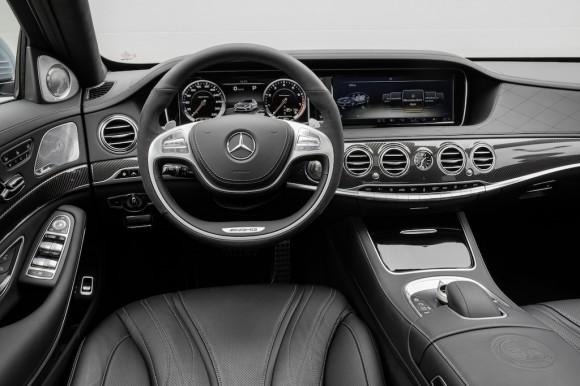 AMG's logo is splashed just about everywhere possible – the door sills, mats, pedals, and more – and then there's a 10-speaker audio system with 3D surround sound, LED lighting throughout, and massage chairs. The safety features make the S 63 AMG almost as clever as Google's self-driving cars, with the new Mercedes tracking other traffic, pedestrians, and other potential hazards, and able to pilot itself down highways and more.
Unsurprisingly, taking a manufacturer's flagship four-door and throwing insane performance at it doesn't do anything to make it more affordable. The S 63 AMG short-wheelbase will start at €149,880.50 ($196k) including tax when it hits forecourts in September, while the S 63 AMG 4MATIC long-wheelbase will start from €152,617.50 ($200k).