2014 KIA Soul EV teased for all-electric drivers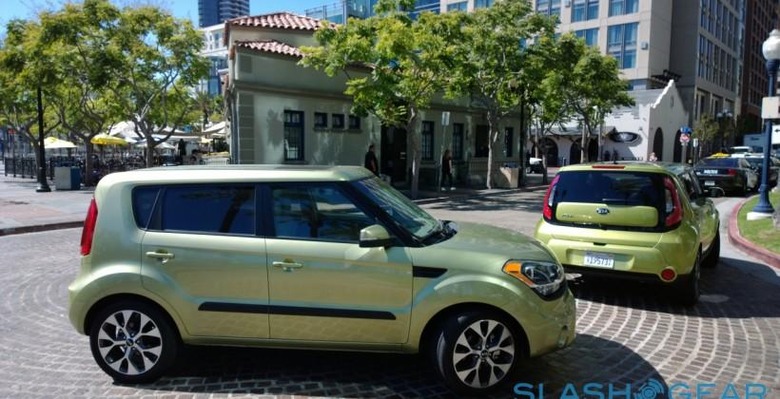 KIA has confirmed plans to launch an all-electric version of its Soul city car, with the Soul EV set to hit forecourts sometime in 2014. Building on the 2014 Soul we drove last month, the eco-friendly model will eschew hybrid technology and go straight to battery power, though details on the exact power plant KIA will use have not been revealed.
In fact, those details aren't likely to spill until closer to the car's commercial launch, which will happen sometime next year KIA says. The Soul EV will make its debut at "major US auto show" however, and the Korean firm is keen to emphasize that it will be KIA's first EV on US roads.
The new variant will combine "the Soul's funky and iconic design with new styling cues aimed at improving aerodynamics and distinguishing it from non-EV Souls" KIA said today.
It's a similar approach to GM's with the 2014 Chevrolet Spark EV, which is based on a gas-powered car but swaps the traditional drivetrain for an all-electric motor and batteries. Just as KIA will, GM has massaged the Spark EV in a slightly different design direction versus the standard car, including a closed-off grill with active shutters, different wheels and diffusers, and an integrated rear spoiler.
KIA already offers a hybrid to US drivers, in the shape of the Optima Hybrid launched back in 2011. That had battery and motor upgrades in 2013, making it more powerful and able to run for longer on stored power alone.
2014 KIA Soul first-drive:
The regular Soul is a chunky four-door which KIA has attempted to keep youth-focused as it enters its latest generation, something the company argues rivals – like Toyota's Scion – have struggled to do. It kicks off with a 1.6L I-4 DOHC gasoline direct injection engine, rising to a 2.0L version in more expensive models, with manual and automatic gearbox options.
The Soul EV variant, however, is likely to use a CVT transmission. If it's true to all-electric form, it's likely to have a surfeit of torque, too, for perkier city driving, albeit without the reassurance of range to go further afield.