2014 Chevrolet Spark EV Test Drive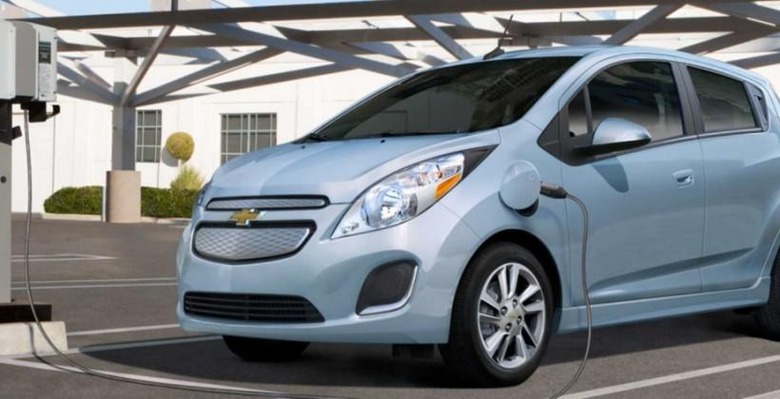 Chevrolet has big ambitions for its tiniest electric car, the Spark EV. The earth-friendly city car follows the Volt, dropping the gas engine in the process and embracing emissions-free motoring at a competitive price. As we've seen, though, small EVs can easily fall into the trap of being so eco earnest as to be deathly dull, or alternatively entirely impractical for everyday use. Can the Spark EV keep the best of its gas-powered predecessor and blend it with the benefits of electric motoring? We caught up with Chevrolet for an extended test-drive to see how the Spark EV fared.
Design
The styling of the Spark EV isn't new, a chunky, angular wedge that looks, with its steeply rising shoulder-line and hidden rear handles, more like a three-door at first glance. In fact, there are doors front and back, pushing the wheels to the very corners, and giving it a squat, punchy stance. Like many subcompacts it's more cute than it is aggressive, but it wears the new closed upper-grille neatly, and the standard 15-inch alloys are clean.
More importantly, perhaps, Chevrolet says it's more slippery than its gas-powered cousin. A new underbody design helps there, along with wheel deflectors and a subtle integrated rear spoiler; there's also an automatic shutter system behind what's left open in the grille, to adjust airflow.
At 146.5 inches long and 64-inches wide, the Spark EV is shorter and narrower than Nissan's Leaf, though you lose out on cargo space because of that. Rear seats up, the Chevrolet's tiny trunk accommodates just 9.6 cubic feet, versus the Leaf's more ample 24 cubic feet; drop the seats, and you'll get a healthier 23.4 cubic feet into the Spark EV (or 30 cubic feet into the Nissan).
Still, it's comfortably enough for a grocery shop, and the smaller Spark EV bests its Nissan rival on overall weight, too. The Chevrolet is 2,989 pounds, while the Leaf comes in at 3,391 pounds; if that still sounds heavy, then you have to blame the electrics. The EV version of the Spark is 621 pounds lighter than its gas-powered auto cousin.
Engines and Performance
We'll admit it, we're cautious about conversions, like the Spark's journey from gas-powered to EV: after all, more than just the engine goes into making a good car. The weight difference too was, on paper at least, another warning sign. Finally, factor in that the original Spark was never going to be mistaken for a sport-compact, and you can understand our reticence.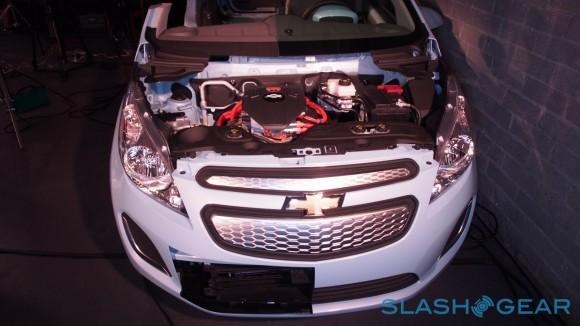 We needn't have worried. Both of Chevrolet's Spark EV variants – the cheaper 1LT and more expensive 2LT – use the same powertrain, a front-wheel drive electric motor mustering 130 HP. That's already 1.5x more than the gas Spark, but it's when you look at torque that things get really interesting.
Out of the box there's 400 lb-ft of torque, which is simply phenomenal for a city car. In contrast, wind the gas Spark up sufficiently, and you'll squeeze 83 lb-ft out of it at most. The end result is that, like other electric cars, the Spark EV simply throws itself at the road with an eagerness and alacrity that belies its more humble origins.
The good news doesn't stop there. Since the Spark EV is heavier than its forebear, Chevrolet's engineers had to do some work to the suspension and weight distribution. That's worked out to far better ride quality when you're taking things easily and trying to coax out maximum range, as well as more enthusiastic and eager handling when you're making the most of all that torque.
Chevrolet quotes a sub-8s 0-60 mph time, along with a top speed of 90 mph, but the Spark EV excels with point & squirt city driving, dashing into gaps in traffic, thrumming forward from lights, and generally feeling considerably more lively than you might expect. It's still very quiet inside, mind, with just the occasional whine from the electric drive.
Two transmission modes are on offer. In regular "Drive" mode, the Spark EV mimics a normal automatic gearchange, albeit without any noticeable shift-jerk; flip into "Low" mode, however, and the regenerative braking system – which claws back power by momentarily turning the electric drive motors into generators – kicks in more aggressively, rapidly slowing the car when you lift your foot off the accelerator. It takes a little getting used to, but it can add to your overall range.
Range is the big question around EVs, especially pure-electric cars like the Spark EV. Chevrolet quotes up to 82 miles on a full charge of the 21.3 kWh Li-Ion battery, with the option to "fill up" either from a standard 120V AC supply, from a specially-installed 240V supply, or finally from an SAE Standard Fast Charging outlet.
The difference between the three is time. On an SAE connection, which should become more prevalent as this year progresses, the Spark EV will recharge to 80-percent in around 20 minutes time. A 240V charge takes more like seven hours, Chevrolet says; best to treat the 120V cord as a travel emergency option, since a full recharge on that can take up to 20 hours.
We didn't have long enough with the Spark EV to test the various charging methods, though we did grow to appreciate Chevrolet's Driver Information Center, which delivers dynamic battery information to a 7-inch screen on the dashboard (more on which in the following section). Rather than simply offer a single figure for remaining range, the Spark EV adds a "confidence" number to the estimate, based on whether you're driving enthusiastically or sticking to more economical patterns. The Spark EV even tries to gamily the process with an "Efficiency Gauge", encouraging the responsible driver to keep an animated green ball centered by driving sensibly.
Interior
Given the sticker price, it's not surprising that Chevrolet has heaped on the standard-fit equipment versus the gas-powered model. So, the Spark EV 1LT still gets that 7-inch touchscreen dash, 6-speaker audio with SiriusXM radio, Bluetooth for streaming and hands-free use, a USB connection, air conditioning, remote keyless entry and power locking, power windows and mirrors, cruise control, an alarm, and fog lamps out of the gate.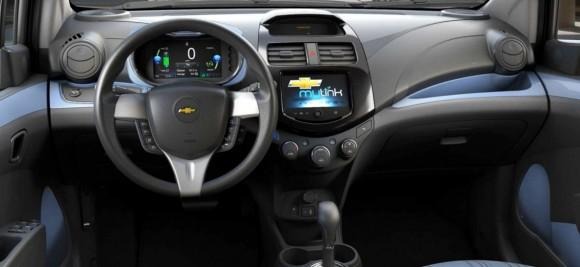 The 2LT version throws in "dark pewter" leatherette front seats with blue accent stitching, that are also heated, and a leather-wrapped steering wheel. It also gets the DV Fast Charger as an option. Both variants have 10 airbags, hill-start assist, tire pressure monitoring, and OnStar.
Chevrolet's MyLink entertainment system makes an appearance, too, taking advantage of the Bluetooth connectivity to get the Spark EV online via your smartphone. One connected, the car can stream from internet radio stations as well as services like Pandora, in addition to Siri voice control. There's also support for BringGo, a turn-by-turn navigation system priced at $49.99, including 3D mapping and overlaid indicators to show how the range remaining of the Spark EV meshes up with your programmed destination.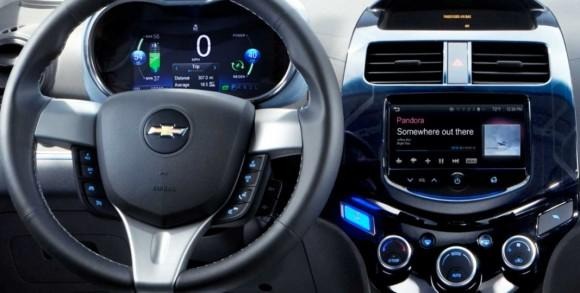 However, it's worth noting that – unlike some other MyLink-equipped cars in Chevrolet's line-up – the Spark EV doesn't support the enhanced voice recognition system, Gracenote database access for identifying track, or indeed have a CD player. Still, as systems go, it's impressive – certainly for a city car – and intuitive enough to use on the move.
The rest of the cabin is solid, though you won't mistake it for a Tesla Model S. The plastics are sturdy though not especially premium to the touch, with the glossy surround for the touchscreen keen to pick up fingerprints. Everything works, and the standard equipment list is bulging, but it's perhaps where GM's budgetary constraints show to the greatest extent; the leatherette seats, for instance, aren't ever going to be mistaken for real leather.
Pricing
On Chevrolet's books, the Spark EV starts at $26,685 for the 1LT and $27,010 for the 2LT. Throw in the most generous federal tax credit – which varies by state, though initially the car will only be sold in California and Oregon – and you can cut that by up to $7,500, bringing the total cost of entry down to $19,185 excluding the usual destination, registration, and other fees.
Alternatively, Chevrolet will offer you the Spark EV on a $199 per month lease: $999 down to begin with, plus fees and taxes, and then less than $200 a month for three years. It's hard to ignore the fact that, for under $200 a month, the Spark EV lease could easily be cheaper than many spend in gas over the same period.
As for the optional 240V charger, Chevrolet will offer up to $500 to Spark EV drivers – whether they buy the car outright, or lease it – toward its cost, though they'll be expected to foot the bill for Bosch installation themselves.
Wrap-Up
Electric cars are still not for everyone. The Spark EV's 82 mile range is likely fine for city dwellers, but those with more ambitious driving needs could easily find themselves reaching the limits of the Chevrolet's endurance. If your workplace has a 240V charger than that may not be insurmountable, but relying on the 120V portable charger – and its lethargic rejuicing times – means you're likely to see the Spark EV spend more time plugged in than one the road.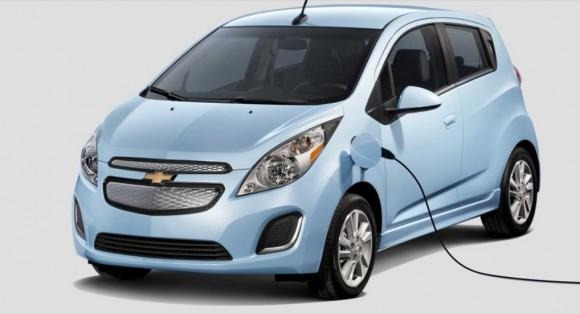 That would be a real shame, too, since the Spark EV is one of the best driving electric vehicles – and, indeed, city cars – we've tried in a long time. The immediacy of the acceleration, the great lashings of torque – more, Chevrolet tongue-in-cheek points out, than a Porsche Carrera S or a Ferrari 458 Italia – and the responsive steering and suspension add up to an eco car that isn't akin to wearing a hair-shirt in terms of worthy-but-dull driving.
Tesla's Model S may be the poster child of environmentally friendly transportation, but with its competitive lease pricing and solid balance of performance and features, the Chevrolet Spark EV is perhaps the peoples' choice. It's a conversion that easily outclasses its predecessors, and is worth considering by city dwellers looking for peppy frugality without the guilt of gas.