2,000 Windows Phone 7 Apps At Launch; Samsung Cetus For Three UK?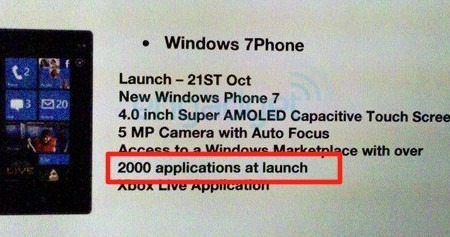 We're eagerly awaiting Microsoft's Windows Phone 7 launch on Monday October 11, but that doesn't mean we don't want more details right now.  According to Engadget's tipster, Windows Phone 7 will launch with 2,000 applications ready and waiting in the Windows Phone Marketplace.
That's obviously a whole lot less than either the Apple App Store or the Android Market have to offer, but what might make the difference is the quality of those titles.  Both Apple and Google's download stores have been criticized as unhelpful for users wanting to sift the decent apps from the less impressive software, and if Microsoft has prepared a more curated, satisfying experience then sheer numbers might not actually be the most important thing.
The tipster also confirmed that Three UK will be getting a Samsung Windows Phone 7 smartphone, most likely the Samsung Cetus.  The same handset has also been tipped to arrive on AT&T, though we may have to wait a couple of days to find out whether that's actually going to be the case.