The time has come for 1Password to reach a full release status for Microsoft's Windows operating system. This app system has been in the works for many moons – running through 85 betas and more fixes than could reasonably be counted. 1Password for Windows includes a full-function release the likes of which aim to equal that of its Mac-based brethren.
With 1Password, you'll be working with a "Vault" of passwords kept protected by you with a single password. This one password will keep the rest of your passwords safe. While normally you might keep one password for every different account, chancing the possibility of a break-in to the lot of them if someone figures one account out, here 1Password gives you a different password for every account.
In the Windows release for 1Password, you gain access to Multiple Vaults – a different password for each different collection of passwords you'd like to keep separate. You get Wi-Fi Sync connectivity, Favorites, and Security Audit as well.
This release also includes 1Password Watchtower, a service which tells you when any one of your massive number of used sites has a security issue. When one site is compromised, 1Password tells you when its safe to change your password for that site again.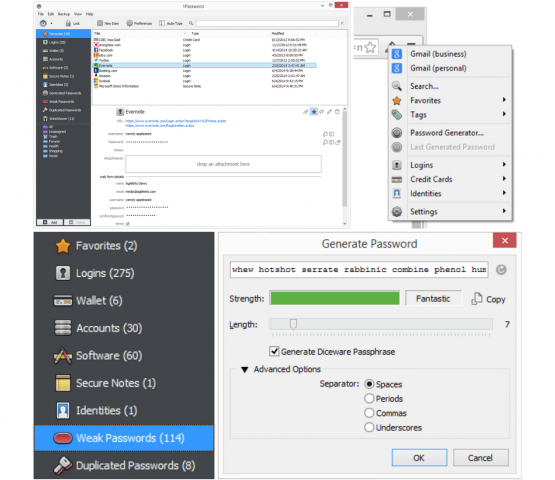 You'll be paying a fee for 1Password one time. If you've purchased 1Password for Windows in the past – during the Beta in 2013 or 2014, your current license gains you access to the full version of the software. The Upgrade price for all other early users of this software is $24.99. If you've never used 1Password for Windows before, it'll cost you $49.99 for a single person, while a Family 5-pack will cost you $69.99 USD.
1Password is just one of several services that do very similar things. Have a peek at our SlashGear 101: Basic Password Security guide to gain a simple understanding of how important it is to keep your passwords separate. You'll also want to check out LastPass as an alternate Freemium model as well as KeePass for open-source goodness.
Android users will also want to check out the new 1Password for Android while Mac and iOS users will have had access for quite some time, as the ecosystem was launched with Apple products first.