$150 AT&T Nokia Lumia 920 priced to undercut rivals (but not HTC)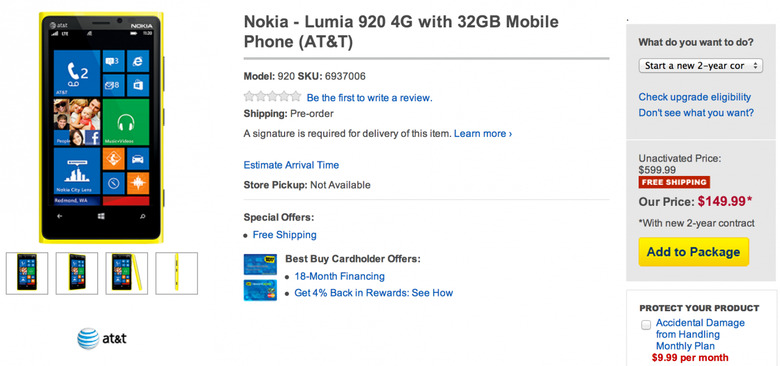 Nokia's Lumia 920 has been prematurely priced up for its US-exclusive launch on AT&T, with Best Buy spilling the competitive costs for the Windows Phone 8 handset. The 32GB 4G smartphone will be $149.99 with a new, two-year AT&T agreement, according to Best Buy's listing, while unactivated it will set shoppers back $599.99. However, even undercutting most mainstream smartphones by fifty bucks won't make it the cheapest Windows Phone 8 flagship.
The Windows Phone 8X by HTC, for instance, is currently listed at $99.99 with a new, two-year agreement from the same retailer. It's unactivated, unsubsidized price is the same $599.99, but HTC is obviously being more aggressive than its Finnish counterpart.
At $100, that pits the HTC 8X against Apple's iPhone 4S, though the iOS smartphone has twice the storage of its 8GB Windows Phone rival. Considering HTC also opted not to give the 8X a memory card slot, instead preserving the unbroken lines of its unibody plastic casing, that could prove to be a considerable limitation, even with Microsoft's SkyDrive cloud storage push.
The Lumia 920 lacks a microSD slot too, but at least gets 32GB of internal capacity. Best Buy has no listings for the smartphone's accessories, such as the wireless charging plates, though based on UK pricing we're not expecting them to come cheaply.
[Thanks to everyone who sent this in!]