How To Use Super Glue On A Cracked Windshield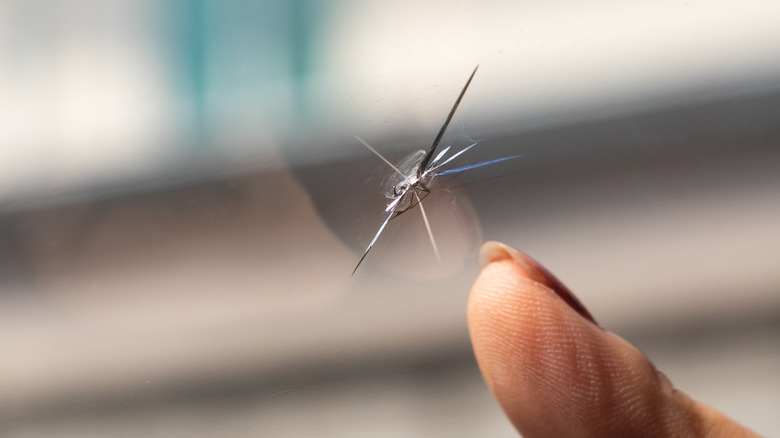 Yuwarin Stockphoto/Shutterstock
There are a few quick fixes to prevent small windshield cracks from becoming more extensive and more visible. Whenever a small break occurs in your car's windshield, the goal is to temporarily seal the damaged portion of the windshield glass from dirt, water, and moisture, which are the three things that could exacerbate an otherwise small and innocuous crack.
Applying a small strip of clear tape over the damaged area is a cheap and easy fix that helps seal the crack. On the other hand, you could also use duct tape if the damage is not within the driver's line of sight. However, if the windshield crack impedes your vision while driving, you could grab a small tube of super glue to seal the damage.
However, applying a few drops of super glue is not a permanent fix. The damage will still be there, and you'll need to either replace or professionally repair the damage to make your vehicle roadworthy. Driving with a cracked, broken, or damaged windshield is against the law and could earn the driver a costly ticket.
How to seal windshield cracks with super glue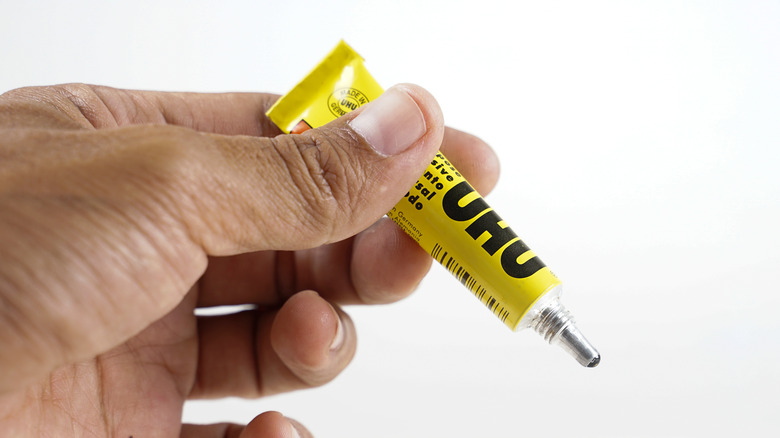 imrankadir/Shutterstock
Prevention can help protect your windshield from a more expensive fix, and it's worth sealing windshield cracks with a few low-cost DIY hacks rather than doing nothing to avert further damage. The super glue trick is an excellent alternative to clear nail polish or tape, and only takes a few minutes to complete.
For this hack, you'll need a tube of super glue or any cyanoacrylate-based adhesive for its high-strength and fast-bonding properties. The first step is to clean the windshield using a damp microfiber cloth, making sure the cracks are free of excess dirt or debris. Next, gently squeeze a tiny amount of glue into the gap, moving the tip over the damaged area until every nook and cranny has adhesive.
The final step is to wipe away the excess glue with a cloth and allow it to dry for at least five minutes. Until then, it's best to avoid parking under the sun to prevent the damage from spreading. Book an appointment with the nearest auto glass specialist as soon as possible to permanently fix the problem.