Apple's WWDC 2023 Events Page Features An AR Easter Egg - Here's How To Find It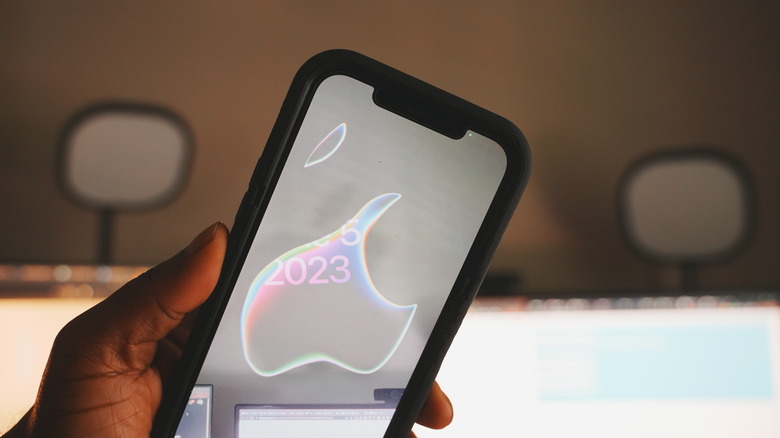 Quentyn Kennemer/SlashGear
Apple takes every chance it gets to show off the advanced imaging capabilities inside the latest iPhones and iPads. Case in point: It's become a tradition for the Cupertino company to hide an augmented reality easter egg on the Worldwide Developers Conference (WWDC) website. The UK-specific Apple Events page has been updated with a teaser for 2023's event.
You can cast an image of a chromatically animated Apple logo, which dons lava lamp-like fluidity on any surface. As the logo's edges contort in and out of shape, it periodically reveals the event's start date, which is June 5. Apple CEO Tim Cook is expected to lead the WWDC keynote speech starting at 1 p.m. ET that day.
Want to try it yourself? Grab an iPhone or iPad with AR capabilities, and head to the Apple Events page. You'll see a preview of the animated logo swirling about the page, and you can tap a link that says "View the AR experience" to go straight into the app.
If you don't have sufficient lighting or a great surface to view it on (any blank wall will do), you can view the animation against a gray backdrop. The app also allows you to scale and move the object at will — just drag to move or pinch to zoom.
What's going on at WWDC?
Apple has pushed AR and VR at the platform level for years now. Apple's iOS marries the impressive optical capabilities in its latest devices with a deep software framework for developers to build interactive experiences into their apps. Some favorite use cases include previewing furniture in your home with the Ikea app, learning about mythical creatures as they virtually romp around your room, and seeing the companions you want to add to your trainer's belt existing in real-world habitats via "Pokemon Go."
However, Apple has been slower than others to engineer dedicated wearable VR and AR hardware. That could change at WWDC 2023, with rumors suggesting the company is close to revealing a mixed-reality headset.
Apple's headset is expected to carry an eye-watering price tag that could cost as much as $3,000. "Apple tax" would likely account for a sizable share of that, but the hardware is expected to transcend the capabilities of competing products. It may feature an M-series processor and dozens of cameras for tracking hand and eye movement, rumors say.
Even without the headset, there will likely be more than enough iOS and macOS announcements to get tech buffs buzzing. Afterward, it's all about helping developers navigate their many options for reaching billions of iPhone users with all the latest software tools at their disposal.