13-inch Retina MacBook Pro benchmarks suggest incoming reveal

We have new evidence that Apple is indeed planning a 13-inch MacBook Pro with Retina Display, as MacRumors has discovered a new set of Geekbench 2 results for such a machine. This isn't the first time we've seen Geekbench results for a 13-inch MacBook Pro with Retina Display, as benchmarks for a laptop with the same name – "MacBookPro10,2" – first appeared last month. This new set of benchmarks has quite a lot in common with the ones we saw last month, but there are a few differences to pay attention to.
The same Intel Core i7-3520M is still present in this new model, and it's still clocked at 2.9 GHz. This time around, however, the amount of RAM in the 13-inch MacBook Pro has been boosted from 4GB to 8GB, which is more along the lines of what we would expect with the Core i7 present. Another interesting thing to note is that new benchmark shows Mac OS X 10.8.1 as the machine's operating system. Apple is set to begin seeding that version of the OS to developers soon, but at the moment we don't have a clear idea of when.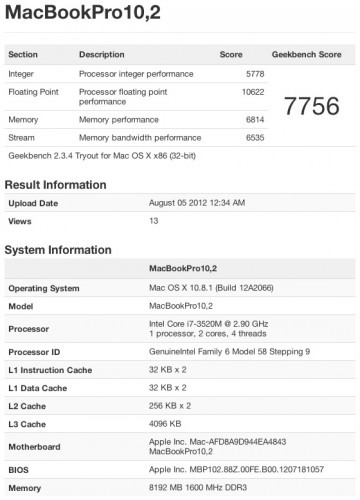 For the most part, however, the Geekbench results for this machine and the one that was spotted last month are very much the same. That's reflected in the overall scores given to both – the results for this new model give a score of 7756, a mere 50 points below the model we saw last month. It would appear that Apple is planning a 13-inch MacBook Pro with Retina Display, and it has locked down the specs it wants for the laptop.
Apple, for its part, has remained silent on the existence of this new MacBook. These new results reinforce the idea that it will be revealing the 13-inch laptop soon, however, so keep your fingers crossed. Perhaps we'll get a reveal during that event Apple is planning for September 12? Keep it tuned right here to SlashGear for more information.