The Coolest Hatchback From Every Major Car Brand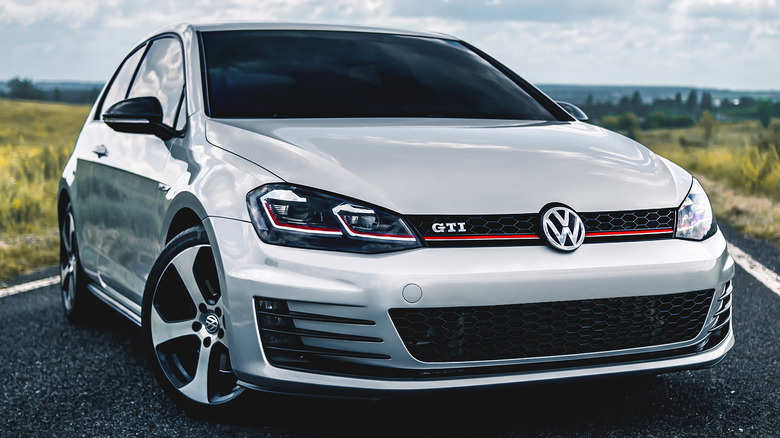 Veyron Photo/Shutterstock
Hatchbacks were first mass-produced by the French company Citroen as far back as 1938 as practical vehicles for tradespeople to carry their stock. They are characterized by their lifting rear door — or hatch — that hinges at roof level, allowing for easy access to the interior. By the 1970s, hatchbacks were commonplace, and by the 1980s, "hot hatches" had been broadly adopted by younger drivers for their affordability, adaptability, and compact, sporty nature.
Many cool hatchbacks don't make it over the pond to the American market, which is a shame for those who like small, practical, high-performance vehicles. However, the European and Asian markets for hatchbacks are thriving, and plenty of aspirational cars from some of the world's top marques are available within this segment. While these cars are small in size, many offer impressive specifications, with some of the racing-tuned models performing well in motorsports, especially rally championships, due to their lightweight and aerodynamic properties and shorter wheelbases.
When it comes to the most desirable hot hatches, every major car brand has a particular rock star in its arsenal that stands head and shoulders above the rest. The following hatchbacks represent the best of the best and are some of the coolest compacts in recent memory.
Audi RS 3 Sportback
When many of us think of Audi, we think of luxury sedans, like the A5, and pint-sized sports cars like the R8. However, one of its models effortlessly bridges the gap between both, and that is the Audi RS 3. While its hatchback version is not available in the USA, the RS 3 has proved popular elsewhere, and it's easy to see why right off the bat, with its aggressive styling, large whale-shark grille, head-turning glossy tones, and contrasting matte-black accents.
This 400-horsepower, five-cylinder hatch has many features that you would find in a racing cockpit, including sports seats, launch control (with countdown timer), a sport contour steering wheel with integrated shift paddles, and a performance-oriented instrument cluster. The RS 3 also walks the walk, with a 0-60 mph time of under four seconds, 500 Nm of torque, and an exhaust note that sends shivers down the spine.
The Audi RS 3 is as practical as it is precocious, and it has a large trunk with rear seats that can be split or fully folded to create up to 1,104 liters of luggage space, giving most sedans a run for their money. Of course, this is an Audi, so you are expected to pay handsomely for this kind of quality and practicality, and with a starting price of over $60,000, this is one small car with a hefty price tag.
BMW 128ti
At some point in recent history, BMW decided that those upstarts at Volkswagen needed to be taken down a peg or two. After all, their formidable Golf GTI had ruled the hot hatch roost for its last eight generations. Its answer to this Teutonic teaser was the BMW 128ti; the last two letters standing for Turismo Internazionale, which is the written equivalent of a racing stripe on the side.
This more-than-capable competitor has German efficiency and build quality in its blood. With its two-liter turbocharged engine, eight-speed automatic gearbox, and a top speed of 155 mph, it is quite obviously designed with performance in mind above all else. As a front-wheel-drive alternative to BMWs flagship xDrive hot hatch, it is more fun to throw around the twisties and delivers torque and power in spades, making this one of the more enjoyable driving experiences behind the BMW badge.
Externally, the 128ti looks much like the standard BMW 1-Series, albeit with some colorful accents on the wings and skirt to let you know that this is a little sportier than its off-the-shelf counterpart. While there may be better hot hatchbacks available in terms of both performance and value for money, this car has all the hallmarks of the Bayerische Motoren Werke brand that, for many, makes it a cut above the rest.
Ford Focus ST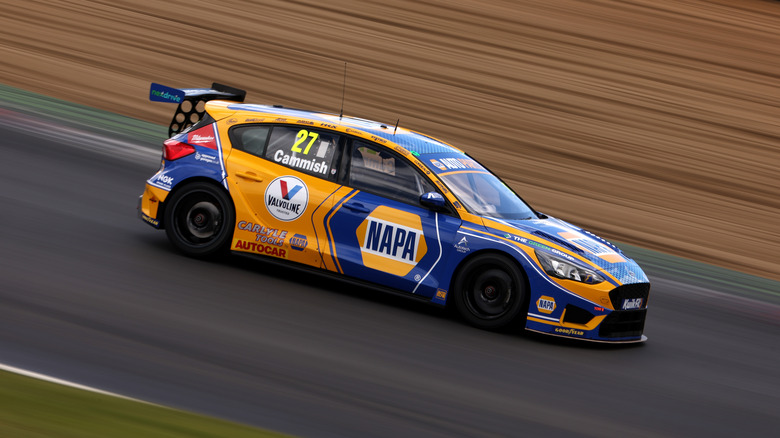 Alex Pantling/Getty Images
For years, the Ford Fiesta ruled the affordable hot hatch segment in North America. At around the turn of this century, its successor, the Ford Focus, turned heads in the Monte Carlo Rally when piloted by Colin McRae before it was launched to widespread acclaim in the European, Asian, and North American markets. Two decades on, this latest iteration, the Ford Focus ST, is worthy of the Focus badge as a modern, gadget-laden, great-looking hatchback with performance to match.
While it doesn't meet the same high standards as its German rivals Audi, BMW, and Mercedes, the Focus slips neatly into a fast-yet-affordable niche for those that want all the practical and fun benefits that hot hatches deliver without paying a premium price. These include a 2.3-liter engine that produces 420 Nm of torque and reaches 62 mph in under six seconds. Its slip differential allows for fast cornering without loss of traction, and multiple driver modes cater to many road conditions and sporting pursuits.
On the face of it, the Focus ST is, well, a Ford Focus, and it lacks the panache of top marques within the same segment. It does have a slightly more sculpted exterior than its base model, with a spoiler, a large 13.2-inch touchscreen display on which you can prioritize high-performance instruments, and the always-present racing seats, so you know you are sitting in a faster vehicle. Last but by no means least, it has a standard stick-shift transmission, which will please purists.
Honda Civic Type R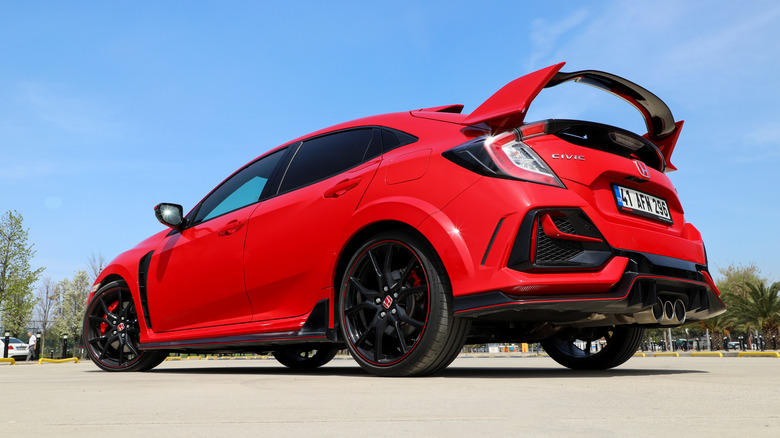 Emirhan Karamuk/Getty Images
The humble Honda Civic has gone through many incarnations since its introduction in 1972, and the sports-oriented Honda Civic Type R is the flagship model, jam-packed with high specs and features. While the previous three models in this list are, on appearance, much the same as their non-sporty counterparts, the Type R leaves you in no doubt that you are driving something a bit more special than the 11th-generation Civic that it is based on.
At the heart of the Type R is its much-celebrated two-liter turbocharged VTEC engine, which feeds a six-speed manual transmission with Honda's Rev-Match control to optimize racing changes. Typical for Honda, this is a highly-efficient and reliable powertrain resulting from many years of research and development at the brand's Tokyo headquarters. At the rear is a die-cast aluminum spoiler to increase downforce and a tunable triple-outlet exhaust via the Type R's four-mode drive system.
This car shouts "high performance" from the rooftops, with its sporty interior, a racing-oriented display panel with Honda's LogR datalogger, heavily-bolstered sports seats, and a fully digital driver information interface in the console. To sum up, the Honda Civic Type R has all the bells and whistles you might expect on a hot hatch and plenty more besides.
Hyundai i30 N
If any car company has really come into its own in the new millennium, it has to be Hyundai, with global sales figures tripling in the decade from 2006 to 2016. Unsurprisingly, the Korean motor giant was keen to jump on the hot hatch bandwagon, and the Hyundai i30 N stands up well in a competitive market. Key features include an eight-speed dual-clutch transmission with racing-style paddle shifters and its curious N Grin system, which promises smiles all around by releasing 20 seconds of optimum race performance at the touch of a button.
While Hyundai may not be the go-to marque as far as aspirational vehicles are concerned, the brand has a good reputation for delivering affordable cars that are packed with features and perform well, and the i30 N is no exception. With an engine tuned to produce more torque at lower revs, it is nippy and fun to drive and produces an engine note that belies its small stature. The i30 N has a touchscreen Performance Driving Data System that allows you to monitor your progress on the road or track with lap times, G-force, PS, and torque data.
As one of the more affordable cars in this list, the Hyundai i30 N would make a suitable car for younger drivers, and it has several safety features that assist the more inexperienced road user. These include Hyundai's SmartSense system that notifies you of pedestrians and other obstructions in the road and driver assist technology. In short, the i30 N is a fun and feature-rich option for those who don't wish to pay a fortune for a hot hatch.
Mercedes-AMG A 45 S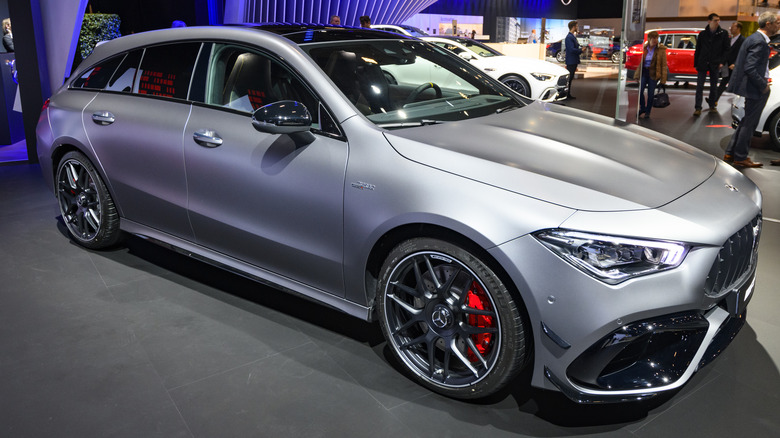 Sjoerd Van Der Wal/Getty Images
Mercedes is one of the premier German car manufacturers, and the AMG line is the high-performance cream of the marque's crop. The AMG A-class 45 S is one of its smallest models, but it is powerful nonetheless, with a two-liter powertrain that produces a sizeable 500 Nm of torque and boosts it to a blistering 167 miles per hour.
With multiple driving modes, including Comfort, Sport, and Sport+, the A 45 S will not disappoint when it comes to sheer driving pleasure, and its silky-smooth eight-speed dual-clutch transmission can be adjusted to change its characteristics to suit your driving style. It quickly becomes apparent that this is no run-of-the-mill hatchback, as evidenced by its red racing flashes, large AMG livery, and even larger roof-mounted rear spoiler.
Despite its racing heritage, sport features, and AMG badge, the Mercedes-AMG A 45 S retains a good degree of elegance, as befits a brand of this heritage. It is still very much a Mercedes, no matter how much you customize it, with its clean, sculpted lines and premium build quality, which extends to its interior. Its bucket racing seats oppose the AMG performance steering wheel, augmented reality navigation provides advanced traffic data on a 10.25-inch screen, and a premium sound system all let you know that you are driving something extra special in the AMG A 45 S.
Mini John Cooper Works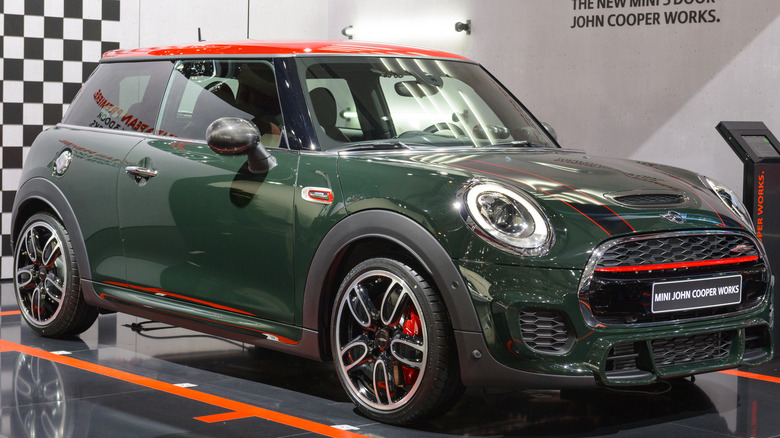 Sjo/Getty Images
Anyone who has seen either of "The Italian Job" movies will be familiar with the Mini Cooper, which has a long and impressive heritage on the race track as well as the silver screen. The John Cooper Works line of race-tuned Minis is available in four styles, with performance parts and power to spare, namely the Hardtop, Clubman, and Countryman as hatchbacks, as well as a convertible option.
While it is marketed as "the original street-legal go-kart," one thing that strikes us about the new Minis is that they are not especially small, especially when compared to their original counterpart. However, this minor quibble aside, they are a good match when it comes to build quality and performance, having recently been acquired by BMW. John Cooper Works models are also powerful, with a 228-horsepower engine in the standard two-door and a 301-horsepower block in the larger Countryman and Clubman options.
As far as features are concerned, you can opt for F1-style paddle shifters, a bespoke ergonomic steering wheel, a racing body kit, sports exhaust, and a fully-adjustable Nitron suspension. There is even a cool-looking UK flag rear light cluster alluding to its British heritage. The Mini is the ultimate reimagining of a classic vehicle, so if you like the idea of a 1960s icon with all the technological features and engineering excellence of a modern machine, you need to look no further than a Mini. However, if you want that extra bit of thunder in the saddle, you may wish to pay extra for the Mini John Cooper Works performance.
Renault Clio Rally3
The Clio was one of the original 1990s hot hatches, and its lineage includes 1993's rally-homologated Clio Williams and the new Clio Rally3. Homologation means that this is a Rally3-approved competition car and, as such, has very limited production, with prices starting at $130,000. So, while this may be out of reach for non-professionals, this is undoubtedly a cool hatchback and the best the French brand produces.
The Clio Rally3 first made an appearance at the French Gravel Rally Championship and has performed well in multiple rallies in Western Europe. This four-wheel-drive car is far removed from the consumer line of Renault Clio models, as its specs sheet shows, with its roll cage, steel monocoque body, large rear wing, and 260-horsepower engine that produces 415 Nm of torque. Typically, you get the bucket seats and assorted racing gear that adorns performance hatchbacks, but if you are looking for home comforts and a bespoke sound system, you are out of luck.
After a hiatus, the release of the Renault Clio Rally3 signifies a renewed interest in rallying for Renault, following years of success in motorsports, including Formula One with the Renault and Alpine teams (the Rally3 was built in the Alpine factory). While this may not mean much to the average car buyer, it is encouraging to see research and development in motorsports, as often this technology filters through to other product lines, so we may see much more from Renault's hot hatches in the near future.
Suzuki Swift Sport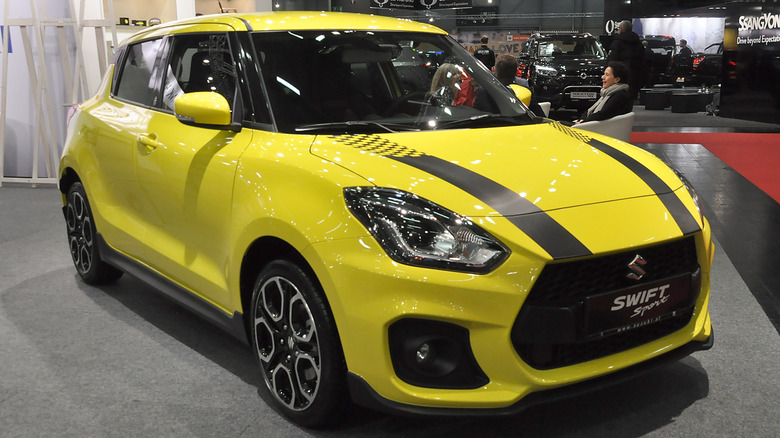 Manfred Schmid/Getty Images
It often feels like Suzuki is not taken as seriously as some of its compatriot marques. This isn't exactly fair, as most car companies pale in significance when compared to giants like Honda, Nissan, and Toyota. It's important to remember that Suzuki has a rich history in motorsports, especially its motorcycle branch (it created the incredible Hayabusa sports bike), and it has been making quality, affordable cars for decades, including the Suzuki Swift.
Those looking for an affordable, feature-rich, fast hatchback need to look no further than the Suzuki Swift Sport. This is a small car with plenty of character and a lot of fun to drive. It has many racing attributes, from its stitched semi-bucket seats to its D-shaped steering wheel, six-speed manual transmission, racing shocks, racing-style pedals, and multiple modern safety features that you'd expect to find on a much pricier vehicle.
In addition to a sporty interior, rugged chassis, and excellent road handling and maneuverability, we are treated to collision mitigation braking, lane departure prevention, weaving alerts, and adaptive cruise control. This means the Suzuki Swift Sport is among the safer vehicles on the road, and an excellent choice for newer drivers, especially as it costs less than $20,000 — which also makes it the cheapest hot hatch on this list.
Toyota Yaris GR Sport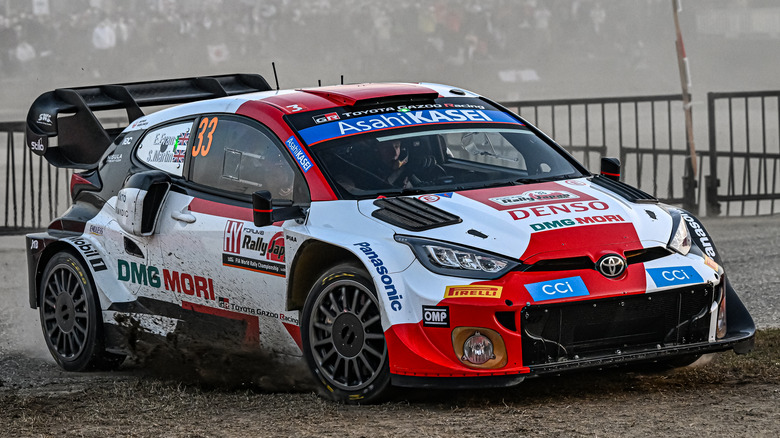 Massimo Bettiol/Getty Images
The Toyota Yaris hatchback was awarded European Car of the Year in 2021, and the Yaris GR Sport is the latest car to join Toyota's elite GAZOO Racing family of sportscars. Like all hot hatches, the focus is on performance, and features include a race-optimized chassis, suspension, steering, and transmission, making this iteration far removed from the popular base model.
Aesthetically speaking, the Yaris GR Sport is notable for its two-tone exterior and small rear spoiler but is otherwise much the same on the outside as its non-sporty cousin. Internally, you get plenty of GR livery and red-stitching that denotes high performance, except this time, it is also on the steering wheel and gear shifter, not just the seats. However, once you start the engine, the optimized GR version is streets ahead as a competent, fun, and well-built machine.
It's no secret that Toyota is a trailblazer regarding its cars' quality, efficiency, and performance. It is also among the most environmentally-conscious brands thanks to hybrids like the Prius (a 1.5-liter hybrid Yaris GR Sport is available). Still, it isn't easy to get excited about this hot hatch from the Nagoya-based brand when you can buy the best Volkswagen Golf GTI and save around $10,000.
VW Golf GTi Clubsport
While this review of the coolest hatchbacks is presented alphabetically by brand, it seems fitting that the Volkswagen Golf GTi is placed at the top of the pile since it is probably the car most closely associated with the hot hatch segment. The Golf was the original sporty hatchback, having been reinvented many times since its introduction in 1974, and the GTi Clubsport is the latest highly desirable model that marries Volkswagen's efficiency and quality with comfort, practicality, and performance.
The Golf GTI Clubsport is not ostentatious compared to some of its hot hatch peers and is tastefully appointed with just a few tweaks that tell the onlooker that it is a Golf with gusto. These include a color-coded dual-edged roof spoiler, alloy wheels, widened side skirts, a diffuser, and red brake calipers. Inside are the essential sports seats with contrasting stitching, integrated headrests, a heated multifunction steering wheel, mood lighting, and metallic racing pedals.
While it does have driver assist technology like lane assist and traffic jam assist, illuminated elements in the grille and door handles, rear tinted glass, and multiple driver profiles, the Golf GTI Clubman still comes across as understated for a car in this segment. It doesn't need to wear its heart on its sleeve, as we are all very familiar with the heritage, quality, efficiency, speed, and maneuverability of the Golf GTI. True to form, Volkswagen's latest generation of hot hatches shows no sign of slowing down any time soon.