Forcite MK1S Review: A Head-Turning Smart Helmet For Futuristic Motorcycle Safety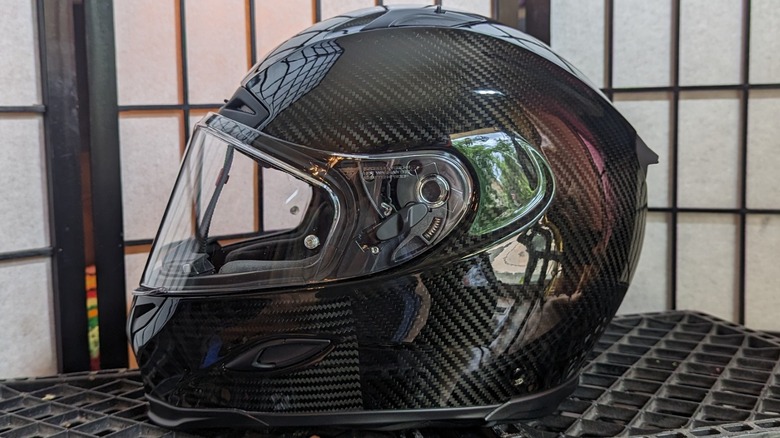 Justin Owen/SlashGear
For millions around the globe, motorcycles are an integral part of life. While some use them as their dedicated daily transportation, most in developed nations use them as secondary transportation for riding when conditions are optimal for maximum enjoyment. Having a two-wheeler can turn a dull commute into something worth getting up for and again something to look forward to after clocking out. However, motorcycle riders are at risk for serious injury and the wearing of helmets has been proven to significantly improve the outcomes of riders involved in accidents. They are recommended everywhere and mandatory in many jurisdictions.
Since everyone should wear a helmet and others are required to do so, competition in this market is tough. There are likely dozens of manufacturers releasing every product from what is little more than a hardened and padded cap to full face protection including various upgrades and accessories. Likewise, prices run the gamut with cheap helmets able to be picked up for around $40 to high-end models built for racing that can run into the thousands. For the Australian company Forcite, bringing a smart helmet into this market from a startup company of riders was a bold move. 
The question is, will it succeed? Time will tell, but having a look at the Forcite MK1S in detail just might give us an idea of what the future holds for the Australian helmet maker. Forcite provided an MK1S smart helmet for the purpose of this review.
Fit and finish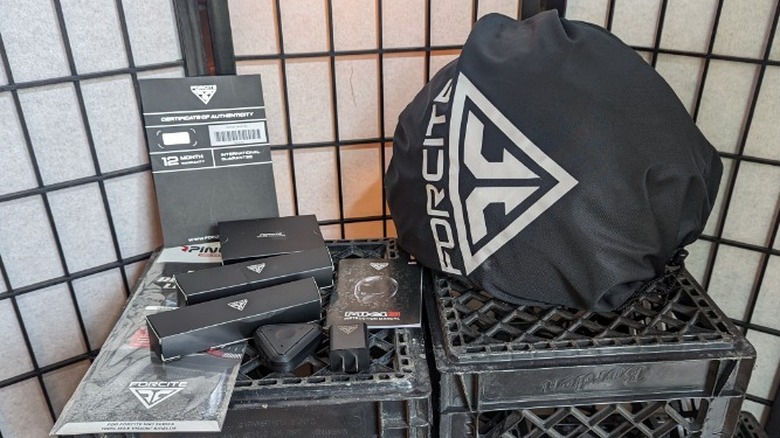 Justin Owen/SlashGear
From the moment you get the Forcite helmet, it is clearly apparent that this is no ordinary helmet. It is packed in an elegant black box with an outer sleeve. The box itself is sleek and minimalist, but with silver screen-printed logos and identifying text, projecting a look of modern quality. Upon opening the box, you are greeted by the signatures of the builder and inspector inside one of the flaps and the Harmon/Kardon logo on another. A tray with compartments holding various branded boxes rests on top, with a section for a certificate of authenticity in the middle and all the various accessories and cables in their own pockets around it. Raising the tray by one end reveals a cloth bag with a thick soft liner encasing the helmet. As far as first impressions go, Forcite does it well.
Removing the helmet from the bag reveals a high-gloss finish in clear over carbon fiber. The inside of the helmet is thickly padded and finished with a soft material that feels a bit like a hybrid of suede and felt. Air vents are present on the top, front, and back with slides to open or close off the airflow. The padding around the neck is especially thick and supportive. The defining feature of this helmet sits right at the front below the visor, the camera. 
The fit of the helmet is snug and comfortable and the weight is much less than many other full-face helmets on the market today, which is certainly due to its carbon fiber construction. Also located on the bottom of the padding are two red strips of fabric that allow for emergency removal when pulled straight down, something that could be crucial in an emergency situation.
The tech-forward helmet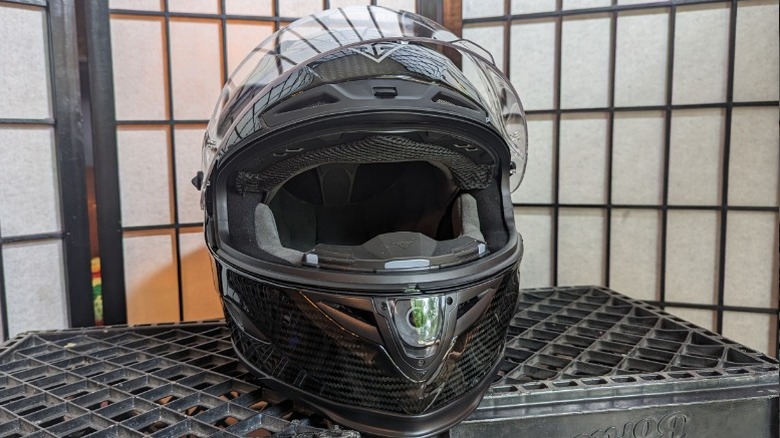 Justin Owen/SlashGear
With all the advances in wireless communication, video, and mobile phones in recent years, riders have found myriad ways to integrate them into their bikes, and manufacturers have been equipping models from the factory with many of these features as well. The Forcite MK1S combines several popular riding accessories and technologies into one single package. 
This helmet will likely be the first you ever use with a power button, sd card slot, and a charging port. It is novel but also easily accessible at the bottom of the chin guard. A remote control that mounts to the handlebars is also included. It is a triangular piece with simple and easy-to-find controls for camera, video, navigation, and volume. Inside the helmet at the bottom of the visor opening are led lights that run across and light up in different colors corresponding to various functions through the app. 
The MK1S also comes with a unique USB cable with a USB-C plug on one end and in the middle with another USB-A plug on the end for a power supply, which is also provided. Sound is provided by headphone-style speakers inside the helmet and they are provided by Harman/Kardon, and a well-concealed microphone array inside.
How the tech works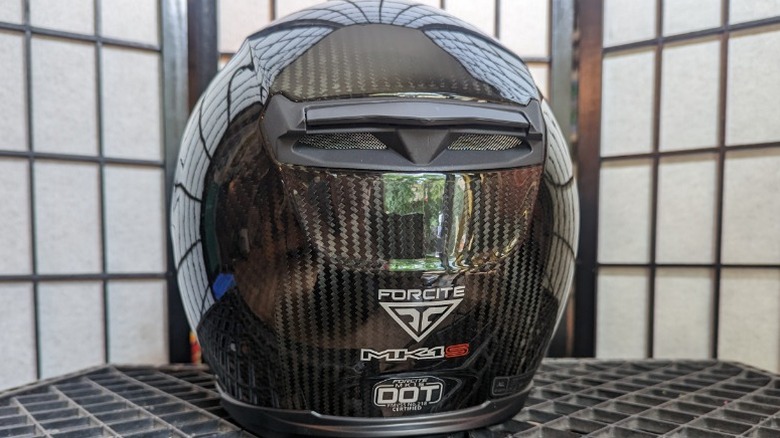 Justin Owen/SlashGear
The lightness of the carbon fiber construction makes it comfortable to wear and setting everything up for the first ride is relatively straightforward. You must download the Forcite app and ensure both the helmet and remote control are charged. The remote control comes with an aluminum bracket for handlebar mounting. Before setting out, the helmet and remote must be paired to your phone, and the app will give you an indication when this is successful.
The Forcite app has its own navigation system included. It uses GPS with cellular signals to create routes and keep you on the path. It works much like other maps and can find a variety of destinations from exact addresses to points of interest. The app can alert you to poor traffic conditions ahead and warn you about situations such as accidents on or near your route. 
Unlike other navigation aides, Forcite will also alert you to the presence of speed cameras on the route or even police stationed within your route. The maps are displayed on the screen using a dark mode on the screen, making it easy to see in most lighting conditions. Directions are also called out by a voice, customizable by choosing one of the dozens of voices with accents from Australia, America, New Zealand, South Africa, and more. The app also uses LED lights inside the helmet to show which direction to turn by illuminating the left or right side of the helmet's LED array green but also flashes red for police warnings and other functions.
On the road with Forcite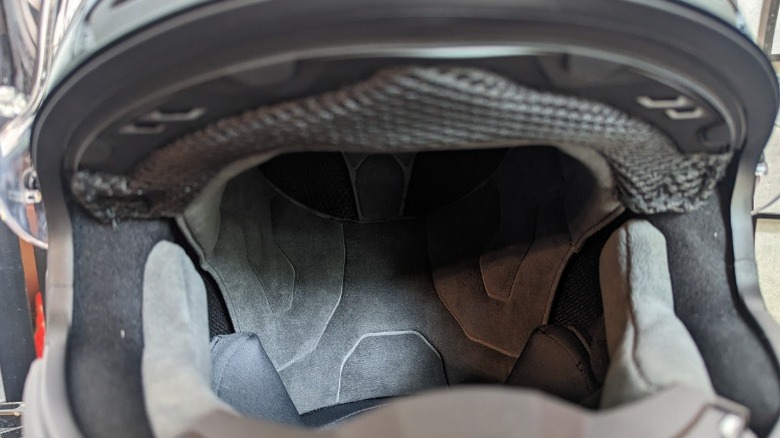 Justin Owen/SlashGear
With everything hooked up, connected, and ready to go, the Forcite is easy to live with. The Harman/Kardon speakers provide crisp clear sound for the prompts from the app as well as phone calls and music. The volume, particularly when streaming music, sounds as though it could be a bit louder, although keeping it limited prevents traffic noise from being drowned out, so that is probably for the better. Regardless, the sound is clear enough and the muffling effect of the helmet helps to keep the music audible and clear throughout your ride. The polycarbonate visor is made to accept a Pinlock lens that attaches to the inside of the visor to prevent fog. The Pinlock creates an airtight gap to prevent condensation and the lens itself absorbs moisture for an anti-fog effect. The Forcite came with one and it worked perfectly.
Navigation works as well as any other modern GPS mapping system on the market today, including Google Maps and Ford's in-car navigation. The display updates quickly and zooms appropriately with distances before turns are displayed clearly. 
Of course, one shouldn't be taking one's eyes off the road while riding — and that is where the helmet really steps in. The voice prompts are concise and easy to follow, with the flashing LED adding to your confidence in knowing if you are taking the correct turn. This negates any need to look at the screen at all. This system is able to deliver alerts for police speed traps and cameras, as well as upcoming accidents, all of which can prove quite useful.
Video recording your ride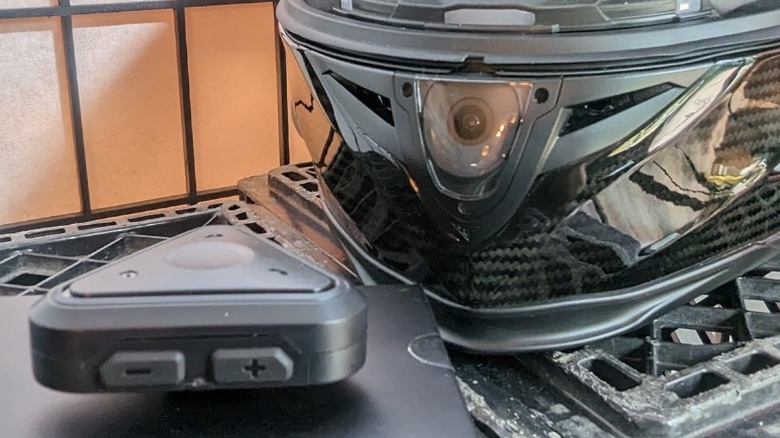 Justin Owen/YouTube
With the app, riders can choose to start recording with the remote button, through the app itself, or automatically start recording when the helmet is paired. Videos are stored on an SD card in the chin of the helmet, a minimum of 32GB Class 10 SD card is required and up to 1TB is supported. 
The embedded camera records in 1080p at up to 60 fps with a wide-angle lens to capture as much of the field as possible. The quality is not up to the 4K of some GoPro and other high-end action cameras, but it should suffice for most typical riding videos and should be more than sufficient if needed as evidence.
One drawback is that videos cannot easily be viewed from the app. To watch one, you must either use the USB cable plugged into your phone and helmet simultaneously before viewing in the app, or you can remove the SD card for use on a computer. Video quality is just adequate, but the sound, which is recorded from the microphone inside the helmet, is sharp and clear. Also, since videos of ten minutes can take up more than 1 GB of space, an SD card with a large capacity is recommended.
Product value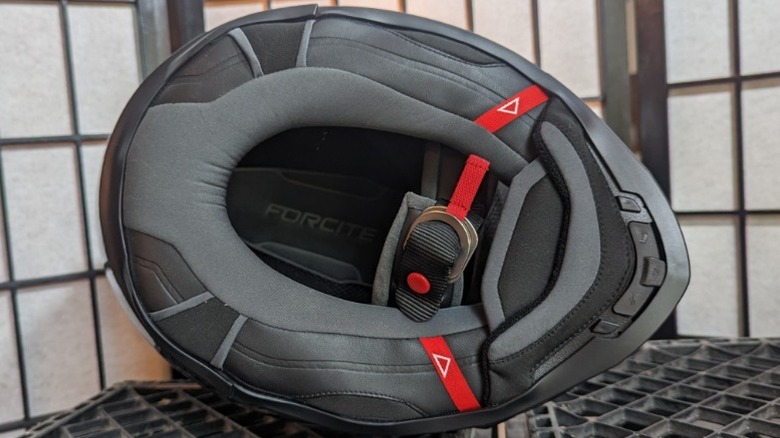 Justin Owen/SlashGear
There are many smart helmets on the market today, so the competition is stiff. Forcite has a few good things going for it, although there is room for improvement. There are only a few helmets on the market with cameras — Forcite's offering is in rarified company. Forcite excels in keeping the profile of its camera integrated into the chin without any protrusions and makes it nearly unnoticeable. Furthermore, the Forcite helmet is made of carbon fiber, making it lightweight and incredibly strong. Carbon fiber helmets also protect the skull by absorbing energy better than other materials while remaining resistant to cracks and scratches.
Although the microphone and speakers are great for phone calls and audible commands, including a rider communication system would be a big improvement. A higher resolution camera would also be a benefit. These upgrades would no doubt increase the price, and this helmet is not cheap as it is. Though the suggested retail price of $1,099 is considerable, you still get a lot for your money — even if the largest part of it, head protection, is intangible. 
Finding comparables is also a bit tough. Helmets with integrated cameras are rare, and those with Bluetooth are still not plentiful. Finding another helmet made of carbon fiber with a camera and integrated Bluetooth may not be possible, although there may be some niche makers with a similar model. Otherwise, carbon fiber helmets are somewhat common with prices ranging from about $400 to $4,000. This makes the Forcite MK1S price appear to be at least reasonable considering the competition.
Lasting impressions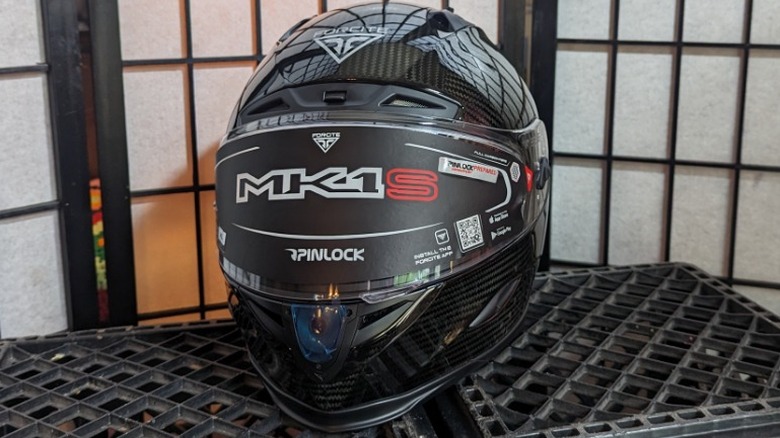 Justin Owen/SlashGear
Choosing a motorcycle helmet can be a fraught decision, especially when you have decided to go upmarket with your purchase. Being an item that you will rely on to protect you from injury and also be a tight-fitting fashion accessory of sorts, a helmet is a deeply personal purchase. To further complicate things, the choices in styles and colors of helmets are endless, which makes it important to choose the right one.
Since it might be impossible to find a helmet that has exactly everything you want, choosing the best one available to fit your needs is a pragmatic choice. The Forcite MK1S has a lot going for it. It fits the bill for those looking for safety above all as the carbon fiber makes an excellent and highly protective shell with the benefit of its lightweight build, reducing fatigue. The sound and video are also excellent and eliminate the need for other potentially expensive accessories. 
If riding with a group and having interconnected communication devices gets top billing, the Forcite may not be a perfect choice. Otherwise, if you have the budget, you may find arguments against this helmet (as sold by Forcite online) a bit hard to come by.