Motorola Razr 40 Ultra Leak Leaves Little To The Imagination A Week Before Launch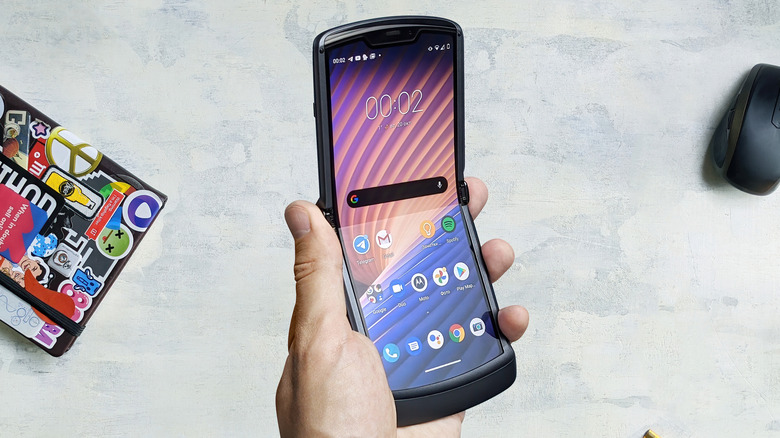 Mr.Mikla/Shutterstock
Motorola is unveiling its next-generation foldable smartphones on June 1, 2023. While we already have a fair idea of the design language of the upcoming Razr foldables, thanks to leaked CAD renders, Motorola has been quite successful at keeping the press renders of these phones under wraps. However, with less than a week left for the official unveiling, it was only a matter of time before someone leaked these renders to the general public.
Here's very little bit about the Motorola RAZR 40 Ultra with it's 6.9in 1080p foldable screen with up to 165 Hz refresh rate and the new 3.6in outer screen https://t.co/pc4D6ic5Pe

— Roland Quandt (@rquandt) May 23, 2023
In Motorola's case, the latest Razr-related leak comes from popular German tech blog Winfuture, a platform with a long history of leaking press renders right before product launches. The blog recently shared what it claims to be press renders of the Motorola Razr 40 Ultra. In addition to these yet-unseen press renders, the blog also leaked some of the key hardware specs of this premium Galaxy Z Flip rival.
For the uninitiated, the Razr 40 Ultra is likely to be the pricier of two upcoming foldable Motorola phones, and will be positioned as its flagship foldable offering for 2023. In addition to this Ultra variant, Motorola is likely to launch a standard Motorola Razr 40 as well.
Leaked specs, press renders of the Motorola Razr 40 Ultra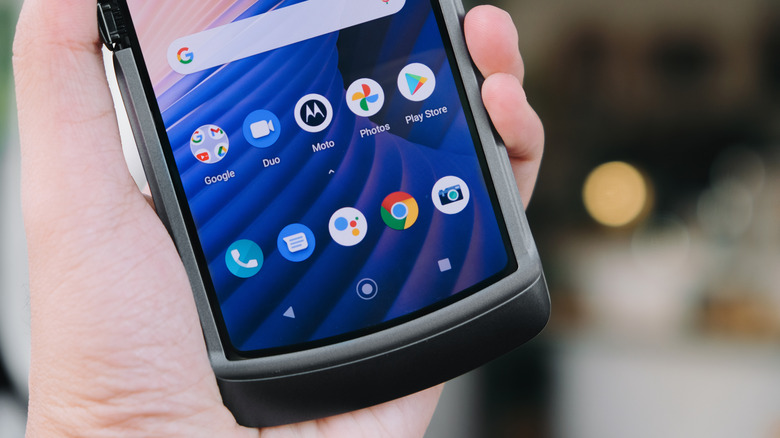 Framesira/Shutterstock
While Motorola intends to position the Razr 40 Ultra as its flagship foldable, the company is likely equipping the device with an older chipset (Snapdragon 8+ Gen 1) instead of the latest Qualcomm offering — the Snapdragon 8 Gen 2. Winfuture also claims that internal storage on the Razr 40 Ultra will be capped at 256GB, with up to 8GB of LPDDR5X RAM.
The most important aspect of the Razr 40 Ultra — its foldable internal display — reportedly measures 6.9 inches across, is likely to support FHD+ resolution, and may support a 165 Hz refresh rate. The external cover display is where things get interesting: Winfuture claims the Razr 40 Ultra's cover display spans half the length of the phone as an edge-to-edge panel, with miniscule bezel. 
The 3.56-inch external display is quite sharp, boasting a 1066x1056 resolution. This is also where the phone's primary cameras (12MP main + 13MP ultra wide angle) are located.
As expected of a flagship, the Motorola Razr 40 Ultra has everything covered as far as connectivity is concerned. The phone supports a wide variety of 5G networks, and is also Wi-Fi 6, Bluetooth 5.3, and NFC ready. The Razr 40 Ultra's possible Achilles' Heel could be its small 3800 mAh battery. 
While this may be concerning if true, the device will likely support 33W fast charging. In addition, the Motorola Razr 40 Ultra may run a near-stock version of Android 13 at launch, per WinFuture.