TicWatch 5 Pro Review: This Premium Smartwatch Has A Trick Up Its Sleeve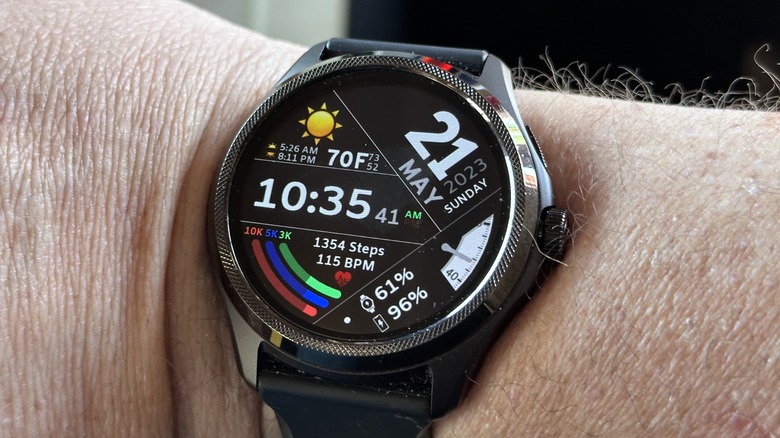 Adam Doud/SlashGear
When you think about Android-powered smartwatches, you probably think of the Google Pixel Watch, or the Samsung Watch 5, but while there are more than a few other companies out there producing Wear OS-powered smartwatches, one of my favorites over the years has been the Ticwatch, made by Mobvoi. TicWatches have historically had great hardware, that looks nice and can last a long time. Today Mobvoi is launching the TicWatch Pro 5 and it continues that tradition.
The Ticwatch has a not-so-secret weapon at its disposal that few have emulated, but helps keep the Ticwatch up and running for days, rather than the typical "hours" that Wear OS smartwatches are usually measured in. That secret is a second screen that rests above the OLED screen that contributes to the TicWatch's astonishing 80 hours of battery life. 
I've been using the Ticwatch Pro 5 reviews sample provided by Mobvoi for one week and this is my full review. 
The hardware is solid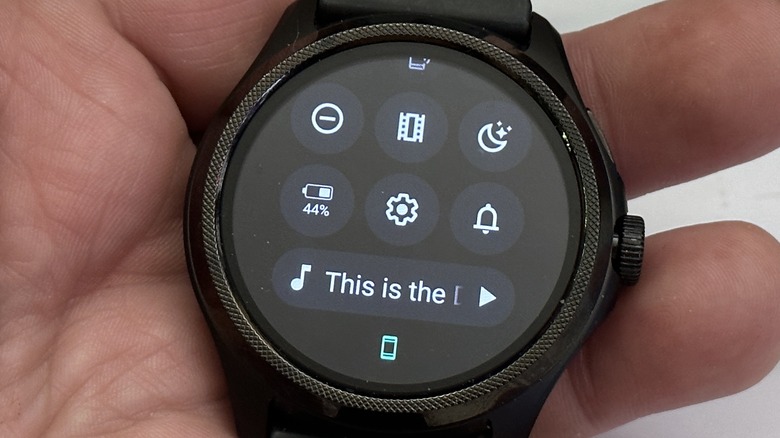 Adam Doud/SlashGear
This TicWatch Pro 5 earns its pro moniker in the hardware department, loading up all the latest hardware you could want on a smartwatch. It's powered by the SnapDragon W5+ Gen 1 Wearable platform, along with 2GB of RAM and 32GB of onboard storage. It has all the sensors and add-ons on the inside of the watch that you could ask for including a built-in speaker and microphone for taking calls, a haptic motor for vibration alerts, a barometer and compass for outdoor adventurers, and the typical heart rate, pulse ox sensor and skin temperature sensor. It's loaded. All of that is powered by a 628 mAh battery that we will discuss in the next section.
The case is made of 7000 series aluminum covered in Corning Gorilla Glass. The lugs on the top and bottom are 24mm which is larger than typical. There are two buttons on the right side of the watch, one of which is also a rotating crown. The watch can be submerged up to five atmospheres and is also Mil-STD 810 compliant. Put simply, it's very tough on the outside.
The battery trick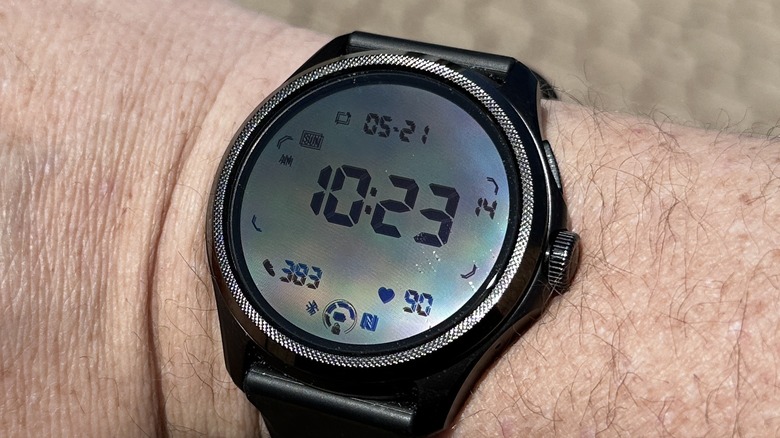 Adam Doud/SlashGear
The not-so-secret feature that's behind the amazing battery life comes in the form of the second screen that rests on top of the first screen. This second screen is more of a typical LCD screen with large blocky numbers that can tell you the time, date, steps, heart rate, and battery level all at a glance. You can also rotate the crown to get a more details heart rate and pulse ox reading or even pull up a compass so you can navigate, all using this ultra-low power screen.
By default, when you lift your wrist to look at your watch, this second screen is what you'll see, so you can check the time and move on without having to power up the OLED screen. It's only when you tap the screen that the OLED springs to life so you can see your fancy Wear OS watch face, check notifications, etc. But arguably most of the time you lift the watch, it'll be to check the time and this screen will fit that bill admirably.
This ends up being a perfectly reasonable setup, though if you prefer you can opt to use the always-on-display or flip on the OLED by default, but you will see drastically reduced battery life if you go that route. As it stands, using the watch with the second screen turned on by default, the watch easily lasted four days before it had to be charged up. Speaking of which, it also charges up fast — 65% in the first 30 minutes and back to full in under 90 minutes.
Wear OS is as good as it can get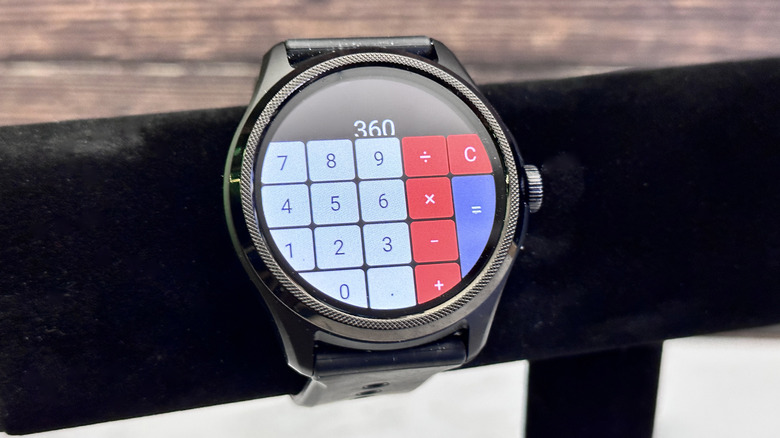 Adam Doud/SlashGear
As for the software, this watch runs Google's Wear OS 3.5 which is a rapidly maturing operating system for smartwatches that still doesn't hold a candle to Apple's Watch OS — but is about as good as Android-powered smartwatches can get. The gestures are cleaner than they have been in the past. You swipe down to get to settings, swipe up to get your notifications, and swipe to the left to get cards. A swipe to the right is the back gesture.
Pressing the rotating crown gets you to your main watch face (or home) and the second button brings you a list of recently opened apps. Long press the second button and you can activate Google Pay. This is all pretty typical for a Wear OS-powered smartwatch. Wear OS still has very little app support though Mobvoi has loaded a number of apps for outdoor adventure and health tracking such as a compass, GPS, and Barometer app, along with over 100 workout types and over 1000 watch faces to choose from. But when you turn to the phone, things get a little rough.
Recording health data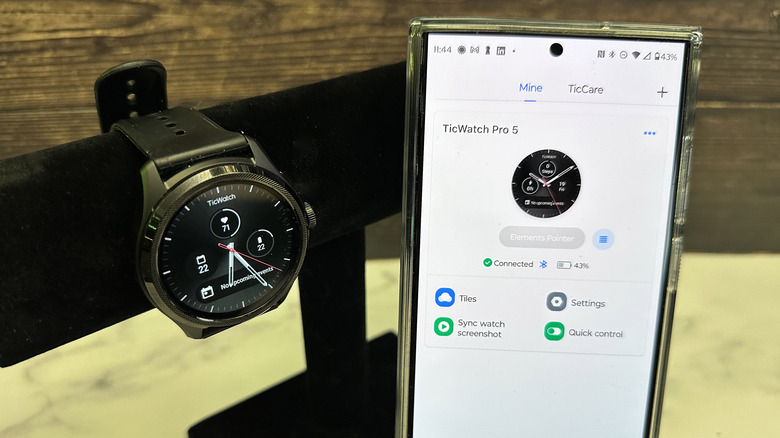 Adam Doud/SlashGear
It would be more accurate to say a combination of factors led to a rough software experience. First of all, by default, the TicWatch will switch into "Essential Mode" which locks you to the LED screen but continues to monitor sleep, heart rate, and pulse ox. But two nights, I woke up and tried to check a notification on the watch and ended up turning off Essential mode which rebooted the watch. As a result, I lost half a night's sleep data, which wasn't great.
That's not the only rough part though. The data displayed on the Mobvoi app is hard to read and doesn't feel terribly accurate. For example, one night, the TicWatch recorded me going to bed at 10:15 p.m., which was technically accurate, but I stayed up in bed for over an hour watching TV and didn't actually go to sleep until closer to 11:30 p.m. The next morning, Mobvoi showed that I went to bed at 10:16 p.m. but showed me in the "awake" sleep stage for a while before the rest of the data kicked in.
I say "a while" because the Mobvoi Health app doesn't let you drill down and see when different stages of sleep happened. But as a result, of all that, Mobvoi reported that I got eight hours and 18 minutes of sleep when I very clearly did not.
Mobvoi is trying some good stuff here, like the breakdown of sleep and how much time I spent in each stage while showing me how much time I should have spent in each stage. That is good somewhat actionable data, but the inaccuracy and loss of data, make it hard to feel confident. Mobvoi needs to do some work here.
Other options in the app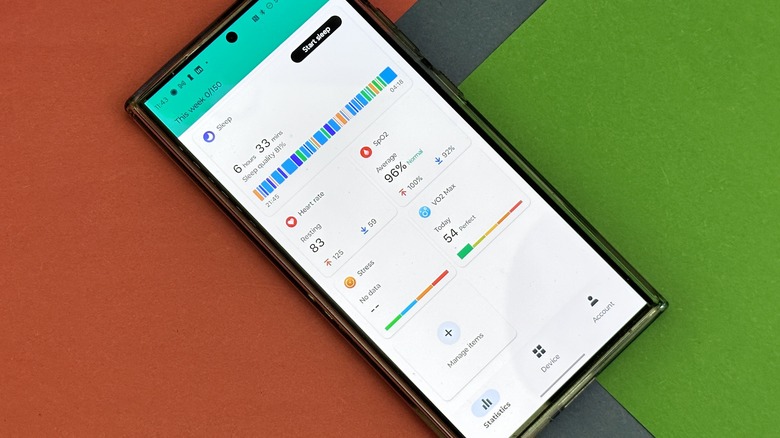 Adam Doud/SlashGear
The rest of the Mobvoi health app is similarly undercooked. It's not that the app is bad, per se, but it could definitely be organized a bit better. Device options are limited to about a dozen categories, each with its own page you have to navigate to. Some of the pages only have a single, or perhaps two toggles that you can switch and that's it. It's a lot of extra taps to locate and enable or disable options.
Some of the health data you can zoom in on and see specific times when readings were taken; others don't give you that option. You can sync your health data to Google Fit or Strava, but not with any other health services. All of this would be easily forgivable if Mobvoi hadn't been doing this since 2017. But Mobvoi is not a newcomer by any stretch of the imagination and stuff like this should have been fixed a long time ago.
Test notes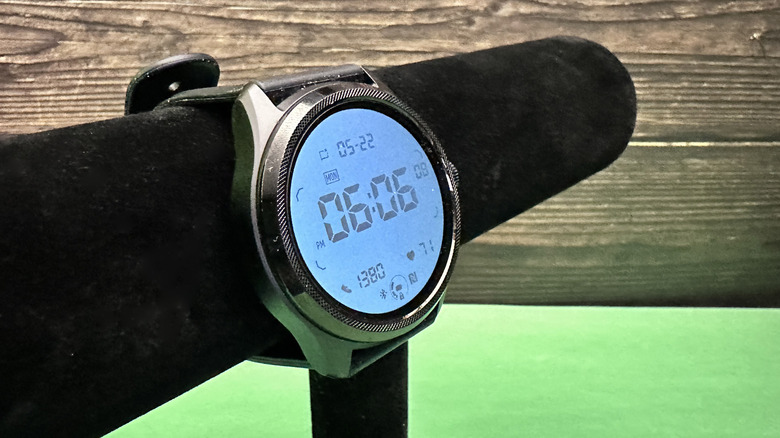 Adam Doud/SlashGear
The LED second screen has a multicolored backlight that changes color based on your heart rate zone. This allows runners to see where their heart rate is without distracting from their run. 
If you're right-handed, you probably wear your watch on your left wrist. But you may run into a problem with that. When bent backward at the wrist, you stand a (pretty good) chance of accidentally pressing the rotating crown — which activates the OLED panel. This drastically reduces battery life, and there is no way to flip the screen and wear the digital drown on the left side of the watch due to the unflippable LED second display. So this could be a big deal for the vast majority of the world that is right-handed.
The Ticwatch Pro 5 charges using a proprietary magnetic charger plugged into a USB Type-A port. The magnetic attachment to the watch is very strong and solid, so there shouldn't be any accidental cases of knocking the watch off the charger.
TicWatch Pro 5 final verdict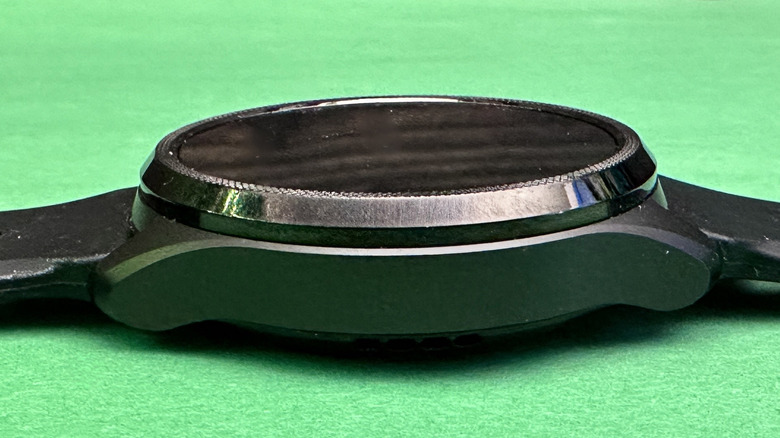 Adam Doud/SlashGear
Overall, this is the best smartwatch Mobvoi has made and it certainly checks a lot of boxes. If you're willing to deal with the LED second screen being your primary source of information, you will easily get four days out of this watch, which is pretty great by "true smartwatch" standards. The fact that this watch is built rugged and outdoorsy is a bonus. Not only is this watch attractive, but it is tough as nails.
The second screen is going to be the X-factor as to whether or not you should buy this watch. If you're willing to adopt it in order to get long battery life, or if you're willing to accept the compromise of much shorter battery life, then this is one of the best Wear OS watches that you can buy. But it comes with a premium price tag of $349, which is about right for a premium smartwatch. That price compares favorably to the Pixel Watch, Apple Watch Series 8, and Samsung Galaxy Watch 5. But none of those watches last three days, let alone four. If you want a smartwatch with the functionality of a Pixel Watch and the battery life of a Garmin SQ 2, this is a great option.