Why The U.S. Air Force Retired The F-15 Eagle Fighter Jet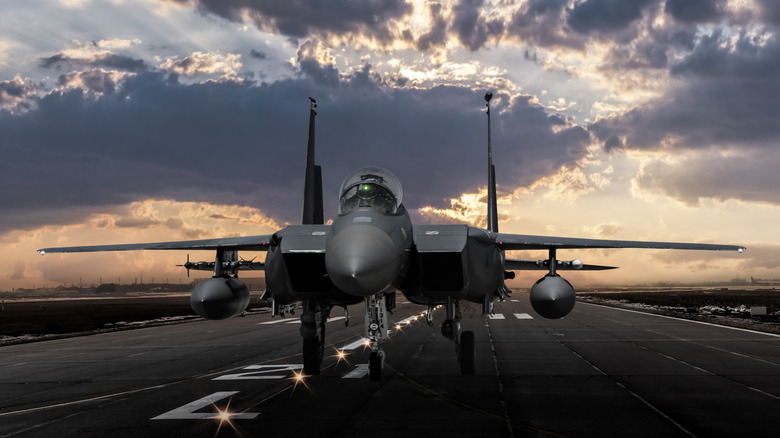 Guvendemir/Getty Images
According to Defense News, the U.S. Air Force is seeking to retire a total of 310 aircraft during fiscal year 2024 to free up funds for purchasing more modern replacements. That's more than double the 115 retirements that Congress approved in 2023. Among the 310 planes on the chopping block are 74 of the venerable F-15 type C and D fighters.
The F-15 fighter jet, nicknamed the Eagle, had its first test flight in 1972, with deliveries to the Air Force commencing in 1974. However, the F-15 C (single seat) and D (two seat) variants are slightly more modern, entering the Air Force roster in 1979. The F-15 C/D were originally slated to be retired en masse more than 15 years ago, but the jets' replacement, the F-22, was prematurely cancelled.
In spite of being one of the most in-demand jets in the Air Force fleet because of its speed and range capabilities, the F-15 airframes are experiencing structural fatigue due to age and some are no longer repairable. Those that are able to be maintained have reduced G force and speed restrictions —lower than when they were originally designed. 
Some will continue to fly in other capacities
For background, the F-15 is a twin-engine, all weather fighter known for its high-performance and maneuverability. When new, these jets were capable of mach 2.5 — more than 1,600 mph — which is faster than the F-14 of "Top Gun" movie fame, which was introduced around the same time frame.
In 1975, an F-15A broke the time-to-climb world record by ascending to an altitude of 98,425 feet in only three minutes and 28 seconds. Before descending, the jet coasted to an altitude of almost 103,000 feet, which is more than 19 miles above the earth's surface.
A wide variety of armaments can be fitted including bombs, short and medium range air-to-air missiles, and a multi-barrel 20 millimeter gatling machine gun. Jets of the C, D, and F type were active in Operation Desert Storm in 1991, as well as Allied Force in Bosnia in 1994.
For some of the jets, retirement will mean going on mothballs at the Aerospace Maintenance and Regeneration Group (a.k.a. "The Boneyard") in the Arizona desert for possible, but unlikely, reactivation. Others will be loaned out to cities, counties, or museums as static displays. 
A few lucky F-15s deemed to be among the most airworthy will continue to operate with U.S. ally, the Israeli Air Force, or will transfer to NASA to help gather research data. 
[Featured image by Balon Greyjoy via Wikimedia Commons | Cropped and scaled | Creative Commons Zero]