AM Compact Touch Review: Traditional Custom Keyboard With Future In Sight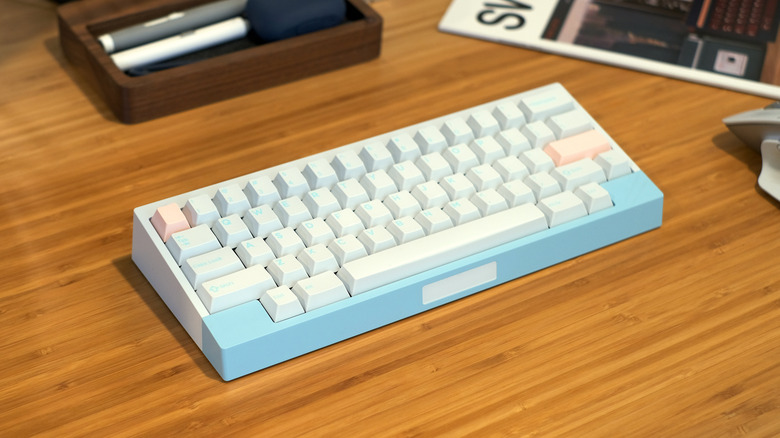 Joe Rice-Jones/SlashGear
We may receive a commission on purchases made from links.
The mechanical keyboard community has exploded in popularity over the last few years. Reddit has keyboard subreddits for selling, buying, customizing, and showing off "endgame" keyboard builds and the builds in between. New companies have sprung up to create mechanical keyboards and the associated accessories like keycaps, switches, stabilizers, and all the tools necessary for modifications.
Angry Miao is a boutique device maker which bills itself as a "Future Art Community." Li Nan, one of the co-founders of Chinese smartphone maker Meizu, founded it after he resigned from his previous company. It creates wireless desktop accessories like keyboards and, more recently, its Cyberblade TWS earbuds. 
Another attention-grabbing keyboard joined its product stack this year: the AM Compact Touch that Angry Miao provided us with for the purpose of this review. This small keyboard packs lots of technology inside, with a touchpad instead of dedicated arrow keys. Sounds cool, but how usable is it when most other keyboards in the world have had physical arrow keys for generations?
Design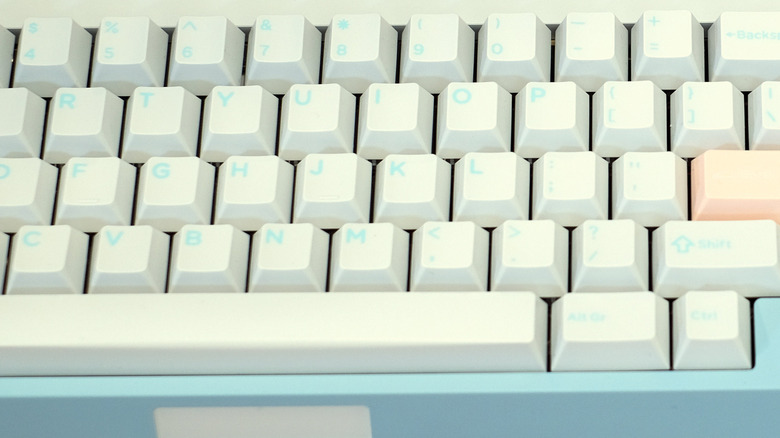 Joe Rice-Jones/SlashGear
The AM Compact Touch is a 60% form factor keyboard with a CNC-machined aluminum case, wired and wireless options, and an HHKB layout. This means it doesn't have a Numpad or a function row, or the other navigation keys that larger keyboards have. 
It's also (purposefully, intentionally) missing physical arrow keys, but Angry Miao has put a touchpad on the keyboard's front edge that emulates the arrow cluster. It weighs 3.09 lbs (1.4kg) without keycaps or switches, or 3.24 lbs (1.47kg) fully laden.
The Compact Touch comes in seven color designs, some featuring customized lighting effects. Each set has customized keycaps to match the theming of the aluminum case, created in partnership with some of the well-known keycap manufacturers. The review unit we received was the "Hard Candy" colorway, with soft pastel accents and keycaps made by Domikey. The 8-Bit colorway has keycaps made by JTK and is classic Famicom colors. 
The version called "Back to the Future" uses retro-futuristic colors inspired by the DeLorean and keycaps created in partnership with BUGERWORK, a keycap designer Angry Miao has worked with on other projects. Tesla's Cybertruck inspired the "Laser" version, with headlight-like LED projections from the touchpad edge. Other colorways include "Mech Love," "All Black," and "Night Drive." 
About that touchpad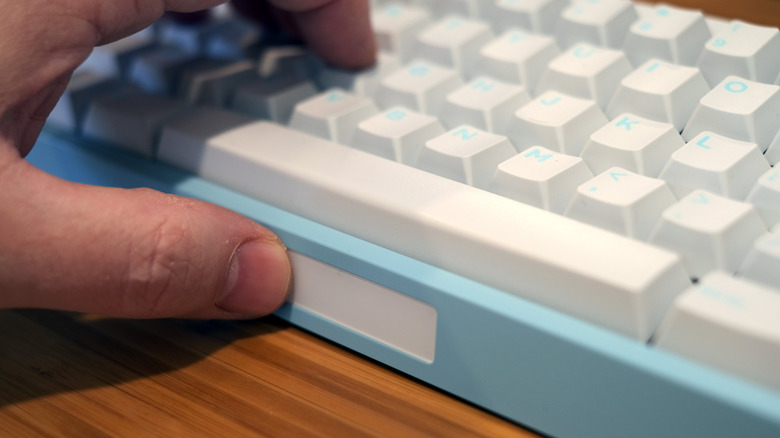 Joe Rice-Jones/SlashGear
The touchpad on the front edge of the Compact Touch does work as intended, but it could be so much more. Angry Miao used a more sensitive capacitive touchpad than the low-cost resistive type. Flicking a thumb left triggers the firmware to send a left arrow command to the computer, right for right, up for up, down for down. 
The touchpad can also change the volume levels or fast forward or rewind videos on a streaming site or app by swiping and holding. It's a neat trick, but other compact keyboards already deal with the lack of an arrow cluster by putting them onto a secondary layer. A touchpad probably isn't enough to tempt most keyboard buyers, but then again, Angry Miao doesn't build devices for the masses.
These functions work well, and the intended use didn't frustrate me. What was frustrating was that it felt like a baby step in the right direction. It's a fully functional, sensitive touchpad. I wanted to use it to control the mouse cursor so I never had to move my hand off the keyboard. 
The central position is aesthetically pleasing but would be better offset to either side. That would make it directly underneath a thumb without stretching, making the touchpad even more user-friendly. The placement isn't easy to rectify, but perhaps a future firmware update could allow for more use of the touchpad.
Stuffed with technology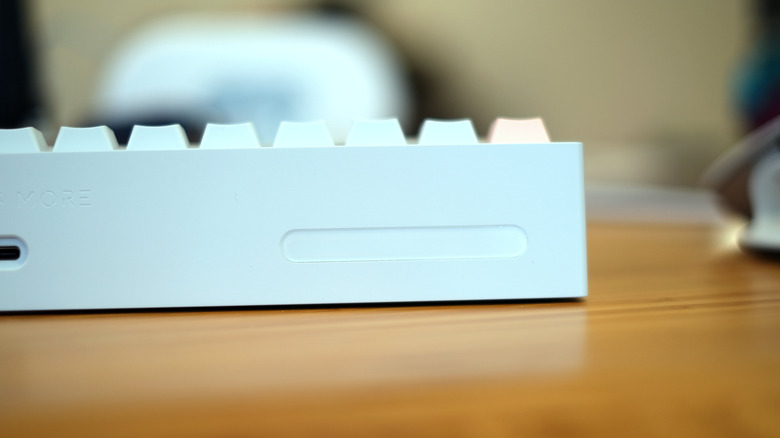 Joe Rice-Jones/SlashGear
The touchpad is this keyboard's most visible technology, but it's not the only hardware differentiating from other devices. Angry Miao is renowned for overengineering, and the insides are no exception. The acrylic-covered cutaway at the back hides a Bluetooth antenna so that the Compact Touch can be used wirelessly. It can connect to up to three devices with Bluetooth, so one keyboard can be used for your computer, laptop, and phone.
Under the hood is a sizeable 5,000 mAh rechargeable battery. Providing the lighting effects aren't at full brightness, that's enough juice for several weeks of use before recharging. This battery recharges whenever the USB is plugged in, but AM has another trick: a Qi-enabled wireless charging pad underneath the plastic circle on the keyboard's base. That's designed to pair with Angry Miao's Cybermat charging mat but will work with any other Qi charger. 
It's a good thing that it's Qi-supported, as the Cybermat sells out every time there is a stock drop. There's certainly a case here for installing an under-desk wireless charger, so the keyboard never needs wires.
Spring forward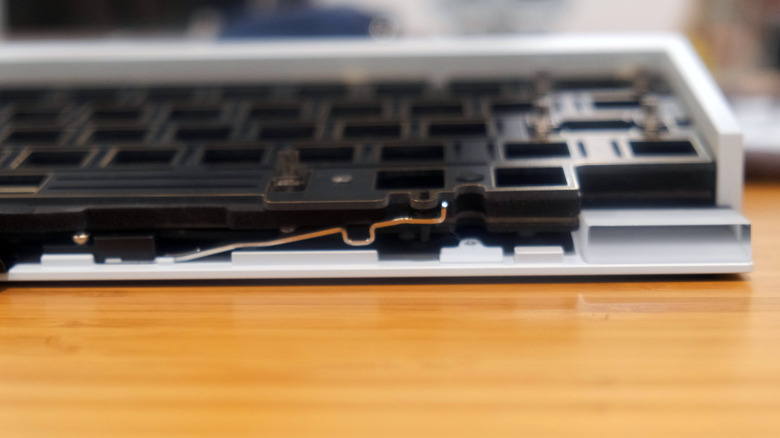 Joe Rice-Jones/SlashGear
Custom mechanical keyboards come with various mounting solutions to make the typing experience feel objectively better to the user. Most of the time, these aren't user-customizable, other than maybe being able to change the hardness of rubber pads to change the level of flex. Angry Miao uses leaf springs in the Compact Touch for added flex when typing. This system was created for a previous keyboard, the AFA, and provides a softer typing feel than most mechanical keyboards. 
It's also adjustable, with eight combinations to get the level of flex the user desires. There are leaf springs in two metals, phosphorus copper and stainless steel. These screw onto the bottom of the case and have rubber adjustment pads to change where the leaf can bend from. This allows for a softer and harder typing feel from the same spring, depending on which of the two adjustment points is used.
The resulting keyboard hardware is excellent to type on. The keyboard moves down while typing, with more flex around the outer edges. It does take some effort to customize to this level, as the internals of the Compact Touch are complicated to disassemble. There are multiple ribbon cables, a handful of internal screws, and layers of foam to contend with. Still, that's time well spent to get a personalized typing feel that no other keyboard we've tested can achieve.
Software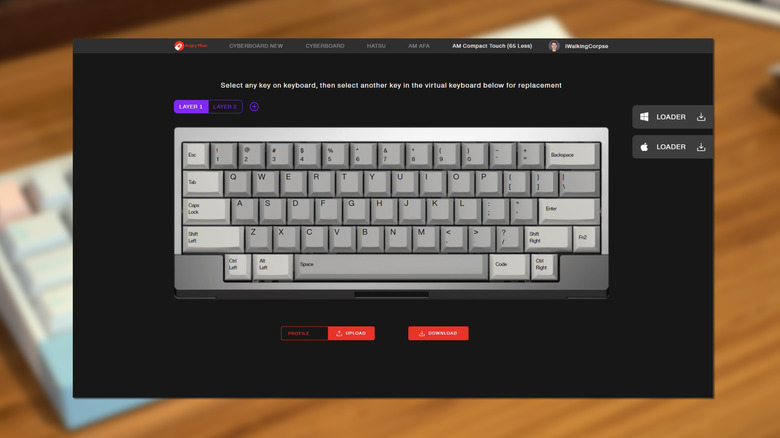 Joe Rice-Jones/SlashGear
Most custom mechanical keyboards use onboard firmware for advanced features, like the touchpad on the Compact Touch, RGB lighting, remappable keys, and layers. Angry Miao does the same here, with the keyboard being reprogrammed via an online configurator. 
This allows for the remapping of keys, with up to seven layers deep, so the function keys can be used to get another function from any existing key. The online configurator also allows changing the per-key RGB lighting and some animated lighting effects. When you finish tweaking things to your liking, you get a JSON file to download and then upload to the keyboard. That way, you don't need software running on your computer to use preferred key binds.
Angry Miao currently supplies software for Windows, with Mac on the way. It's used to update the keyboard when new firmware is released and upload the JSON file for custom key binds. The AM Master software doesn't need to be running at all times for the Compact Touch to work, which is worth knowing if you prefer an uncluttered taskbar. There are some quirks to the software though, with it occasionally not registering that the AM Compact Touch was attached to the computer. A reboot of the computer or a power off and on again of the keyboard resolved this every time.
Customizations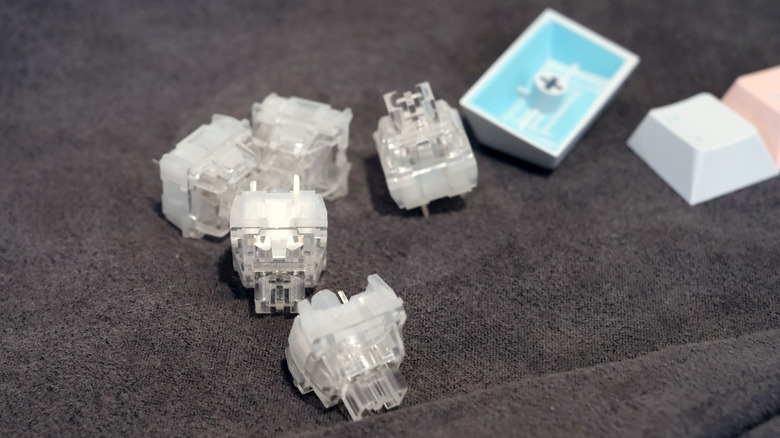 Joe Rice-Jones/SlashGear
The AM Compact Touch comes with Angry Miao's Icy Silver switches, which are transparent and colorless so that the RGB lighting can shine. The springs inside are silver-plated (so light can bounce) — and they are dual-stage long springs with an initial force of 45g.
That gives a nice level of feedback from keystrokes, with higher actuation force at the beginning and end of the stroke, guarding against accidental keystrokes. When in use, the typing sound is very much like the typing sound effect that movies and TV shows use, a loud, popcorn-like noise. Perhaps that's the effect that was intended, but that might not be to the liking of everyone who buys this keyboard.
The good news is that the 1.2 mm PCB used in this keyboard has hot-swap sockets. That means any compatible Cherry MX or clone switch with three pins can be used, or five-pin switches if the two stabilizing plastic pins are snipped off, which is most of the switches available on the market. 
The Compact Touch can be bought in a barebones configuration with no switches, keycaps, or stabilizers. That saves $100 off the initial purchase price, but when you factor in buying those three things separately, it doesn't save much, if anything.
Alternatives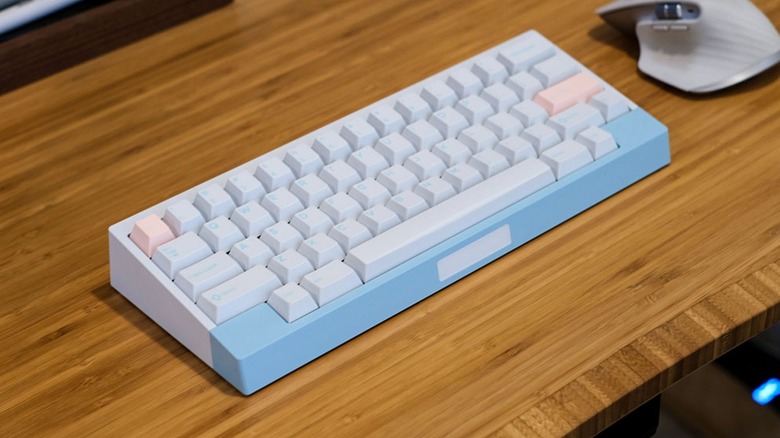 Joe Rice-Jones/SlashGear
If the form factor of the Compact Touch appeals but the price is too high, there are some alternatives to consider. The first would be the HHKB, the very first keyboard line with this particular key arrangement. The latest HHKB Hybrid costs $266.62, uses its signature Topre electrostatic rubber domes instead of mechanical key switches, and adds USB-C and Bluetooth connectivity. It doesn't have an internal rechargeable battery but uses two AA batteries for power. It can pair up to four devices, and switch between them with keyboard shortcuts.
If wireless isn't necessary, Mode Designs' Envoy is a 65% form factor in aluminum or polycarbonate chassis, with customizable options for accent pieces, case color, weight, plate, and PCB. It starts from $189 without keycaps, switches, or stabilizers. This keyboard also has a futuristic design, a rubber mounting system that can be adjusted to be firmer or more flexy, and is programmable using QMK or VIA, the two most widely used firmware sets for custom mechanical keyboards.
The Keychron Q2 costs $209.99 with keycaps, switches, and stabilizers and has a 65% layout with an island-style arrow cluster, multiple color options, and the option for a rotary encoder. It uses a double gasket design for a softer typing feel with a little flex, and also uses QMK or VIA to reprogram its keys. It's also available as a barebones keyboard for $179.99, but it's worth getting the fully-built version even if you plan on changing the switches or keycaps. 
Conclusion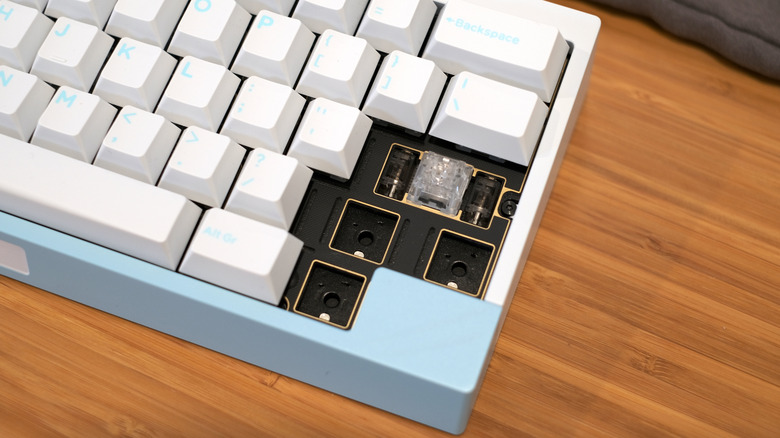 Joe Rice-Jones/SlashGear
The AM Compact Touch is Angry Miao's most accessible keyboard, using a form factor closer to the keyboard most people own than some of the outlandish designs it previously released. The typing experience is in keeping with the premium price, with every keystroke a joy to press. It's a shame that the high price and limited availability will make this a keyboard for keyboard enthusiasts.
The AM Compact Touch costs $398 for a barebones kit, with the two special editions, Laser and Mech Love, starting at $450. To get the bundle with keycaps, 59 of AM's ICY Silver switches, and stabilizers, as the one reviewed, the standard colorways cost $498, and the special edition bundles are $550.
The price may increase once the AM Compact Touch touches down on the Angry Miao storefront. The quoted prices were from the short-run Indiegogo campaign, which is currently in the process of fulfillment. The company has run additional drops of its other keyboards from its own website, and in partnership with vendors like Drop. To keep an eye out for when retail drops happen, keep an eye on the company's Twitter feed.